How To Delete Cache Files On Mac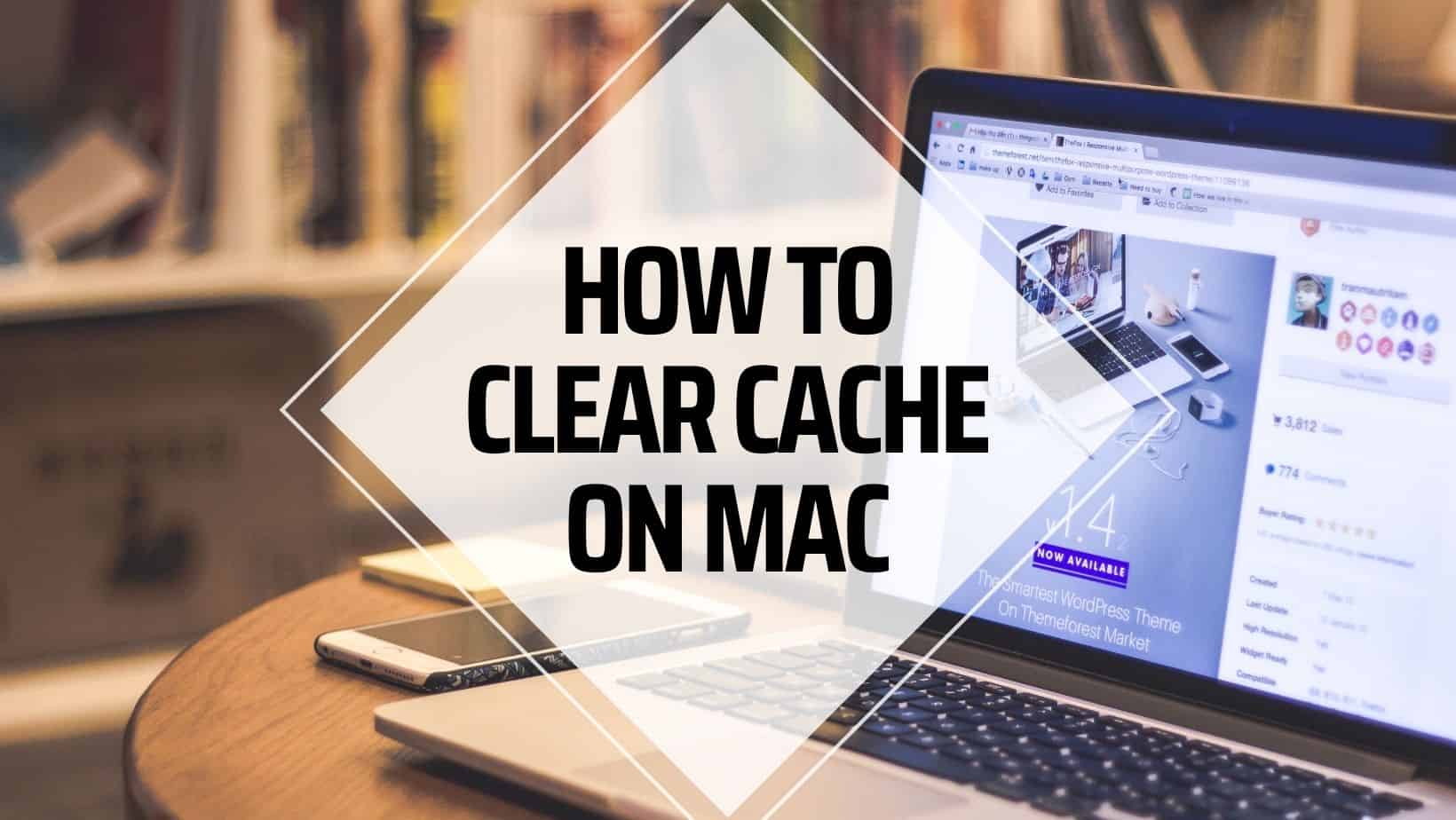 Clearing the cache data on your Mac frees up disk space by deleting files that are no longer needed.
Because your Mac saves data from every page you visit the browser cache may quickly fill up. Your application and system caches can also accumulate a slew of useless files that can eat up gigabytes of storage space. All of this cached data might significantly slow down your device.
You'll get extra storage space if you clean your caches on a Mac. It's only one of several methods to make your Mac perform faster and more efficiently.
Safeguards your privacy: Personal data associated with websites and applications is deleted when you clear your caches. This information can be collected by hackers attempting to spy on you if left unprotected.
When content on the internet is refreshed website cache ultimately become obsolete. By clearing your cache, you can ensure that you're seeing the most recent versions of your favorite sites.
App upgrades can sometimes destroy cached data, which requires troubleshooting. Server-side modifications that haven't been thoroughly tested can cause sites to fail. Clearing the cache can assist your apps in relaunching.
It's important to note that deleting your cache only resets the cached data cycle. As a result, your Mac will begin accumulating cached files again as you visit websites or use apps. Clearing your cache may be all you need if your Mac is performing slowly.
How to Clear Application Cache on Mac
Clearing your Mac's application cache might help you resolve difficulties with apps and system components. While this is a rather safe procedure, we recommend that you make a backup before proceeding. In the event that something goes wrong, you should be able to restore it.
While your Finder window is open, press shift-command-G.
Enter the following into the search box: ~/Library/Cache (be sure to include the tilde at the beginning).
Select "Go". This will take you to the folder where all of your Mac's cached files for apps are stored.
To clear the whole program cache, use Command+A to select all files and folders, and then right-click and select Move to Trash.
You'll see a pop-up asking if you want to remove all of those files, and you'll need to enter your Mac's password to finish the process.

Please keep in mind that if you have any open windows, you will most likely see a folder in there. It should be fully empty else.
How To Clear System Cache On Mac
Many files relating to native applications and system components are removed when the application cache is cleared. If you're still having problems, go to the two sites listed below to clear more files linked to the operating system. Before you begin, make a backup for your Mac.
While your Finder window is open, press shift-command-G.
Enter the following into the Go to Folder box: /System/Library/Caches
Select "Go". This will take you to the folder where all of your Mac's system cached files are stored.
To clear the whole program cache, use Command+A to select all files and folders, and then right-click and select Move to Trash.
You'll see a pop-up asking if you want to remove all of those files, and you'll need to enter your Mac's password to finish the process.
Except for the subfolder com.apple.kext.caches, you can delete everything in this folder.
How to clear cache in Safari
You can clear the cache in Safari by using the keyboard shortcut Command + Option + E or by following these steps:
Select Safari -> Preferences -> Advanced from the menu.
Enable "Show Develop menu in menu bar" in the options shown and close the window window.
In the browser menu, click Develop -> Empty Cache.
The Safari cache will be cleared, but browsing history will remain intact.
How to clear cache in Google Chrome
Clear the data under "Clear browsing data" in Chrome's Settings to erase all cached images and files.
Press Command+Shift+Delete or select Chrome -> Clear Browsing Data from the top left corner of the Chrome window.
Select "Cached images and files" in the "Clear browsing data" window. Optionally, select a time range based on the amount of cache you wish to remove.
To clear the cache, click the "Clear Data" button.
How to clear cache in Mozilla Firefox
Clearing the cache in the most recent Firefox versions is a simple process.
Click the menu button at the top-right of Firefox.
Click "Settings".
Go to "Privacy & Security" in the left column.
Scroll down to "Cookies and Site Data" and click "Clear Data".
A confirmation screen will appear with details about what will be cleared. Click the "Clear" button.

Advanced settings can allow you to automatically remove the cache in Firefox when it closes, but this may slow down your experience.
Use An App For Mac Cache Cleaning
You may either attempt to clear caches on Mac manually or use an app for the job. The beauty of a Mac cleaner is that if can usually do much more than delete cache files and they're particularly adept at recovering hard drive space you didn't realize you had lost.
OnyX is a free program that allows you to delete caches with a single click. Launch the program after downloading the version for your operating system. Allow it to evaluate your startup drive before taking action. Click Delete Caches after navigating through the various tabs and indicating what should be erased.
CCleaner Free can clear application cache on mac, though it lacks the control that OnyX does. After you've downloaded and installed the software, click Analyze to have CCleaner find as much recoverable space as possible, which includes system and application caches. Then, click Run Cleaner to clean up the selected files.
Personally, I use CleanMyMac X on a regular basis because it's part of the SetApp app subscription service. CleanMyMac can safely clean your Mac, including caches and removing redundant macOS data, old backups, and bring to your attention massive files you'd forgotten about.
Although I've never had any difficulty cleaning caches with any of these programs, it's still advisable to perform regular backups of your Mac.
What Does Mac Cache Cleaning Do?
Simply said, cache files are temporary files that the macOS operating system and applications employ to avoid regenerating or re-downloading certain information. While this may not sound serious, cache files might become corrupted as a result of a program upgrade. This can create complications. Additionally, as the number of caches grows larger over time, a Mac slows down rather than speeds up. Additionally, even when you uninstall an app, cache files remain on your computer. Occasionally, their size can balloon to tens or even hundreds of gigabytes, filling the disk's capacity. Thus, we should frequently clean the browser cache and other programs' cache files on your computer.
Temporary files should be deleted after a period of time or when the computer is rebooted. Ideally, when your Mac is restarted, practically all cache files should be cleared. Unfortunately, not everything is as rosy as it appears. As a precaution, it is recommended to reboot your Mac once a week.
What Are Caches On Mac?
Cache files are essentially temporary files that are saved on your hard disk and are used to accelerate certain procedures. For example, Safari will download images from a webpage so that they are not downloaded again the next time you visit the page.
Cookie files are the tiniest cache files. This type of caching is used by your browser to keep track of previously visited websites. Cookies record information about your visit, such as the duration of your visit, the actions you take on a page, and so on. Advertisers also use them to track your online activity. Regardless matter how unpleasant they are, cookies are an unavoidable aspect of the Internet and are important for many websites to function correctly.
There are numerous reasons to delete old cache files on Mac, such as privacy recovering wasted hard drive space.
Is It Safe To Delete All Cache Files On Mac?
Deleting all cache files on Mac at once is not totally safe. Your Mac saves everything you do in real time, so if you're working on a project with an app, deleting the app's cache will wipe out all of your progress. What you can get rid of is the inactive cache, which contains old files that are typically left unused. Old program cache files are the same so if you've previously deleted the app, there's no need to keep its remaining cache.