CleanMyMac X Review
Software
What is CleanMyMac X?
CleanMyMac X is a Mac cleaner with a range of features to maintain your Mac, and MacPaw designed it to enhance iOS and improve performance.
It comes with apps for hard drive management, an uninstaller, web browsing history and cookies, a wizard to clean up unused applications, and a file shredder for permanent deletion of files, make taking care of your Mac easy.
You can try it for free, but is it really something you can't live without? We'll find out in this full review of CleanMyMac X.
Monitoring Performance
Modern software has a tendency to leave temporary data scattered everywhere, and much of it can hold personal information. With CleanMyMac, files are removed when they are no longer needed instead of hanging around for years.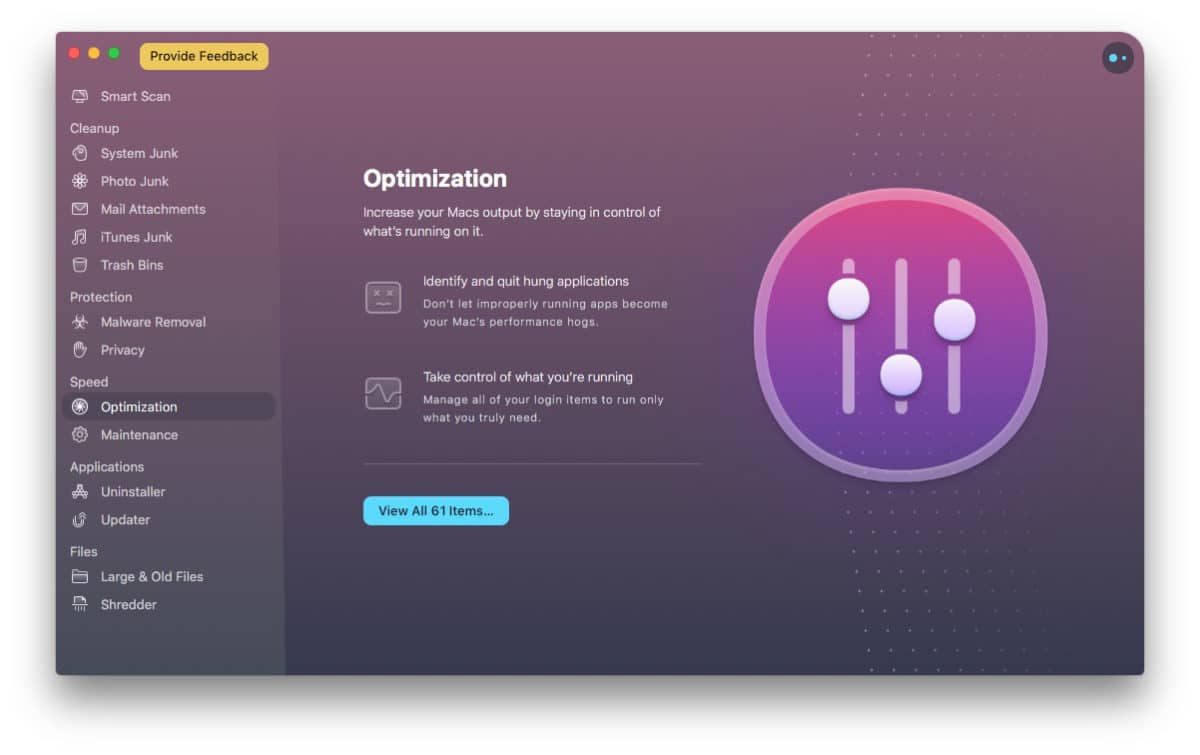 It will perform a check of your files in the background so unnecessary files that contain personal info are never left lying around.
We'll also learn more about how to use an array of privacy related functions below.
Smart Cleaning
Smart Cleanup checks your computer to find all of the possible issues and correct them as easily as possible.
Over the long term, this is the feature you would like to use the most often because it allows you to optimize resource usage with minimal effort.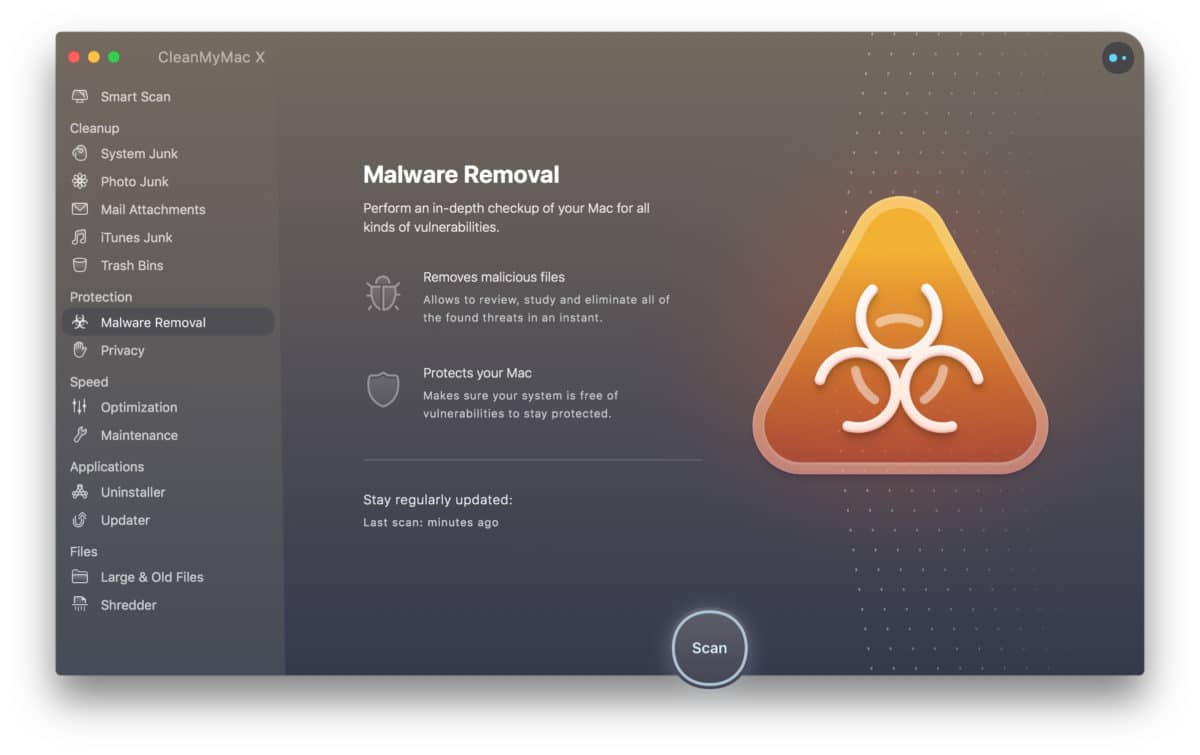 Maintenance to Optimize Storage
MacPaw's design helps you find and remove specific file types that are wasting space as it scans everything, getting rid of trash which usually goes unnoticed.
System

– Tools easily handle the removal of binaries, language packs, as well as temporary cache to free up storage. This makes it easy to recover more on your MacBook Pro than would be expected.

Photos

– Anyone who has used their Mac's photo library will have junk accumulating, which can be considerable. Review user feature settings to delete items which don't effect anything in the picture service, including cached thumbnails.

Mail Attachments

– If you are using the program Outlook, your computer will constantly get attachments in messages like images, company logos, documents, etc.

iTunes

– Broken downloads, phone backups, updates, etc. are all stored automatically. Each version is responsible for a ridiculous amount on your hard drive. You will be shown a list of these to help you decide what's best to do.

Trash Bins

– Most people are unaware that Macs actually maintain multiple bins for different drives. CleanMyMac empties everything iOS has scattered around all at once.

Large & Old Files

– The older your Mac is, the more likely you have old and forgotten files. The largest and oldest is scanned to recover lost gigabytes.
CleanMyMac Utilities
You have a robust set of new tools to let you manage programs, cookie policies, add-ons, and learn more about your Mac.
These are laid out in a user-friendly and intuitive way, making them user friendly while not losing the power and functionality you would expect from a good Mac app.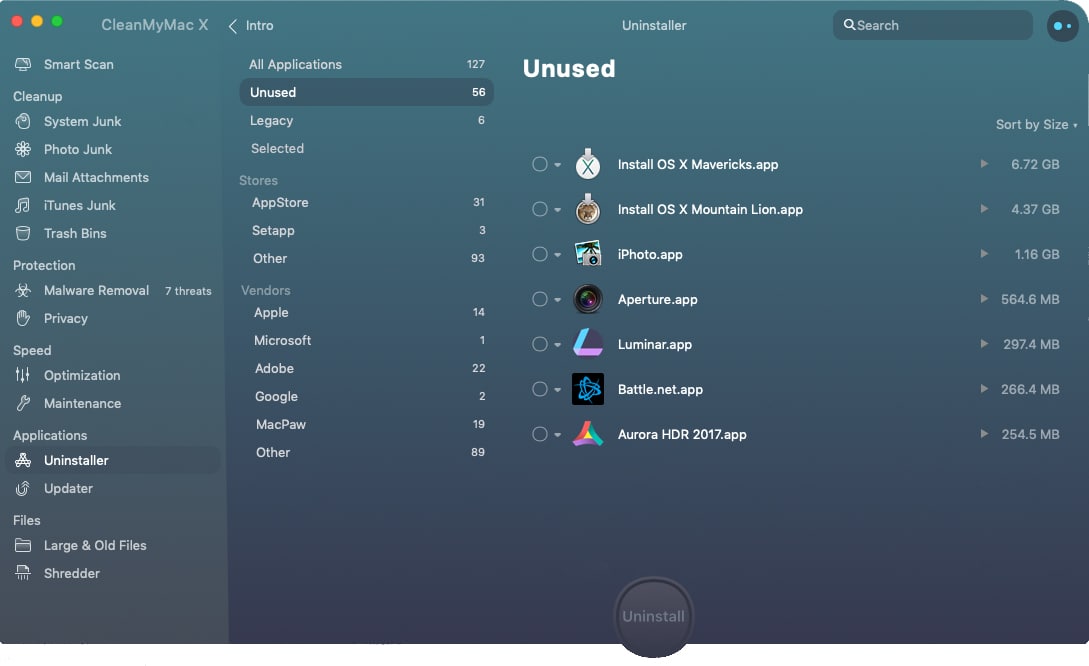 Malware Detection

– CleanMyMac X can now be used to detect and clean up malware on your Mac apps.

Uninstaller

– A management interface to fully remove an app in one click, integrated into SetApp. MacPaw's cleaner will find folders, permissions, and registry entries simple manual deletion or an automated uninstall does not clear.

Maintenance

– Scan for errors and resolve them to improve health. The menu includes checking Disk Utility functions, application errors, and will run a check for issues with indexes.

Privacy

– Cookies, contact lists, as well as other items accumulate over time, and can take a lot of space. Most users end up storing a lot of things they never use and won't ever need again. Security is improved by cleaning browser cookie info, forms, and other digital information. It even removes tracking logs left over after Messenger or Skype chats, which is good.

Extensions

– Browsers add-ons, widgets, Mac OS X apps, dictionaries, login items, etc., gradually slow down the MacOS. MacPaw offers wizards to help manage features to improve startup speed, increase available storage, and also reduce memory (RAM) and CPU usage.

Shredder

– Everyone has sensitive things they don't want falling into the wrong hands, for whatever reasons. These are permanently deleted in a way that is safe and cannot be recovered.
Our CleanMyMac X FAQ
Is CleanMyMac Safe?
Yes, CleanMyMac is safe to use. Read our full review carefully to decide if it is useful, as this could be debated.
Does CleanMyMac Delete Photos?
No. CleanMyMac will not delete photos, but it will remove unnecessary files associated with Mac's picture service.
Is Clean My Mac Free?
No. Clean My Mac is retail software that has a free trial. After the trial period, it must be purchased for continued use.
Is CleanMyMac Good?
Yes. CleanMyMac is a popular, and well respected, Mac cleaner. It is also the only Mac cleaner that The High Tech Society recommends.
Is CleanMyMac Dangerous?
CleanMyMac is not dangerous. It has a long history of safe use, and is designed so that it is difficult for a less tech savvy user to change something critical or do real damage to the operating system.
Do I need antivirus for Mac also?
Yes! CleanMyMac is NOT antivirus software. It is for performance and maintenance. We recommend Norton 360 Deluxe as a Mac iOS antivirus solution.
Bottom Line – It's The Little Things
There are a lot of small, but well thought out, details which set it apart from any other Mac app. System health and tuning can be handled automatically, and it's one of those quiet but powerful things making the everyday use of my Mac just a little bit faster and more pleasant.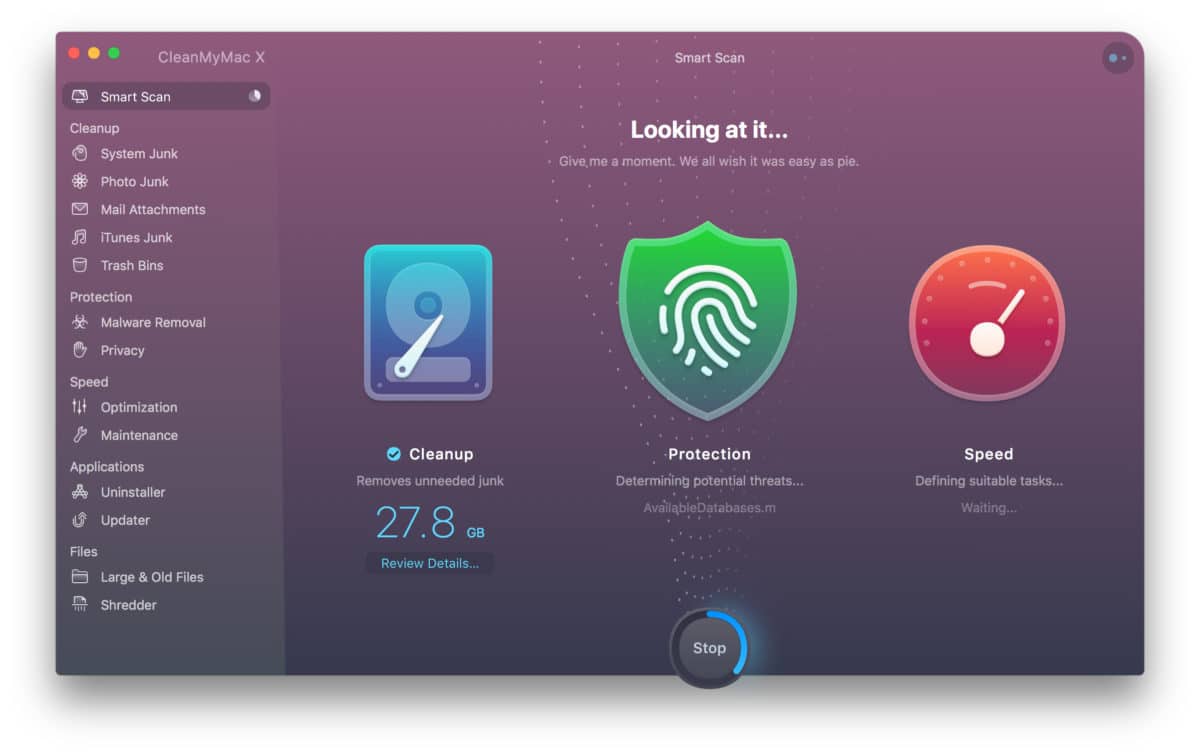 It's easy to notice how much it has been cleaning when you are on the big flashy screens saying how you recovered 5 GB or 10% of your computer's available memory. Never having it collect in the first place is far better.
A New Upgrade For Mac
CleanMyMac 3 did a good job recovering wasted space, freeing up resources, and removing the massive amounts of unused junk that modern software seems to leave littering your desktop, and MacPaw seems to have improved on that with CleanMyMac X.
One of the best examples of this is when it scrubs iTunes. Before this review, I had no idea that it left so much junk scattered all over my Macbook. Before this turns in to a rant about that, the reason that made an impression on me is that it demonstrates the level of thought put into CleanMyMac. It is thorough.
For many people, usability is just as important as being thorough. CleanMyMac X does an excellent job of keeping a consistent and clear user interface while not compromising features.
CleanMyMac has a great price anyway, but you can try a free download to see if it is right for you.