Best iPhone Spyware Detection Apps
Affiliate Disclosure: The High Tech Society is reader supported and uses affiliate links which may earn a commission and support our work, at no cost to you.
Learn More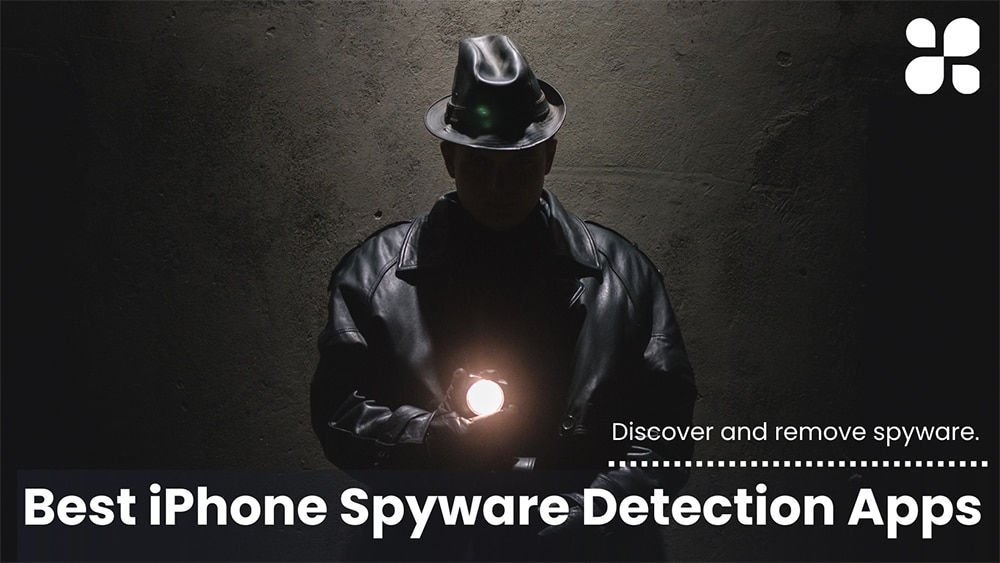 When it comes to your iPhone, you can never be too careful. There are all sorts of ways that someone could get access to your device and use it to spy on you. That's why it's so important to have a good spyware detection app installed.
In this article, we're going to take a look at some of the best iPhone spyware detection apps on the market. We'll help you choose the right one for your needs and give you some tips on how to use it effectively.
6 Best iPhone Spyware Detection Apps
There are a lot of different options out there for detecting spyware on iPhone, but not all of them are what they claim to be. Some apps are better at detecting spyware than others, and some have more features that can help keep you safe. These are the best iPhone spyware detection apps.
Norton Mobile Security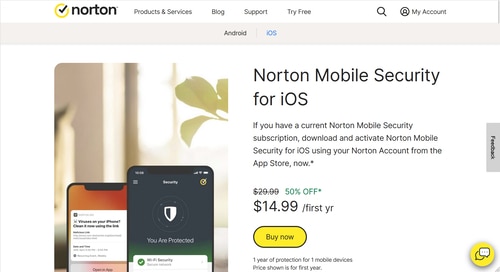 Norton Mobile Security is one of the most popular spyware detection apps for iPhone. It's well-known and trusted, and it has a lot of features that can help keep your device safe.
The app includes real-time protection against malware and other threats, as well as a variety of tools to help you manage your privacy and security settings. It also has a lost device locator feature that will help you find your iPhone if it's lost or stolen.
There are a number of different features and options you can get with Norton Mobile Security in order to keep you safe from spyware and other malicious attacks. Some of these include phishing protection, scam iOS calendar invite protection, advanced identity theft monitoring, and more. You can also get a VPN with unlimited data through 360 plans, as well as Wi-Fi network monitoring.
Norton's phishing protection is among the most comprehensive, having been found to be more successful in finding dangerous and fraudulent websites than any other iPhone app. In addition to keeping you safe while browsing the web, its web protection also scans emails, messages, social media apps, and calendar invitations for potential dangers.
The Norton iOS app is a great way to stay safe while browsing the web. In addition to detecting fraudulent websites, it also scans emails, social media messages, and other apps for potential threats.
The Norton VPN is a great choice for security, speed, and features. It supports Tor, has an ad blocker, and lets you choose which apps to split-tunnel through the VPN tunnel. This allows you to use certain apps on your regular connection while using the VPN for other activities. Due to its quick speed, it also works well with streaming services like Netflix without any lag or buffering issues.
Norton identity theft monitoring offers superior features when compared to other apps. It not only checks email addresses for breaches, but also physical addresses, phone numbers, bank and credit card information, driver's license information, and more. Only US customers can access this feature with the more expensive 360 with LifeLock plans.
Norton Mobile Security is a good option for those looking for affordable protection for their iOS devices. However, the cheapest plan only covers 1 device and does not include a VPN. Norton 360 Deluxe offers better value, as it includes protection for all devices (including Macs, PCs, and Android devices) and comes with a VPN with unlimited data as well as other features. It also has the best identity theft protection available (including $1 million insurance). LifeLock plans from Norton start at $99.99 per year and are recommended for US users. There is a generous 60-day money-back guarantee included with all Norton plans.
McAfee Mobile Security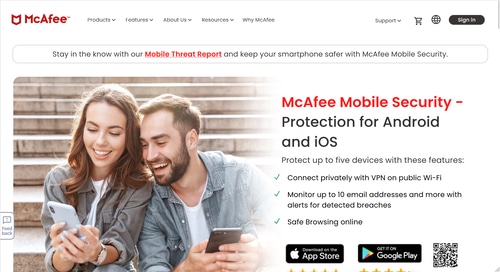 McAfee Mobile Security app provides a great selection of iOS security features, which are incredibly user-friendly. The 30-day money-back guarantee on its multi-device plans gives you a month to test it out and decide if it's the right fit for you.
McAfee's web protection was able to successfully stop me from visiting a number of verified phishing websites, including bogus banking login pages. Although it isn't as comprehensive as Norton, it is still more reliable than most iOS security apps.
The McAfee VPN is good for keeping your traffic and identity safe while browsing the web. It uses AES 256-bit encryption and provides unlimited data. It also has a kill switch feature that will disable your internet connection if the VPN connection is lost, which helps to prevent any sensitive data from being exposed.
The McAfee Wi-Fi scanner is a handy tool that alerts you if the network you're connected to is unsafe. I found it helpful for identifying insecure networks in my neighborhood coffee shop.
McAfee offers paid mobile plans that can be purchased separately or in combination with one of their Total Protection subscriptions. The Total Protection subscriptions start at $39.99 per year and cover up to an unlimited number of devices, including iPhone, Mac, Android, and Windows devices.
Avira Free Mobile Security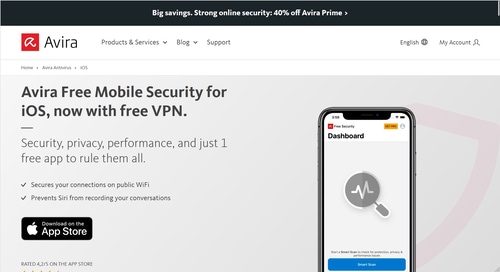 Avira's free iOS security app is a great choice for those who want basic protection for their phone. Although it doesn't have as many features as the paid apps on this list, it is the best free option available.
The new Privacy Manager feature of the Avira iPhone app prevents Siri from sharing your data with Apple and logging commands on their servers.
The Avira Phantom VPN service provides users with a quick and secure way to access the internet, while also guaranteeing their privacy by providing a no-logs policy. However, there are some limitations to the free version of the service, such as a data cap of 100 MB per day and only one server location available for connection. Upgrading to Avira's Pro plan removes these restrictions and gives you unlimited data access as well as connections to many different international servers.
Avira, a well-known security software company, offers both free and paid mobile security options for iPhone users. The paid plans offer more features, but the free option is still great. Recently, Avira added data breach monitoring and anti-phishing to their Security Pro app for iOS users. For $59.99/year, you can get Avira Prime Mobile which includes all of Avira's features and protection for up to 5 devices.
Kaspersky Security Cloud Free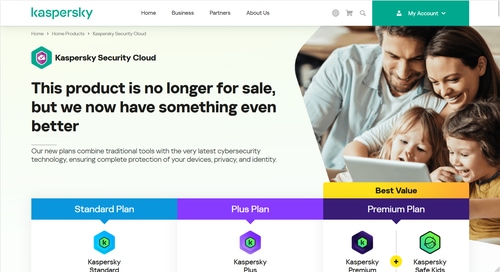 Kaspersky Security Cloud is a free iOS application that includes features such as a security breach scanner, Wi-Fi security, and a secure QR scanner.
It offers a feature that scans for breached logins but takes a more simplistic approach by only scanning a large database for your e-mail address. Additionally, Kaspersky provides WiFi protection and QR scanning features that are also effective in safeguarding against unreliable or dangerous websites.
Kaspersky also offers a free password manager app that is packed with features like auto-filling, password generation, and 256-bit AES encryption. However, the free version only allows for 15 passwords which may not be enough for some users.
The paid iOS plans come with anti-phishing defense, password storage across desktop and mobile devices (including iPhones/iPads), a VPN, and breach scanning for an unlimited number of emails. The multi-device plans, which start at $29.99/year, are a better value because they include Kaspersky's full suite of antivirus and Internet security protections for multiple devices.
FAQ
Can I get a virus or spyware on my iPhone?
Yes, it is possible to get a virus or spyware on your iPhone. However, it is much less likely than with a PC or Android device because of the closed ecosystem of iOS. In order to get a virus on your iPhone, you would need to jailbreak it and download software from untrustworthy sources. Even then, the number of viruses that can affect an iOS device is very small compared to other platforms.
A much greater danger is that someone you know will install a spy app, or spyware, on your phone without your knowledge.
What is the difference between a virus and spyware?
A virus is a type of malware that replicates itself and spreads to other computers. Spyware software is a type of malware that is installed on a computer in order to collect information about the user or track their activity. Spyware is often used for advertising purposes or to steal sensitive information, such as passwords or credit card numbers.
What features are most important when choosing a spyware detection app?
The most important features to look for in a spyware detection app are the ability to scan for and remove viruses and other malware, as well as real-time protection against new threats. Additionally, it is helpful if the app can provide you with information about what apps are installed on your device and whether or not they pose a risk.
What are signs that my iPhone is infected with spyware?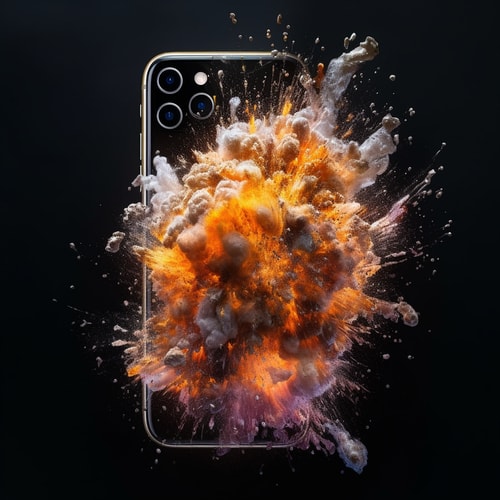 If you notice any of the following signs, it is possible that your iPhone has been infected with spyware:
Unexpected battery drain
Excessive data usage
Slower performance than usual
Strange or unexplained charges on your phone bill
Unusual activity on your social media accounts
Unexplained pop-ups or ads
How can I remove spyware from my iPhone?
If you think your iPhone has been infected with spyware, the best thing to do is to install a reputable anti-malware app and run a scan. If the app finds any malware, it will provide you with instructions on how to remove it. Additionally, you should change all of your passwords and update your security settings.
What are some general tips for preventing spyware infections?
There are a few general tips to help you avoid spyware infections:
Only download apps from trusted sources, such as the App Store
Never click on links or open attachments from anyone you do not know
Keep your software and operating system up to date
Use a reputable anti-malware app and run regular scans
Be cautious about what you share online and with whom you share it
Use strong passwords and don't reuse them across multiple accounts
Be aware of social engineering scams, such as fake contests or "free" offers that require you to enter personal information
Conclusion
While it is possible to get a virus or spyware on your iPhone, it is much less likely than with other types of devices. However, the greater danger is that someone you know will install a spy app or spyware on your phone without your knowledge. In order to protect yourself, it is important to be aware of the signs of spyware and to install a reputable anti-malware app. Additionally, you should take steps to prevent infections by only downloading apps from trusted sources and being cautious about what you share online.