Review of EaseUS Todo Backup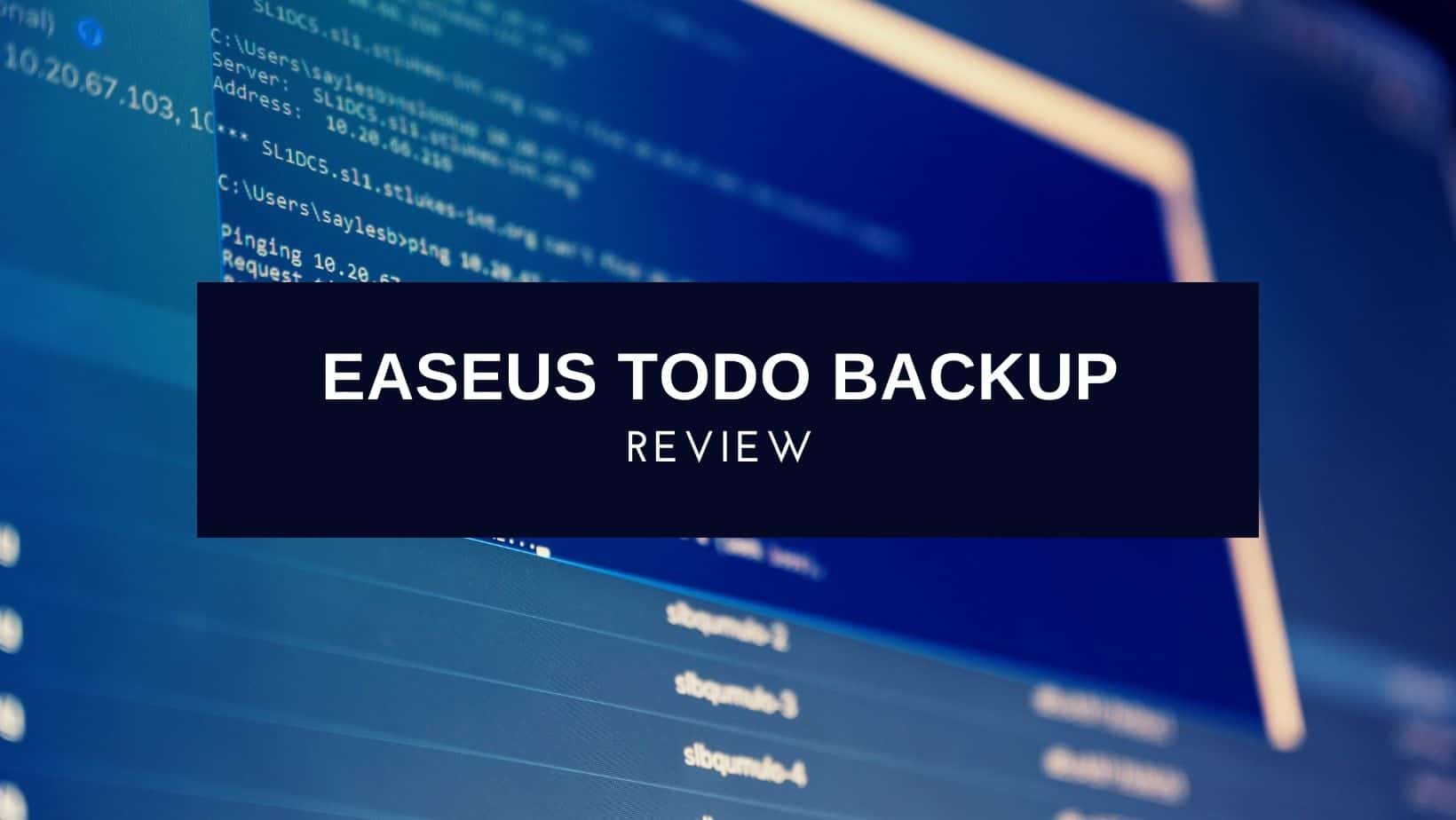 EaseUS has worked diligently to improve the software's user interface (UI), and the many backup options, as well as a variety of other utilities, can now be found along the left column, and you can see more about each backup method by hovering your mouse over its icon.
All of the backup tasks can be viewed in this window, making them simpler because they're all in one location. Even better, you can easily set up automated backups to run at any interval you need. Additionally, after the initial full backup, future backups will complete faster and take up less space.

You may restore files from a prior backup and, if desired, you can save many copies of backed up files to the same drive. Additionally, if you're looking for a specific file, backups can be individually mounted and browsed.
It's worth emphasizing, if this is your first time using backup software, that you should always close all other apps before beginning a backup and never attempt to save a backup image file to the same partition that is being backed up. Additionally, you should give each backup an detailed name and description to make it much easier to search for/find a certain backup in the future.
You can perform a full system backup, a disk/partition backup, a mail backup, a cloud backup (Dropbox, GoogleDrive, etc. ), a file backup, or a smart backup in which a scheduled backup is run every half hour if any files change, and a full backup is performed every seven days (after the initial backup).
File backup is almost certainly the primary operation you'll perform, as no one wants to boot up their computer one day and discover that something has failed and they have lost important files. You may do this manually, but we recommend scheduling backups everything is automatic after the settings are done initially.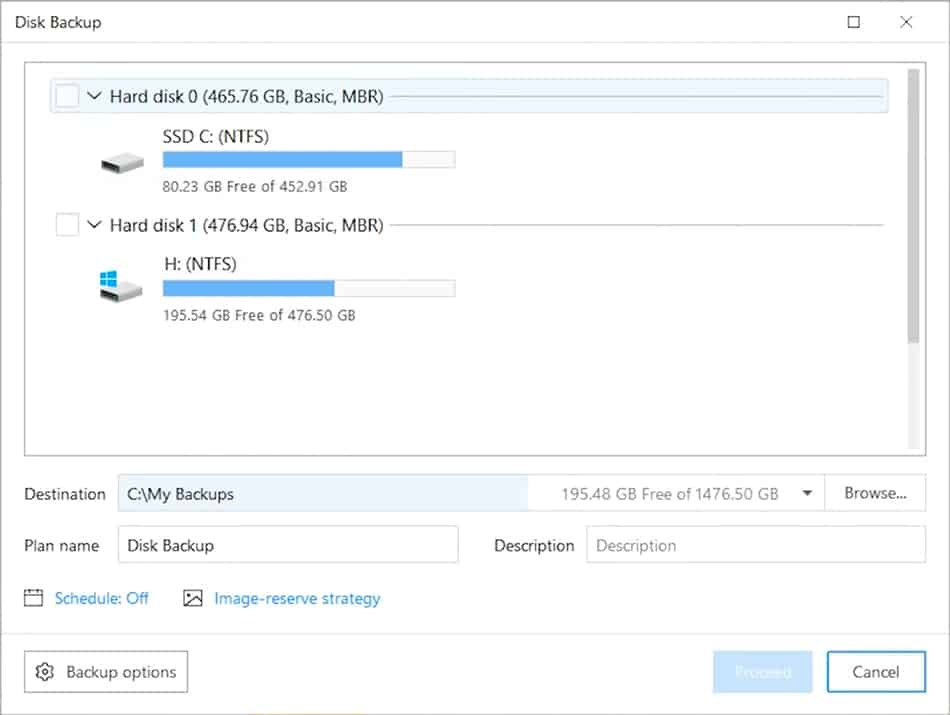 The user interface could not be easier, but particularly in the scheduling portion, which includes options for frequency, time, and backup method. Additionally, you can instruct the backup software to bring the computer out of sleep mode to do a backup, and if a backup is missed, you can instruct the software to perform the missed backup when your computer boots.
For individuals who do not wish to perform a full backup on a regular basis, incremental or differential backups are available. However, before performing these steps, you must perform a full backup, as this will serve as the basis for any incremental/differential backups. While performing a full backup takes time, it is necessary, and the software can be left to run in the background while you focus on other tasks.
With regards to the other backup options, incremental backups save only files which have changed since the previous backup, making it the fastest backup method and also the least space-consuming, whereas a differential backup copies only files which have changed since the previous backup, making it slower than performing an incremental backup but faster than doing a full backup.
Additionally, you can maintain many copies of the backed-up data and restore any prior versions of files you need. Additionally, if you'd like to rapidly locate, examine, and restore a file, specific backups can be mounted and searched.
All of this data backup requires space, and even if you use a large external drive, you will eventually run out of space. Fortunately, the EaseUS program has a 'image reserve method,' which you can use to instruct the software to delete data after a specified length of time. You can also specify the number of backups to keep rather than the duration of data storage if you like. Several file compression settings are available to help you save even more space.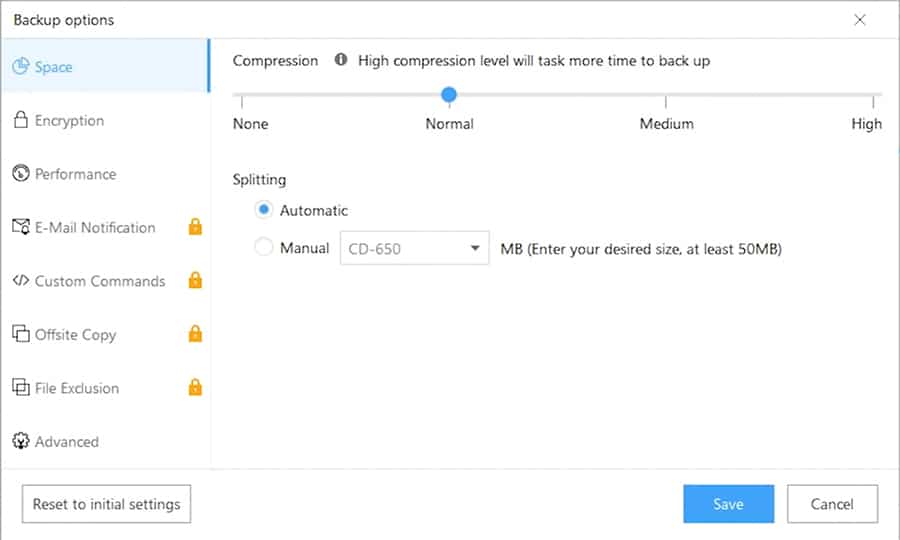 Pros
The main benefits of EaseUS Todo Backup are accessibility, ease of use, value for money, speed, and reliability.
Accessibility
EaseUS Todo Backup allows you to access all backup, data recovery, and file transfer tools anytime and anywhere. Its service is accessible via the cloud so you can easily recover needed data or backup important files so long as there is an internet connection.
Ease of Use
Everyone can use EaseUS Todo Backup, regardless of technical ability. Its interface is as straightforward as a Windows interface, with no ambiguous commands. It does not require sophisticated technical skills to operate.
Value for Money
EaseUS Todo Backup has a variety of price points to accommodate a variety of user types. It even includes a free data recovery tool for Windows, Mac, iPhone/iPad, and Android devices for those with basic recovery needs.
Performane
EaseUS Todo Backup products enable one-click system migration from one computer to another. It has a variety of backup options that enable you to set the priority for the backup, which will effect the backup procedure's impact on performance. It includes an incremental backup feature that is both time and space efficient.
Reliability
Since 2004, EaseUS Todo Backup has provided comprehensive backup tools and features and the company has extensive experience in the sector.
Cons
The one disadvantage I've discovered while using Easeus Todo Backup was that system restores MUST be performed via a bootable CD. However, this is the situation with the majority of backup systems, so it is actually not a problem. Additionally, there have been reports of issues with Windows 7 in which Todo Backup constantly forces a sector-by-sector backup, which is extremely slow. If this occurs, a chkdsk is required prior to backing up.
Pricing
EaseUS offers a variety of personal and business licenses for Todo Backup, and all software versions include a 30-day free trial. Personal licenses are available for as little as $29.95 for one year, and the software is compatible with Windows and Mac.
Commercial licenses begin at $39.00 for one year for the Workstation edition. This version contains simple disk backup programs, as well as cloud backup solutions. A Server license costs $199.00 and enables the software to be installed on one server. This plan includes PXE network boot and Windows server backup tools.
At the top end, an Advanced Server package starts at $299 per year and includes Microsoft Exchange and SQL server backup and recovery. A Technician license is also available and starts at $999 per year enables you to run the application on numerous systems, allowing you to provide technical support to clients.
Who are their main alternatives?
DirDup Backup and FBackup software are two of Easeus Todo's competitors.
DirDup is primarily aimed at small businesses and so has a limited feature set. To begin, the backup software lacks the critical feature of cloud storage. DirDup can only backup to USB flash drives and tape drives as backup media. It is based on the notion of an unstructured data store. Files can be used to store data. As a result, the data storage and management capabilities of DirDup are significantly limited in comparison to those of Easeus Todo. Automatic updates and backup scheduling are two critical software capabilities provided on DirDup. It lacks duplication, compression, disk imaging, and remote access capabilities.
FBackup is an alternative to Easeus Todo Backup that is appropriate for businesses of all sizes and includes a moderate collection of functions, though not as many as Easeus Todo. The software supports network-based storage only and does not support cloud storage. In comparison to Easeus Todo, it lacks selective and incremental backup capabilities. FBackup supports the storage of data as databases, documents, and files. FBackup does not have DVD burning, remote access, scheduling capabilities, or the ability to make disk images with its software features.
Conclusion
EaseUS ToDo Backup is an excellent backup solution that is well-suited for use in the home and small/medium company environment. Backup to Dropbox, Google Drive, and OneDrive should be a selling point for the program—every backup plan should include an off-site component. We'd like to see backup and syncing of simple files, but that's a small issue.