Bitdefender vs Kaspersky: 2022 Comparison
Affiliate Disclosure: The High Tech Society is reader supported and uses affiliate links which may earn a commission and support our work, at no cost to you.
Learn More

Bitdefender and Kaspersky are two of the best computer security solutions available. Both offer software suits that are so robust that it is difficult to quickly determine which is best for your needs.
We've taken an in-depth look at both Bitdefender and Kaspersky and compared the most important differences below. At the end of this comparison, I'll give my verdict on whether Bitdefender or Kaspersky is best.
Feature Comparison
Bitdefender's Features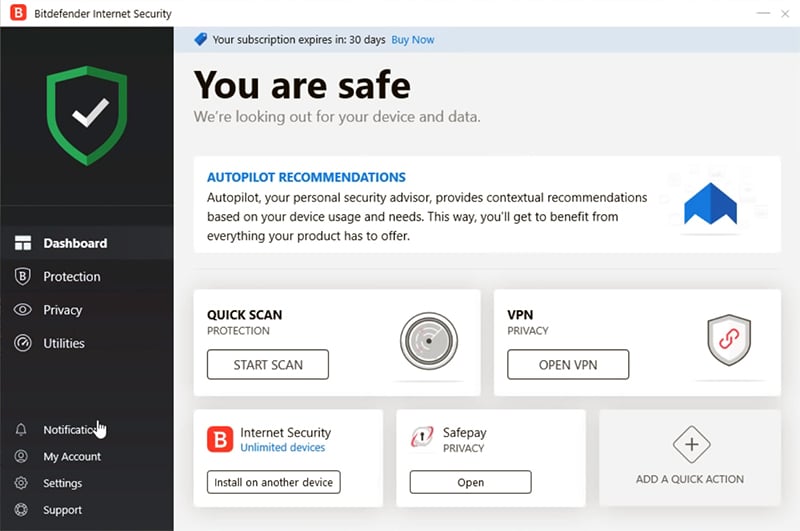 Bitdefender has a number of security items aimed at home users. Let's take a look at each one separately.
Bitdefender's product line begins with Bitdefender Antivirus Free, which is a free version. This software protects your computer from malware attacks, but it lacks advanced features.
Bitdefender Internet Security is the company's next level of safety, and Bitdefender Total Security is the company's full antivirus protection kit.
Bitdefender Total Security claims to provide full protection against all threats. All of the above features are included in the kit, as well as several other security, efficiency, and privacy tools.
If you have a big family that requires anti-malware security, Bitdefender Family Pack is the way to go. It has the same features as the Total Security suite, but the family pack allows you to secure up to 15 computers.
If you choose the Total Security suite, you will have the most comprehensive defense available. Bitdefender provides customized products for Mac, iOS, and Android users as well.
Kaspersky's Features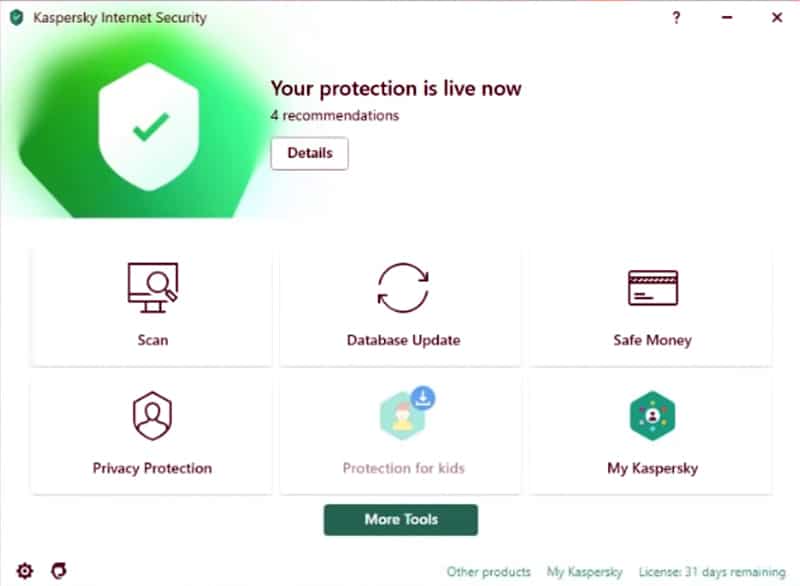 Kaspersky, like Bitdefender, offers a free version called Kaspersky Free. While the freeware provides adequate malware protection and a USB drive scanner, it lacks a number of security, efficiency, and privacy tools such as parental controls, a file shredder, and a password manager.
Kaspersky Anti-Virus is the company's first paid product. This Kaspersky simple edition provides basic device security for Windows only.
Following that is Kaspersky Internet Security, that works on PCs, Macs, and smartphones.
Kaspersky Security Cloud is the company's highest level of protection for home users.
The Winner
Bitdefender provides unique and superior features, even at lower coverage tiers.
Comparison of Cross-platform Security
Bitdefender and Kaspersky both offer protection for devices running Windows, macOS, iOS, and Android.
Kaspersky's Internet Security and Total Security secure PCs, Macs, and mobile devices, while only Bitdefender's Total Security software protects all of these devices.
Interface Comparison
Software users usually have a wide range of computer skills and aptitude. A decent computer security suite must be easy to use for beginners while still being robust enough even for power users. It's unlikely that a product will be used effectively if it's too difficult to use.
It can be difficult to bridge this gap, but Bitdefender and Kaspersky have done an excellent job of it. Both make it highly intuitive to use basic features. Advanced users may take advantage of a number of secret menus that include access to popular features including momentarily disabling security or configuring software exceptions for a variety of online gaming platforms.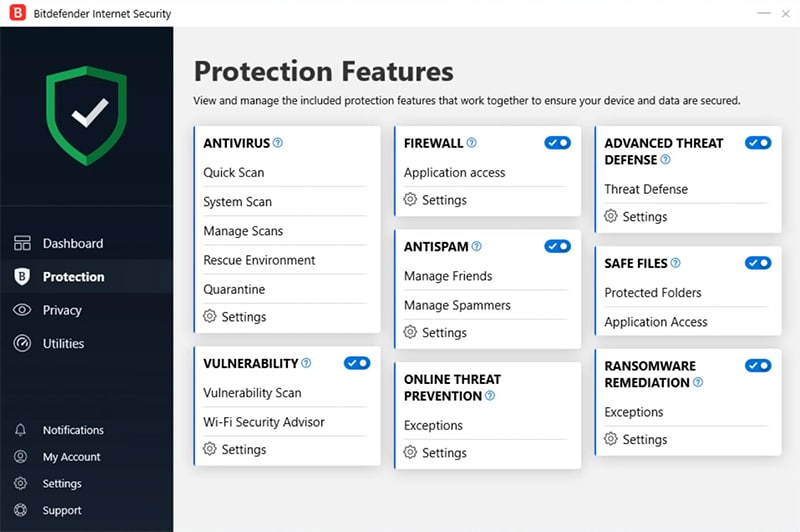 One of the most significant enhancements to Bitdefender is the addition of modules for categorizing the application's different resources. Users can get to popular features easily without having to sift through menu items. Kaspersky, on the other hand, debuted a similar user interface a few years back and has continued to refine it year after year.
Despite the fact that both choices have good interfaces, Bitdefender has a more visually appealing and modern one than Kaspersky.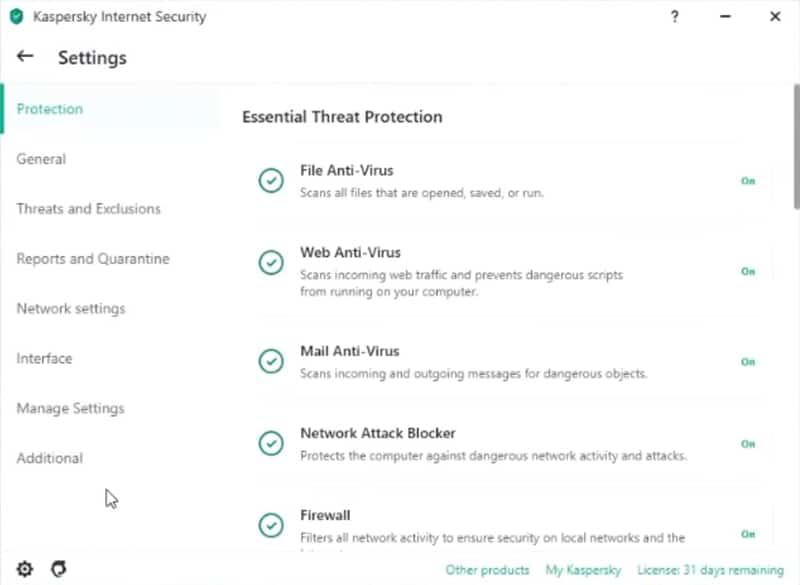 Real-Time Protection
Bitdefender Shield's real-time security dynamically scans every email attachmentand file before you open them. The following scans are included in Bitdefender Shield's default settings:
While the default protections provided by Bitdefender Shield are sufficient for the majority of users, more advanced users may want to customize their settings substantially.
I downloaded approximately 100 infected executables, text files, and compressed RAR files for testing purposes, and I also conducted network-based attacks using another PC and my Android tablet.
Every malware file I tested was blocked by Bitdefender's real-time security before it could be downloaded. Bitdefender Shield, on the other hand, didn't just stop my downloads; it also wouldn't let me start them and greyed out the button to save the file.
Bitdefender's real-time defense has left a lasting impression on me. Although some rivals offer similar real-time malware detection speeds, Bitdefender's real-time scanner offers the most options for customization.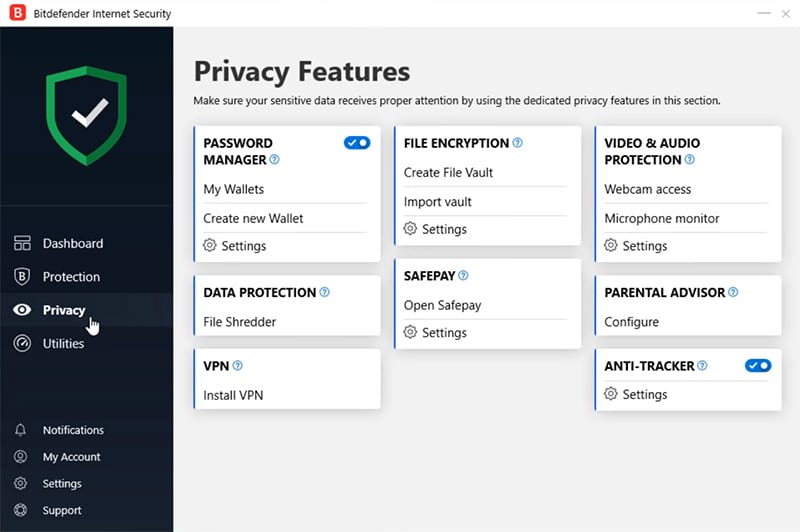 Cost Comparison
At first glance, these two security suites appear to be the same price. When we look at the list prices, a three computer license costs $59.99 with each package. Bitdefender costs $69.99 and Kaspersky costs $79.99 for a five-license package. You'll have to look hard to find a price for Kaspersky's 10-license package, and once you do, you'll be disappointed. Kaspersky's 10-pack costs $129.99, while Bitdefender's is $79.99.
Bitdefender has a single-computer license for $39.99 per year if you want to secure only one machine. Most households, Kaspersky figures, have at least 2 computers or devices to protect.
Yes, as is the case with virtually all antivirus software, these products are both sold at a discounted price for the first year. After the first year, Kaspersky is more expensive.
Support
Antivirus support is critical, particularly as security packages offered by companies become more complex. We'll look at the direct and DIY help that Kaspersky and Bitdefender provide.
Bitdefender Support
Bitdefender provides us with any kind of assistance we might possibly need. You can contact them directly via chat, email, or phone, and they also have a knowledgebase, how-to videos, and a community forum. There are separate DIY support options for home and business security suites, so you don't have to worry figuring out the difference.
The knowledge base is organized by product, and many of the articles have video tutorials. The articles are well-written, with screenshots and step-by-step guides, and Bitdefender keeps them up to date, so you can get help for old items as well.
There are three forums to choose from: home security, company security, and malware submission. Forums are available in English, German, and French, among other languages. Unsurprisingly, the majority of discussion takes place in the home security forum.
The phone and live chat support are also outstanding. In 16 countries, phone support is available 24 hours a day, 7 days a week. If you live in another country, Bitdefender also offers a 24/7 English-language support line.
In the knowledge base, live chat tries to help with any problems you might have. It's an artificial intelligence agent that guides you to articles that answer your query. You can ask for a live agent at any time during the live chat.
Kaspersky Support
Kaspersky offers excellent self-help support, but contact options are limited. Generally, you're limited to a knowledgebase and a community forum. While subscribers can request support, there is no clear method of communication outside of that.
The knowledge base is divided into sections by product and then operating system. You must wade through a lengthy collection of articles to locate the one you require. Instead of breaking papers to cover different operating systems, I would prefer for Kaspersky to combine them.
However, the articles are excellent. The knowledge base is organized logically, beginning with the likely cause of the issue and ending with a possible solution. While tutorials include step-by-step instructions, they do not include screenshots.
There are forum areas for home and business software, as well as a beta testing forum for those trying Kaspersky's latest edition. When we checked, the home security forum had just over 400,000 posts.
However, direct support has limitations. You can contact Kaspersky only via email, and you must first submit a support request. Kaspersky lacks critical live phone and chat support.
Conclusion: Which is Better?
Bitdefender Total Security differs from Bitdefender Internet Security in that Internet Security only protects Windows, whereas Total Security also supports Android, macOS, and iOS.
Bitdefender Antivirus Plus is the best antivirus software among entry-level security software suites because of its extensive feature set. Even the most basic paid Bitdefender package includes a better browser protection, ransomware security, and easy customization.
Bitdefender is the ultimate winner because its security solutions have more security upgrades and utilities than McAfee's. Furthermore, independent testing demonstrates that Bitdefender outperforms McAfee when it comes to system performance and malware detection.