Affiliate Disclosure: The High Tech Society is reader supported and uses affiliate links which may earn a commission and support our work, at no cost to you.
Learn More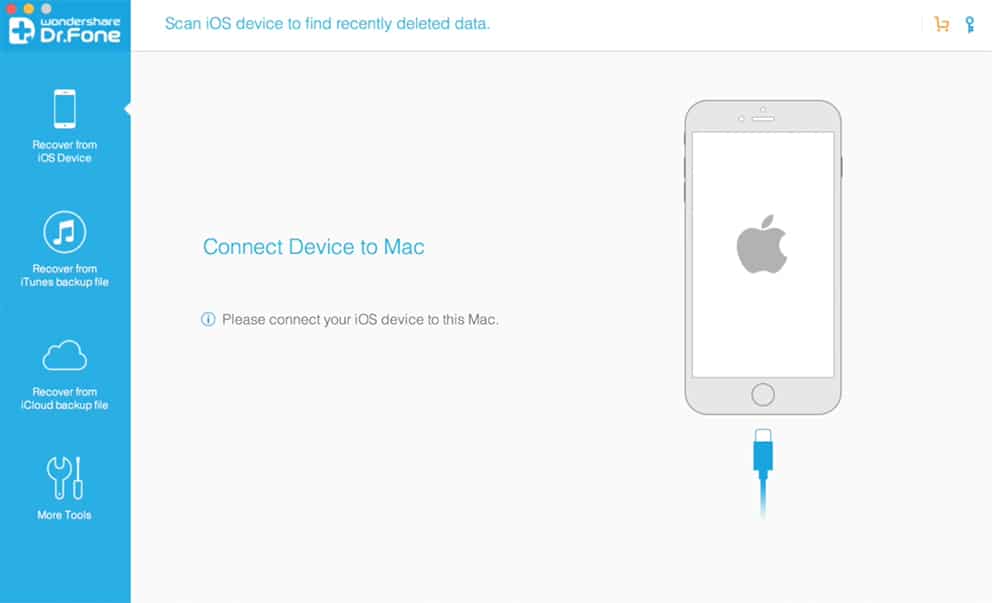 Like most people these days, you probably rely heavily on your iPhone, Android phone or other mobile device. Increasingly, people have moved away from using laptop and desktop computers and now use mobile devices for just about everything. Considering how much you rely on your mobile device, it makes sense to want to protect the data that's on it.
When something goes awry, losing access to apps, data and other important information on your device, even briefly, can be catastrophic. Dr. Fone iPhone and Android data recovery software helps you manage such situations, and avoid losing precious data. We'll be taking a closer look at Dr. Fone software in this review.
What is Dr. Fone?
In many ways, mobile devices like iPhones and Androids are fairly self-contained. They are capable of being updated automatically to new versions of operating systems, for example, and they typically include built-in utilities for data management and the like. However, such utilities don't tend to be very intuitive – and they often lack the in-depth tools that users need to effectively manage and protect the data on their devices.
That is where Dr. Fone comes into play. Since hitting the market in 2015, this innovative software has simplified the process of managing data on mobile devices and computers of all kinds.
Whether you accidentally delete crucial data from a device or become locked out entirely from it, this software can quickly and easily get you back on track. With its intuitive interface and array of features, Dr. Fone is one piece of software that every mobile device user should consider trying. Once you've installed it and learned how to use it, the days of being frustrated and unsure about how to manage or repair your device will be over.
Originally designed as a basic iOS repair and recovery kit, Dr. Fone has since expanded to include more features and to provide support for Android devices. Designed by Wondershare, a widely respected software company, the software has already been installed more than 50 million times and has a top-notch reputation in the industry. The ability to pick and choose from specific utilities or to buy the full toolkit with all of the features included makes this a practical choice. The fact that it is backed by a money-back guarantee and includes a seven-day free trial means that you assume no risk in giving it a try.
How Does It Work?
Dr. Fone is designed to be as intuitive and user friendly as possible, so it performs its functions with very little effort from the part of the user. Software is available to download for PCs, Mac computers, iOS devices and Android devices, and the program installs quickly and easily.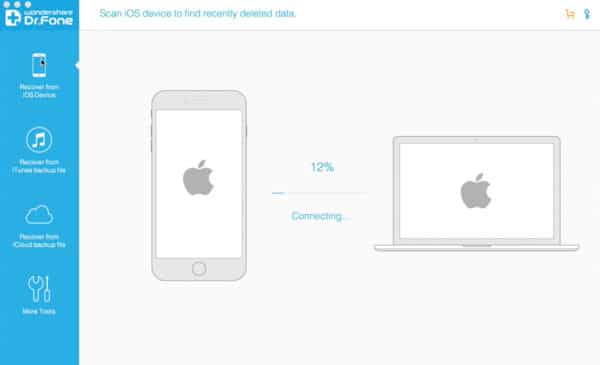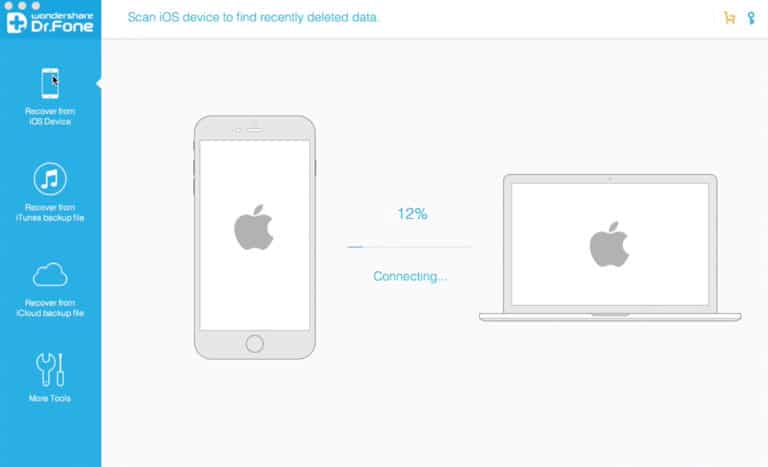 Once the software has been downloaded and installed, you simply navigate through a simple interface to perform a variety of tasks ranging from data recovery to backup and restoring to rooting and data extraction.
You can opt to download and purchase the entire toolkit for iPhone or Android, which includes the full suite of utilities, or you can pick and choose from nine specific types. As an added bonus, licenses are available that allow you to use the software across multiple devices and a computer. There is even a business license that provides access for an unlimited number of devices and a computer, which makes it easier and more affordable for companies to take advantage of its many powerful features.
Key Features
Some key features of the Dr. Fone iPhone and Android data recovery software include:
Data recovery
Boasting the highest recovery rate in the industry and the recipient of many awards and accolades, Dr. Fone is an excellent resource for anyone who has lost crucial files and data on their mobile devices or computers.
Compatible with all of the latest devices, this software lets you recover messages, videos, photos, files, call logs and much more in a snap. You can use this software to recover lost or deleted data from mobile devices, hard drives, memory cards and more, so it provides incredible bang for the buck.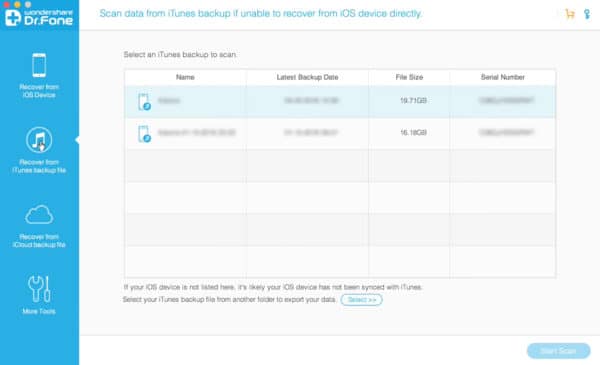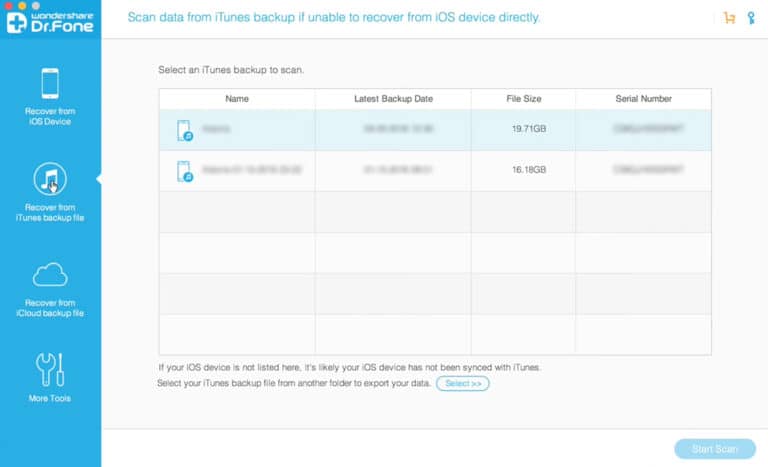 Transfer and switch data
If you decide to switch from Android to iPhone or vice-versa, Dr. Fone is the software to use to get all of your data and files moved over as quickly and easily as possible. It can also be used to transfer data between mobile devices and computers or to copy data from one device to another.
Once you have this software installed, you can transfer iOS files without having to rely on iTunes, which is nice. The best part of all is that this program lets you manage your data while it is being transferred, so you can add, delete or export files; export or import contacts; merge duplicate files; and perform many other tasks with complete control.
Repair issues
Nothing is more frustrating than noticing that your device is acting glitchy without being able to determine the root cause. Dr. Fone includes a repair utility that automatically zeroes in on potential problems and resolves them for you without any additional effort on your part.
Whether the problems are being caused by missing files, corrupted apps or other problems, Dr. Fone's repair feature works automatically to make things right. In this way, you can get the most out of your device and avoid having to replace it before you're ready to.
Backup and Restore
This software makes it a breeze to backup and restore data across various devices. Use it to ensure that photos, contacts, videos and other files are continually backed up to the source of your choice for easy restoration later if necessary.
Should something go awry, you can rest easy in the knowledge that restoring your device is as simple as switching on the Dr. Fone app or program. As an added bonus, this feature lets you back up data from social apps like WhatsApp, Wechat and others.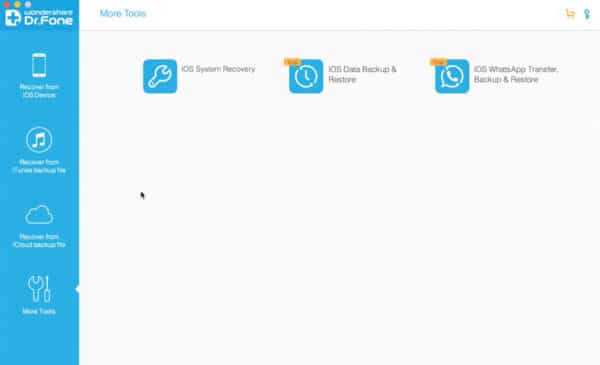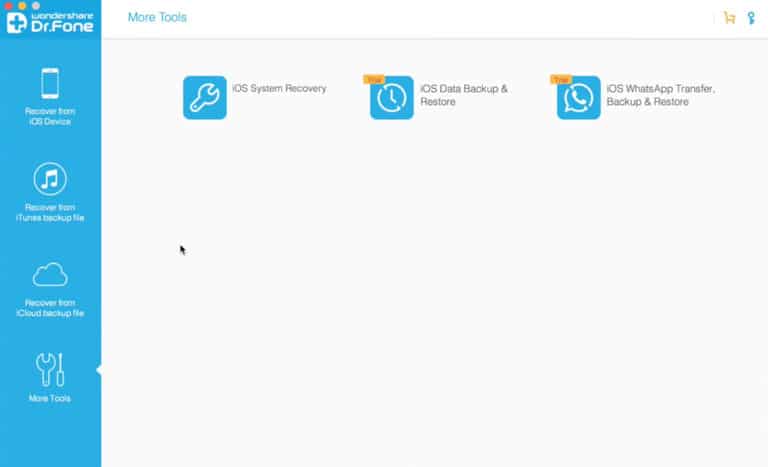 Erase
When the time comes to get rid of your device, you're going to want to remove all of your personal data and files from it for your protection. Dr. Fone offers an erase feature that permanently deletes data from the device of your choice. You have multiple options when using this feature; for example, you can perform a full erase to factory default settings or opt to just remove selected personal and private data. There are also options to delate apps or to delete system settings, so this is a very versatile way to wipe sensitive data from your device.
Record
Although this feature is currently only available for Android devices, it is worth mentioning because many people find it to be quite useful. On Android phones, Dr. Fone can be used to record the screen of the device. People do this for many reasons; for example, perhaps you would like to record a video that you saw online but are not able to download. It's also a neat way to provide instructions to someone by "filming" your screen as you perform various tasks.
Unlock
Becoming locked out of your phone or other device is incredibly frustrating. It can happen at the worst possible moment too – say, when you are about to use your mobile wallet to make a purchase. With Dr. Fone installed, you will be able to unlock your device without having to come up with the passcode for the lock screen. There is no need to go through iTunes when using the unlock feature for an iPhone, which is a major perk. Best of all, this feature allows you to avoid the incredible hassle of having to reset your entire device just to regain access to it again.
Root
Another feature that is reserved solely for Android devices is Dr. Fone's root utility. This feature lets you root your Android device so that you gain complete control over the entire operating system. Typically, making this happen involves many steps and can be very technical. However, Dr. Fone simplifies it to the point where anyone can easily handle it. With complete control of the operating system and files on your Android device, you can customize it to your exact liking and perform many tasks that would otherwise not be available to you.
Data Extraction
Available only for certain Samsung Android devices, Dr. Fone's data extraction feature makes it possible to extract files and data from damaged or non-functioning devices.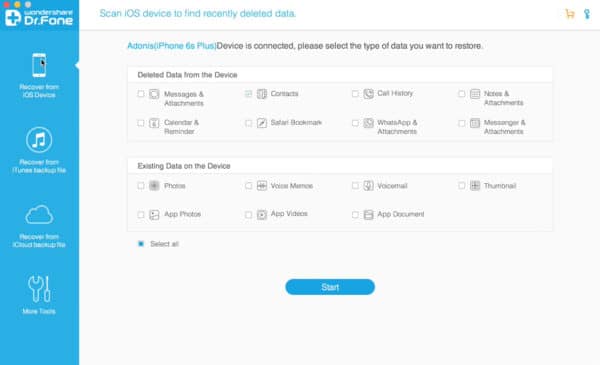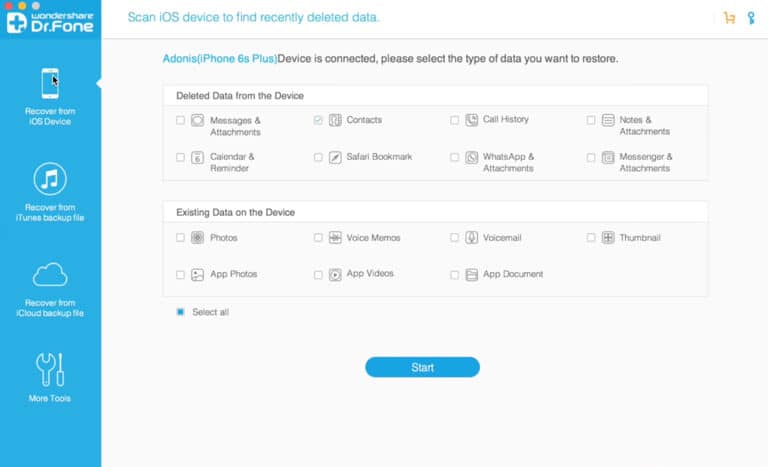 With any luck, this feature will be expanded to cover many other brands and types of devices in the near future. At any rate, if you use a Samsung Android device, Dr. Fone's data extraction capability is indispensable. Should your device become destroyed or break down entirely, this software can be used to extract crucial files, including photos, contacts, call logs and more.
Value
It's easy to wonder whether it is worth it to invest in software like Dr. Fone. However, it's also easy to take a properly functioning device for granted.
If you would rather not have to learn how to manually perform tasks like transferring files between devices and the cloud, for instance, or to have to figure out how to unlock a device whose passcode has been lost, you will benefit greatly from purchasing and installing this program.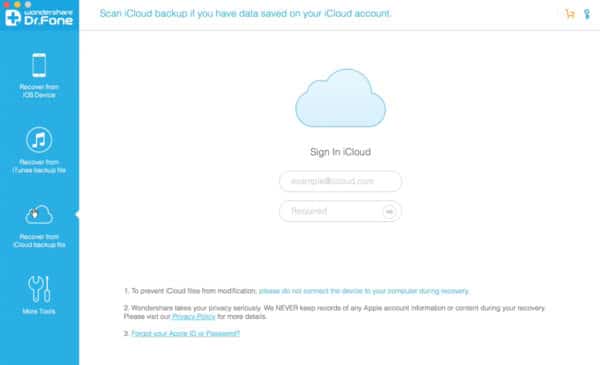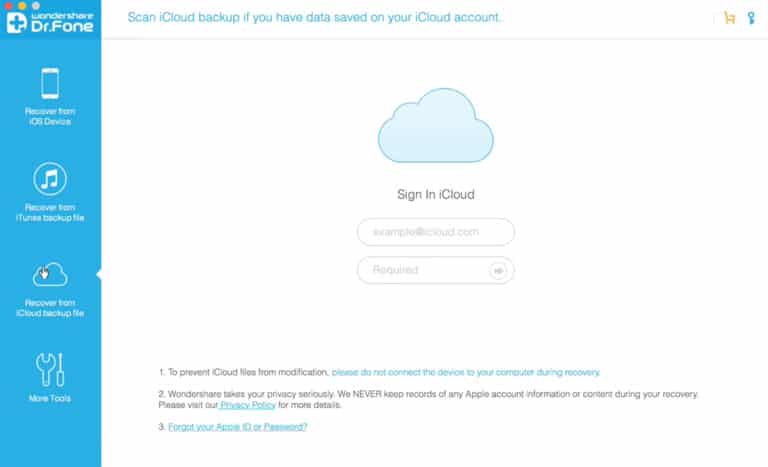 Different users have different needs, and Dr. Fone acknowledges this by providing features that can be purchased on an a la carte basis. However, you will get the most bang for your buck by opting for the complete toolkit, which includes all of the features that are highlighted above.
Pros
Some of the top advantages of Dr. Fone data recovery software include:
free 24/7 tech support via email
highest data recovery rate in the industry
recover old files without overwriting existing ones
compatible with all of the latest devices and operating systems
manage data, including previewing, adding and deleting data, during the file transfer process
recover all lost files or just the ones that you specify
easily transfer all photos and videos to and from your camera roll, photo stream, the cloud and more
install and uninstall multiple apps at once – even pre-installed apps
advanced encryption ensures optimal security and safety
gain access to all of the files on your device for easy and intuitive management
try it risk-free via the seven-day free trial
get your money back if you are not satisfied
Cons
Perhaps the most glaring downside of Dr. Fone, if it can be considered that, is the fact that although it is powerful it is not capable of recovering absolutely all files. The company does warn users that there are limitations to what this software can do. However, the vast majority of the time, this software is more than up to the task of recovering corrupted, lost or deleted files.
Additionally, the data extraction feature for pulling files from destroyed or damaged phones is only available for Samsung Android devices.
Pricing
Thanks to the fact that this software can be piece-parted out or purchased as an entire suite, it is an affordable choice for anyone who relies on a mobile device.
If you really only need one of the features, buying those alone can be an affordable solution. However, unless you're on a tight budget to fix the problem that you have right now, it's really more useful to just buy the full package and not be limited.
Conclusion
With its powerful features, intuitive interface, excellent tech support, versatile purchasing options, free trial and money-back guarantee, Dr. Fone is the best app on the market for managing and recovering data and much more across iOS and Android devices. You are certain to find it to be a worthwhile investment for the peace of mind that it brings.