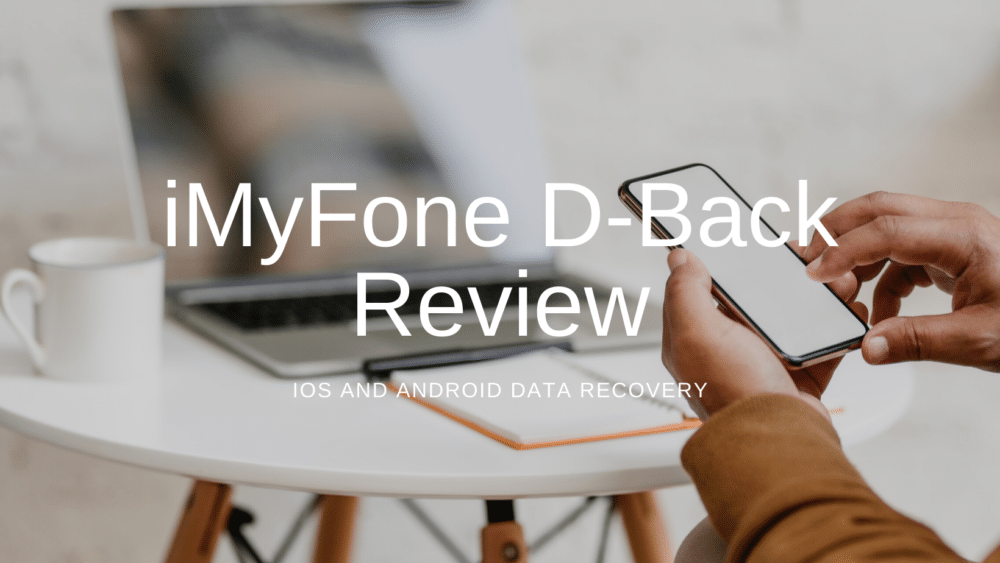 When your iPhone is lost or erased, iMyFone D-Back iPhone data recovery can provide a straightforward and quick way to recover your data. At any time, you can recover photos, messages, contacts, documents, and notes. You can recover data that have been lost or deleted accidentally in three easy steps.
Because no technical knowledge is required, iMyFone D-Back can quickly recover your lost data. Your data may be lost as a result of a factory reset, an iOS update, virus, water, or a cracked screen. Whatever the situation, iMyFone D-Back can help you regain access to your device.
Each of the four different recovery modes (Smart Recovery, Recover From iCloud Backup, Recover From iOS Device, and Recover From iTunes Backup) provide a unique method of data recovery. This increases the chances of successful data recovery because there are many ways to attempt the process.
Features
iMyFone D-Back for iOS is able to recover files from all iOS devices, including iPhones, iPads, and iPods.
In contrast to other data recovery options, you may preview the recoverable data and choose only what you wish to recover. This is more convenient because other apps need you to restore all recoverable files on the device, which might take an excessive amount of time and storage space.
Smart Recovery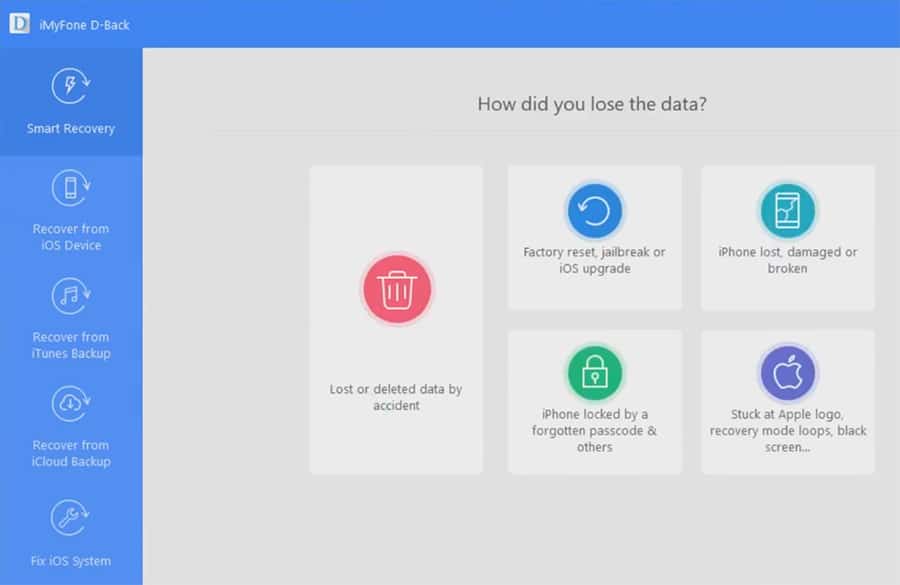 I recommend starting with the Smart Recovery option if you've never used iMyFone D-Back previously. As long as the computer can still recognize your device, this method can be used to easily retrieve your data.
If you are not sure which data recovery method to choose in iMyFone D-Back, select Smart Recovery and it will guide you through the process safely.
Recover From iOS Device (iPhone or iPad)
If you're trying to retrieve data from an iPhone or iPad, make sure it's linked to your computer through a Lightning wire.
After iMyFone D-Back has recognized your iPhone or iPad, begin the recovery procedure by clicking Scan.
iMyFone D-Back will perform a scan of the device and the process should complete within a couple of minutes. The more data you need to recover, the more time it will take to analyze.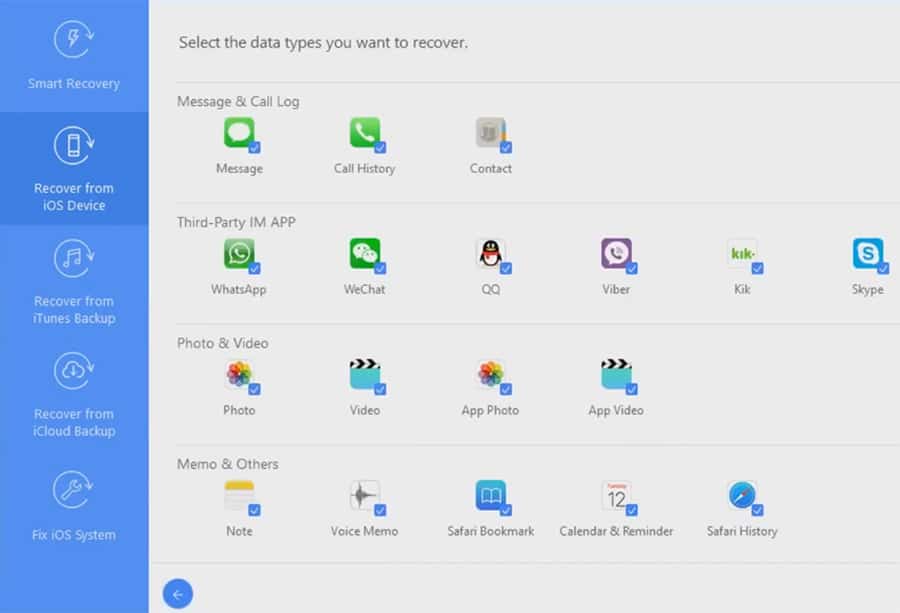 When the scan has completed, you'll get a list of all recovered data, grouped by type of data. I choose to retrieve my notes and Call History during my initial Scan.
The Call History was retrieved from my iPhone using iMyFone D-Back, including incoming and outgoing calls, dates of all calls, and duration.
All of my notes from my iPhone's Notes app were also recovered by iMyFone D-Back, including the date of the note, title, and content.
Recover From iTunes Backup
It's just as simple to selectively recover data from a previous iTunes backup as it is from from an iPhone or iPad. Select "Recover from iTunes Backup" and specify the data types you wish to recover. After choosing Next, you'll get a selection of available iTunes backups.
If a iTunes backup is not listed, you can upload another backup file from your computer to iMyFone.
After selecting or uploading the iTunes backup for recovery, click Scan. iMyFone D-Back will start analyzing, and a status bar indicate the scan's progress.
When the scan has completed, a summary of all the files recovered by iMyFone D-Back will be shown. You can recover all of the files it found or just a subset of them. When you have selected what files to recover, click the Recover button to retrieve the data contained in the iTunes backup.
Recover From iCloud Backup
An iCloud backup is the third option for recovering data with iMyFone D-Back. First, pick the files you want to restore from your iCloud backup by clicking Recover from iCloud Backup. You'll be asked to log in to iCloud after that.
Unfortunately, if your iCloud account has two-factor authentication, you'll have to disable it before using iMyFone D-Back.
When logged into iCloud, a list of available iCloud backups for scanning by iMyFone D-Back is shown. Click Next after selecting a backup to scan.
The scan will begin, and the amount of data recovered from the iCloud backup will be displayed in a status bar. When the scan is finished, click Recover to retrieve the data.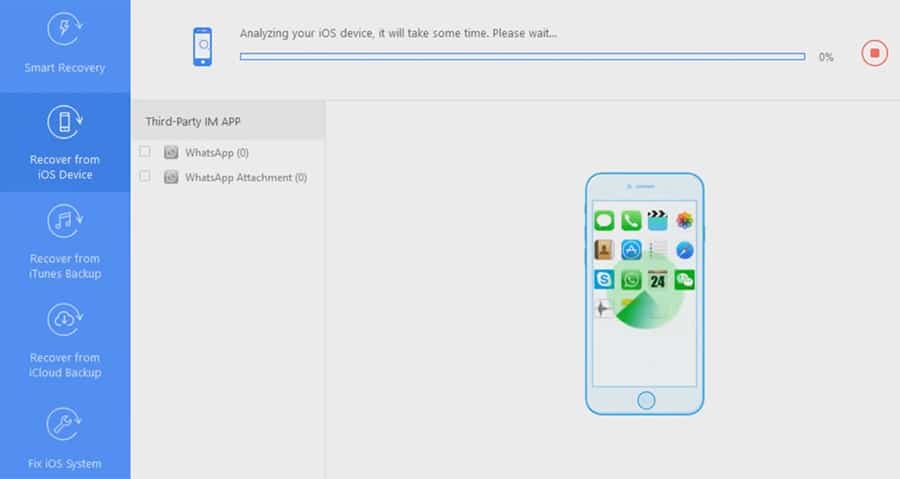 Pricing
In comparison to other recovery solutions on the market, iMyFone D-Back is a relatively inexpensive tool. Users can purchase one gadget for $34.95 or five devices for $44.95 each. A single device license is valid for one year, while a five-device license is valid for life.
The single license plan is typically used by customers who just need to use the service once. The iMyFone D-Back has a number of features that you may find useful in everyday life so it can be worth a longer license. As a result, you may retrieve and see files from your iCloud and iTunes backups without having to restore your phone.
You should be aware that technical assistance is accessible for all subscription plans, regardless of which one you choose to purchase. When you purchase D-Back and enter the registration code you receive, the tool will be active instantly. This means you can use the product right away after purchasing it. You'll also get automatic updates as soon as they become available.
Furthermore, if you're having problems with iTunes error 17 or have an iPhone stuck in a boot loop, iMyFone D-Back can assist you without experiencing any data loss.
Pros
The user interface is intuitive and easy to use, so it is possible to get your lost data back in just a few steps. You can quickly and easily recover a wide variety of file types on iPhone or iPad. It features four data recovery modes that ensure a high success rate for data recovery. D-Back allow you to choose which data to recover, instead of having to restore a full backup. Before purchasing the full version, you can try it out for free. It works well on all iOS devices running different iOS versions.
Cons
Data recovery is quite slow. In fairness, the poor performance is probably due to the phone and cable being used rather than D-Back but the fact remains that data recovery will take some time.
Is iMyFone D-Back Safe to Use?
D-Back is a safe data recovery program that works well. The scanning process just reads from your device and does not alter or destroy anything. iMyFone's customer service or technical staff will also assist you with technical support if needed.
Conclusion: Is iMyFone D-Back worth it?
It is worth buying iMyFone D-Back. Accidentally losing data can be stressful, but software like iMyFone D-Back, it is usually possible to recover your files.
The app is compatible with both iOS devices and Android smartphones. Both versions support file restoration from both functional and non-functional phones, as well as from cloud backups.
If you need capable data recovery software that is able to recover data in multiple ways, iMyFone D-Back is a good choice.