Review of Acronis True Image
The Acronis True Image cloud backup service includes a comprehensive range of data management tools. It assures the security of all your corporate data. Its disk imaging backup option is perfect for enterprises seeking to assure data storage and protection through capabilities such as disk cloning and rescue disk manufacturing. One of its defining qualities is its clean, simple, and intuitive interface, which enables you to quickly access a variety of services. It protects against ransomware and crypto-mining malware, as well as secures data centers to maintain system integrity. Acronis True Image includes automatic upgrades and dual protection, ensuring that your system always has the newest features. Cloud backup capabilities allow users to securely sync and share files through online storage utilizing any device.
Acronis True Image Features
In terms of capabilities, the Acronis program is brimming with intriguing options.
Archiving And Syncing
The Archive tab was one of the highlights we uncovered while preparing this review of Acronis True Image. The feature automatically analyzes your directories for unnecessary files and transfers them over to cloud storage or an external device. This option can be enabled to automatically scan your files whenever you connect, or you can manually specify which files to move.
Additionally, you may sync files across many devices. You can make a default folder that you can use for online storage. By enabling cloud synchronization, you can gain access to your files and folders via the web or a mobile device. The only disadvantage is Acronis does not keep track of file versions.
Virus & Ransomware Protection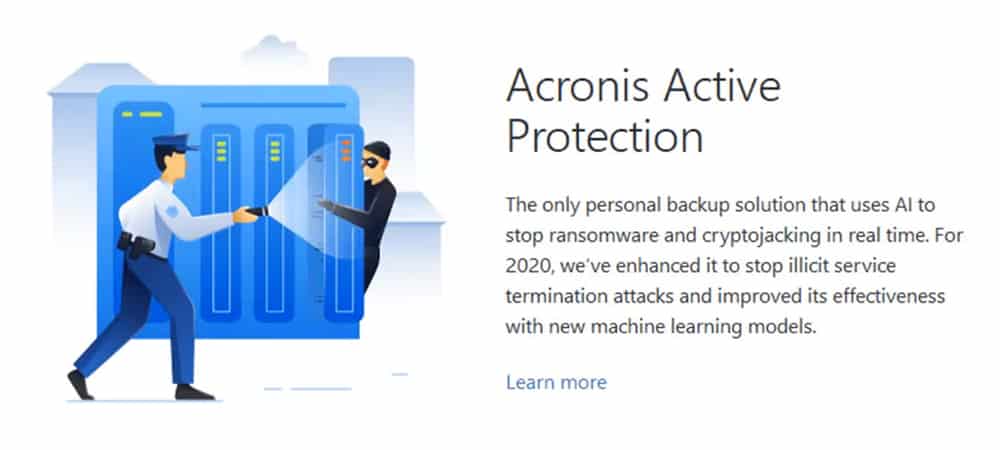 Theft of data, viruses, and ransomware are major concerns. Acronis True Image scans your files for potential threats and identifies security flaws in your software.
Although this is considered to be an extra feature, we have found through experience that shoehorning security scanning features into unrelated software is usually a bad idea. If you do not have other antivirus or malware protection software installed then this feature is better than nothing. But, there is not replacement for dedicated security software.
Active Disk Cloning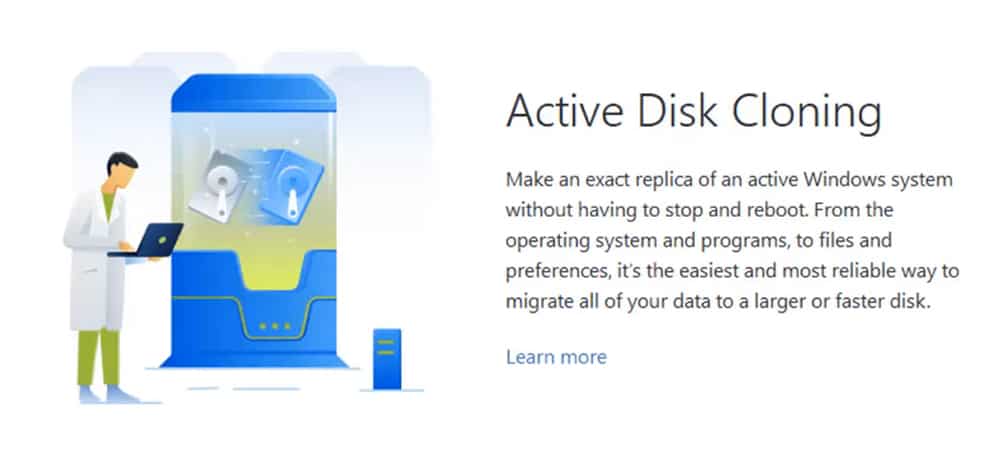 With Acronis backup software, full backup copies of your Windows or Mac system can be created without without rebooting your computer. This ensures that everything is transferred seamlessly, from files to apps and settings.
Copy Local Backups To The Cloud
You may duplicate your local backups to the cloud using Acronis. This is a critical feature that ensures you always have a off-site backup ready for recovery. It is incredibly useful for the majority of users' daily needs.
Visual Protection Dashboard
The Visual Protection Dashboard displays information on your backup activities, data statistics, and other metrics for each of your devices.
No Limits To Mobile Device Backups
While the number of PC's that can be connected to Acronis True Image is limited, theere is no cap on the number of mobile devices that can be backed up. This enables you to connect and protect all of your family's smartphones and tablets under a single roof.
Acronis True Image HD supports an unlimited number of smartphones and mobile devices. You can manage their individual protection plans.
CPU Load Capping
While Acronis True Image does not generally hurt performance, the new version has CPU load balancing. This features caps the CPU usage that the program is allowed to consume.
Smartphone Backups
Acronis True Image mobile is compatible with iOS and Android devices; if your membership includes cloud storage, you may backup all your smartphone to the Acronis cloud. If you do not have a subscription that includes cloud storage, you can back up your smartphone data to a storage device on the local network that has Acronis installed.
User interface
Acronis True Image has without a doubt the best-looking desktop interface I tried, and despite the abundance of functions, the UI makes the majority of the tools you'll use on a daily basis easy and accessible.
The left column contains the application's seven sections, while the right column has the current section's text.
The first portion is dedicated to backup. I like the way Acronis organizes this part, with a column listing all of your backups and a third column displaying the backup's state and the possibility to restore data from it. Each backup can have its own set of backup parameters, including notifications, scheduling, file or folder exclusions, and network prioritization.
Following that is the Archive, which contains files that you may not use often and would want to move to an external drive or in your Acronis cloud.
Sync is similar to IDrive in that it creates a folder to sync between your PC and other Acronis True Image-enabled devices. This may save you money if you use cloud services like Google Drive or Dropbox.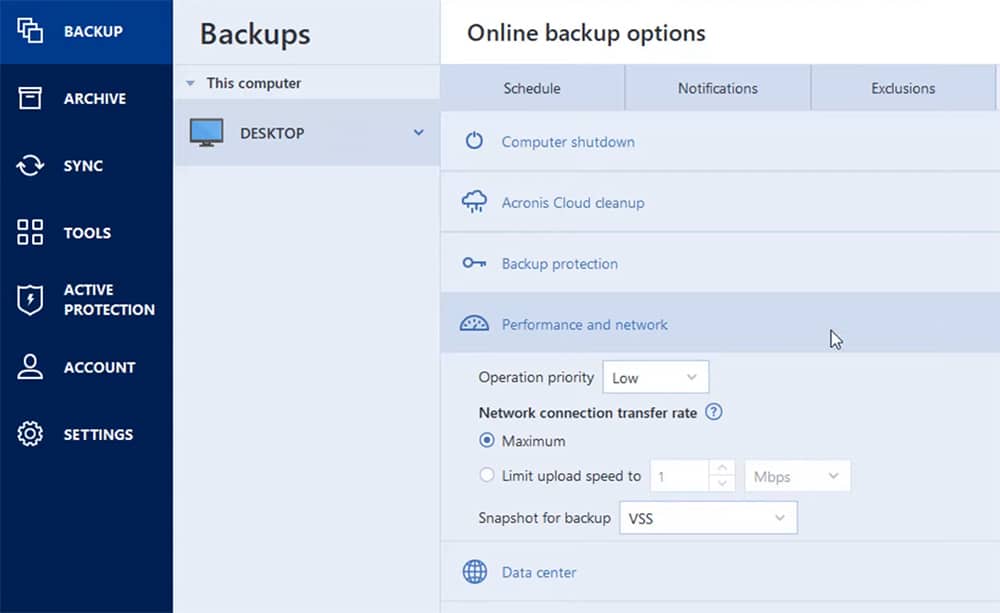 The Clone Disk function is listed under Tools, which allows you to create an exact replica of the boot drive in Windows, complete with operating system, apps, and data.
Additionally, there is Rescue Media Builder, which can create a bootable external drive or flash drive.
Due to the fact that the majority of settings are contained inside the relevant areas, Acronis' settings menu is one of the least cluttered I've encountered.
Acronis generally stays a step ahead of the competition when it comes to cloud backup solutions. It is the most attractive and intuitive alternative on the market. It is constantly expanding its capabilities.
This emotion does not extend to Acronis's web interface. While it appears to be identical to the desktop applications, it is painfully slow to operate. Regrettably, this is the only way to use Acronis True Image's sharing functionality. IDrive's web interface, as well as its sharing capabilities, are outstanding.
Pricing Options
The software requires an annual subscription and is available in three different price options for one, three, or five computers.
However, the application comes with a whopping 30-day trial period during which you can evaluate and experiment with it. The following table summarizes the various pricing options:
Essential Plan
The Acronis True Image Essential Plan starts at $49.99 per year for one computer and includes:
Disk Cloning
Flexible Backups
Universal Restore
30-day Malware Protection Trial
Tech Support via phone, e-mail, and live chat
Advanced Plan
The Acronis True Image Advanced Plan starts at $89.99 per year for one computer and includes:
Disk Cloning
Flexible Backups
Universal Restore
Ransomware Protection
Malware Protection
Tech Support via phone, e-mail, and live chat
Backups for Microsoft 365
500 GB of cloud storage backups
Premium Plan
The Acronis True Image Premium Plan starts at $124.99 per year for one computer and includes:
Disk Cloning
Flexible Backups
Universal Restore
Ransomware Protection
Malware Protection
Tech Support via phone, e-mail, and live chat
Backups for Microsoft 365
1 TB of cloud storage backups
Option to expand to 5TB of cloud storage
Electronic signatures & blockchain file certification
Acronis True Image Alternatives
EaseUS Todo Backup
EaseUS Todo Backup can create bootable backups, file snapshots, and incremental backups. The addition of customisable scheduling creates an excellent backup alternative if Acronis is not to your liking. Additionally, there is a free 30-day trial, which you may use to determine whether this is the perfect answer for you.
EaseUS Todo Backup is avilable for Windows and costs $29.95 and you can read more about it in our EaseUS Todo Backup review.
Paragon Backup & Recovery
At a little lower price, Paragon Backup & Recovery provides slightly more basic features with an intuitive user interface. Its primary shortcoming is the inability to backup to cloud services, while it does offer the ability to backup to network drives for increased protection.
Paragon Backup & Recovery is avilable for Windows and costs $29.95.
AOMEI Backupper
Despite being a free app with a ridiculous name, it performs far better than you may anticipate. It lacks other system tools and malware protection, but it easily handles basic backup duties. If you have a large number of Windows devices to cover, you can save a lot of money on licensing by using Backupper.
AOMEI Backupper is avilable for Windows and is free!
Windows Backup and Mac Time Machine
Operating systems lack more extensive backup solutions, but they do include some rudimentary alternatives. If you're okay with awkward interfaces and limited functionality, you can still utilize these built-in utilities to create automatic backups. They don't have advanced features like encryption, password protection, or ransomware security, but they do enable you generate backups of your information automatically and they don't cost anything
The Verdict
If not for the unintuitive design and slightly higher price than other options, Acronis True Image would be our top choice for backup software. Despite these shortcomings, Acronis True Image remains one of the best alternatives available, particularly for consumers worried about security and privacy who are willing to pay a little extra for peace of mind.
While there is little difference between this version of Acronis and previous versions, the new security features are a great addition to an already excellent backup service.