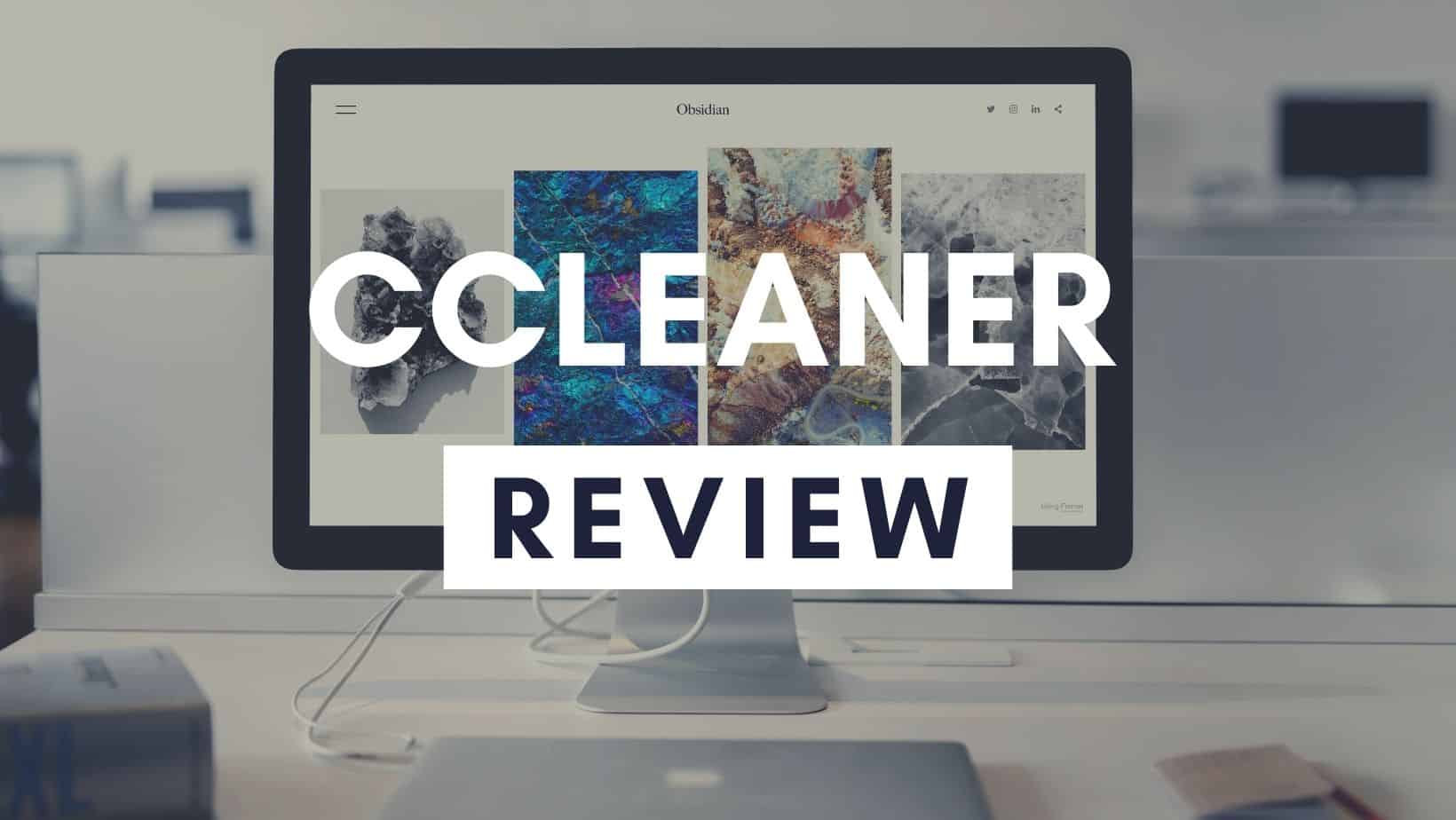 CCleaner is a Windows cleaner designed to eliminate unneeded and duplicate files, update outdated software, and keep your system running fast. Everything you do on your PC has the potential to create junk files, compromise your registry, and slow the speed of your processor.
You can't stop using the internet or limit your computer usage to prevent the accumulation of junk, repetitive files, and other debris. What you can do is download a PC cleaner like CCleaner to remove the unneeded garbage just as you might take a bag of trash from your home and drop it in a dumpster. Your home trash may go to a landfill far away, but CCleaner will permanently erase junk files without impacting your Windows environment.
This review of CCleaner, by Piriform, was created to help you determine if it is the right PC cleaner for your needs.
Features
There is a lot more to CCleaner than just freeing up disk space and cleaning junk files. The program has a significant list of tools that cover many privacy-oriented capabilities in addition to the junk cleaning tools you would expect from a good Windows or Mac cleaner.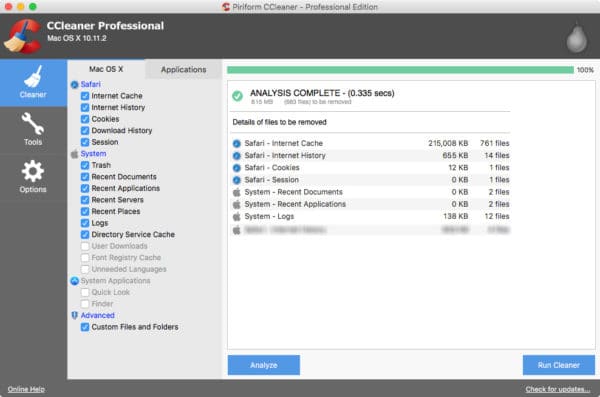 During the cleaning process, CCleaner will first scan your computer and recommend the course of action that it should take. You can modify what it will do, but it usually makes the right decisions, and you can trust it to do the cleaning that it recommends and click "Run Cleaner".
Privacy Protection
Privacy protection keeps cookies and Javascript, that collect during web browsing, flushed out regularly. This feature can help prevent tracking by ad networks and make your browsing a little more secure, as sensitive information is sometimes stored in cookies.
Cleaning Your PC
CCleaner helps you with optimization by finding and removing junk that have a tendency to collect on any computer. Over time, this can accumulate and use quite a bit of hard drive space. This feature will clean up old Windows and Mac OS updates, unused language packs, temporary images, and trash bins that aren't always emptied.
System Permissions
When you have issues with your computer persistently crashing, or it begins to have other problems, it is sometimes due to access settings in the system permissions being wrong. The free version of CCleaner will also fix broken system permissions on your computer, which is also good to do before upgrading your operating system.
Uninstall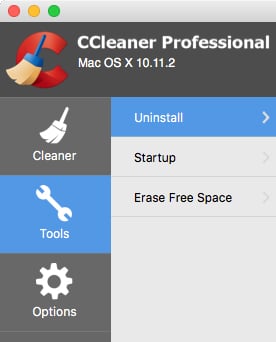 CCleaner's uninstall tool removes files and folders that are commonly left behind by a typical software uninstall.
Startup Management
Programs that run on system startup are responsible for the gradual slowing down that most people see with their computer. This feature lets you take back control of what programs start when you turn on your computer.
Erase Free Space
Using this tool, you can permanently remove all traces of files and documents that you have already deleted. When you delete a file, it is actually recoverable until it gets overwritten with new data numerous times. This feature takes care of that for you, so you don't have to worry about sensitive data that you thought was gone coming back to haunt you.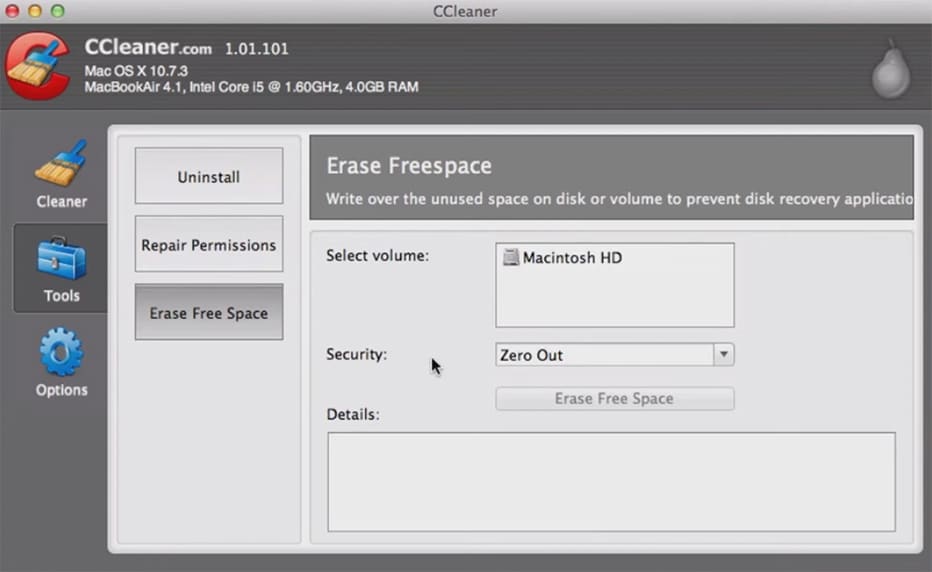 The erase feature has the ability to automatically overwrite free storage space up to 35 times, which far exceeds even military standards for data erasure. Most people do not realize that everything that you download to your computer with Safari, and everything that you do in OS X, stays readable even after you have deleted it. Running this utility is the most effective way to remove any trace of browser activity or sensitive files that you deleted from your computer.
Free vs. Professional
You may have noticed that some of the features listed above are specifically for CCleaner Professional. That is a paid version of the software that will cost you less than $25 per year for one home PC. You also have the option of bundling up to three computers for less than $40 per year. There are often sales that will give you access to the Professional version for less than that.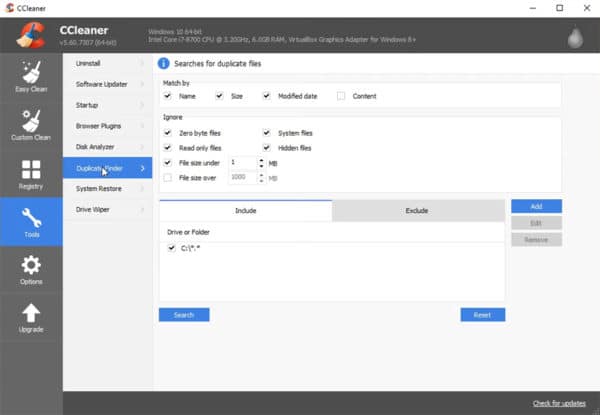 While Piriform CCleaner Free gets you started with a thorough scan and cleaning, upgrading delivers the following:
More thorough cleaning tools
App updates
Privatization of browsing history
Internet tracker detection and removal
Instant updates
Priority status if customer service is needed
CCleaner Free is a great starting point if you want to try the software out and see if it makes a difference in how your PC runs. If you want more extensive cleaning that will cleanup and optimize the performance of Windows, consider investing in the Professional version.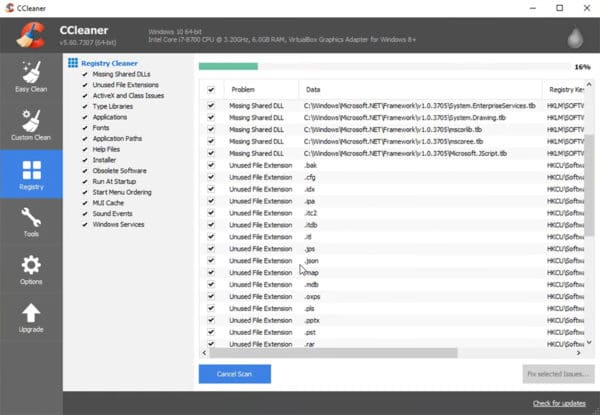 The Professional version also provides ongoing protection from system clutter and slowdown in real time. CCleaner will work in the background to ensure you never run out of disk space and aren't negatively impacted by outdated apps, internet trackers, temporary files, and random data that accumulates with use.
Why Use CCleaner?
There are other system and registry cleaner programs out there, but there are a few reasons you should consider CCleaner among the best:
It's easy and affordable. You don't get roped into monthly automatic billing schemes when you go with CCleaner. Use the free utility or pay once a year for the Professional upgrade.
There are no ads. Many free downloads come with ads that can slow your system down just as fast as the various files the tool is designed to remove. Save yourself a bit of trouble by going with popular tools that don't use ads.
CCleaner doesn't track your computer. This is an important point because you never know what some programs are going to log as they delete data. CCleaner is a reputable product that won't use tracking cookies for its own good.
Built-in security. Even the free CCleaner download contains some basic settings to protect against security risks. You won't introduce new vulnerabilities by using this software.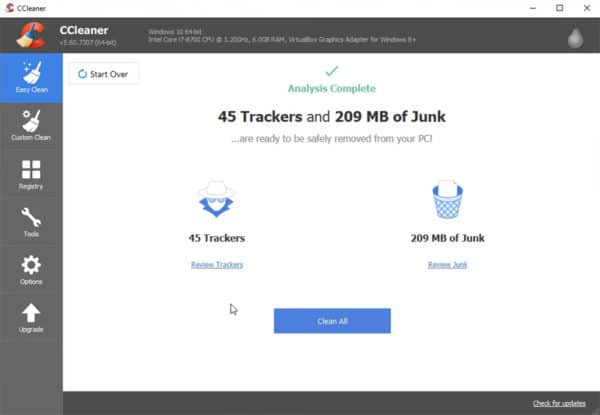 Cost
You can download the app and access the basic maintenance tools and privacy protection features for free. That's a good solution if you're on a tight budget or don't need the advanced features to optimize the speed and performance of your computer. The Professional version of the app will cost you $24.95 per year for one Windows or Mac computer. It works in the background to ensure you never run out of space and provides more thorough cleaning than the free version. It will also keep your apps updated and keep your browsing history private for greater security. One more benefit is the ability to detect and delete website trackers.
Pros
Free version available
Simple, easy to use platform
Built-in privacy features
Cons
No malware protection
It may not work with all browsers
Ransomware and malware protection not included
Is CCleaner Safe?
CCleaner is safe to use and works well. However, you should be aware that in 2017, Piriform (the makers of CCleaner) was hacked. Over two million consumers installed a version of the program that was infected with malware, allowing hackers to gain unauthorized access to their devices. Later, the business fixed the security flaw and issued a version of CCleaner that was malware-free. One has to assume that this was the reason for the company to make much stronger anti-malware statements on their website now.
CCleaner can be useful if:
Windows is no longer functioning at peak performance.
The slower pace interferes with your work or personal enjoyment of your computer. You may not need to buy a new PC as often if you can fix or cleanup the issues that are slowing everything down.
You have a new installation of Windows 10 and want to stop the accumulation of data and repetitive files from the start.
Preventing the problem is always easier than cleaning up the mess later.
You're concerned about your safety online and want to maximize your protection.
Maintaining a good virtual environment is just as important as maintaining a good home or work environment. While CCleaner won't take the place of installing a good anti-virus program, it can help remove vulnerabilities.
You frequently enjoy gaming or streaming videos and music.
You need to maintain speed and response times to ensure Windows can keep up.
You don't have the knowledge or desire to make manual changes to anything in the registry using the tools already available in Windows.
It's true that Windows 10 now offers a cleaning feature that could do the same thing that tools like CCleaner will do. The catch is you need to know what each feature is and how to access and use the settings. You then need a lot of time to manually use the feature to ensure your registry is clean now and in the future. If you don't have that expertise, CCleaner is an affordable do-it-now and do-it-right solution.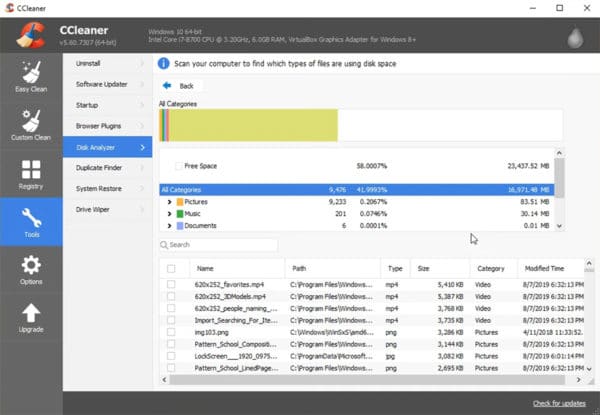 Will You Still Need Anti-Virus Protection?
CCleaner is designed to protect valuable real estate on your hard drive and won't replace a good anti-virus program. While the tool does come with some protections, it isn't designed to prevent hacking or infection with malware and viruses. Think of it more as backup to keep your system at optimal performance while your anti-virus program protects against the big threats.
How To Get Started
CCleaner is intuitive, fast, and easy to use. Once you download and startup the application, it will get to work on your behalf.
Just follow these simple steps to get it up and running quickly:
Decide between CCleaner Free and CCleaner Professional. Read through the comparison above if you aren't certain. You can always upgrade later if you go with the free version now.
For the free version, click the green "Download" button on the website.
When prompted, click "save file" to save the file.
Find the file in your list of downloads and click to run the program.
If you receive a prompt from Windows asking for permission to give the software access to install, click yes to grant that permission. That's a standard prompt that Windows should show when a new program is run.
Click the "install" button to start the automatic installer. Follow prompts on your screen to move forward as needed.
Once installed, run the program to start cleaning your system.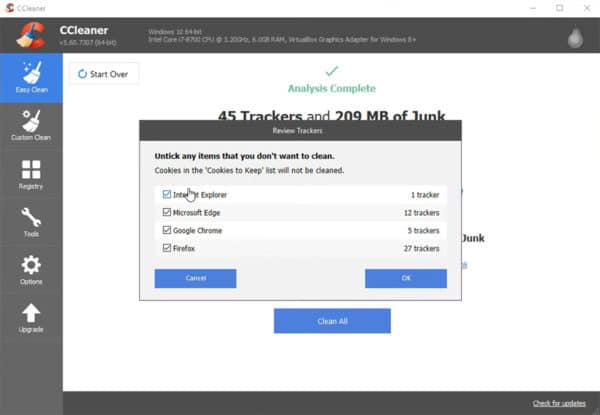 If you decide to go with Piriform's CCleaner Professional, you will enter your payment details before following the above steps. While going through the payment screens, you may have offers for bundles that include other premium programs.
You can easily bypass those offers if you only want to buy CCleaner. You won't have those offers when downloading the free version, so don't worry about aggressive upsells.
Final Thoughts
When CCleaner was first created, there was no way to clean your computer using Windows or any other applications already running on the typical computer. The app was greatly appreciated by computer users tired of fighting routine system slowdown, and it has now been downloaded more than two billion times.
While it's true that Windows has grown enough to offer its own system-boosting features, most people don't have the time or expertise to make use of such manual features. CCleaner is still a reputable, affordable option to keep your computer clean and fast. It has also undergone enhancements of its own over the years, so it will help keep your system safe as well as clean.