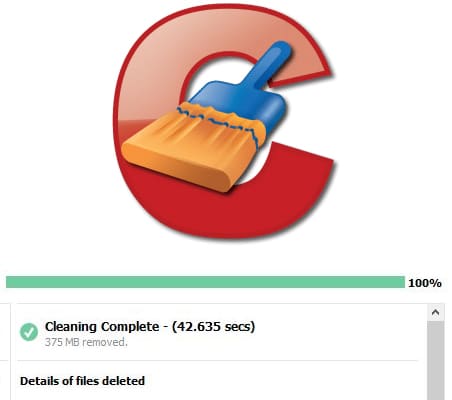 CCleaner for Mac is a privacy and OS X operating system cleaning tool with an intuitive and user-friendly interface. With over 1 billion downloads, there's no question as to whether or not this software has a large following, but is it worth paying the extra money to upgrade to the professional version? We'll find out in this review of CCleaner for Mac.
How to use CCleaner for Mac
CCleaner for Mac scans your computer for browser history logs, caches, and other things, then runs a cleanup tool to get rid of them all. The program doesn't access any critical areas of OS X or any applications that are essential for the apps you've installed. The goal here is to remove any unnecessary files from your Mac in order to improve its efficiency.
Technically, you might perform the same tasks as CCleaner for Mac, but it would take a long time to manually locate all of those files and you risk deleting anything that should have remained on your machine.
If you purchase the professional version of CCleaner for Mac, you will be able to take advantage of additional features such as automatically wiping your browser history when you close it and monitoring for suspicious files.
You should always carefully check all files to be removed, as CCleaner for Mac will often empty Trash, making it impossible to recover missing files later.
Features
There is a lot more to CCleaner for Mac than just freeing up disk space and cleaning junk files. The program has a significant list of tools that cover many privacy-oriented capabilities in addition to the junk cleaning tools you would expect from a mac cleaner.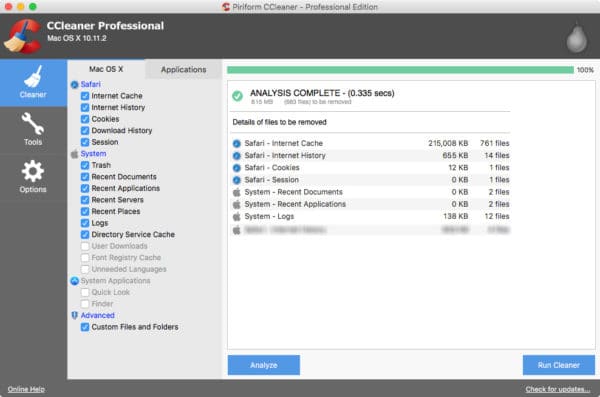 During the cleaning process, CCleaner for Mac will first scan your MacOS system and recommend the course of action that it should take. You can modify what it will do, but it usually makes the right decisions, and you can trust it to do the cleaning that it recommends and click "Run Cleaner".
Privacy Protection
Privacy protection keeps cookies and Javascript, that collect during web browsing, flushed out regularly. This feature can help prevent tracking by ad networks and make your browsing a little more secure, as sensitive information is sometimes stored in cookies.
Cleaning Your Mac
CCleaner for Mac helps you with optimization by finding and removing junk that have a tendency to collect on any computer. Over time, this can accumulate and use quite a bit of hard drive space. This feature will clean up old Mac OS updates, unused language packs, temporary images, and a Mac's multiple trash bins that aren't always emptied.
System Permissions
When you have issues with your macOS persistently crashing, or it begins to have other problems, it is sometimes due to access settings in the system permissions being wrong. The free version of CCleaner for Mac will also fix broken system permissions on your Mac, which is also good to do before upgrading your operating system.
Uninstall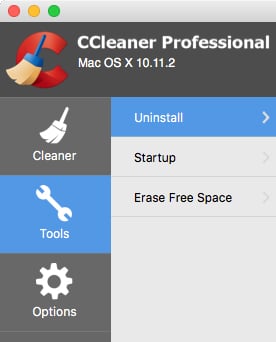 CCleaner for Mac's uninstall tool removes files and folders that are commonly left behind by a typical uninstall on a Mac.
Startup Management
Programs that run on system startup are responsible for the gradual slowing down that most people see with their computer. This feature lets you take back control of what programs start when you turn on your Mac.
Erase Free Space
Using this tool, you can permanently remove all traces of files and documents that you have already deleted.
When you delete a file, it is actually recoverable until it gets overwritten with new data numerous times. This feature takes care of that for you, so you don't have to worry about sensitive data that you thought was gone coming back to haunt you.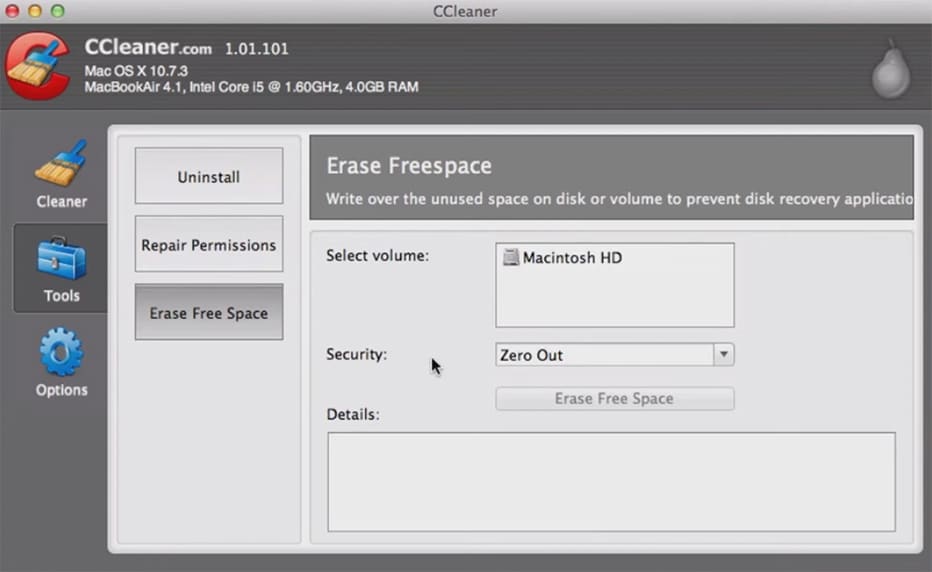 The erase feature has the ability to automatically overwrite free storage space up to 35 times, which far exceeds even military standards for data erasure. Most people do not realize that everything that you download to your computer with Safari, and everything that you do in OS X, stays readable even after you have deleted it. Running this utility is the most effective way to remove any trace of browser activity or sensitive files that you deleted from your Mac.
Cost
You can download the app and access the basic macOS maintenance tools and privacy protection features for free. That's a good solution if you're on a tight budget or don't need the advanced features to optimize the speed and performance of your Mac.
The Professional version of the app will cost you $24.95 per year for one Apple computer. It works in the background to ensure you never run out of space and provides more thorough cleaning than the free version. It will also keep your apps updated and keep your browsing history private for greater security. One more benefit is the ability to detect and delete website trackers.
Pros
Free version available
Simple, easy to use platform
Built-in privacy features
Cons
No malware protection
It may not work with all browsers
Ransomware and malware protection not included
Is CCleaner for Mac Safe?
CCleaner for Mac is safe to use and works well. However, you should be aware that in 2017, Piriform (the makers of CCleaner for Mac) was hacked. Over two million consumers installed a version of the program that was infected with malware, allowing hackers to gain unauthorized access to their devices. Later, the business fixed the security flaw and issued a version of CCleaner for Mac that was malware-free. One has to assume that this was the reason for the company to make much stronger anti-malware statements on their website now.
Free vs Professional Version
There are two versions of CCleaner for Mac. To increase the performance of your Mac, you can either download the free version of CCleaner for Mac or purchase it to have access to more features.
These are pretty good features for a free Mac cleaner, but this version of the software is really meant to give you a feel for the full-featured premium version. In the old days, this was called shareware. Now everyone acts like it's different software. Essentially, it's the same software but gives you a feel for the more powerful version.
The professional version is a more reliable and effective cleaner for Mac, so we still recommend it. Along with premium support, the professional version offers you a faster device but also good privacy security, real-time tracking, automated updates, and much more. For basic cleaning, privacy security, and a quick machine, the free version is a great option.
CCleaner for Mac vs CleanMyMac X
As you may have noticed, CCleaner for Mac and CleanMyMac X have some overlapping utilities. Really, both are very good and are trusted by Mac users worldwide.
However, CleanMyMac X is a more complete mac cleaner and has a much wider array of features.
Conclusion
If you're looking for an app that provides a simple and straightforward way to recover space on your hard drive, CCleaner for Mac is a good choice. The safety of your system is a big concern when choosing software like this and Avast has a long history of putting out well tested and safe software for Mac. Definitely start with the free version, and download CCleaner for Mac to get started before you purchase the application.