Affiliate Disclosure: The High Tech Society is reader supported and uses affiliate links which may earn a commission and support our work, at no cost to you.
Learn More

This MacBooster analysis covers the app's revised feature set in depth and determines whether or not the new version is worth your time.
Only tech-savvy geeks with a lot of spare time assume they should not need a stand-alone maintenance tool. Mac computers and laptops accumulate gigabytes of junk over time that doesn't go away on its own and significantly degrades system efficiency. Cleaning it all up takes a lot of time and few people bother to keep their computers clean on an ongoing basis. Mac system utilities allegedly save the day by claiming to automate the entire process. However, blindly trusting all applications in this group that are advertised online is a dangerous path to take. Many of them behave similarly to scareware, and some simply do not meet the criteria for being considered accurate. Where does the brand-new MacBooster 8 fit into this scheme? We'll do our best to respond to this query.
To begin with, IObit, the company behind the MacBooster app, has a large following and a good reputation, which says a great deal about the effectiveness of their products. Furthermore, MacBooster 8, like all previous versions from 2013 onward, comes with a powerful feature set that should ensure that the average user has access to the appropriate protection and performance improvement features. There are unquestionably positive aspects of the software. However, it justify purchasing the software? Let's take a closer look at MacBooster in this review.
Features
Turbo Boost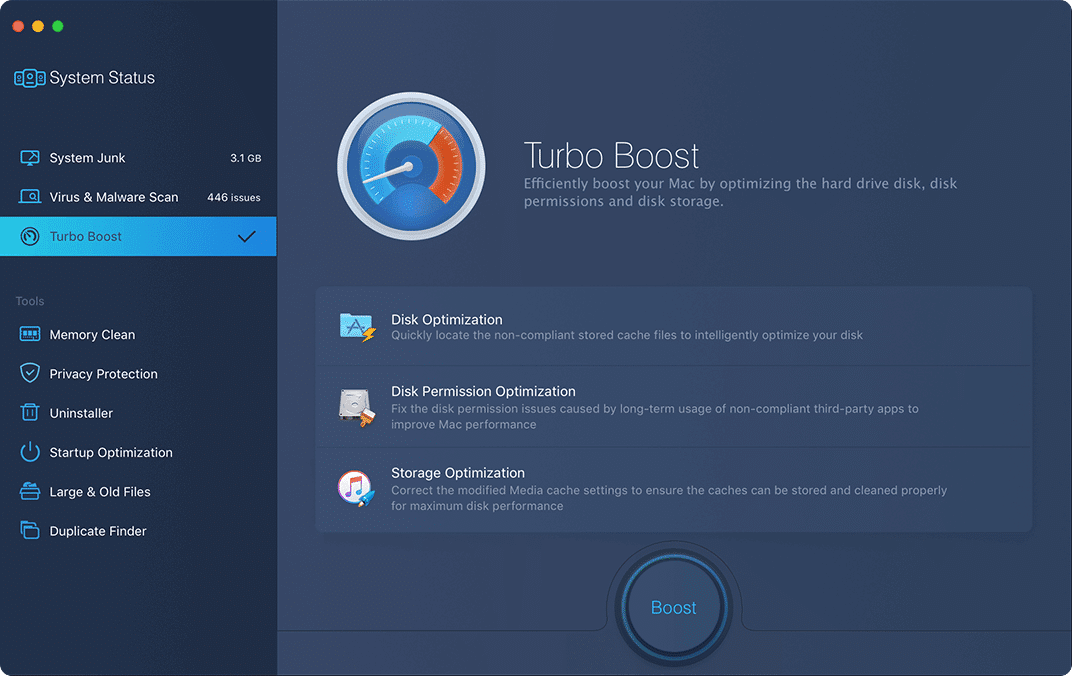 This function was introduced in MacBooster 6 and allows you to optimize your disk, disk permissions, and storage.
Cache and temporary files eat up a lot of room on your hard drive, but with this option, you can clear out the garbage and free up space. Many large files slow down Mac's functions, necessitating manual removal; however, you can quickly locate and clean them with this feature.
The steps are simple; you simply drag the files you want to search, and then after the scan, easily remove them. This latest edition of MacBooster includes a variety of sorting options to assist you in searching individual files of various sizes and locations.
Memory Clean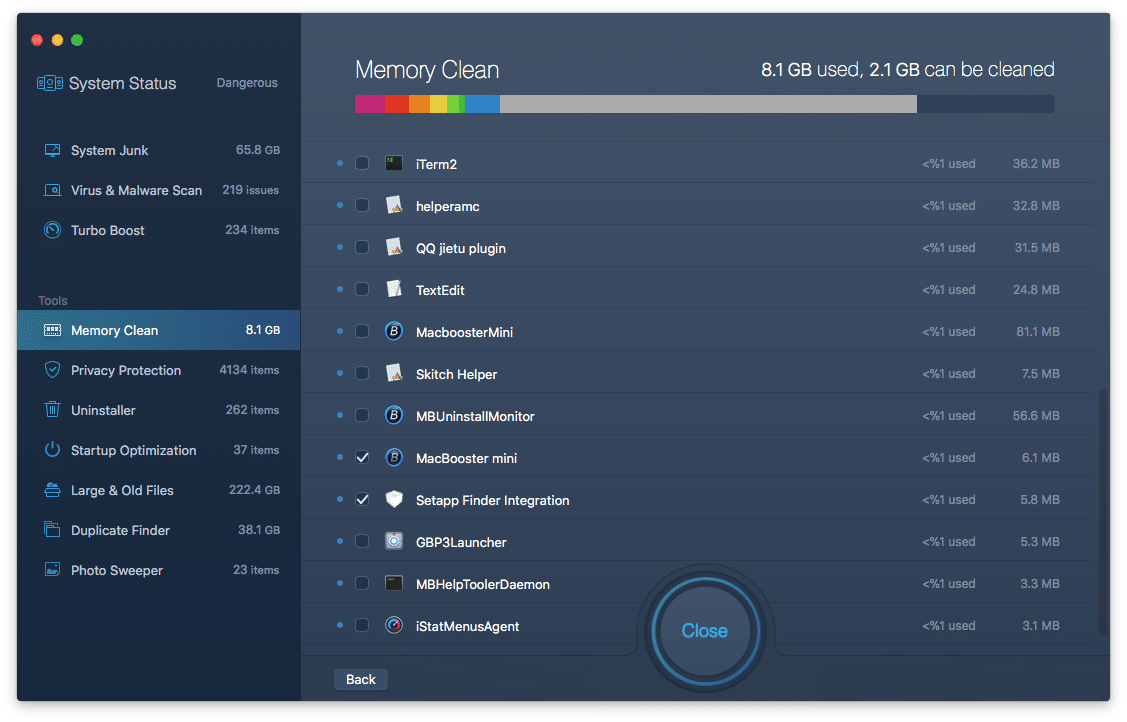 Having a lot of unused applications running in the background can cause your Mac to progressively slow down due to not having enough free RAM.
The Memory Clean feature will identify the biggest resource hogs and help you optimize those applications or stop them from running.
System Junk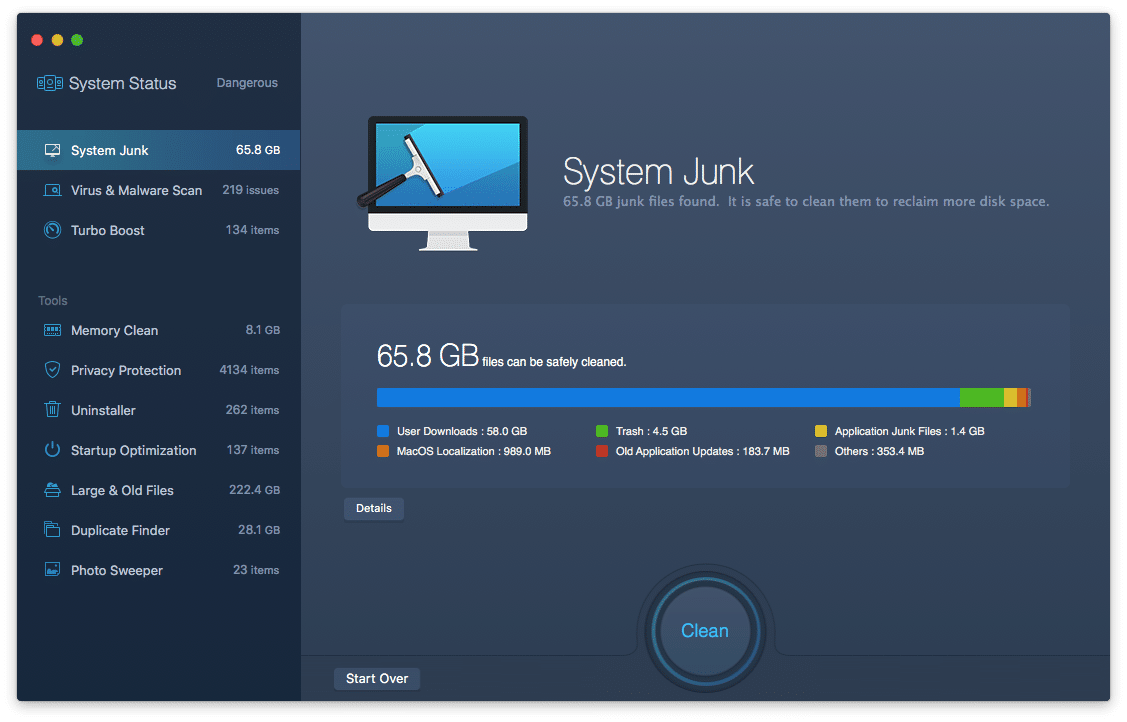 MacBooster includes a System Junk cleaner that scans your application's junk files, system trash, installer junk files, language files, system cache, system logs, and a variety of other locations where useless files will accumulate over time.
The initial scan with the System Junk cleaner recovered 6.3 GB of free hard drive space, but this is entirely my fault. The majority of it came from the trash can, which hasn't been emptied in a long time. GarageBand even takes up a whopping 4.9 GB of disk space! These are the disk spaces that you must completely reclaim when you run out of space.
In the end, MacBooster discovered nearly 14.8 GB of unnecessary files that I would not have discovered on my own. That's quite an accomplishment!
Startup Optimization Feature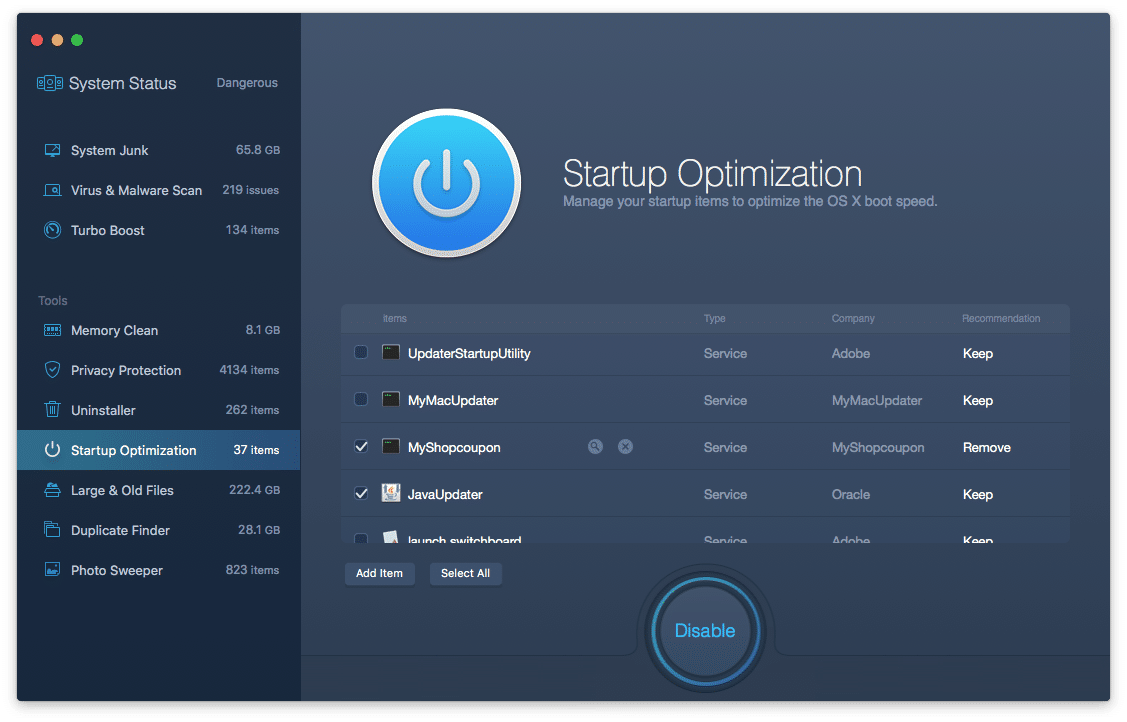 You may be aware that apps that launch at system startup will lengthen the time it takes for your Mac to boot. MacBooster's Startup Optimization function enables you to monitor and control the services and applications that start with your Mac. As a result, you won't have to think about your Mac loading slowly. There are recommendations on whether or not to have an app start on bootup. This way, you'll understand which programs are critical and what are not.
Duplicate Finder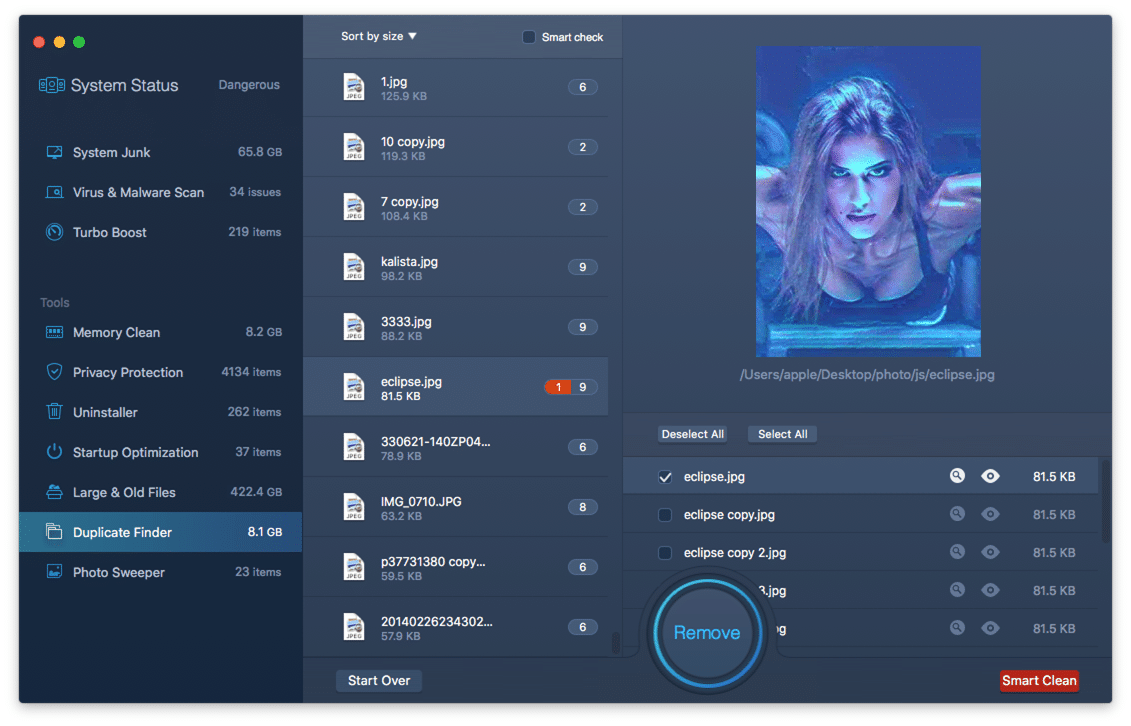 Unfortunately, duplicate files are an unintentional consequence of many common operating systems. They will inevitably be produced, and they can quickly fill up lots of space. The Duplicate Finder will find and remove duplicate files on your device for you.
The Duplicate Finder displays the number of duplicate files on your device and allows you to easily select which ones to remove.
Cost
You can download MacBooster 8 for free, but you will need a paid subscription to fully access the software. The standard plan is the most affordable and will cost you $59.95 per year or less than $5 per month for one Mac. They offer regular discounts, so that price can drop much closer to $35 per year and as low as $3.33 per month.
To protect up to three Macs, you can choose between premium and lite plans. The premium plan offers an annual or monthly rate while the lite plan allows you to pay $179.95 for a lifetime license. The lifetime rate is sometimes reduced to around $90 or less and could save you a lot of money if you plan to use the software for multiple Macs and years.
Pros
Interface
MacBooster does an excellent job of visualizing your Mac's health, from hard drive and memory use to possible security threats. Each utility is shown in the left-hand column, with its readout showing on the right. It's simple to navigate between the tools. MacBooster resources are easily accessible through icons in the menu bar.
Wide Variety of Features
A dozen or so tools allow you to track the status of your system, security risks, and performance issues. It's also simple to clean up your Mac by finding garbage, duplicate, or expired files, as well as iTunes products and images.
Security Checkup
The Security Center utility recognizes security features that you are not using that could help enhance your Mac's security.
Other
Malware protection included
Eliminates viruses
Deep, thorough cleaning
Cons
Some Features Duplicate Built-in Mac OS X Tools
While the housekeeping tools, such as the ability to check for duplicate or obsolete files, are useful, other utilities, such as those for handling startup objects and removing large files, can be done more easily elsewhere on your system.
Not intuitive
Though MacBooster does a straightforward job of tracking your computer's health, sometimes it doesn't provide a good description of the specific advantages of using the features.
Other
CleanMyMac X vs MacBooster 8
When we compare the features of CleanMyMac X to MacBooster 8, it becomes obvious that CleanMyMac X is clearly superior. A few features are shared between each of these fantastic cleaning apps, while others are exclusive to a single tool. The article below explains what these are and how one program leads the other.
CleanMyMac X is a feature-rich and powerful Mac cleaner that focuses on locating apps that aren't required on your device. Furthermore, it fully cleans and shreds files, ensuring that no remnants remain after they are removed. CleanMyMac X provides a thorough cleaning, as well as file shredding and visualization of storage space. These features are not available in MacBooster 8.
MacBooster 8 your system's cleaning, stability, and optimization in great detail. Apart from the features that it has in common with CleanMyMac, it does have two amazing features that set it apart.
MacBooster 8 and CleanMyMac X each have their own collection of features. However, CleanMyMac X wins because it has a greater number of features than MacBooster 8.
You can read more about CleanMyMac X in our review.
What Makes Macbooster Unique?
Macbooster distinguishes itself from the competition by its thoroughness, refined nature, and high degree of user control. There are many applications that claim to be all-in-one disk managers but fall short. Macbooster is ranked so highly because it stands out from the competition.
It's the little details that make the difference in a crowded world of disk space analyzers. Macbooster's System Status pane's unified view, useful privacy tools, and RAM manager all help set it apart from the competition. Macbooster's features work together to make disk management seem like a natural part of your daily routine.
Is MacBooster Safe?
Yes, MacBooster is safe to use and I've been using it for a long time. There are no malicious features in the app that will damage your phone. Some people have referred to it as a scam or crapware, but this is simply not the case. Such people are likely fully confident that Mac's and macOS can look after themselves and do not require any maintenance ever, so any third-party program that promises optimization is always met with suspicion.
I, too, am an Apple supporter, and I used to believe that Mac's were secure. Things have changed, and it's no surprise that Mac's are no longer as safe as they once were. If you do a fast Google search for recent Mac security problems, you'll see what I mean.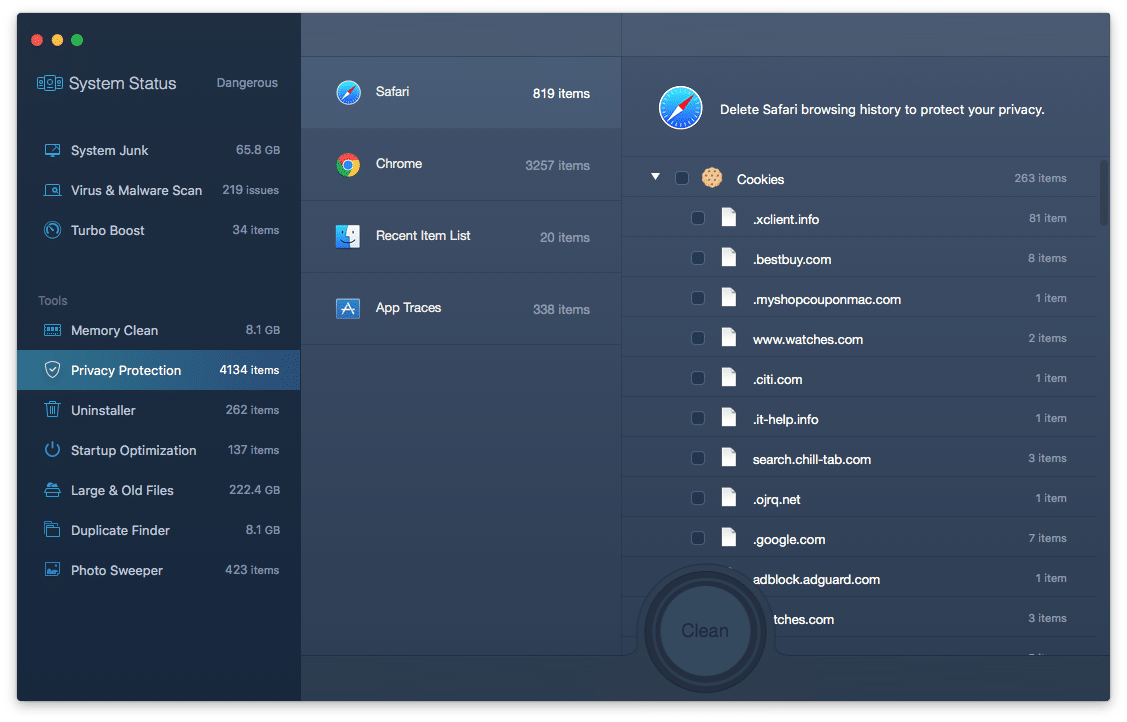 Just be sure to download MacBooster from their official website or the App Store to make sure you are getting the genuine version.
Bottom Line
MacBooster software includes all the resources you need improve the speed of an aging Mac. Scans are fast and simple, and they can clear up a lot of space on your hard drive. Malware scans, in particular, are extremely beneficial, since many users are unaware of the prevalence of malware on macOS systems. Though MacBooster can seem to be an expensive purchase at first, if you take advantage of one of the regular sales, the cost very reasonable. In general, however, MacBooster is an excellent choice for someone looking to maximize the performance of their Mac, due to its user-friendly design.