Best Apps To Spy On Text Messages
Affiliate Disclosure: The High Tech Society is reader supported and uses affiliate links which may earn a commission and support our work, at no cost to you.
Learn More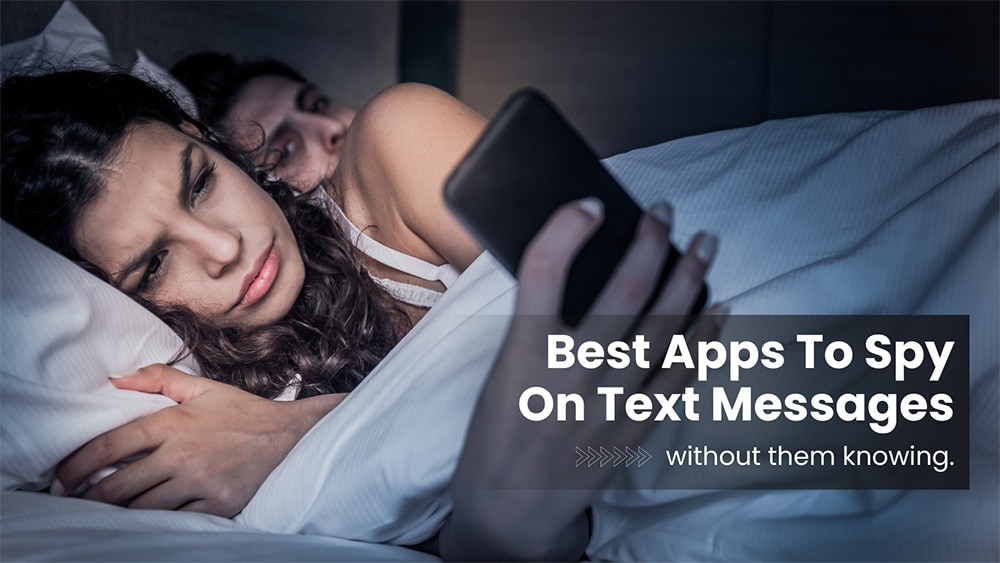 Many parents wanting to keep their kids safe will find themselves needing to use an app to spy on text messages. You may need to see who your kids are talking to and what they are saying, or make sure they are not falling victim to cyberbullying. In this article, we're going to discuss the top apps to spy on text messages and how they can be used.
5 Best Apps To Spy On Text Messages
Parental control applications, or spy apps, work by tracking activities on your child's mobile device. To spy on text messages, these apps usually need to be installed on the target phone and then they will record all activity, including texts.
1. uMobix

uMobix is a powerful parental control app to spy on text messages, with a wide range of additional spying features. Once installed on the target phone, you can view all incoming and outgoing texts, as well as spy on any deleted messages. uMobix also allows you to see other information such as call logs, GPS location, and installed apps.
In addition to SMS texts, uMobix provides full coverage for messages on social media applications like Facebook, Tinder, Instagram, Snapchat, WhatsApp, TikTok, Telegram, Snapchat, Skype, and Zoom.
Although the app is quite good for spying on messages, most reputable spy software has comparable features. Where uMobix stands apart is in its ability to activate the microphone and cameras remotely, effectively turning the phone into a listening device and live webcam.
While spying on texts can be incredibly useful, being able to hear what they say to their friends in private conversation is priceless.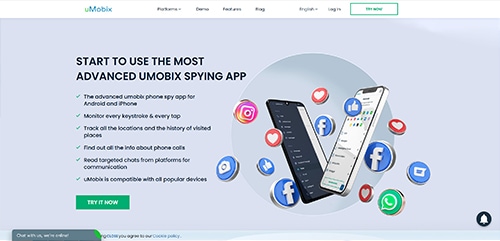 Pros
Remote camera activation

Can stream live video

Remote microphone activation

Real-time GPS tracking

Access to all social media apps
Cons
Data retention limited to 30 days on the basic plan
2. EyeZy

EyeZy is a parental control app that came out in 2022. It focuses on ease of use and offers a wide range of features.
Though not as full-featured as uMobix, this app can be used to spy on text messages without their knowledge. In addition to being able to spy on text messages, you can also get their cell phone location, view their social media activity, and even set up limits on their phone usage.
EyeZy has the broadest compatibility of any spy app on the market and was compatible with every iPhone and Android device I checked going back to 2014.
While EyeZy has a higher price tag than some of the other options on this list, it is one of the most popular choices for parents due to its ease of use.
Detailed tutorials are available with step-by-step instructions for how to use this app to spy on text messages.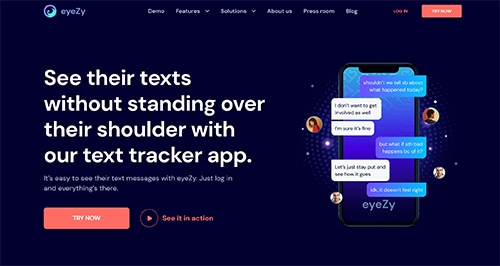 Pros
GPS tracking

Easiest to use

Totally hidden

Access to all social media apps
Cons
Not as powerful as uMobix
3. mSpy
If you need a cheaper option, but still want a dependable app to spy on texts, mSpy is a good choice. This app starts at $29.99 per month, but you can get a discount if you pay for 6 months or a year in advance.
mSpy offers all of the features you would expect from a top spy app, including the ability to view incoming and outgoing texts, see any deleted messages, track the cell phone's GPS location, view social media activity, and more.
mSpy is also one of the few options that offers a no-jailbreak solution for iPhones, which means you can install it without having to jailbreak the phone first. This makes it much easier to get started and reduces the chance of any problems during installation. If you do have problems, their tech support is among the best in the parental control niche.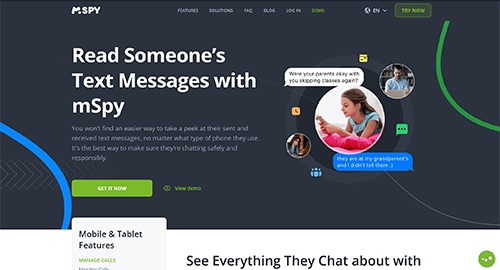 Pros
Records text messages

Keylogger

Screen recorder

Real-time GPS location tracking

Access to all social media apps
4. FlexiSPY

FlexiSPY is a more advanced parental control app that offers some unique features, such as the ability to intercept calls and listen in real time. The FlexiSPY app also allows you to spy on text messages even if they have been deleted, as well as access other information such as GPS location and web browser history.
It is the least user-friendly application on this list, placing it at #4, but it is the most powerful. If recording the person's phone calls is important and you are comfortable with a less streamlined installation process, this is an excellent app that can do a lot more than let you see other people's texts.
5. Spyera
Spyera is an older text message spy app that I just could never get comfortable with trusting. I mention it here because so many people ask about it, but it has a range of red flags that kept me from even installing it to test its functionality in spite of having an extremely impressive feature list.
Aside from the website being awfully simplistic and antiquated for an app that is supposedly so powerful, many of the features listed either lack more information about the feature or show contradictory information.
For example, a feature for "Facebook Call Recording" sounds impressive but when you click to learn more there is no mention of actually recording any calls, only being able to spy on text messages sent through Facebook and see who they contacted.
Mixed with odd misspellings throughout the site, it gives the impression that they are doing a bait-and-switch, it's foreign spyware, or only some of the features actually exist.
For now, I would recommend avoiding Spyera. When it comes to spying on your loved ones, it is wise to stick with proven tools for the job.
Is it legal to use an app to spy on someone's text messages?
That depends on your relationship with the person and your motives for spying on their texts. If you are the parent of a minor child, it is generally legal to monitor them in order to ensure their safety. If you are an employer, it is also generally legal to monitor your employee's cell phone for business purposes. However, if you are spying on someone's text messages without their consent it would likely be illegal in any jurisdiction.
Because laws can vary quite dramatically by state, you must consult a lawyer before spying on anyone without their consent.
FAQ
Are there free apps available?
No free spy apps currently exist. Even though some parental control apps are free, they have limited functionality and these apps can not spy on text messages. The good news is that the majority of text spying software is reasonably priced and comes with a variety of extra features.
What's the best app to spy on text messages without access to the target phone?
If you don't have access to the target phone, your options are limited. The only way of spying on someone else's text messages without having their phone is by using an app that offers a no-jailbreak solution for iPhones. In general, it's best to go ahead and jailbreak or root the target device to have access to the most information on the target phone.
Can I see deleted text messages?
Yes, most spy apps let you see deleted texts and other kinds of data, like GPS location, web browsing history, and more. But you can only see conversations that were deleted after the app was installed on the phone.
Conclusion
There are a lot of different things to consider when you are trying to decide which app to use. However, all of the options on this list will allow you to see who your child is talking to, what they are saying, and when they are saying it. So, no matter which one you choose, you'll be able to keep a close eye on your child's activities.