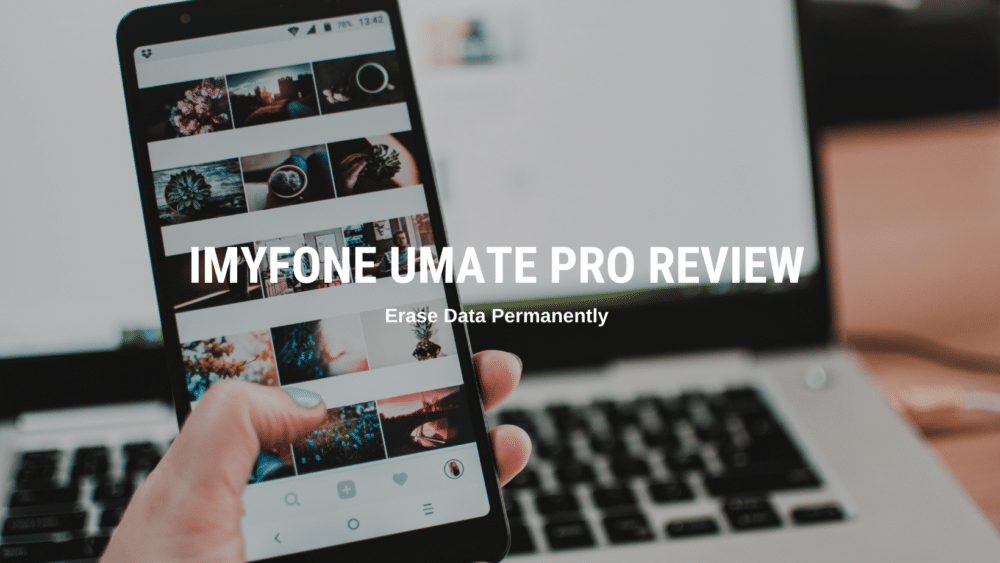 iMyFone Umate Pro is a cleaning tool for iPhones that works on both Windows and Mac OS X. This software can be used to wipe iOS data completely, clean up junk files on your iPhone, and delete private data from messaging apps such as WhatsApp, Viber, Kik, LINE and others.
Despite the fact that these are the tool's most important functions, it comes with a lot more. For example, its one-click cleanup functionality can significantly enhance the general speed of your iPhone. There are a few more features that can help you secure your online privacy and we'll take a deeper look at all of them in this review of iMyFone Umate.
1-Click Free Up Space
Even with the largest iPhone model, this feature of Umate Pro can save a significant amount of money each month. iMyFone Umate makes it simple to identify and delete items that are wasting space on your iPhone.
It performs a thorough analysis of your iPhone, revealing the existence of temporary, junk, large, and app files. Additionally, you have the option of removing them in bulk or individually. This is the simplest method if you wish to delete apps on your device.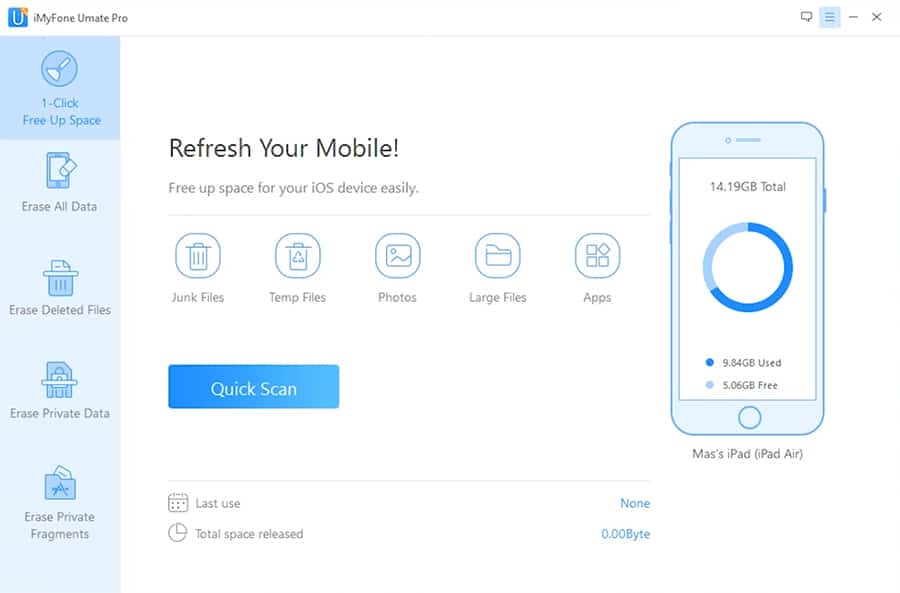 Erase All Data
If you plan to sell your iPhone, or if you need to get rid of data quickly, you should look into this option because it will completely delete all of your data from your iPhone.
iMyFone Umate Pro will suggest which steps you should do for a complete iPhone wipe. After you've enabled those choices, the application will guide you through the entire reset procedure, assuring your safety at all times.
Erase Deleted Files
As you may already know, just deleting files from your iPhone or other iOS device does not render them unrecoverable. If there are sensitive or embarasing files that you wish to delete permanently, go to the program's Erase Deleted Files area. This section will scan your iPhone for files you previously deleted, but which still exist.
This procedure may take a little time, but the end result will be dependable. Then you can choose what files you need to permanently erase. You won't be able to recover the data once you've done this so choose carefully.
Erase Private Data and Fragments
This feature of iMyFone Umate Pro can be used to erase numerous digital traces from your iPhone, particularly from instant messaging and social media apps.
Umate Pro allows you to wipe data from these native and 3rd-party apps completely and with no chance of recovery:
WhatsApp
Kik
WeChat
Viber
LINE
Photos
Videos
Call history
Safari history
Messages
Contacts
Notes
Voice memos
Reminders
Bookmarks
App cache
Apps
System settings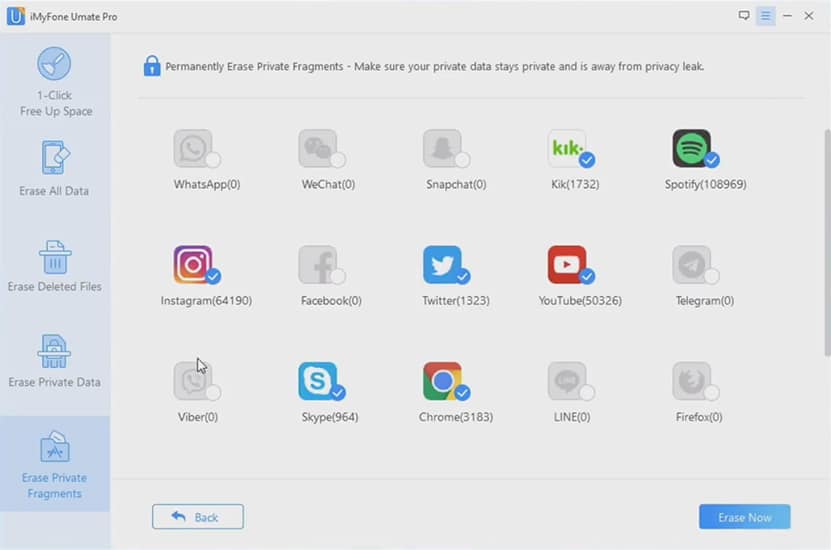 More crucially, the ability to erase fragments enables you to clear private data from the iOS system. At times, these fragments may pose a risk to your privacy. As a result, you can enjoy near-total privacy with the assistance of iMyFone Umate Pro.
Overall, the iMyFone Umate Pro's capabilities make it an excellent pick for any iPhone user. Instead of making things tough for non-tech aware individuals, it delivers the ideal combination of a streamlined interface and features.
Is iMyFone Umate Pro Safe?
iMyFone Umate Pro is safe to install on your iPhone. The method a cleaner uses to delete data should also be looked at from a perspective of safety because you do not want confidential information to surface when you though that it had been safely deleted.
Umate completely erases the data from the iOS system on your device, so you can know that your data is gone when selling, recycling, donating, or disposing of your device. iMyFone Umate also makes it easy to wipe selected data from your phone in order to free up hard drive space for new apps and files.
iMyFone Umate Pro uses a multi-step system to ensure that your data cannot be recovered. These steps consist of:
Wiping selected or previously deleted data from your device in an initial sweep
Overwriting the newly-cleared space with random data
Wiping the new data clean in a second sweep
Repeating these steps again and again until the device no longer has a record of your initial data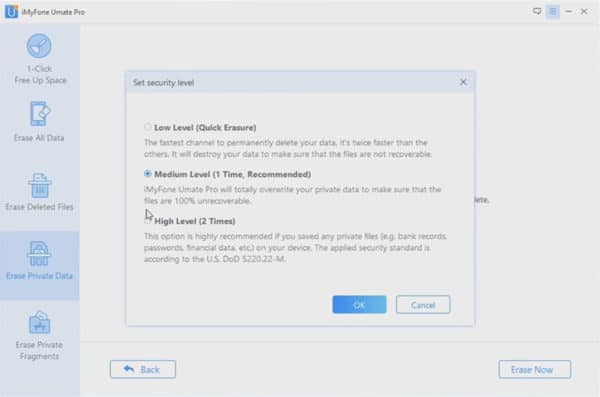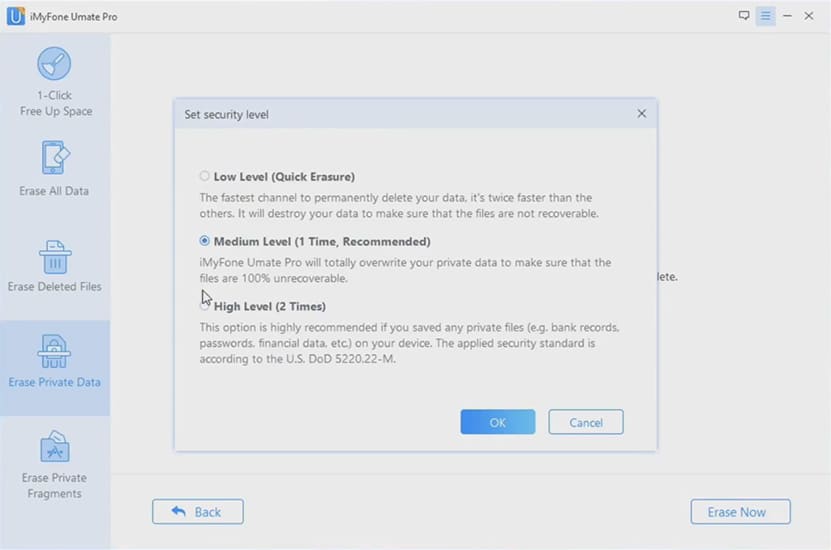 This is the same system that the government uses to securely destroy the data on their mobile devices.
Free vs. Paid
The developer's website sells iMyfone Umate for $19.95 (normally $29.95). You can also download a free trial that allows you to scan any iPhone to see just how much storage you can save. Additionally, the free version of the software will delete junk data once, uninstall one app, and compress the last five photos taken. You'll need to purchase for a license to get the full set of features.
iMyfone Umate is available on Windows and Mac OS X and works with a all versions of iPhone, iPad Air/Mini/Pro, and iPod Touch.
Pros
iMyfone Umate Pro will let you preview files it finds before proceeding with deletion so you can save the any that are important to you. This way, you can exercise complete control over what is deleted and avoid accidentally deleting something you desired.
With the touch of a button, temporary files that might quickly clutter up your device are deleted. This means that when you use this program, unwanted files that you're not aware of are deleted quickly and easily.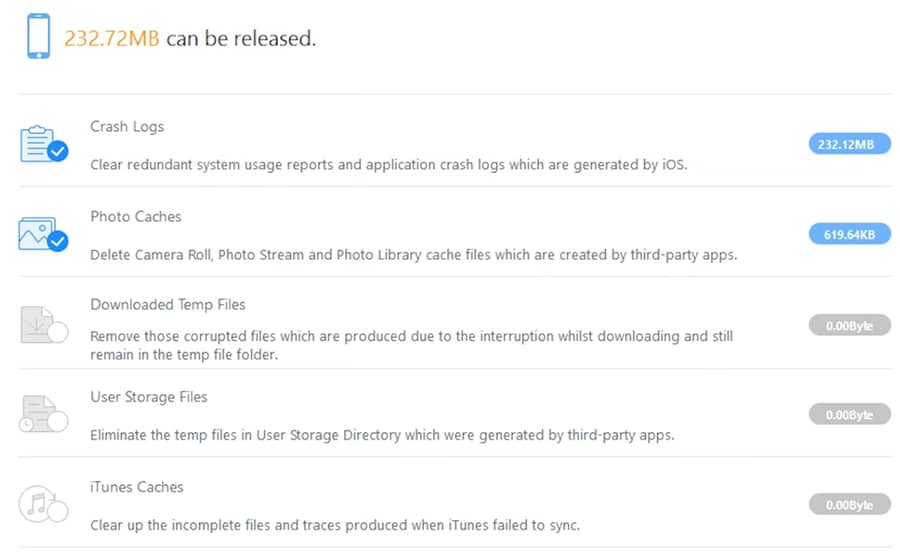 You can scan your device to be sure that any data you've removed is genuinely gone. Quite frequently, files that the user thought were deleted are not truly deleted, leaving fragments behind that can accumulate over time.
To guarantee that your device's storage space is maximized, you can also delete data fragments, app caches, cookies, and corrupted files easily.
Cons
The application is simplistic. This can be good for someone not very technical, and it does the job, but power users will want to dive deeper into what's happening under the hood than iMyfone Umate will allow.
Verdict
The simplicity and convenience of use of iMyFone Umate Pro is what makes it so effective. The reason many individuals keep unnecessary files in on their iPhone is the difficulty of completely deleting them. iMyFone Umate Pro provides a simple option for considerably increasing available existing storage capacity.
Additionally, you can see any files that are about to be destroyed to ensure that you don't miss anything. Due to the fact that the files are now permanently deleted, you do not have to worry about what old data on your iPhone may pop up in the future.