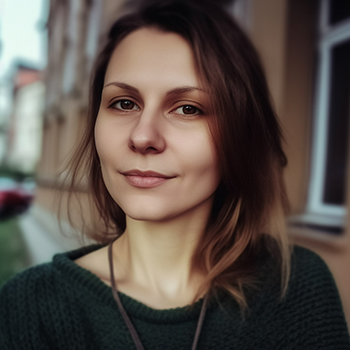 Katya Seryabkina, a passionate and self-taught cybersecurity expert, was born in Ukraine and currently lives in Krakow, Poland. Her journey into the world of technology began at the age of 14 when she started hacking and exploring the possibilities of the digital world.
Despite not having a formal technical education, Katya has acquired proficiency in five programming languages through her cybersecurity work and early hacking adventures. In addition, she has earned several industry-recognized certifications, such as CEH (Certified Ethical Hacker) and CompTIA Security+, to further demonstrate her expertise in cybersecurity.
Driven by her fascination with the cutting edge of technology, Katya has honed her skills in various aspects of cybersecurity. She primarily focuses on cell phone tracking, spy apps, the dark web, and innovative surveilance methods. Her unique background and hands-on experience with both sides of the cybersecurity world allow her to bring fresh insights and perspectives to her audience.
Katya's in-depth spy app review process involves rigorous testing and evaluation of the apps' features, user interface, ability to stay hidden, security measures, and overall effectiveness. She believes in providing unbiased and comprehensive reviews to help readers make informed decisions about the tools they choose for their digital security and surveilance needs.
Katya currently contributes her knowledge and skills to The High Tech Society, where she regularly publishes articles on a wide range of cybersecurity topics. She enjoys demystifying complex concepts and making them accessible to her readers.
As a mother of two teenage children, Katya understands the importance of safeguarding her family's digital life and maintaining total informational awareness of those close to her. She actively shares tips and best practices for parents to ensure their kids' safety, both online and in the physical world.
Areas of Expertise
Cell phone tracking
Spy apps
Cybersecurity
Dark web exploration
Innovative surveillance gadgets
Languages
Python
JavaScript
C++
Ruby
PHP
Online Presence
Due to the sensitive nature of her work, her LinkedIn, Twitter, Facebook, and other social media accounts are only available upon request.
Contact Information
For inquiries or collaboration opportunities, please contact Katya Seryabkina at katya@thehightechsociety.com.
Personal Interests
In her free time, Katya enjoys exploring new programming languages, attending cybersecurity conferences, and participating in ethical hacking competitions. She also loves traveling and photography, capturing the beauty of the world around her.