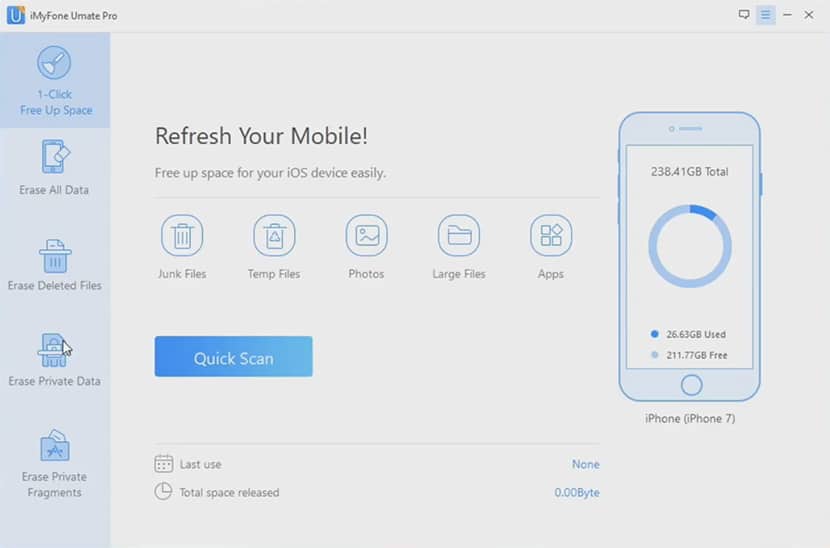 You likely started looking for an iMyFone review because your struggling with lost data, an overcrowded iOS system, or a forgotten iPhone password. All of these are common scenarios that, until recently, had no easy resolution.
Fortunately, iMyFone has changed this with a user-friendly interface that addresses these common problems. iMyFone is a SaaS company that offers custom tech solutions to iPhone and iOS device users struggling with issues like:
Dropped phones
Accidental deletion of data
Water damage
iOS upgrade
Forgotten password
Bricked iPhone
Virus attack
Lost iPhone
Factory reset
Phones stuck in different modes
Disabled device
Broken screen
Locked screen

Best Overall iPhone Repair Tool
iMyFone offers four highly custom products designed to address these scenarios:
iMyFone products are designed to be used on desktop or laptop PC's, meaning that they cannot be downloaded to your iOS or tvOS device. Instead, it allows your computer to take control of your iOS device. Just plug your iPhone iOS device into your PC, run the software and you'll be presented with a data recovery or security solution that is simple and clean. Each of the iMyFone products work in just a few easy steps, so you don't have to worry about getting lost in the technical process. It's literally a matter of clicking through a few screens.
iMyFone offers a free trial version of all of their software, which will let you see if the software meets your needs before buying anything. This lets you have a little more security that it's going to work for you, and offers more privacy than going to a local repair shop. These days, everyone usually has something on their phone that they would rather others didn't see.
All iMyFone products come with a 100% security guarantee and a 30-day money-back guarantee. They also provide free 365/24/7 technical support. When purchasing, your license will be sent within a few minutes of your purchase. iMyFone also offers free lifetime software updates, with new and improved features.
iMyFone D-Back Review: iPhone Data Recovery
iMyFone D-Back is an iPhone data recovery solution that installs on your computer, and then overrides control on your phone to recover that that would otherwise be lost. iMyFone D-Back works on iPhone, iPad, iPod touch, and other iOS devices.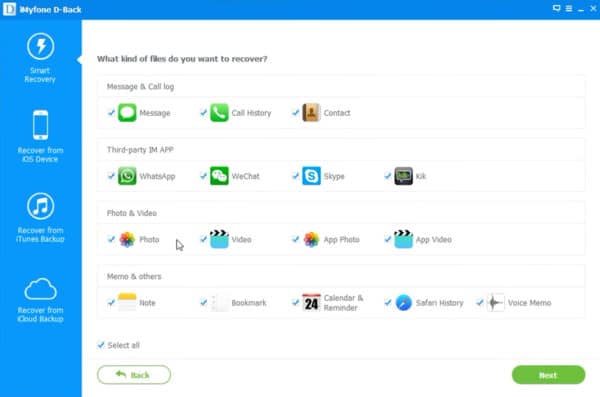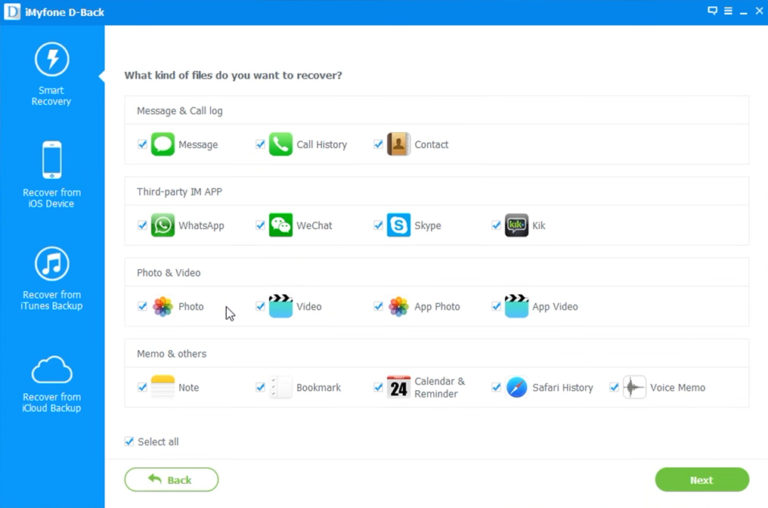 iMyFone D-Back iPhone Data Recovery is able to recover a wide range of data from iOS devices, including:
WhatsApp
Kik
WeChat
Viber
LINE
QQ messages
Photos
Videos
Messages
Contacts
Call history
Safari history
Notes
Voice memos
Reminders
Bookmarks
Videos
Pictures
Calendars
iMyFone D-Back iPhone Data Recovery works using individualized recovery tools that allow you to customize each step of the recovery process to your specific needs. As a software program that runs directly on your desktop or laptop, it offers four different recovery modes for a higher chance of recovering the data you need:
Smart Recovery, for users who want a simple, easy-to-use solution
Recover from iTunes Backup, for users who want to extract and recover iTunes backup data without restoring
Recover from Device, for users who want to scan their device fully and recover data directly from it
Recover from iCloud Backup, for users who want to download and recover data from an iCloud backup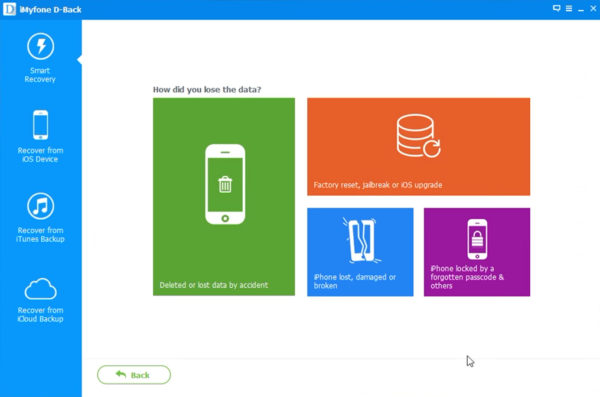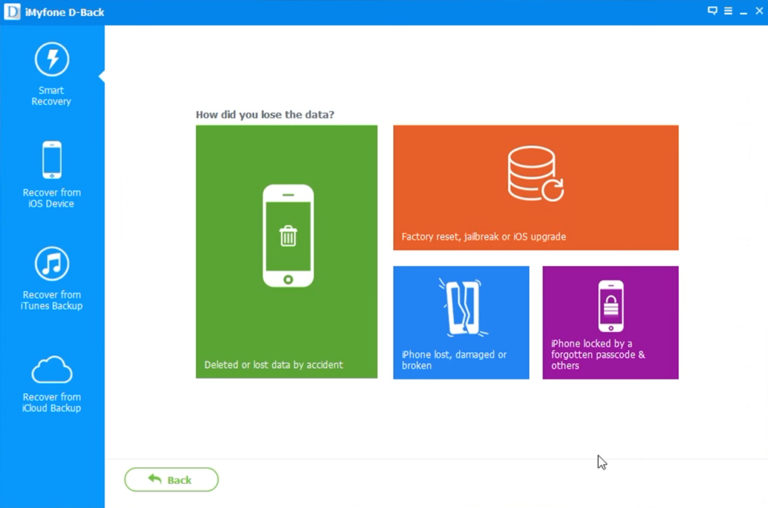 These different recovery modes are used depending on the scenario in which you lost your data. iMyFone D-Back is capable of recovering data in a wide variety of scenarios, including:
Accidental deletion
Broken screen
Water damage
iOS upgrade
Forgotten password
Bricked iPhone
Virus attack
Lost iPhone
Factory reset
Sometimes, users find that their data is suddenly gone after just deleting what they thought was a duplicate Apple ID.
The software is very good at what it does, and is able to sniff out data that we would have thought would be lost. However, depending on when your data was lost or destroyed, the iMyFone D-Back iPhone Data Recovery software may not be able to recover it. If your data has been lost for a long time, it may have been overwritten on the iOS system. If this is the case, the old data is no longer accessible. For that reason, we highly recommend that you try the free trial of iMyFone D-Back iPhone Data Recovery first to see if your data is recoverable.
iMyFone D-Back stores your data directly on your computer, only. For this reason, you'll never have to worry about security breaches of any kind, as your data will be with you only. This is one of the major advantages iMyFone has over taking your phone to a repair shop.
iMyFone Umate Pro Review
iMyFone Umate Pro can erase some or all of the data on your iPhone, quickly, easily and permanently. Why would you want to do this? There are times when you may be worried about someone gaining access to the current or past data on your iPhone, for personal or business reasons. This is where iMyFone Umate helps.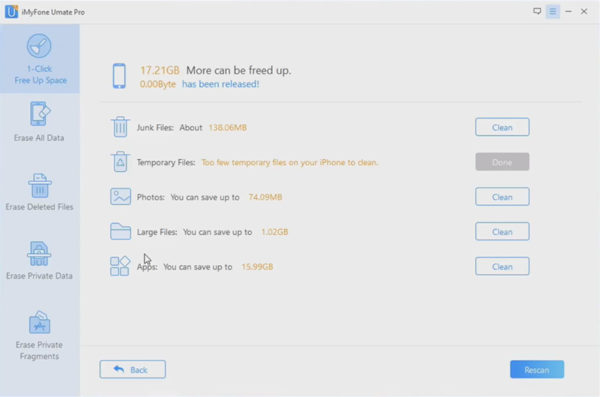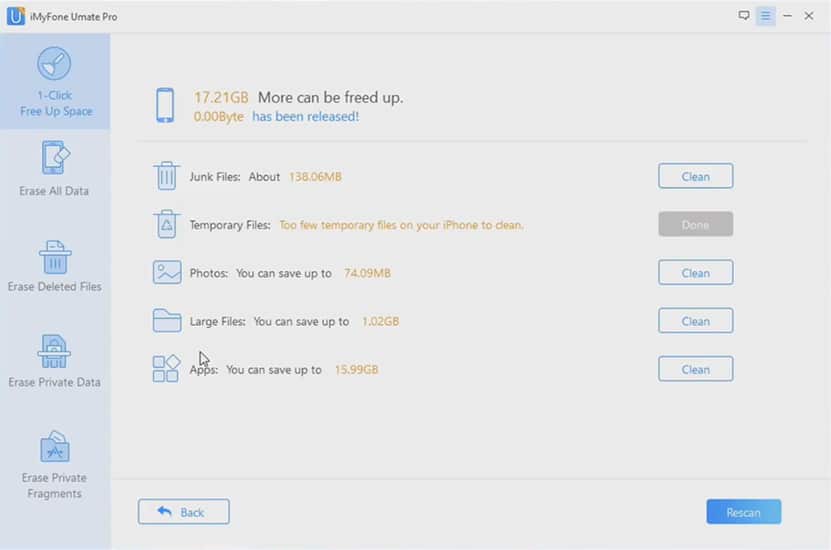 The average person stores millions of personal files on their iOS device, without really noticing it. Messages, photos, browsing history, etc. all build up over time. iOS devices allow you to "erase" your data easily, but this only removes the data from view. It does not truly destroy the data. This is why software like iMyFone D-Back, which we reviewed above, can recover lost or deleted data from your iPhone.
iMyFone Umate is an easy solution for users to permanently delete, or wipe, data from their iPhone or iOS devices. Umate Pro allows you to wipe these native and 3rd-party apps completely and with no chance of recovery:
WhatsApp
Kik
WeChat
Viber
LINE
Photos
Videos
Call history
Safari history
Messages
Contacts
Notes
Voice memos
Reminders
Bookmarks
App cache
Apps
System settings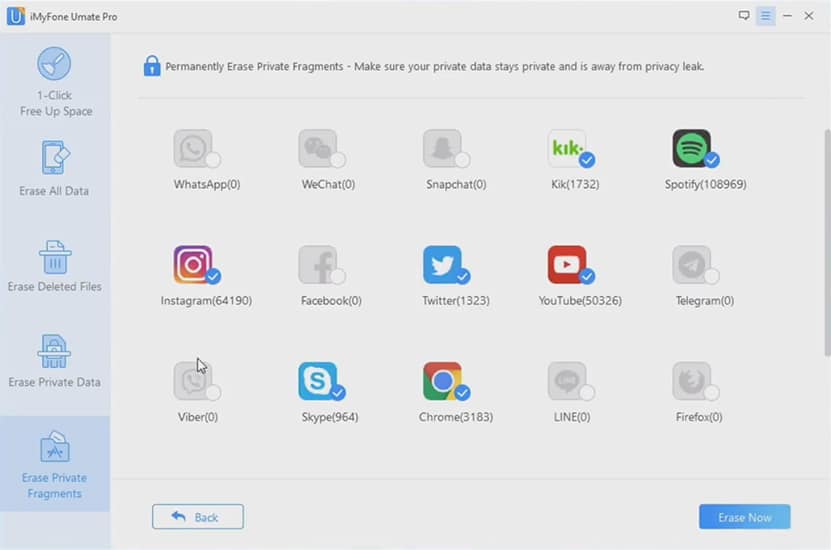 Umate completely erases the data from the iOS system on your device, so you can know that your data is gone when selling, recycling, donating, or disposing of your device. iMyFone Umate also makes it easy to wipe selected data from your phone in order to free up hard drive space for new apps and files.
iMyFone Umate Pro uses a multi-step system to ensure that your data cannot be recovered. These steps consist of:
Wiping selected or previously deleted data from your device in an initial sweep
Overwriting the newly-cleared space with random data
Wiping the new data clean in a second sweep
Repeating these steps again and again until the device no longer has a record of your initial data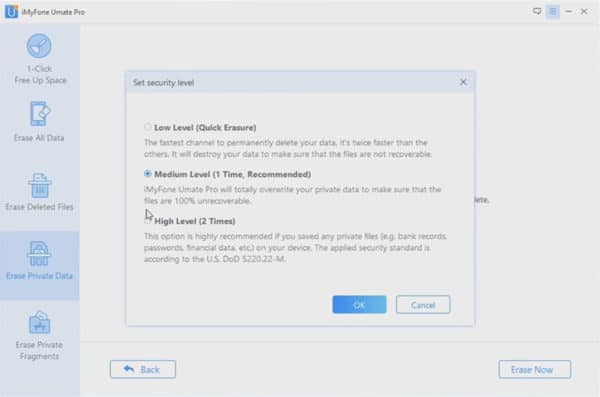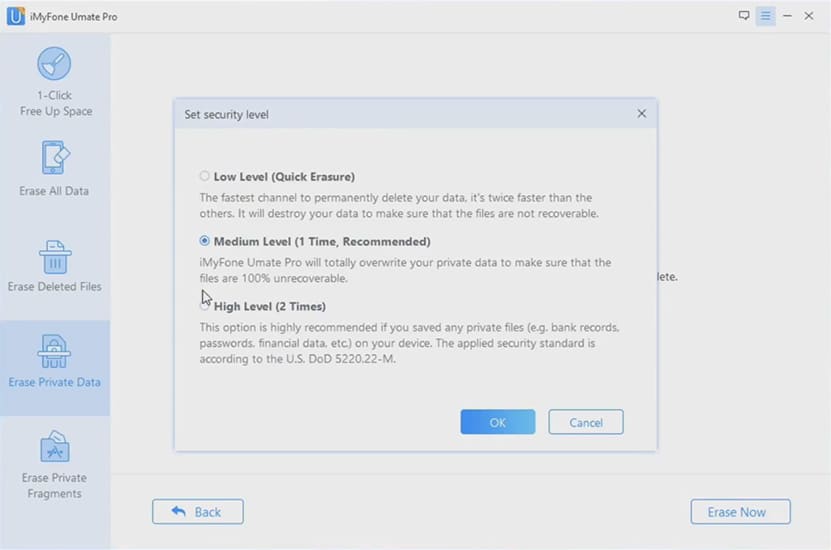 This is the same system that the government uses to securely destroy the data on their mobile devices.
Umate also includes an iOS optimizer, which allows you to free up space on your device for new files and apps. Its 1-click cleanup mode wipes hidden data and previously-deleted files that may still be embedded on your device, allowing it to run as fast as it did when you first bought it. With iOS Optimizer, you can:
Completely wipe hidden data and temporary files
Export, delete, or compress photos without loss
Export or delete large files
Uninstall apps in bulk
iMyFone Umate Pro works with a all versions of iPhone, iPad Air/Mini/Pro, and iPod Touch.
iMyFone Fixppo Review
If you're having trouble with your iPhone or iOS device, iMyFone Fixppo may be able to help. iMyFone Fixppo repairs a wide variety of iOS system failures with ease, allowing you to avoid trusting your device to a repair shop, which will likely clone your data. iMyFone Fixppo allows you to repair iPhones and other iOS devices with no data loss, ensuring that your device remains usable.
Some of the problems that iMyFone Fixppo can fix are:
iPhone stuck in recovery mode
iPhone stuck in "spinning circle" mode
iPhone stuck in "Apple logo" mode
The famed "White Screen of Death"
The famed "Black Screen of Death"
Frozen iPhone
iPhone stuck in "boot loop" mode
An iPhone that won't turn on
An iPhone stuck in "restore failure" mode
An iPhone stuck in "update failure" mode
Apple TV issues
iMyFone Fixppo can also fix common Apple TV problems, including a locked black/white screen and other system issues, while preserving your data. With one click, iMyFone Fixppo allows you to enter recovery mode, without any activity on your actual device. You can downgrade your version of iOS to previous versions without using Jailbreak, in case you dislike the latest version released by Apple or it is causing problems. Finally, Fixppo can bypass iTunes errors, in case your iTunes gets stuck or you need to update or restore your device.
iMyFone Fixppo has two major repair modes, both with different strengths and applications. Standard Mode allows you to fix common iPhone and iOS issues like stuck or frozen screens without any data loss whatsoever. On the other hand, Advanced Mode repairs serious iOS and tvOS problems that Standard Mode doesn't fix, like disabled devices and other issues. With Advanced Mode, your device may sustain data loss.
iMyFone Fixppo has been highly praised by many tech authorities, including Ubergizmo, TechRadar, Payette Forward, Engadget, MUD, and Tech Advisor. It supports all iOS versions and devices, includingthe newest models of iPhone, iPad, iPod touch, and Apple TV.
iMyFone LockWiper Review
If you are struggling to access an iOS device with a locked screen or need to use a disabled iPhone, iMyFone LockWiper will allow you to remove the Apple ID or passcode, easily and in just a few simple steps.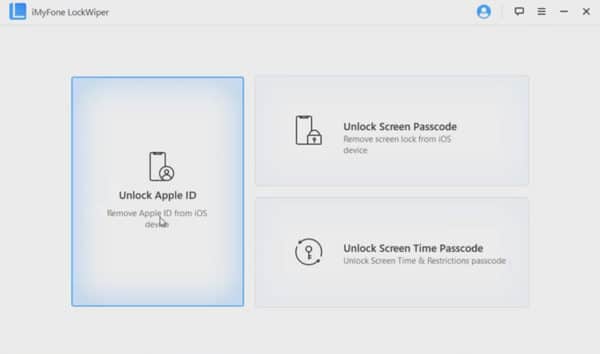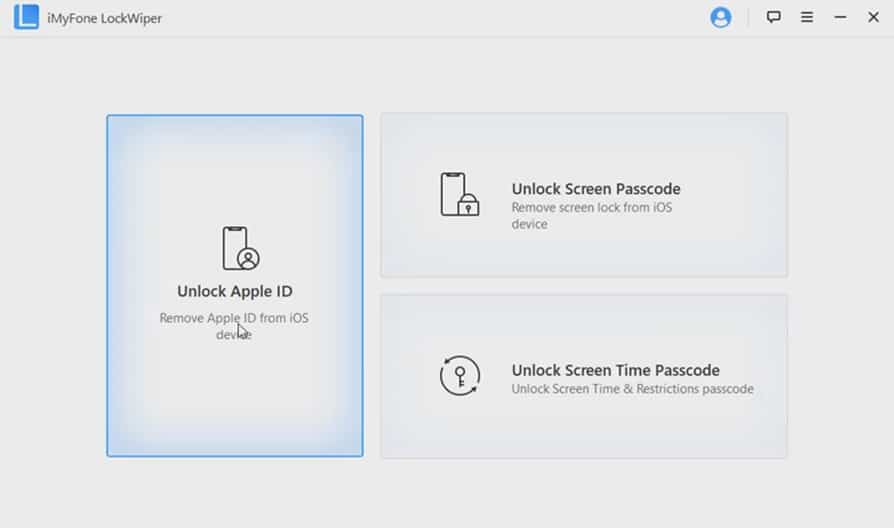 You can remove your device's Apple ID without a password, or quickly unlock the Screen Time or Restrictions passcode without any data loss. LockWiper can bypass the screen passcode in a number of different iOS scenarios, including:
Locked screen
Disabled device
Broken screen
Forgotten password
Disabled Face ID or Touch ID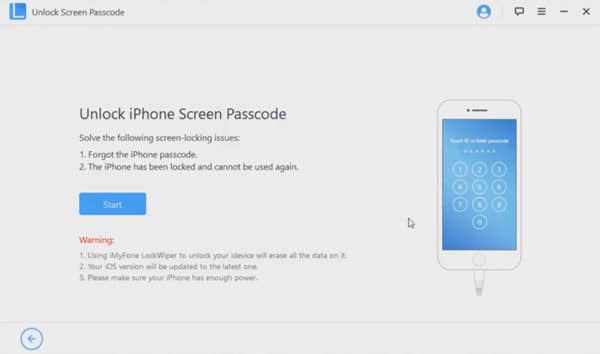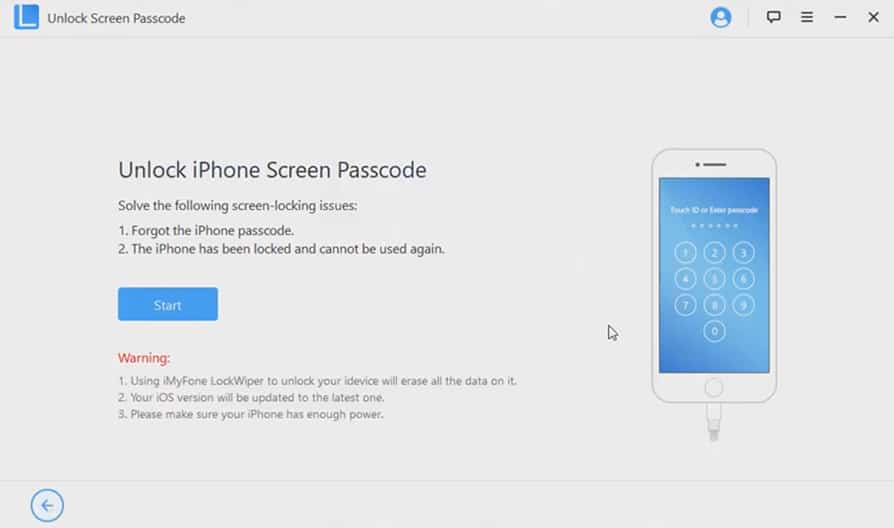 All varieties of iOS passcodes can be unlocked, including:
4-digit passwords
6-digit passwords
Face ID
Touch ID
Custom numeric code
Screen Time passcode
Recovery of Restrictions passcode
After using iMyFone LockWiper, you can change to a different Apple ID or create a new one and take complete control over your device. You will then be free to make use of any iCloud service and enjoy all Apple ID features. You can also update to a new iOS version wirelessly, without losing your newly-acquired Apple ID.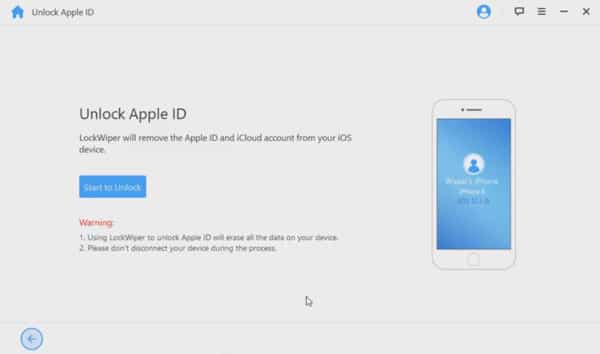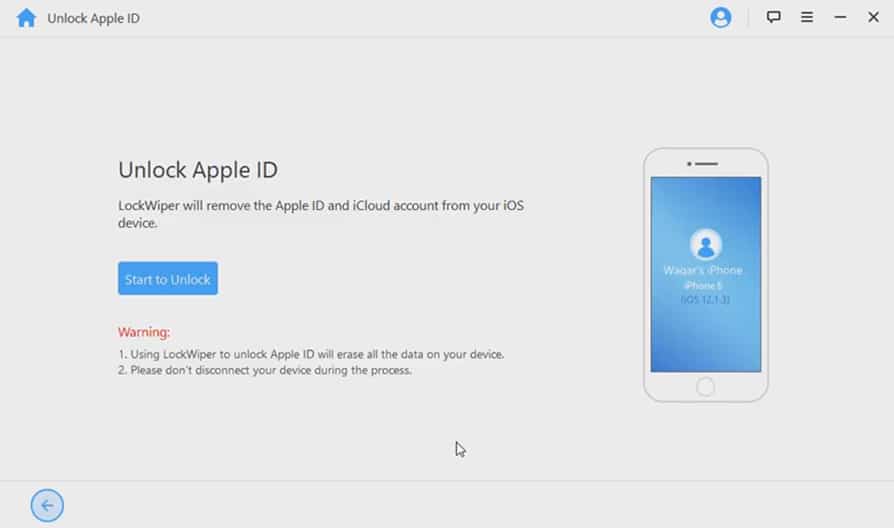 As a side benefit of using iMyFone LockWiper, your iPhone or iOS device will actually be a little more secure after you run LockWiper. Once the device has been unlocked, it can't be tracked via the previous Apple ID. Your iPhone will be removed from your previous iCloud account, ensuring your privacy and security. Because of this, your bypassed iPhone can't be locked or erased by the previous Apple ID user.
iMyFone LockWiper only works on activated devices and is not supported when "Find My iPhone" is enabled on iOS version 11.4 and later.
iMyFone LockWiper works on all iPhone models and iOS versions including iOS 13 and iPhone XS (Max).
Summary
With iMyFone D-Back iPhone Data Recovery, you can preview or recover the lost data from your iOS devices and iTunes or iCloud backup, downloading the data to your laptop or desktop PC. iMyFone D-Back iPhone Data Recovery retrieves a wide range of lost data, including messages, videos and 3rd-party software data. It offers the capacity to retrieve thousands of unique files, making it an invaluable tool for people seeking to retrieve data from their iOS mobile device.
iMyFone Umate Pro allows you to select which data you want to clear from your iOS system, allowing you the flexibility to preserve or discard as little or as much data as you want. This program is useful for someone who is gifting away or discarding their device, preventing identity theft or fraud by cybercriminals. iMyFone Umate Pro accomplishes this by using a quick and simple 3-step process that is easy to use.
iMyFone Fixppo resolves a host of iOS issues by running a series of diagnostic tests and executing custom solutions. It works using three simple steps that are quick and easy-to-use.
Finally, iMyFone LockWiper offers a solution to people who have lost or forgotten their passcodes or Apple ID and can't get into their devices.
iMyFone offers a free trial version of each product, so it's worth testing it first to see if the software will meet your needs.