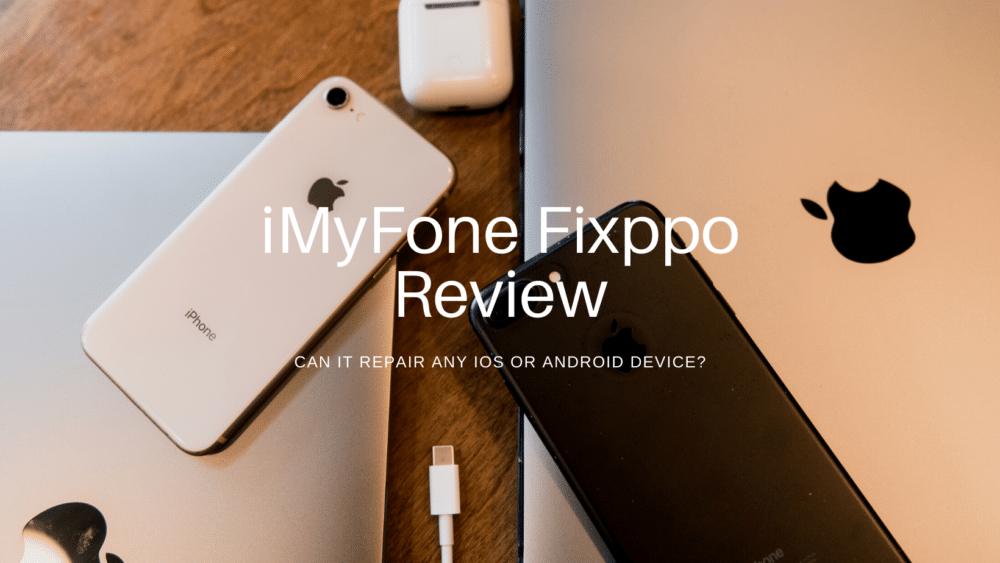 iMyFone Fixppo is an iOS and Android repair tool. that comes in handy when an iPhone or Android device is frozen, has failed an operating system update, or is stuck on the Apple logo, boot loop, or recovery mode.
One of its most significant advantages of using Fixppo is that it is able to repair the device safely and without data loss.
Additionally, iMyFone Fixppo can enter and exit recovery mode for you, which is ideal if you are unable to enter recovery mode yourself.
This tool can also be downgrade the operating system version on the device without the need to jailbreak it. If the standard mode does not resolve the issue, an Advanced mode can resolve more difficult issues.
Ease of Use
This application is well-known for its ease of use. Many users won't need a manual to get started with this app. The technique and instructions are rather simple to follow and easy if they are required. Users receive on-screen directions to do smaller tasks when they utilize this program. iMyFone Fixppo was created with even non-tech users in mind. As a result, no software or technical abilities are required to make it work.
Standard Mode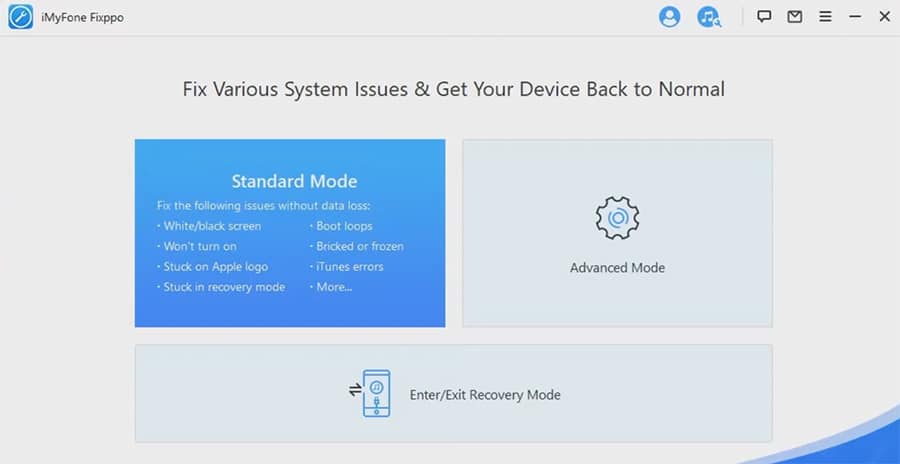 The Standard mode resolves the majority of problems. Let's have a look at how to use this mode to fix an iPhone with a black screen.
Step 1: Download and install the Fixppo software on your PC.
Step 2: Connect the iPhone to your computer with a dependable Apple USB cable and click "Next." If you're using iOS 12 or later, the screen must be unlocked before pressing the "Next" button in Fixppo.
Step 3: The three modes will be offered to you. Select "Standard Mode" from the drop-down menu.
Step 4: Put the iPhone in DFU/recovery mode by following the onscreen instructions.
Step 5: After that, press "Download" to get the correct firmware for the device. It is automatically verified by the app before installation.
Step 6. Double-check the firmware details shown on the screen before pressing "Start." The application will then automatically repair your device. The procedure takes a couple of minutes and the iPhone can then be restarted normally.
Advanced Mode
You should only use Advanced Mode in Fixppo if Standard Mode has failed to repair your device. This mode is more powerful but has fewer fail-safes and using it risks data loss on your iPhone or Android device. You will still follow the on-screen prompts, but only attempt using this mode as a last resort.
Enter or Exit Recovery Mode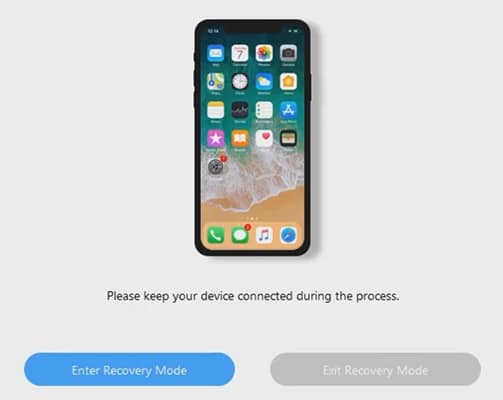 Some people find the process of entering recovery mode to be a little difficult or are unable to access recovery mode due to a hardware issue such as a broken home button. With the Enter or Exit Recovery Mode feature in iMyFone Fixppo, you can quickly enter DFU/recovery mode.
Step 1: From the Fixppo home screen, select "Enter/Exit Recovery Mode" and then "Next." This is the most you can go with iMyFone Fixppo for free.
When you see the screen below, you've successfully put your smartphone into recovery mode. The following part explains how to use iMyFone Fixppo to escape recovery mode.
Step 1: Connect the iOS device to the computer and select "Enter/Exit Recovery Mode" on the first screen. "Next" should be selected.
Pros
iMyFone Fixppo is extremely versatile, and it is capable of resolving virtually any iOS issue.
Standard Mode can assist you in resolving iOS system issues without affecting your data.
It can assist you in resolving iTunes errors that occur when you attempt to restore your iPhone or iPad.
It enables you to downgrade iOS to a previous version without using iTunes or jailbreaking the device.
Its proprietary technology enables you to quickly resolve iOS and Android issues with just a few clicks.
Its simple interface is extremely easy to operate, even for those who are not technologically savvy.
Cons:
The trial version of iMyFone Fixppo is very limited in ability so you have to pay to fix anything.
The Advanced Mode poses significant risk of data loss.
Pricing:
iMyFone Fixppo costs $29.95 for 1 device and 1 month. If you know that your device is prone to problems, a 1 year plan can be purchased for $39.95.
A lifetime license for 5 devices is also available for $49.95.
Support
Users get access to one-on-one technical support by email, phone, and a support form on their support website. If you contact the iMyFone support team, one of the best features of their customer care is their quick response time.
Answers to technical questions can be found on iMyFone's extensive FAQ page, which contains a large number of previously resolved customer concerns.
Compatibility
All iOS versions and devices, including iPhone 12 and iOS 14, are supported.
Fixppo for Android supports all Android devices running Android 2.0 or higher.


Is iMyFone Fixppo safe?
iMyFone Fixppo is safe to use and contains no viruses, adware, or malware. As importantly, it works well and can generally repair a mobile device quickly and without data loss. The only point of caution is that Advanced Mode does introduce significantly more risk of data loss.
Conclusion
This software is a simple, clean, and straightforward way of repairing iOS and Android issues that would otherwise leave your device unusable. With a relatively low cost to re-gain use of your device, iMyFone Fixppo is worth it and should be used to fix iPhone, iPad, and Android problems.