There are few things more traumatic than realizing someone you care about deeply has deceived you. Technology is connecting people around the world in amazing ways, but the results aren't always positive. While it's easier to make professional connections and elevate your reputation, it's also easier to cheat on your spouse, indulge porn addictions and gamble away your savings.
That's why spy apps like FlexiSPY are gaining popularity. You can legally install this app on your own PC, tablet or smartphone running Android or iOS. You can then see all communications sent or received from the target phone in real time. The software runs in the background and remains totally hidden.
This FlexiSPY review will take a look at this spy app to determine what it is, how it's used, what it costs, and whether the features are worth the investment of money and time.
What Is FlexiSPY?
FlexiSPY is a powerful mobile monitoring app with a wide variety of features designed to help users spy on cell phones. The FlexiSPY app offers an impressive selection of surveillance capabilities, from phone call recording and SMS tracking to ambient noise capture and remote camera activation. It also offers a number of specialized options such as keylogging, iCloud backups, social media monitoring, and much more.
FlexiSPY gives you the ability to monitor all activity on a device, 24/7, without having to worry about being caught.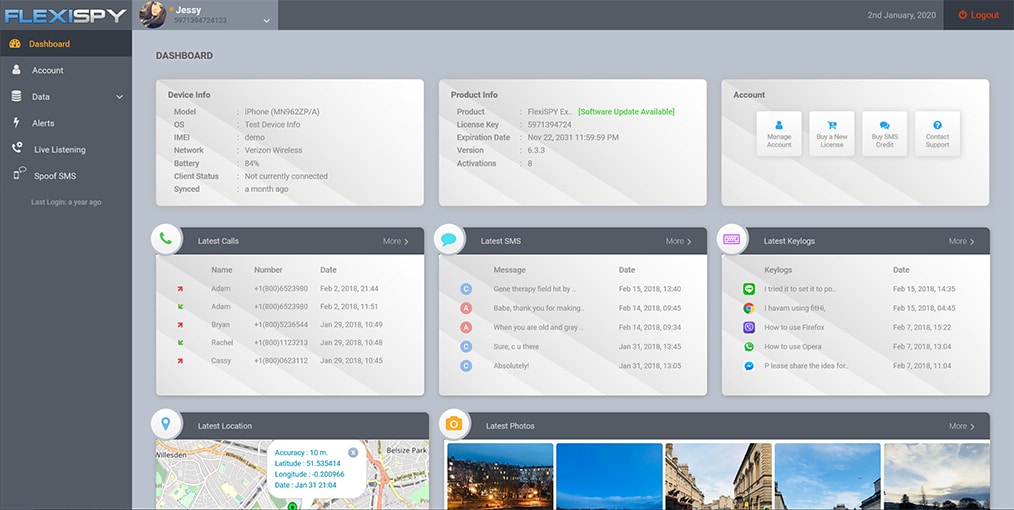 Imagine reading every text message your wife sends to another man, including those she deletes from her phone before coming home to you. What if you could see your employee's social media posts and determine if they're detrimental to your business while not friending or following the employee on all social platforms? How about discovering your husband's online flirtmances or your daughter's catfish accounts without asking a million questions or trying to decode their passwords?
Those are just some of the possibilities when you use FlexiSPY. The app takes a lot of the mystery out of modern relationships by allowing you to see what's really happening in the lives of people who matter to you, your business, or your loved ones.
You can unlock real-time information that helps you make educated decisions when maneuvering personal and professional relationships.
Knowledge is power, and FlexiSPY is a resource to gain knowledge that would otherwise remain hidden.
Features And Capabilities
FlexiSPY offers the widest range of surveilance capabilities of any spy app we have tested, allowing you to receive the following data from the target phone:
Applications installed, including history of installed apps
Real-time or recorded telephone conversations
Skype conversations
Messages, including those from SMS, Facebook messenger, Instagram, and other social apps
Current GPS location tracking, with location history
Incoming, outgoing and deleted text messages
Pictures and videos
Websites visited
App passwords
You also have the option to take control of the target phone from your smartphone or computer. These features allow you to tap into the microphone and listen to whatever is happening in the environment where the phone or computer is located at any time.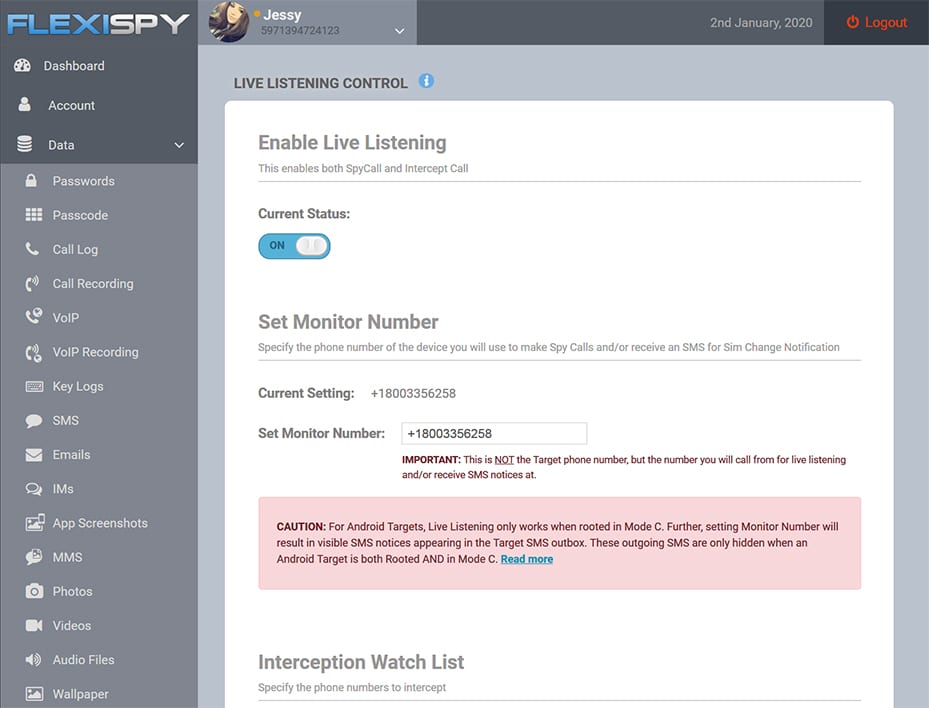 The ability to listen to the live background is one feature that sets FlexiSPY apart from other phone monitoring apps. Knowing where your child, employee or spouse is at the moment is one thing. Knowing exactly what they're saying or doing is another. It can add a deeper level of comfort for parents or even greater proof of deception for spouses and partners.
FlexiSPY can also be used to to hack into someones phone camera remotely, and discreetly, to watch a live video feed from the target's phone, with no indication that the camera is active.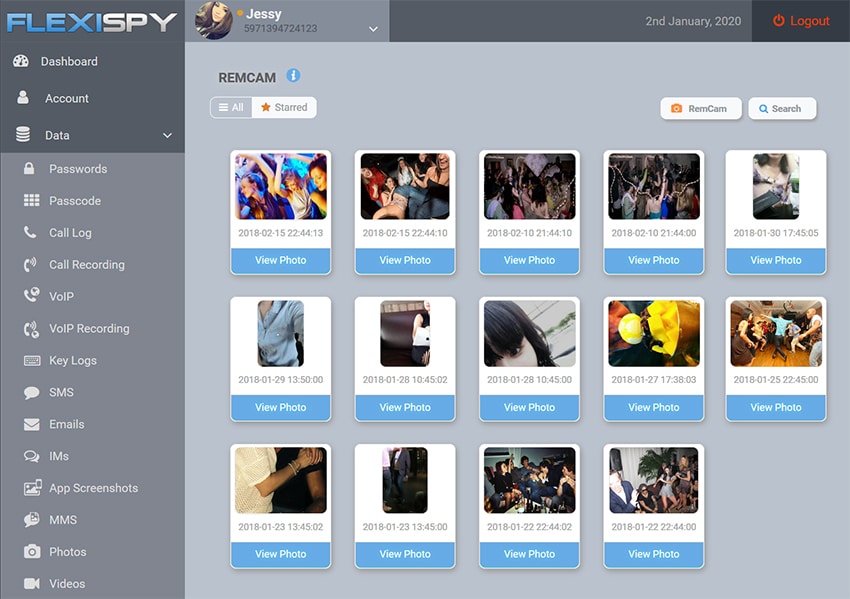 All of the listed features are available with the FlexiSPY Extreme subscription. With the more affordable Premium subscription, you will receive all services except live call interception, call recording, and ambient noise detection. You have to spend a little more each month if you want to take your monitoring to the top level, and you can always start with the Premium service and upgrade later.
Is FlexiSPY Legit?
Yes, FlexiSPY is a legitimate and respected mobile monitoring solution. It has been tested and certified by independent security researchers, as well as being listed as one of the top five spy apps by a number of trusted tech publications.
It also has an extensive customer service team on hand to answer any questions or concerns you may have about the app.
How Does FlexiSPY Work?
FlexiSPY works by running in the background of your device and recording all activity, including SMS messages, phone calls, location history, browsing history, and much more. This data is then sent to a secure server for storage. From there, you can access it remotely from any computer or smartphone with an Internet connection.
Spy apps, including FlexiSPY are designed to remain hidden on the target phone, so the user will not be aware of its presence.
The app also offers users the ability to set up custom alerts that will notify them when particular activities occur. For example, if you're worried about someone accessing a certain website on their device, you can set up an alert so that you get an immediate notification whenever this website is accessed.
You need to install the FelxiSPY app on the target phone and your computer or smartphone.
Once the software is installed on both devices, it will intercept data and record it for later review. The data transfer doesn't interfere with the functionality of the target phone, so the user should never know that there is a spy app running.
Some of the more advanced features will only run when activated by you. For instance, if you want to intercept a live telephone call you need to establish a three-way call setting in advance.
Only the Extreme version of the software can intercept calls. Once a call is received or made, you can click a button to silently tap into the call and listen in real time, which is really an amazing feature. With these advanced features, no one but you will be able to know that the call has been intercepted or is being recorded.
You can also choose when you want to activate the microphone to listen to the background noise in real time. The ambient noise feature operates without detection but isn't continuously running unless you keep it activated. This feature is great to find out you your child is with for greater peace of mind.
There are detailed tutorials available to help you navigate the installation process. All features are clearly labeled, so using the software is intuitive.
How Much Does FlexiSPY Cost?
FlexiSPY is sold in Lite, Premium, and Extreme versions. Realistically, only the extreme version will be of interest to most users but we will review the details of each version of the spy software.
Lite
The Lite version of the spy software costs $29.95 per month and is essentially a teaser, providing call logs, contact lists, text message monitoring, GPS location tracking, geofencing, browser history, a keylogger, and access to multimedia files.
Premium
The Premium version costs $79 per month and adds social media monitoring for Facebook, Instagram, iMessage, LINE, Skype, WhatsApp, and Tinger.
It also includes call logs for FaceTime, Facebook, LINE, Skype, Viber, and WeChat. But, it is important to note that these are call logs, meaning a notation of who the call to, when, and for how long. It does NOT provide a recording of these calls.
The problem with this version is that, while it does provide decent functionality, everything it offers can be found in much cheaper and more user-friendly spy apps like mSpy.
Extreme
The Extreme version of FlexiSPY costs $119 per month and is the only one that offers exclusive features. This version adds the ability to record phone calls, activate the cameras and microphone remotely, and actually record calls on Facetime, Skype, Facebook, WhatsApp, Viber, and LINE.
While these features are impressive, and some are unique to FlexiSPY, the $119 price tag is a bit steep and would only be worth paying if you really needed these features.
FAQ
Can FlexiSPY monitor SnapChat?
While the software does not have features specifically for SnapChat, unlike other spy apps, the screen recorder feature could be used for seeing SnapChat activity.
Can FlexiSPY monitor Instagram?
Yes, FlexiSPY can monitor Instagram activity by capturing screenshots, tracking messages, and recording keystrokes.
What is remote camera activation?
Remote camera activation is a feature offered by the Extreme version that allows you to remotely activate the camera and microphone of the target device. This allows you to take photos, record audio and video without the user ever knowing they are being monitored.
Is FlexiSPY Detectable?
FlexiSPY is designed to be undetectable, so the user will not know that it is running on their device. However, if a user with technical knowledge is examining the phone closely they may be able to detect its presence if they became suspicious.
Does FlexiSPY require jailbreak?
No, this spy software does not require jailbreaking the device. However, it is worth noting that some of its features are only available if the device has been jailbroken.
How To Install FlexiSPY
Installing the software is a simple process. All you need to do is download the app onto the target device, enter in your login details and then wait for it to be installed. Once the installation has been completed, the app will enter stealth mode and you can start monitoring the target device remotely.
If should be noted that FlexiSPY can not be installed without the target device. To do this, you will need to use another app like mSpy or EyeZy.
If you're using it on an Apple device, you need to jailbreak it first. Apple products aren't compatible with many apps, but jailbreaking will let you use this software and thousands of additional apps available for Android phones. You can now buy Apple phones that have already been through the jailbreak process.
For Android phones and jailbroken iPhones, follow these installation steps:
Purchase a license.
Download the software to your device and activate your license.
Download the spy software to the target device and activate. The Elite subscription comes with keylogger software to help you log passwords in case you need to gain access to their Instagram, Whatsapp, or other accounts.
Those three steps are all you need to get started. You can access video tutorials on their website if you have trouble along the way.
Direct Device Delivery from FlexiSPY
One of the biggest problems for FlexiSPY users is getting the software installed on an iPhone without detection. If you don't want to deal with sneaking around and have a reasonable reason to give the targeted user a new phone, consider purchasing a smartphone from FlexiSPY. It will come with the product already installed, but the person receiving the phone doesn't have to know it's there.
This is a convenient service if you give your employees work phones and want to monitor their activity. It's also a good idea for Christmas or birthday gifts for your children. If you don't like the idea of secretly tapping into someone else's telephone to upload the app personally, this is a way to get around that sense of deception.
You can purchase many of the latest Samsung Galaxy smartphones from FlexiSPY's third-party affiliates, but Apple products aren't well represented at this time. You can also choose which version of the software to have installed on the phone before it's shipped to you.
FlexiSPY vs mSpy
FlexiSPY and mSpy are two of the most popular spy apps on the market. Both offer features designed to allow you to monitor a target device, but they have some key differences.
FlexiSPY is sold in three different versions, while mSpy only has one version with all its features included. This means that if you want access to all the features offered by both apps, then FlexiSPY will be much more expensive than mSpy.
However, FlexiSPY offers unique features like remote camera and microphone activation that are not available on mSpy. While impressive, it's debatable if these features are worth an extra $50 per month.
mSpy has a significant advantage when it comes to installation as it can be done remotely, while FlexiSPY must be installed manually on the target device.
Overall, mSpy has a more modern interface and is much more user-friendly than FlexiSPY, which can feel somewhat outdated and clunky to use.
Final Thoughts
FlexiSPY is one of the most powerful spy apps available today, offering features that are unique to this app. While its pricing may seem steep compared to other options, if you have a specific need for these features then it might just be worth the cost. Just keep in mind that this software requires you to root or jailbreak your target device before installation and this can be a difficult process for those without technical knowledge.
Overall, FlexiSPY provides one of the most comprehensive monitoring solutions on the market and is worth a look if you need the features it offers.
It's important to remember, however, that while spy apps can be useful for monitoring your loved ones or employees, they should not be used as an excuse to invade someone's privacy without their knowledge or consent. Therefore please use them responsibly and ethically.