FlexiSPY Review (2022) - iPhone and Android Spy App

There are few things more traumatic than realizing someone you care about deeply has deceived you. Technology is connecting people around the world in amazing ways, but the results aren't always positive. While it's easier to make professional connections and elevate your reputation, it's also easier to cheat on your spouse, indulge porn addictions and gamble away your savings.
That's why spy apps like FlexiSPY are gaining popularity. You can legally install this app on your own PC, tablet or smartphone running Android or iOS. You can then see all communications sent or received from the target phone in real time. The software runs in the background and remains totally hidden.
This FlexiSPY review will take an honest look at the app to determine what it is, how it's used, what it costs and whether the features are worth the investment of dollars and time.
What Is FlexiSPY?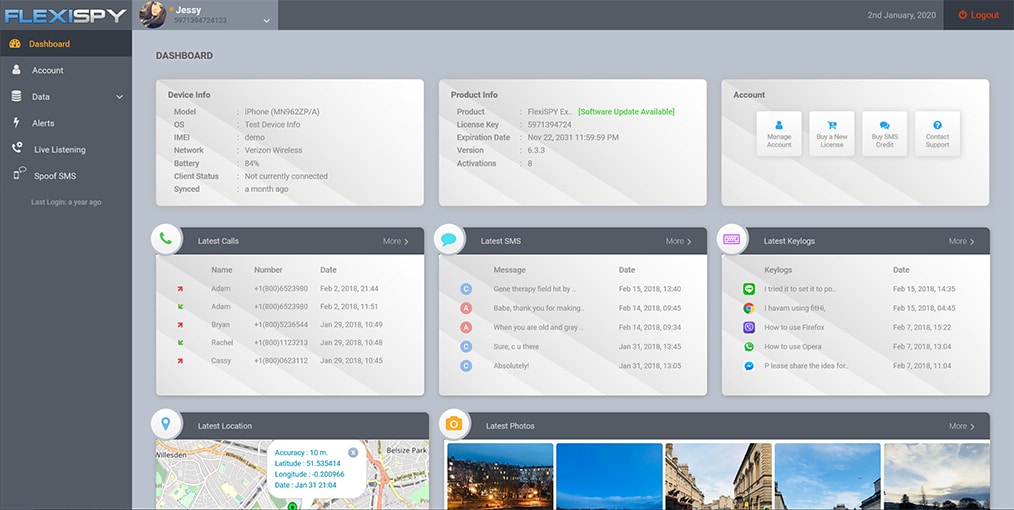 Imagine reading every text message your wife sends to another man, including those she deletes from her phone before coming home to you. What if you could see your employee's social media posts and determine if they're detrimental to your business while not friending or following the employee on all social platforms? How about discovering your husband's online flirtmances or your daughter's catfish accounts without asking a million questions or trying to decode their passwords?
Those are just some of the possibilities when you use FlexiSPY. The app takes a lot of the mystery out of modern relationships by allowing you to see what's really happening in the lives of people who matter to you, your business, or your loved ones.
You can unlock real-time information that helps you make educated decisions when maneuvering personal and professional relationships.
Knowledge is power, and FlexiSPY is a resource to gain knowledge that would otherwise remain hidden.
What does FlexiSPY track?
Once FlexiSPY is installed, you can receive the following data from the target phone:
Applications installed, including history of installed apps

Real-time or recorded telephone conversations

Skype conversations
Messages, including those from SMS, Facebook messenger, Instagram, and other social apps

Current GPS location tracking, with location history

Incoming, outgoing and deleted text messages
Pictures and videos
Websites visited

App passwords
You also have the option to take control of the target phone from your smartphone or computer. These features allow you to tap into the microphone and listen to whatever is happening in the environment where the phone or computer is located at any time.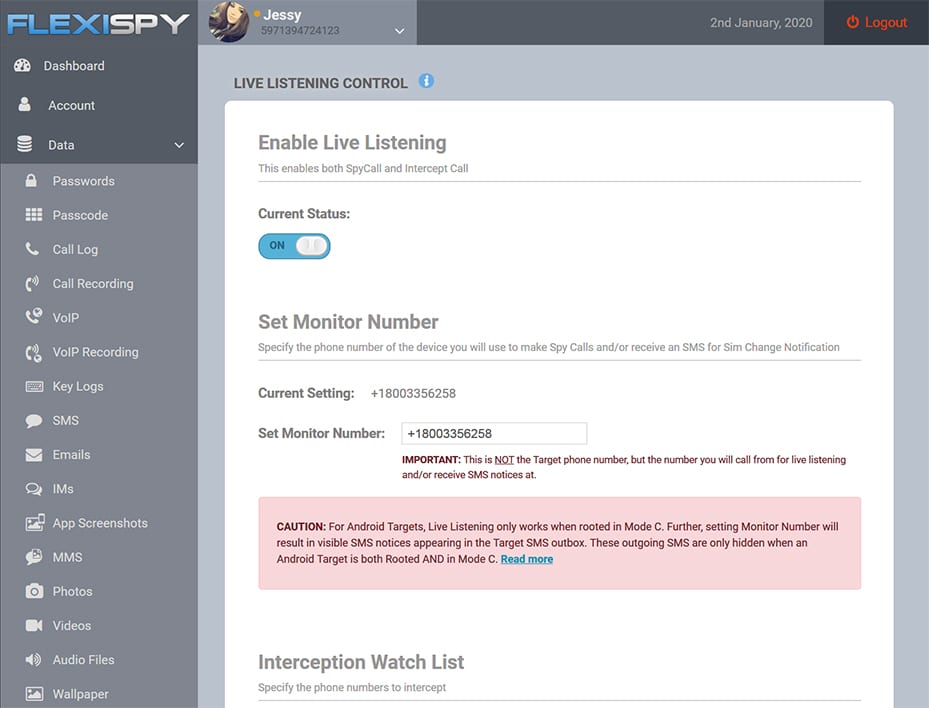 The ability to listen to the live background is one feature that sets FlexiSPY apart from other phone monitoring apps. Knowing where your child, employee or spouse is at the moment is one thing. Knowing exactly what they're saying or doing is another. It can add a deeper level of comfort for parents or even greater proof of deception for spouses and partners.
FlexiSPY can also be used to to hack into someones phone camera remotely, and discreetly, to watch a live video feed from the target's phone, with no indication that the camera is active.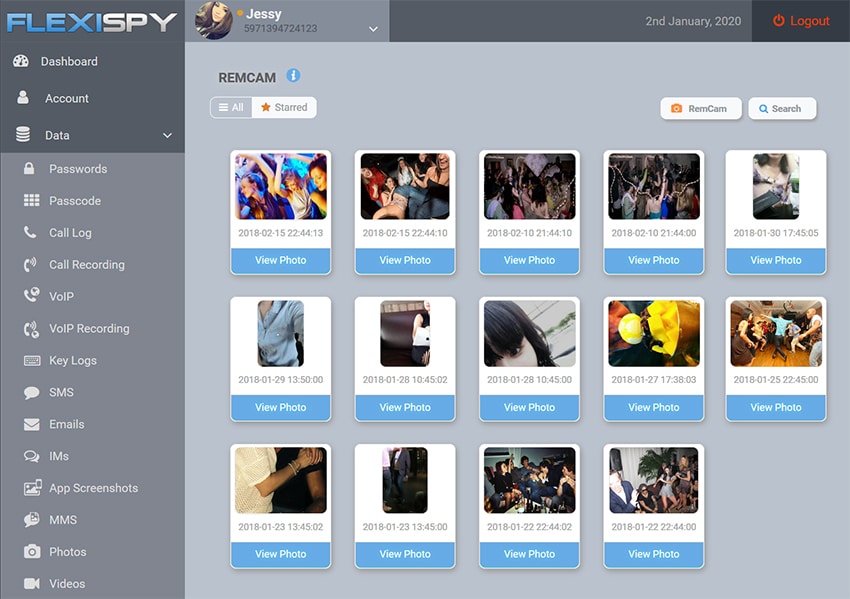 All of the listed features are available with the FlexiSPY Extreme subscription. With the more affordable Premium subscription, you will receive all services except live call interception, call recording, and ambient noise detection. You have to spend a little more each month if you want to take your monitoring to the top level, and you can always start with the Premium service and upgrade later.
How does FlexiSPY work?
You need to install the FelxiSPY app on the target phone and your computer or smartphone.
Once the software is installed on both devices, it will intercept data and record it for later review. The data transfer doesn't interfere with the functionality of the target phone, so the user should never know that there is a spy app running.
Some of the advanced FlexiSPY features will only run when activated by you. For instance, if you want to intercept a live telephone call you need to establish a three-way call setting in advance.
Only the Extreme version of the software can intercept calls. Once a call is received or made, you can click a button to silently tap into the call and listen in real time, which is really an amazing feature. With these advanced features, no one but you will be able to know that the call has been intercepted or is being recorded.
You can also choose when you want to activate the microphone to listen to the background noise in real time. The ambient noise feature operates without detection but isn't continuously running unless you keep it activated. This feature is great to find out you your child is with for greater peace of mind.
FlexiSPY offers detailed tutorials to help you navigate the installation process. All features are clearly labeled, so using the software is intuitive.
Direct Device Delivery from FlexiSPY
One of the biggest problems for FlexiSPY users is getting the software installed on an iPhone without detection. If you don't want to deal with sneaking around and have a reasonable reason to give the targeted user a new phone, consider purchasing a smartphone from FlexiSPY. It will come with the product already installed, but the person receiving the phone doesn't have to know it's there.
This is a convenient service if you give your employees work phones and want to monitor their activity. It's also a good idea for Christmas or birthday gifts for your children. If you don't like the idea of secretly tapping into someone else's telephone to upload the app personally, this is a way to get around that sense of deception.
You can purchase many of the latest Samsung Galaxy smartphones from FlexiSPY's third-party affiliates, but Apple products aren't well represented at this time. You can also choose which version of FlexiSpy to have installed on the phone before it's shipped to you.
Key Features
This FlexiSPY review has already given you a detailed look at the data you can intercept, but there are a few additional features that you should understand.
Remote Installation Service – FlexiSPY will help you with the installation process so you can relax while the experts help you get your mobile surveillance system up and running.
Mobile Viewer – Allows you to view your intercepted data from anywhere. This feature lets you to take full advantage of the advanced spy software without interfering with your daily life.
Parental Control or Employee Monitoring Apps – These apps are designed specifically for monitoring employees or children. They allow you to get the information you need to protect your family or your business quickly and efficiently.
Video Library – The FlexiSPY video library is a handy resource to help you to maximize use of your app, answer questions and find answers to problems quickly.
Installation Guide
If you're using FlexiSPY on an Apple device, you need to jailbreak it first. Apple products aren't compatible with many apps, but jailbreaking will let you use FlexiSPY and thousands of additional apps available for Android phones. You can now buy Apple phones that have already been through the jailbreak process.
For Android phones and jailbroken iPhones, follow these steps to install FlexiSPY:
Purchase a FlexiSPY license.
Download FlexiSPY to your device and activate your license.
Download FlexiSPY to the target device and activate. The Elite subscription comes with keylogger software to help you log passwords in case you need to gain access to their Instagram, Whatsapp, or other accounts.
Those three steps are all you need to properly install FlexiSPY. You can access video tutorials on the FlexiSPY website if you have trouble along the way.
Final Thoughts
FlexiSPY is a powerful resource that can help you see the people in your life more clearly. The question is whether you have the resources and desire to install the product on your targeted device in secret. While FlexiSPY is legal to install on your own device, the legal waters get a little murkier when it comes to covertly installing the software on another person's device.
Remember, FlexiSPY runs in the background of your targeted cell phone and will not display an icon. You can go back at any time to remove the app, but the owner of the device isn't likely to know it's there.