mSpy Review (2023) - Android & iPhone Spy Software

mSpy has been around since 2010, providing security and peace of mind. The spy app works on iPhone and Android phones.
You can choose to get activity reports that can be accessed online from anywhere. Because it runs inconspicuously in the background, your kids (or partner) won't know the app is there and sending regular updates to you.
More than one million users have trusted mSpy to keep tabs on online activity. In this mSpy review, we'll find out why.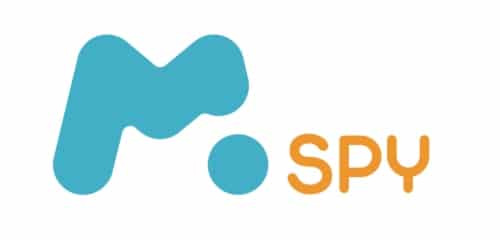 What is mSpy?
mSpy helps parents keep tabs on their child's location with a real-time GPS phone tracker. It also features SMS log tracking, call logs, and monitoring of other apps. A light version of the application was released in the Google Play Store in 2016 that includes fewer features.
The full version of the product includes support for monitoring Facebook Messenger, Snapchat, WhatsApp, Viber, and more. mSpy also provides support for geofencing, which sends alerts to your phone the target phone leaves a pre-defined area.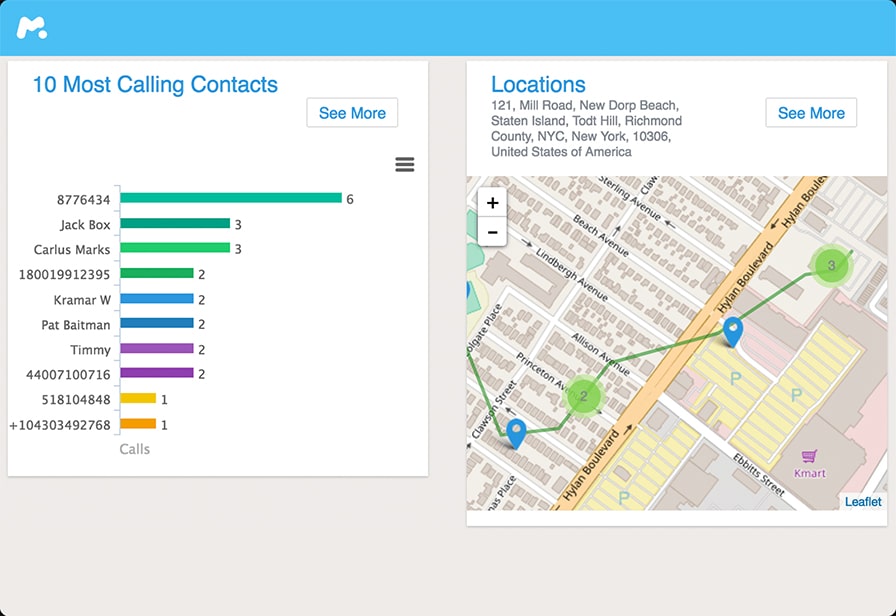 mSpy also includes a family kit that provides tracking on up to three phones for multi-child households. There are tons of features baked into the software, so let's explore a breakdown of everything included.
How Does mSpy Work?
mSpy is a spy app that can be completely hidden on any mobile phone. It collects information without the user's knowledge and sends it to a Control Panel which is accessible using any web browser.
The spy app must be installed on a compatible phone and instructions differ depending on the phone being used. You should check to be sure the target phone is compatible with the software before installing.
Among other uses, mSpy has been a great parental control app for me to watch what my kids are doing.
Installing this kind of software may also be of interest to partners who suspect their significant other may be cheating. It is, however, important to make sure that you own the phone you are planning to spy on and to double-check your local laws before installing the software.
Depending on the subscription level you buy, you can track multiple app logs and monitor the contact lists on the phone.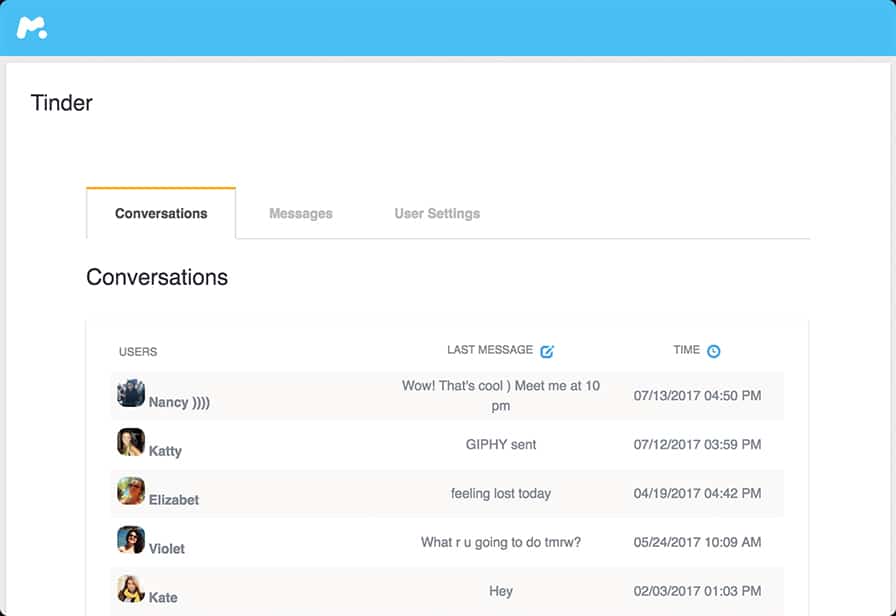 In spite of improved smartphone security and attempts to stop such software, mSpy is compatible with all smartphones and tablets running Android 4+.
The compatibility range is a bit more complicated with iOS. iOS versions 7 – 8.4 and 9.0 – 9.1 with jailbreak are supported. iOS versions 7 – 11+ are supported without jailbreak. mSpy offers a compatibility checker on their website to make sure your phone will work with the service.
You should note that logging features may be limited on non-jailbroken iPhones as it will have to use the iCloud backup account, but this is good if you need to know how you can spy on an iPhone without installing software on the target phone. Importantly, it does not appear on the dashboard of the monitored cell phone, though you can enable that functionality.
Companies may also be interested in using mSpy to watch employee activities. In that case, employees should generally be made aware that the employer is using the program.
Features
Call History Logging

– See who calls and when. This feature includes details like the contact name, phone number, date, duration, and time the call occurred.

SMS Logging

– View and read sent and received text messages, even if those texts have been deleted.


GPS Tracking

– The target's GPS location is recorded in real-time. You can also see a GPS history log to follow a detailed path of everywhere your child has been all day.


View Photos & Video

– See all photos and videos taken or received by the user.

Monitor Internet Activity

– View which websites are visited, as well as previous search history. See details about when and how long the sites were viewed.

Monitor Contacts List

– Make sure you know everyone on the contact lists by keeping tabs on new additions. This feature also allows the calendar to be monitored.


Read Emails

– Read all incoming and outgoing emails. Read emails sent via Gmail, Yahoo, Hotmail, and others.

Keyword Alerts

– You can create a target list of keywords that will send them notifications when detected in email, chat, or text.

Block Apps & Websites

– You can stop certain apps from being run once mSpy is set up. You can also block specific websites from being accessed in any browser.

Block Incoming Calls

– Parents can blacklist calls from specific numbers. The child will never be notified of the incoming call or know that it ever happened.


Read Instant Messages

– This feature is only available on jailbroken or rooted phones. It allows you to see instant message chats via Facebook, WhatsApp, Instagram, and other social media.

Keylogger

– This feature is only available on Android. It can track all keystrokes made by the user after it is on their phone and record them for later viewing.
Frequently Asked Questions
Can mSpy be installed on a phone remotely?
Yes, can install mSpy remotely on any non-jailbroken iOS device.
Jailbreaking or rooting requires physical access to the phone. The installation process takes anywhere from 5 to 15 minutes, and technical support can guide you through the process quickly.
How can I uninstall mSpy from the target phone?
The un-installation instructions are different depending on your device.
For jailbroken iOS devices the app can be removed by going to Cydia > Installed > click on iPhoneInternalService > Modify > Remove.
For all versions of Android go to Phone Settings > Security > Device Administrators > Update Service > Deactivate. Then go back to Settings > Apps > Update Service > Uninstall.
How frequently is the information updated?
On a jailbroken or rooted phone, you can select how often you get reports. On an iPhone that is not jailbroken, it will only send reports once every 24 hours and data collection is more limited in scope.
How many devices can be monitored?
mSpy allows users to monitor as many devices as they wish, but only one can be actived at a time.
There is a Family Plan for using up to three different installations simultaneously. If you need to use it with fewer than three devices, you will need to purchase mSpy for each phone you want to monitor.
Why do I have to jailbreak my iPhone or root my Android?
Jailbreaking and rooting refer to the same process. Both provide the end-user with privileged access to the operating system.
Rooting is necessary to collect data from WhatsApp, Facebook, Gmail, or Skype. The premium version of mSpy requires access to a device that is either jailbroken or rooted to fully function.
Don't worry, mSpy support is fantastic and they can walk you through the rooting process quickly.
Choosing a Package
You'll need access to the target device to install the full version of mSpy. You will also need to select a package that includes the features you want. The basic package starts at $29.99 per month, while the premium package starts at $69.99 per month.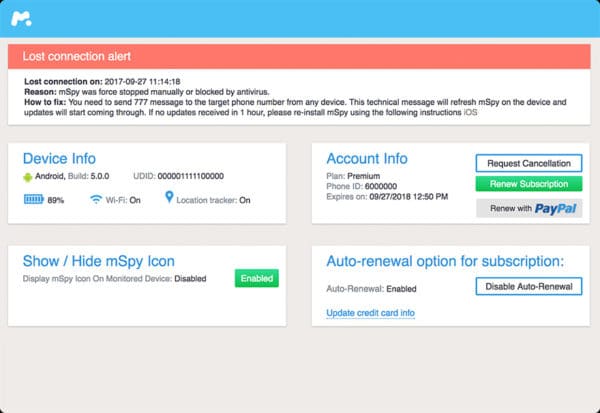 The premium option comes with additional features like access to deleted text messages, call restrictions, instant messenger, geo-fencing, and app and website blocking.
Discounted packages are available when buying multiple months at a time so you can save some money when you pay upfront.
Installation
Once you have downloaded the app onto the target device and paid for a subscription, you're ready to begin. Click the link in the email you received to view the Control Panel. You can then log in and follow the on-screen instructions to install the software. (Note: mSpy works best on jailbroken or rooted mobile phones.)
If you're having trouble getting the program working, customer support is excellent and available 24/7. Customers can contact support for help identify your target phone's model and even provide remote installation service.
Final Thoughts
In our reviews of the best spy apps, mSpy was among the best solutions for anyone looking to keep tabs on their children. The contact lists, website logs, and app blocking features can help protect your child online. Combining mSpy with other apps like YouTube Kids can give parents more granular control over how their child experiences content online.
Companies may also find value in keeping track of employer-owned devices being used to employees. The service is hidden and undetectable once it is set up and configured. Preventing abuse of company property and keeping tabs on employee communications can help reduce leaks of valuable company information. It can also help identify any weak points in an employees' performance by monitoring how they spend their time.
The list of features is pretty comprehensive, even for the basic package. The user-friendly web-based Control Panel means you don't need access to a specific device to check up on your kids (or employees), either. mSpy is one of the most comprehensive monitoring tools for iOS or Android. The service is second to none and offers monitoring that goes beyond just text messages or app blocks.
Just remember, you should always have the permission of the person you are monitoring if they are not underage.