Spyera Review (2023): Is This Spy App Worth It?

No one wants to spy on their partner, spouse, or children but in these times there are so many dangers and temptations that come through our smartphones and social media apps that one can be forgiven for feeling the need to eavesdrop.
Dating or being married is not always easy. Spy apps help you keep an eye on your spouse and learn the truth about what they do when they think you are not watching them. This information lets you make informed relationship decisions so that you can be with someone who loves you as much as you love them. Let's explore Spyera and how this spy software works.
Spy software can also be helpful for parents that want to protect their kids and keep them out of harm's way. By monitoring what your kids do, you can spot danger before it has time to progress.

Pros
Easiest to use

Totally hidden

Fast installation

GPS tracking

Access to all social media apps
Cons
Not quite as powerful as mSpy
What is Spyera?
Spyera is a spy app that lets you monitor what someone does on their smartphone, track their GPS location, and listen on phone calls. In many ways the app gives the user more control than the person holding the cell phone.
While good spy apps are amazing, not all of them are totally hidden from the user, easy to use, or even work. For that reason, we have done a deeper Spyera review, below.
How Does Spyera Work?
Spyera monitoring software works with a wide range of smartphones and mobile devices by embedding itself deeply in the target phone. To use the spy software, a Spyera account is first created, then the devices to monitor are selected. At this point you may be hoping to install Spyera on the target device remotely, but that's not how this software works. And, in reality, no good monitoring software can be installed remotely. You need access to the iPhone or Android device to install Spyera.
How to Install Spyera
If you install it on your child's phone, you will want to be able to have your child's phone in your possession for a while to install Spyera. If getting your spouse's device is too difficult, you can also install Spyera on a cell phone and give it to your spouse as a gift.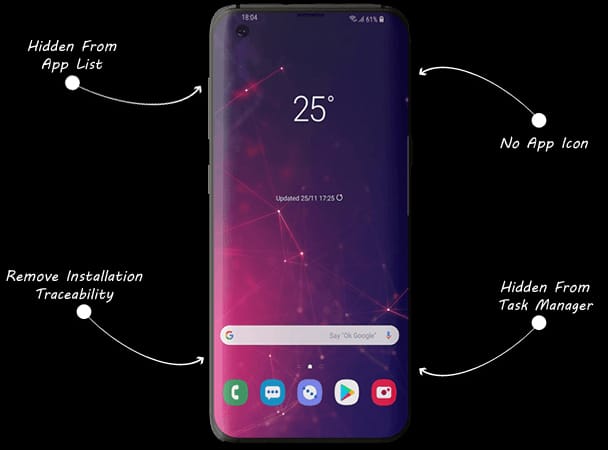 If you want to save yourself the trouble of installing Spyera on the target phone, there are methods that do not require you to get their the phone at all. Spyera offers smartphones that already have the Spyera app installed. When you sign up for an account and buy the phone, you get instant access in your control panel. You can then monitor the target device without installing any additional software yourself.
Check your local laws before installing Spyera on a device you don't own.
What Devices are Supported?
The tracking application supports a wide range of iOS and Android devices. Some applications to monitor phones only work well on one or two devices, as the technology used to circumvent security on an iPhone if is very different than for an Android, but Spyera stands apart from the crowd by working on all major phone operating systems. Spyera works on Android, iOS, macOS and Windows. No matter the phone your children or partner owns, all Spyera monitoring features will be available.
Features
Phone Calls
If you want to protect your children from harm, pay attention to their calls and the people they talk to. Better yet, use Spyera to listen to their phone calls. Many children keep parts of their lives to avoid getting in trouble, or out of embarrassment. They could be doing illegal things or engaging in harmful behavior.
No matter how well you think you know someone, monitoring their phone offers peace of mind. Spyera empowers you to record and listen to each phone call your children make on the target phone.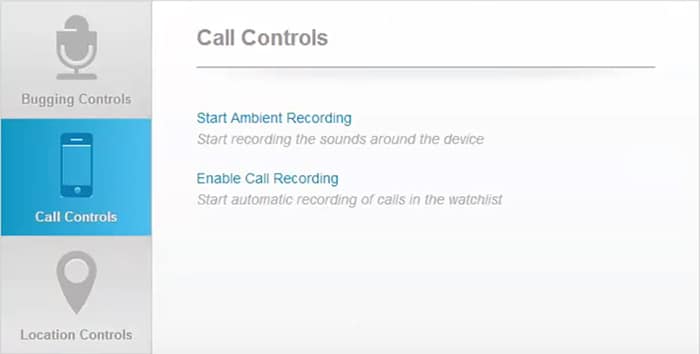 Monitoring the phone calls of your spouse can also be a great way to learn if there is cheating. For instance, it makes it easy to verify whether your spouse really stopped talking to their former partner. Listening to the content of a call and understanding the context can be used to get a clear picture of what is happening when you are not listening.
Keylogger
Spyera has a keylogger to track everything the target types on the phone. You can review Google searches, see what products were researched, and find passwords for account on websites that weren't previously known. It keeps a record of everything typed on the device and lets you review the activity at your leasure. For parents, this feature lets you discover if things are being bought online in secret, or if there are conversations with possible online predators.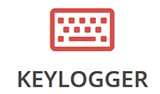 The Spyera keylogger is a great feature for keeping an eye on your spouse, or more tech-savvy kids that may try to hide online activity. Secret conversations can be discovered and it is possible to uncover information which you would otherwise not have been aware of. You can go back and view the stored records any time you need them.
Pictures and Videos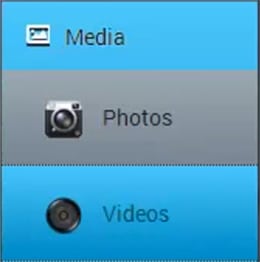 If you have ever wondered what videos and pictures are stored on their phone, Spyera can let you review all of the content stored on the device. In some cases, you will confirm whether your children are viewing or sending pictures that could do harm in the future. This information lets you correct your children's behavior before lasting damage is caused to their reputations. You could also find that your children are honest and following the rules you set.
Seeing the content your spouse has stored on the target device is another way to see where you stand in a relationship. Have pictures or videos been sent to a former partner? Are there images on the cell phone that they told you were deleted? Confirming your suspicions or proving your partner is trustworthy reduces stress and lets you decide what steps to take next.
Text and Email Access
The application will monitor text messages (SMS) and emails on the targeted device, allowing you to see what they talk about with their friends, and know if too many risks are being taken. Most children and teens spend more time texting than making phone calls so monitoring SMS text messages and email is important.

Monitoring the text messages and emails of your spouse also gives you vital information to make the informed choices. In addition to seeing what your spouse talks about, you also Spyera may also help you find additional email accounts which may have been hidden. These insights are important and let you have greater peace of mind.
Instant Messaging Apps Access
Some people still use instant messaging apps in addition to SMS texting, particularly while dating and trying to hide conversations from parents or partners. It is important to note that people commonly have legitimate reasons for using 3rd party messenger software like Skype or Whatsapp, but watching their activities can remove a lot of worry.
The app records and stores all messenger chat logs so you can review the list of conversations at any time. These logs add another piece to the puzzle when trying to figure out what someone is doing. Keeping your children safe is much easier when it is possible to see who they have contact with and can read what is being said.
Web History
Tracking web browsing history can also be done with Spyera. The websites a person visits tells you a lot about them and what their intentions are. The Spyera app can be used to discover hidden interests of your kids or partner, and it can help determind if dating sites are secretly being used.
GPS Tracker
Spyera can be used for a lot more than tracking what someone does online. The app has GPS tracking features so you can see the target phone's current location overlaid on a map. Sometimes knowing a person's location can tell you more about the person than monitoring their communications. This can be especially true for teenagers as the chance to drive gives new levels of freedom.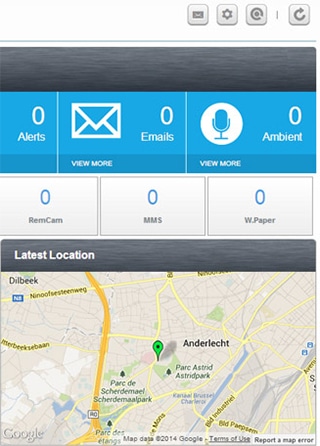 Some teenagers are worthy of the greater responsibility and only go where allowed. Others, on the other hand, might drive to places you would like to know about. Learning of this behavior as soon as possible is the best way to address the issue and keep your teenager safe.
The Spyera GPS tracker is also invaluable when it comes to deciding if you can trust your spouse. For instance, you can easily see if your spouse is working late or having dinner at one of the top restaurants in the area. Spyera can also be useful in determining if your spouse is visiting a former partner behind your back.
Remote Updates
Mobile phone and computer updates can mess with software for spying and stop it from working properly. Some updates prevent a few features from working, but others break the entire app. Most other spy software on the market requires you to have the targeted device to update the software, but Spyera is able to update to a new version remotely. The team at Spyera keeps their software updated to work well with the latest operating system updates. The control panel will always show what updates are available and the app can install software updates automatically. The ability to install remote updates ensures Spyera always well, and you can continue monitoring someone for as long as you need.
Remote Uninstall
When you have seen all you need to see, there may come a time when you will want to uninstall the Spyera app without your children or spouse knowing you installed it in the first place. You might have viewed their phone activity and discovered there was no need to worry, or you might have learned what you wanted to know. Either way, Spyera lets you uninstall the app remotely and remove all traces of the app with a few clicks of the mouse.
Social Media
Spyera monitoring software will let you watch the activities of your children or spouse on social media. It is common for additional social media accounts to be kept secret from parents or spouses. Spyera lets you spy on someone's activities ones at all times, ending the guessing. Each like, follow, and share can be monitored without the target knowing you are monitoring their online behavior. Watch who their friends are and track messages sent to others from their accounts, giving you a complete overview of their actions. Spyera's social media tracking is one of the most popular features of the software. Knowing how trustworthy your partner is has never been this straightforward.
Invisible
One of the best parts about Spyera is its invisibility; the target will never need to know it's there. If you are spying on a smartphone, the app won't show up because it always remains hidden from view.
The invisibility feature lets you see what your loved ones do when they don't think anyone is watching. Using Spyera on computers is just as secure as using it on smartphones. Spyera stays invisible on Windows and macOS because it runs in the background.
Conclusion
In simple terms, Spyera is a complete spying app that monitors what your loved ones do on their smartphones and devices. Everything from text messages and pictures to videos and location history can be monitored. You no longer have to guess if your children are using their smartphones safely, and will know for sure whether your partner is worthy of trust. Few things in life compare to having the peace of mind that comes with knowing where you and your loved ones stand, and Spyera is designed to do just that.