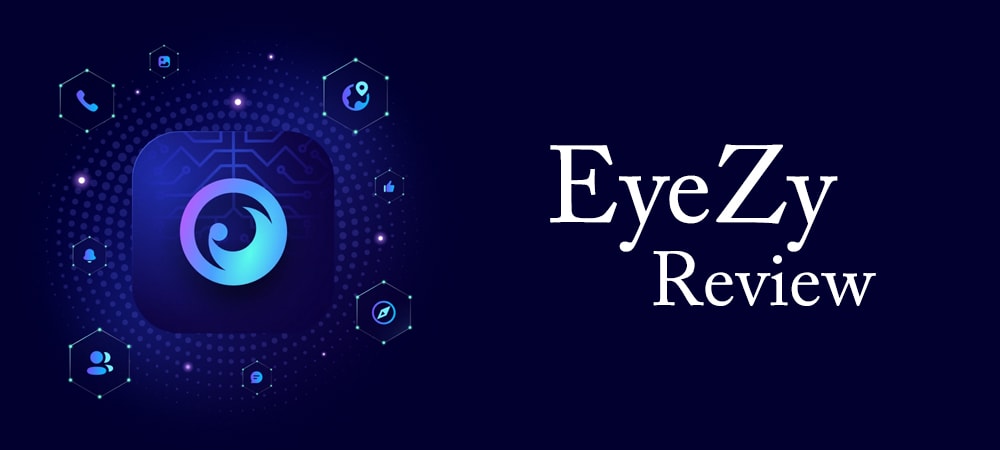 eyeZy is a powerful new easy to use spy app. The company that makes eyeZy has a long history in the parental control and surveillance market and this app is their current flagship. Let's dive in and see what eyeZy has to offer in this review.
Features
Keystroke Capture
eyeZy has a keylogger to capture everything the target types on the phone. You can review Google searches, read deleted texts, and find passwords for accounts on websites that weren't previously known.
The keylogger keeps a record of everything typed on the device and lets you review the activity at your leisure. For parents, the keylogger lets you discover if things are being bought online in secret, or if there are conversations with possible online predators.
A keylogger is a great resource for keeping an eye on your spouse or tech-savvy kids that may try to hide online activity. With a keylogger, secret conversations can be discovered and it is possible to uncover information that you would otherwise not have been aware of. You can go back and view the stored records from the keylogger at any time.
Social Spotlight
eyeZy can monitor social media messages on Tinder, Facebook, Snapchat, WhatsApp, Skype, Instagram, iMessage, Telegram, Line, Kik, Viber, and Google Hangouts. This includes seeing deleted conversations, passwords, and live screen recording.

Pros
Easy To Use

Great Interface

Completely Hidden

Fast Installation

GPS Tracking

Access To All Social Media Apps
Cons
Lacks Remote Microphone and Camera Activation
Pinpoint
eyeZy can be used for a lot more than tracking what someone does online. The app has GPS tracking features so you can see the target phone's current location overlaid on a map. Sometimes knowing a person's location can tell you more about the person than monitoring their communications.
This can be especially true for teenagers as the chance to drive gives new levels of freedom. Some teenagers are worthy of the greater responsibility and only go where allowed. Others might drive to places you would like to know about.
Learning of this behavior as soon as possible is the best way to address the issue and keep your child safe.
Plans Breaker
The target's personal calendar and to-do lists are available. This is one of those features that will either be of no use, as many people don't use their phone's calendar, or extremely informative if the person you are monitoring is well organized or follows a set schedule.
Files Finder
A full searchable list of all of the files, pictures, and videos on the phone.
Web Magnifier
Poorly named, but a useful and informative utility that shows you their browser and search history, as well as bookmarks.
While this can be interesting to review, it's can be particularly informative when someone is planning something sneaky. For example, when they are supposed to be out with friends but are booking a hotel room.
Connection Blocker
Connection Blocker is particularly useful for parents with kids in their young teens. It will let you block apps, websites, and WiFi networks you don't trust.
Whether you're trying to keep them focused on homework or prevent them from getting on Tinder, it can be useful for more gently guiding them in the right direction.
Magic Alerts
This allows you to set geofencing boundaries so the app alerts you when the tracker detects that your kids are outside of acceptable areas or enter areas that are off limits. You may set a large area where you know your kids are safe with friends and family and you only want to know if they stray outside of that area. Or, maybe you're more concerned that they don't go to their old girlfriend's house. Either way, Magic Alerts has you covered.
This feature can also make monitoring text messaging and web browsing easier because you can set alerts for certain phrases or terms rather than having to read through huge volumes of innocent text messages.
Phone Analyzer
This provides full call logs for the target phone including:
Incoming Calls
Outgoing Calls
Timestamps
Duration
Invisible Shield
Trying to have compatibility with too many devices can sometimes mean that a spy app ends up not being hidden. Because eyeZy is built to target the newest smartphones, but made by a company with a long history of making spy apps, it remains hidden on all devices at all times.
Friendly Installer
eyeZy has a variety of installation options available including:
iCloud Sync
Local sync over WiFi
Jailbreak
Rooting
Installation is generally smooth, but you should always allow more time than you think will be necessary for installation so you do not end up caught because it took 2 minutes longer than you expected.
Tech support is great, and available 24/7, so you're not likely to get in over your head.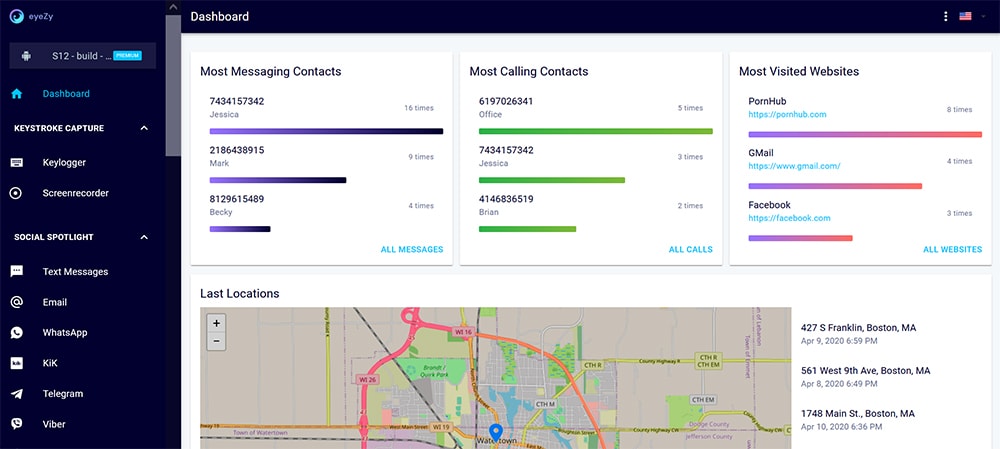 Compatibility
There is a compatibility checker on eyeZy's website but, from my research, they are compatible with every widely popular iOS and Android phone on the market.
iPhone - I tested eyeZy with my iPhone 13 but also looked up stated compatibility for many other models and it is compatible with all versions of iOS from iPhone 4 to the newest iPhone 13 Pro Max.
Android - Compatibility is equally excellent for Android, with coverage across all Samsung Galaxy models from S3 to S20+.
Pros
eyeZy is the newest and most advanced spy app on the market, made by a company with a long and successful history in the parental control and monitoring niche.
It has all of the most commonly available spy app features, targeted to have maximum compatibility with the most modern smartphones.
In most regards (we'll get to that below), it represents the cutting edge of spy app technology.
Cons
eyeZy lacks the ability to turn on the microphone or activate cameras to take pictures or live streaming video. While not everyone needs these capabilities, it can be a tremendously powerful advantage to have them at your disposal.
eyeZy also lacks a substantial free trial without limitations but, realistically, no high quality tracker has free options.
eyeZy vs. Umobix
eyeZy is much more user-friendly and offers a better interface than Umobix. Features are very much the same and pricing is comparable.
However, Umobix has the ability to turn on the front or rear-facing camera at will, and can even stream live video from the target. In addition, it can activate the microphone so you can use the phone as an active room bug.
If these special features are not needed, I would definitely go with eyeZy simply because it is much easier to use and I like the interface better.
In cases where I need the most surveillance on the target that I could possibly get, Eyezy can not compete with the capabilities of Umobix.
Support
Support for eyeZy is available 24/7 and is well-versed in helping clients with tricky and unexpected technical issues.
Phone, e-mail, and live chat support are available and I have found them to be among the most helpful and responsive in the industry.
In the spy app niche, you learn to judge an app as much by the support behind it as the app itself. The makers of eyeZy have a good reputation in this department, which dates back years.
Conclusion
eyeZy is the most modern and easy to use hidden spy app on the market in 2023. While modern is good, it can sometimes get you in trouble with other apps, whether they may not be as dependable or stay reliably hidden from the user.
The makers of eyeZy are veterans in the parental control niche and have a history of making highly capable, dependable, and well-hidden spy apps. eyeZy is just the next step in the progression of their technology.
Overall, I like eyeZy and found it highly capable and a pleasure to use.