Hoverwatch Review (2023): Phone Monitoring Software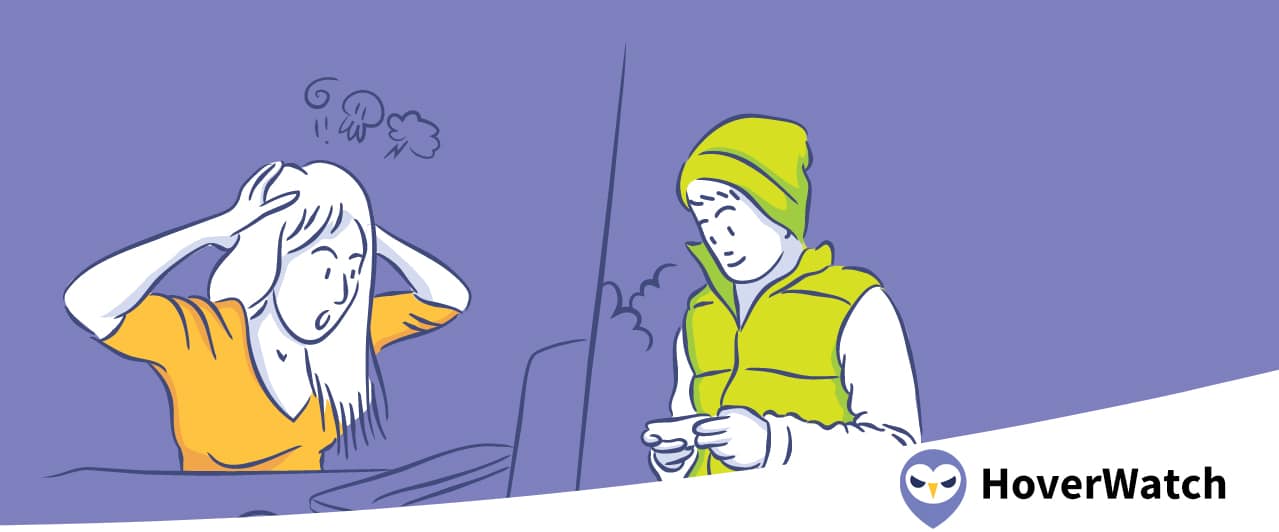 Hoverwatch is an Android spy app that allows you to take complete control of an Android phone. When you install Hoverwatch on a device, you can track how it's being used and log everything that the user does on the phone.
You can, for example, keep track of the phone's owner, their apps, text messages, photos, videos, and location. You may also disable the phone's ability to make calls or send texts.
Installing a spy app like this on your child's phones will help shield them from the hazards of the Internet, such as grooming and cyberbullying. We'll see if it's worth it in this Hoverwatch review.

Pros
Easiest to use

Totally hidden

Fast installation

GPS tracking

Access to all social media apps
Cons
Not quite as powerful as mSpy
Features
HoverWatch is a straightforward surveillance app with a range of useful features. Let's take a look the main features to see which ones can help you track your children or employees.
Call Recording
Remotely monitor the kid's or employee's telephone calls. Record both incoming and outgoing telephone calls to ascertain who your child talks in their free time.
Browser History Tracking
HoverWatch can keep an eye on your child's online browsing history. Examine the web browsing history of your workplace computers to see if your employees are searching for irrelevant material during working hours. Furthermore, internet history monitoring allows you to determine if an employee or your teen is a porn addict or watches objectionable content online.
Social Media
We all know that social media is the lifeblood of online communication. Everyone uses social media, regardless of age, which means you can learn a lot if you can read messages on those sites.
Trends on social media spread like wildfire. Suicidal games and competitions have now claimed the lives of far too many innocent people. Parents can use instant messenger tracking to keep tabs on their children's social circles. Businesses may use instant messenger monitoring to protect company information from deceiving or fraudulent employees. Monitoring instant messages can also aid in the detection of catfishing and online fraud by children or employees.
This feature allows you to view all incoming and outgoing messages, including images, video, and audio. You can also secretly track someone's Facebook Messenger, Snapchat, Whatsapp, and Viber conversations.
Monitor Text Messages (SMS)
Sexting is becoming a huge problem among teenagers. With the popularity of slang and text acronyms, children are now comfortable spewing curses and foul language as well. SMS monitoring enables parents to read their children's text conversations. Employers should read the SMS messages on their employees' work phones to ensure that they are staying loyal to the company rather than contacting a competitor.
Capture Screenshots
You can see the details of live mobile events by taking screenshots. The HoverWatch app takes screenshots at random without informing the target user. Installed applications, encrypted texts, contacts, and other activities can all be viewed remotely.
GPS Location Tracking
Location tracking is an advanced feature that allows you to track the location of your target phone or tablet even when the GPS or WiFi are disabled. You can locate their position at any time and from any location using cell phone towers.
Camera Activation
HoverWatch can hack a phone camera remotely, without the user knowing. This is great for seeing who your spouse is talking to or where your kids are, even while they are on the phone with you.
Other Features
HoverWatch has a variety of features to satisfy your mobile phone tracking needs. To-do list monitoring, notice of SIM card swaps, and many other features are included.
Pros
If you want to monitor an Android smartphone and gain access to all of its core functions such as GPS monitoring, viewing text messages, and browsing history, you may want to consider the Hoverwatch spy app. It works across all devices, and you can even control your child's computer.
Hoverwatch will save screenshots and show you your child's or spouse's current location. You can track your child's mobile activities and set a time limit to prevent them from spending the whole day playing games.
Cons
It cannot be installed on iPhones, unlike many rival spy apps. As a result, it is unable to be used on your child's iOS system. In addition, Hoverwatch lacks live chat support in case you need help immediately.
We recommend that you give the mSpy spy app a try if you want to track your child's iPhone and receive immediate assistance with any issues you may run into.
Is Hoverwatch Undetectable?
One of the main benefits of using Hoverwatch is that it extracts a large amount of information from a target's phone while leaving no trace of its existence on the phone. This makes it even more appealing to a broad range of users, particularly if the person you are monitoring is technologically savvy. With no trace of the app on the target phone's app menu, main screen, settings menu, or anywhere else, the target will never know that a tracker is hiding in their phone.
Installation On The Target Phone
Your smartphone will be able to monitor the target phone after following these installation steps.
1. On the Dashboard of your account with Hoverwatch, you'll find a download link for the application. Type the URL into the target phone's browser and hit enter to download.
2. Then, on the target phone, install the software and open Hoverwatch once it's finished installing.
3. Hoverwatch will then ask you who you want to use their service to track. Select My child's device as the answer. Tap on Employee phone to keep track of which of your employees are using the service.
Also, if you would like phone tracker to remain hidden, make sure to check the box that says 'Hide'. After that, press OK and Hoverwatch will run undetectably.
4. On the next tab, you must accept the application's legal terms. Check the box that says, so press the I ACCEPT button.
5. Select the apps you want to control on the target phone by checking the boxes next to each and clicking OK. For full system control, we recommend that you check all of the boxes.
6. After that, you can connect with the same credentials you used to sign up the device you just configured.
7. In order for it to monitor the person's smartphone activity successfully, you must give it certain permissions just this one time. These permissions include access to the phone's location, contacts, phone calls, and pictures, among others. To grant those permissions, tap ALLOW when prompted.
s8. Finally, you will need to grant additional permissions, such as taking screenshots and camera access, enabling access to usage data, and disabling notifications. When prompted, simply clicking on YES will grant these permissions.
The target device can now be remotely controlled through the dashboard now that the software has been activated.
Is Hoverwatch a Free Phone Spy App?
Hoverwatch is not free, but it does have a free trial. If you want to check out the app, it's simple and requires no credit card information. You will only need to enter an e-mail address and password to set up an account and be able to begin spying on a target phone.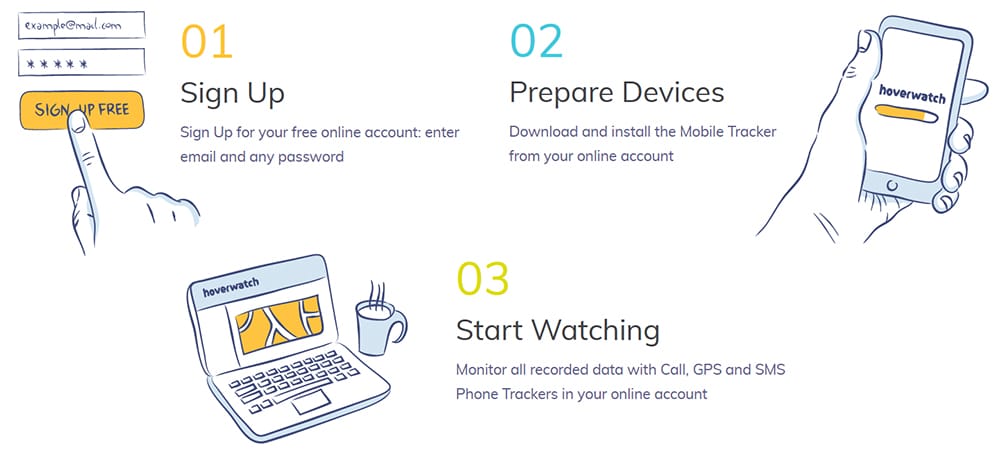 When you see that it can provide all of the tracking, monitoring, and spying features you need then it will be worth paying.
Do I Need To Root Or Jailbreak The Device?
The Android device will not need to be rooted to grant Hoverwatch access. However, in order to install, you must have physical access to the device. After installing the software, you'll be able to remotely access and track the data and operation of the target device.
Compatibility
Hoverwatch is compatible with all versions of Android and the majority of Android models.
It is not compatible with iPhones, iPads, or other iOS devices.
Bottom Line
Hoverwatch is decent phone tracker that provides a variety of ways to monitor your childs activities. Is it the right tracking application for you? We hope that our review of Hoverwatch has helped you make that decision. The spy app has a lot of potential and, if the features are what you need, you can try out the free trial to see how it works for you.