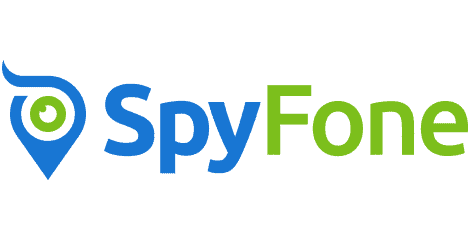 In the past, parents had zero control over what their children were doing on their phones until they saw the monthly phone bill and the list of numbers that were being called. Those days are long gone. Not only can parents monitor who their children are calling, but they can also see what apps are getting the most use, search their children's phones for inappropriate photos and perhaps find ways that their children are endangering themselves without even knowing it. With a little monitoring, parents can save their children from potentially tragic situations.
Similarly, if a person has a suspicion that his or her partner is cheating, it no longer has to be left to chance. In the past, options were limited, besides hiring an expensive private detective or following your partner around. Now, with the simple download of an app, a suspicious partner can either put their mind at ease or find out the truth about his or her relationship.
Additionally, if you have employees that you suspect aren't working when they're on their company phones or are not actually working while they're on the clock, an app can help you solve this issue.
So, how is everyone doing this?
They're using an app like SpyFone! If you don't know how it works and why it is a great app for you to download, you will by the time you're done reading this article.
Important:
SpyFone has stopped accepting users from the USA so we recommend using mSpy instead (see our review).
What is SpyFone?
SpyFone is the number one parental monitoring software out on the market. It is an app that must be downloaded on the phone of the person that you would like to monitor. Or, you need the iCloud credentials of the individual you want to monitor.
SpyFone allows you to see what someone else is doing on their phone or tablet. You're also able to see what apps your child, employee, or spouse is using the most.
You can see who they are calling, and view the emails and text messages that they're sending and receiving. You're even able to download the photos and videos that are stored on the other person's phone.
Even if that person decides to turn off their phone, you're still able to get the data from the phone for a short time after it is powered down. Also, if the app is detected, the user cannot delete it from their phone.

Pros
Easiest to use

Totally hidden

Fast installation

GPS tracking

Access to all social media apps
Cons
Not quite as powerful as mSpy
How Does it Work?
First, you have to purchase the Spyfone app. You can either pay for the Spyfone app monthly or purchase an entire year's worth of use. With Spyfone, there are three different levels of monitoring: basic, premium and extreme.
Basic costs $99.95/year and allows you to monitor all the basic functions of a phone, like calls, messaging, locations, and more but it also allows you to block numbers and spoof text messages.
Premium costs $199.95/year and you can do all of the functions in the basic plan and also monitor social media apps like Facebook, WhatsApp and more.
Xtreme is the most popular option. It costs $299.95 a year, but users say it is worth every penny. You can do all of the functions that the premium version offers, however, the Xtreme version gives you the ability to view exactly what the user is doing on their phone in real-time! Plus, you can record calls and even listen to what is going on in the area around where the phone is even when it isn't on.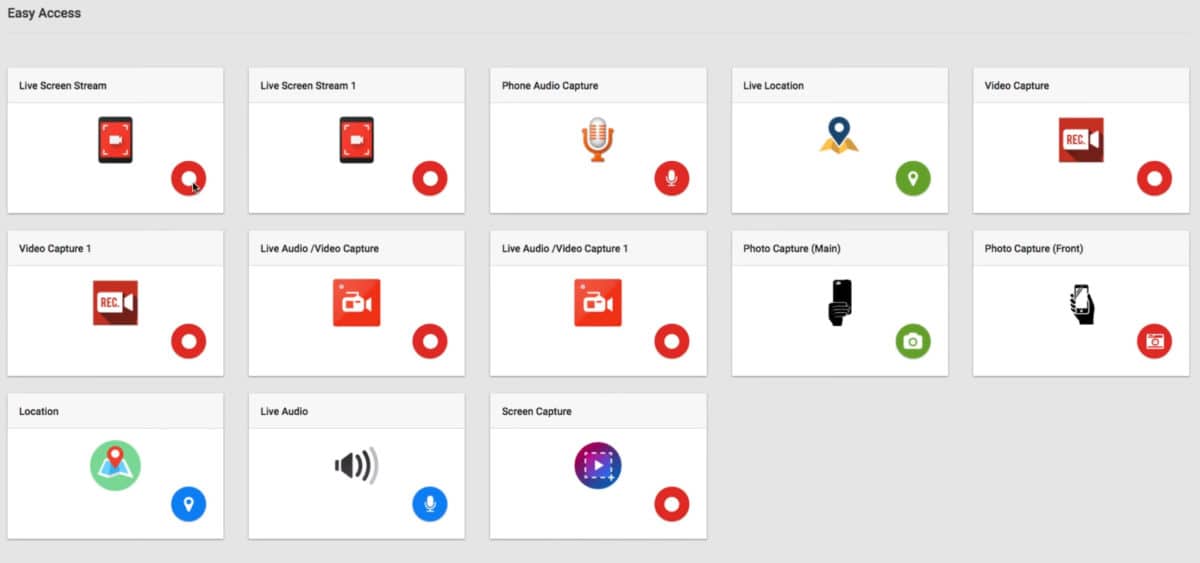 If you are really wanting to find out what your spouse, or kids, are up to then the Xtreme version is the best option for peace of mind.
Once you've selected the version that is right for you, you will download the app. You'll be emailed a registration code that is unique. Enter this code in the app, and SpyFone will immediately start working discretely in the background of that phone. To check on the activity, you can either download the app on your own phone or you can check it from your computer.
Is It Legal?
SpyFone clearly indicates on their website that they do not condone the use of this app for spying or prying into another person's life. They say that the program was created for parents to monitor what their children are doing online and if they find out that someone is using it beyond these purposes, they might cancel that user's service immediately. This is rare and highly unlikely, though.
While there are controversies surrounding apps like SpyFone, most legal experts agree: if you own the phone on which you are downloading this software, it is legal. That includes phones owned by you and used by your significant other or employees. If you have questions about how to use the app or questions about whether you're using it legally, it is best that you contact an attorney as laws vary state by state.
Versions and Key Features
Regardless of which version of SpyFone that you choose to buy, you'll be able to access an incredible number of features on the phone that you are tracking.
Plus, if you have multiple children and want to access all of their phones, you can change devices at your choosing. If the user finds SpyFone has been downloaded on their app, they do not have the ability to delete it from their phone.
SpyFone Basic
The basic plan will enable you to monitor the basic systems on your phone. You'll be able to review text messages (even those that have been deleted), look at the call history, get a live look at the location of the phone and where it has been, and even can block certain phone numbers and websites from the phone.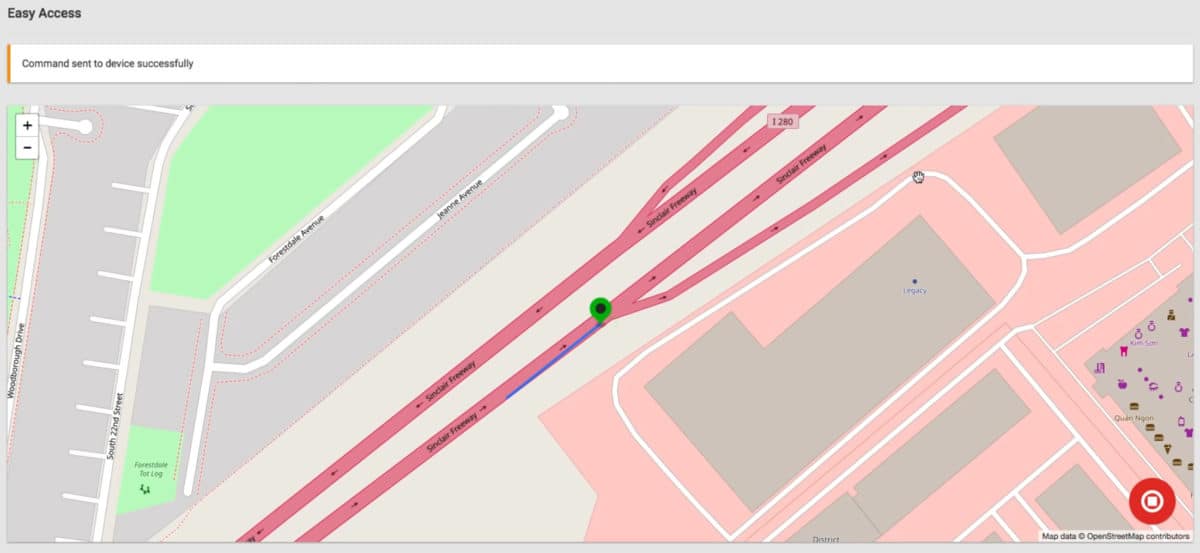 When the phone gets notifications, those will all be recorded for you. Incredibly, you can even send text messages from the phone to other people and send the target phone fake messages from others as well. This would be of particular interest if you suspected that your spouse was cheating or wanted to test them.
Any app that comes on the phone, including the calendar, photos, videos and contacts are accessible to you with SpyFone. You can recover lost data, view which apps have been downloaded and how often they're being used. You'll even have access to some of the messaging apps often used by children, like Kik, Viber and Zolo.
SpyFone Premium
The premium package offers just a bit more. It includes all of the features that you'll get with the basic plan but will also allow you to view additional apps.
The premium package is an especially good choice if you think your child is exhibiting bad behavior, but you can't find their bad associations by just looking at their text messages. Teenagers are very smart and, even if they know that you're monitoring their phones, they will find ways to still continue sending lewd photos and inappropriate text messages under the radar. Except, it's pretty much impossible to hide from SpyFone.

The premium package is also excellent if you think your partner is cheating on you. That's because the premium version includes full access to apps like Tinder, Instagram, WhatsApp, Facebook, SnapChat, Skype and Gmail. Not only can you access these apps, but SpyFone will download the data from the apps so that you can have it on hand should you need to confront someone, or use it in court.
SpyFone Xtreme
The Xtreme plan is the most popular because it gives you access to another person's phone just like it was your own. Xtreme not only gives you the features that you get in the premium and basic plans, but it also gives you live access to the phone.
This was one of the better apps for hacking a smartphone camera, with the ability to watch videos from either of the phone's cameras live and even watch what the user is doing on the screen, as it is happening! You can even control the functions of the phone remotely.
What's more, the Xtreme plan allows you to record phone calls and even screen capture. Plus, it has a Keylogger app which provides a detailed look into what is being done on the phone every time that the user picks it up.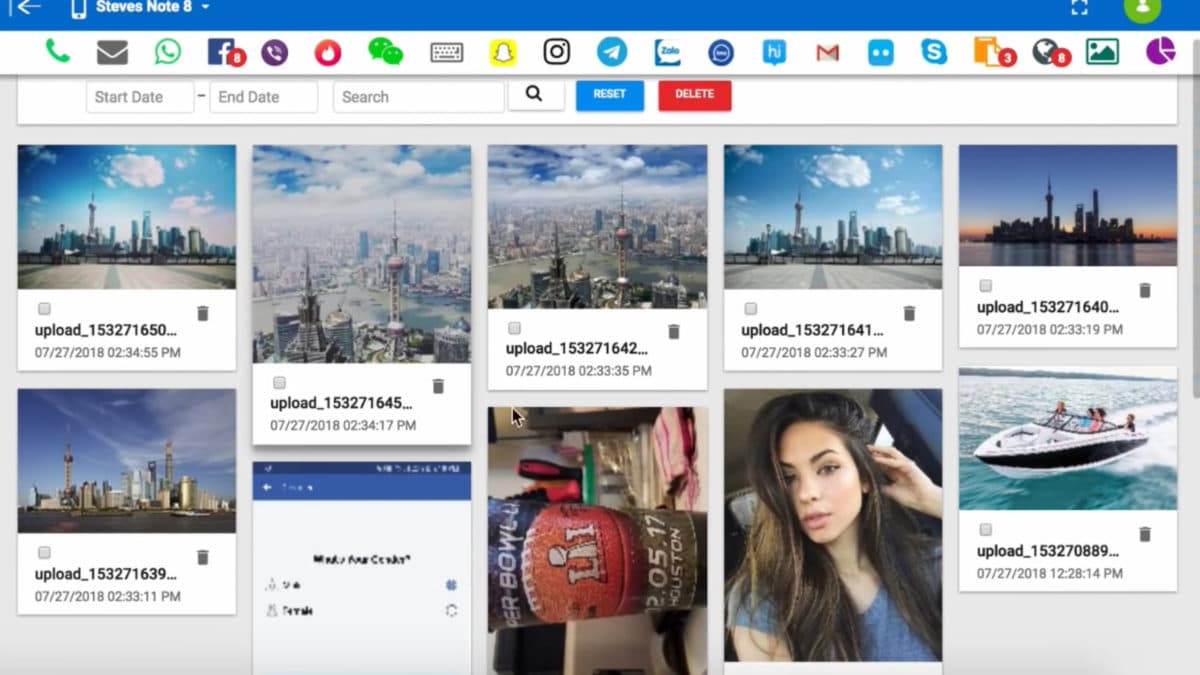 A keylogger can be used to obtain the usernames and passwords to any account that the user logs into. For instance, if they are logging in to a dating site then SpyFone will let you see what they are seeing. But, the keylogger will give you the username and password that they used for the website. This will let you log in and view their sent and received messages at your leasure.
Please note that the legality of doing this will depend on your location and your circumstances, we are just reviewing what is possible to do with this app.
All of the plans include anti-theft technology, the ability to find a lost or stolen device plus a back-up for all of the data on the phone.
Compatibility & Requirements
SpyFone is slightly easier to use with an iPhone than an Android device. Users may make changes to the target device including rooting and jailbreaking. We'll explain more about this below, but regardless the phone should have access to the internet or data.
First, SpyFone works with Androids that are at least version 4.1 to version 9 or better. You must have access to the Android device in order to download SpyFone on it and the device needs to be able to connect to the internet or a data plan.
For iPhone users, SpyFone works with all iOS versions. If two-factor authentification is on, you'll need to have access to the device to download SpyFone, however, you can also download the app if you have iCloud credentials. This works by downloading the app remotely and then the app is installed automatically on the phone via the iCloud backup program. If the user does not have an automatic iCloud backup on their phone, then you still will need to access their phone. In general, the process is much easier if you physically can download the app on the device.
If your iPhone has undergone a "jailbreak," there is a chance that the SpyFone app won't work. SpyFone advises that if you download the app, you take on any responsibility for damages that might happen, especially if you're using a version of the software that isn't compatible with SpyFone.
Pros of SpyFone
Apple and iOS devices do not have to undergo a jailbreak to use this app. In fact, this app works much better when simply downloaded straight to the phone or via iCloud.
The company offers an Xpress plan which can give you access to a phone that already has SpyFone installed.
This app is easily installed on Apple and Android devices. It is also far more trustworthy than other apps that promise to get you into someone else's phone remotely. Those cannot be trusted. Simply download this on the other person's phone and log in and choose the items that you want to access. You can also do this remotely from their website or if you have the app downloaded on your own phone.
The website is extremely easy to use. Even if you don't want to download this app on your own phone, simply log on to the SpyFone website and you'll be able to review exactly what is happening on the other phone.
While some might say that the SpyFone app is expensive, it is far cheaper than hiring a private detective or following your children around. The cost of peace of mind varies from person to person.
Cons
Users report that the GPS locator system isn't as accurate as other tracking software. They also say that there is a lag when someone moves. Apparently, it can take up to 15 minutes for the app to reflect when the phone has changed locations.
The live view of the other person's phone also can lag. This might mean that you miss out on viewing important text messages. It can also impair your ability to see certain apps. For example, if someone sends a message on Snapchat, it goes away forever, just seconds after it is played. A lag in the live remote viewing means you're unable to see the riskiest transmissions between two people via social media.
If you are wanting to get a live video of what the user is doing, and they are listening to music, it will shut their music off, so buyer beware!
How Often Will I Get Updates?
If you subscribe to the Xtreme plan, you can check the user's phone live, at any time. You can also log in at any time to see if any activity has happened. You can sign up for instant notifications, where SpyFone will send you an email every time there is action on the other user's phone. Otherwise, you'll get a daily email with a summary of the activity that has happened on the phone. If you'd rather not get these emails, you can unsubscribe when you log into the SpyFone website.
What Else Do I Need to Know About SpyFone?
Data is only saved for 90 days. If there is information that you need after that, take screenshots or save it to your phone or computer.
You can use your SpyFone account on multiple phones. This is a great feature if you need to monitor multiple children or employees. When you get your login information, just save it so that when you download the app on each device you can use the same information.
If the internet is not available where the phone is located, you can still track the phone. Make sure that SMS commands are turned on.
If you're not completely sold on SpyFone and don't want to spend hundreds of dollars, you are allowed to try the app out for two full days.
Conclusion
SpyFone is a very helpful tool if you need to monitor the online behavior of your child, your significant other or even your employees. While SpyFone does not condone using their app without telling the other party that you are using it, it is possible to do so. The way that the app is set up prevents you from being able to spy on strangers. You have to have their device and the ability to open it and download apps or have their iCloud password. Unless you know the person intimately, you would not have the ability to do so.
The cost of SpyFone is somewhat more expensive than other monitoring apps, but it is hard to put a price on your peace of mind.
The app essentially lets you see exactly what your child, partner or employee is doing on their phones in real-time and will even record it, should you need evidence later on. It also is far cheaper and far less intrusive than hiring a private detective.
While some users have expressed frustration over connectivity issues or live updates having lapses in time, this app is still incredibly reliable and worth your time and money.
This app provides valuable information on what a user is doing on their phone when you are not watching, and it is one of the best monitoring apps that money can buy.
If you have a hunch that something is going on that you should be aware of with one of your loved ones or employees, you're probably right. Purchasing this app will either put your fears to rest or help you become aware of things that need to be changed in your relationships. It comes highly recommended.