Affiliate Disclosure: The High Tech Society is reader supported and uses affiliate links which may earn a commission and support our work, at no cost to you.
Learn More

Daisy Disk is a Mac App that helps you figure out which files on your Mac are using the most disk space. It displays the results visually and enables you to look more closely and determine what is taking up the majority of the space on your hard drive.
The app visually displays the folders, making it clear what is taking up space by showing a sunburst graph of hard disk usage to help you find and remove files that you don't need.
Usage
It can be difficult to figure out where all of your storage space is used. Certain applications have a tendency to store exceptionally large files in unusual locations, finding it challenging to free up disk space without the use of specialized software.
Even though there are some similar apps, none of them come close to having DaisyDisk's stunning design. DaisyDisk visualizes your hdd as a starburst chart, with segments proportional to the file or folder's size. This makes it really clear where the majority of your hard drive capacity is being used. DaisyDisk makes a job that is normally painfully boring into a pleasurable experience.
The whole scanning procedure takes just a few minutes. My hard drive was scanned in 12 minutes and 27 seconds (my hard drive is 1 TB with 130gb free, so your speed may differ). After the search, I discovered a slew of files I had no idea existed. After all was said and done, I was able to free up over 40 gigabytes of disk space. DaisyDisk discovered large files in the library folder that I didn't need, such as printer drivers, iTunes garbage, and old device backup files.
The ability to find the files I want to remove by simply right-clicking them within the DaisyDisk framework is among the most useful functions of the entire application. It can be difficult to find these files on your own because some of them are stored eight directories deep, but Daisy Disk makes it a breeze.
DaisyDisk has a few flaws in addition to its many positive features. First and foremost, it needs OS X 10.5 Leopard, so users of earlier versions will have to find another solution. In addition, the price is a bit high for such a basic application.On the other hand, has a lovely user interface and the ability to directly access files in the Finder, so the price is well worth it to me.
Features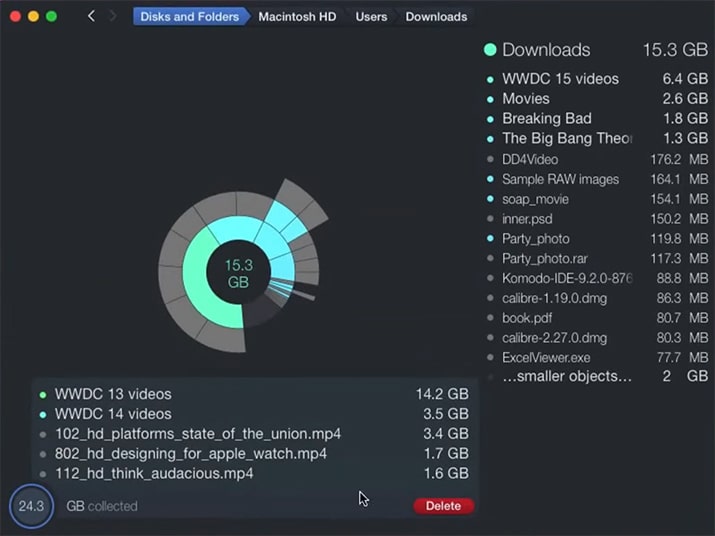 DaisyDisk crams a great deal of capability into a small, aesthetically pleasing package. Some of its characteristics are as follows:
DaisyDisk employs a unique circular design to display the various files that are wasting disk space. Various types of data are color-coded on the board, making it easy to differentiate between them. Clicking on a portion of the monitor zooms in and produces a new circular interface that shows the selected files in greater detail.
With the files listed on the right side of the screen, you can easily access the main display. For easy reference, this gives you a good understanding of file names, directories, and sizes. When you need to zoom out, a set of tabs at the top of the display make it easy.
DaisyDisk isn't just for analyzing the hard drive on your Mac. It is capable of performing a comprehensive analysis of any drive attached to your device, including external drives. If you know exactly what you're searching for, a Scan Folder tool enables you to narrow your search to specific folders without navigating through the main gui.
The file collector feature is displayed as a big dot toward the bottom left corner of the screen. Any file can be dragged and dropped here to be deleted. The app keeps track of how much room you'll recover and gives you the option to uninstall items. When you've gathered all of the garbage DaisyDisk has found on your drive, select Delete to permanently delete it.
DaisyDisk will make helpful recommendations on what files could be removed to free up space. It will direct your disk cleanup by flagging purgeable areas and smaller orphaned objects for deletion.
You can try DaisyDisk for free in a restricted Trial mode if you're interested. This version allows you to search the majority of your hard drive but does not delete any files.
Interface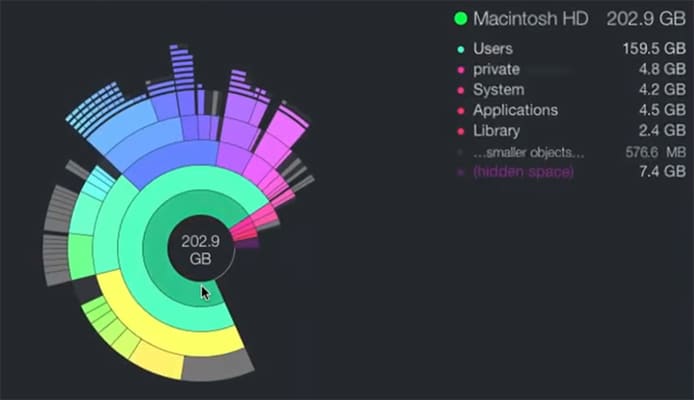 DaisyDisk visualizes your hard drive's contents as a color-coded diagram that looks like a daisy's petals.
The software positions the hard drive's root at the middle of the daisy and shows a hierarchical layout of the computer's file system radiating from there. This daisy appears color-coded to distinguish between directories, but the files themselves are still dark. DaisyDisk also has a description for the color codes on the sidebar of the app. The right sidebar of the screen updates with contextual details like file or folder names when you mouse over it.
When you click on a folder, DaisyDisk creates a new daisy with the selected folder as its base.
DaisyDisk has a trash collection icon where you can drag and drop files and directories to delete them.
DaisyDisk v3 also includes a customized version for users with Apple's Retina Displays.
Disk Selector
DaisyDisk examines the Mac's hard disk as well as any other drives attached to it, displaying the directories and data on them. By using the Scan Folder feature to concentrate on a single folder, you can save time.
Integration


DaisyDisk supports the Quick Look feature in Mac OS X 10.5 Leopard and later, which is one way DaisyDisk interacts with Mac features. Quick Look is enabled by holding the mouse over any file or folder shown in DaisyDisk and pressing the space bar, which shows extra details about the file or folder's location and contents.
History
Taras Brizitsky, an interaction designer, and Oleg Krupnov, a programmer, founded DaisyDisk in late 2008. They wrote the code from the ground up in order to reach faster speeds than comparable systems. They chose a sunburst diagram because it is seen as more appealing than other data visualization methods.
Cost
After a free trial, the app will cost you just $9.99. You don't have to commit to a monthly or annual subscription, making it one of the more convenient and affordable Mac cleaners available.
Pros
Map design gives instant visual of all files
Simple to use
Affordable
Cons
No advanced apps
Easy to delete files accidentally
Alternatives
DaisyDisk is a good choice for the average Mac user who want a faster machine, but there are other choices.
CleanMyMac X includes a comprehensive storage and speed optimization tool that can produce much of the same results in fewer steps, making it another powerful contender. You can read our full review to learn more about CleanMyMac X.
CCleaner for Mac is also an a solid and dependable Mac cleaner, even if it is not as feature rich as CleanMyMac X.
To read about other Mac cleaners, check out our full list of the best mac cleaning apps.
Conclusion
DaisyDisk is a small Mac utility designed for users who want to monitor their computer's disk space usage. The software has an easy-to-use design, scans the selected drive or folder right away, and displays an interactive map of its contents.
You can choose from any of your Mac's local drives, directories, or external storage devices. The application will scan your folders in a matter of seconds. I ran a scan on a 250 GB drive during my testing. It took less than a minute for the utility to provide me with the information I required.
In contrast to many other disk analysis utilities, this one includes an attractive, interactive map. When you hover your mouse over a portion of the chart, a new graph is revealed, displaying the selected directory's representation.
DaisyDisk has shown that it is a dependable solution for examining hard disk usage and deleting unwanted items. It's efficient, easy to use, and reasonably priced.