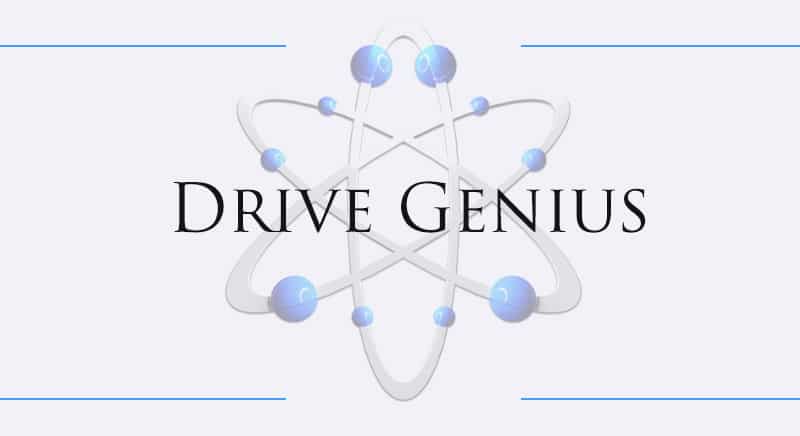 Drive Genius 5 guarantees that your computer will run smoothly and that you will not lose any important data. The application integrates virus protection, data recovery, disk defragmentation, and cloning, among other functions. DrivePulse is a tool that continuously searches for potential problems.
If you are using your Mac for work or have important data, it's well worth the money. It offers a more robust set of tools than many of its rivals.
Installation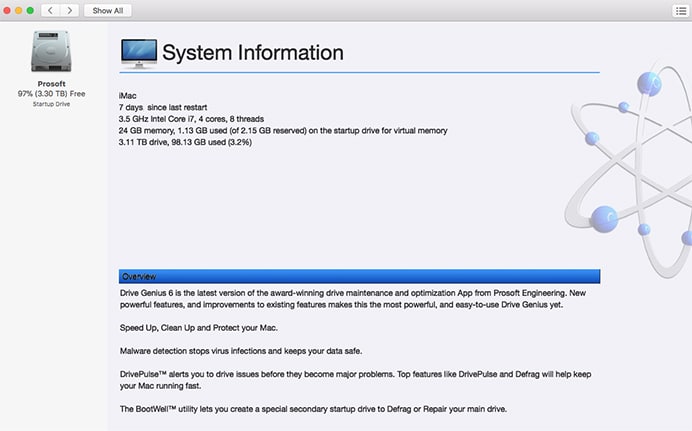 The first impression of an application is normally made during implementation. Drag the Drive Genius icon to the Applications folder on your Mac. When you first start the program, you'll be asked for your serial number. Drive Genius 2 disables animation if your Mac does not support Quartz Extreme. Everything will still work, but there will be no images of rotating hard drives or flying files. Disabling icon animation automatically was one of the first items that made a good first impression.
The automated search for modified versions of the software, which occurs every time the software is run, is another polished touch that leads to a positive first impression of the Drive Genius app. Normally, I would regard this as an annoyance, but it is critical. Using out-of-date disk utilities can cause significant data loss. With a broadband link, the scan is almost undetectable. If you do not have an always-on Internet connection or are willing to take the risk of running an outdated program, you can easily disable this feature by selecting "Check for Updates" in the menu. Disabling automatic updates is an option in the final dialog window.
Features
Drive Genius does a lot more than just keep an eye on your drives for potential problems. Cloning drives, safely erasing, re-partitioning hard drives, and initializing disk drives are also included. A malware scanner is included, as well as physical and accuracy tests for your disks.
There is a defragmentation tool that can boost overall efficiency, boot time, program start times, and how rapidly large files open if you use normal hard disk (not SSD).
During login, Drive Genius also tracks your startup disk for device changes and notifies you if one occurs, which is a common tactic for malware.
After Drive Genius has alerted you to the problem, it can almost always fix or restore a damaged disk.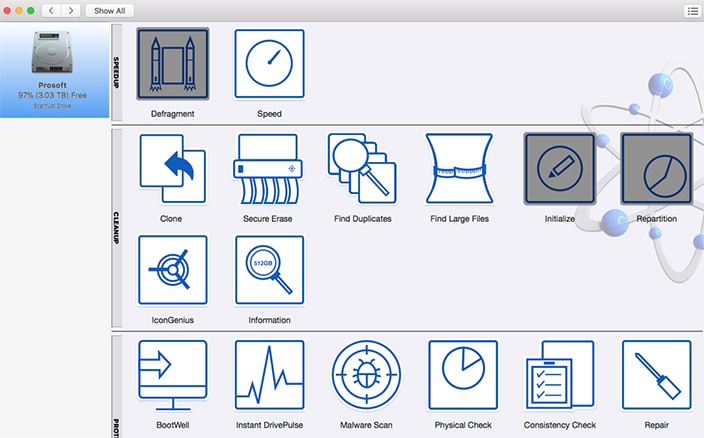 Consistency Check
Checks formatted drives for potential file and folder corruption. Data loss can be avoided by detecting and correcting errors.
Repair
Can repair the majority of file system errors on a problem hard drive in order to avert future critical issues and data loss.
Rebuild
Rebuild will be able to assign missing file names to lost data again in situations where a file name is lost but the data is still there but not available.
Malware Scan
The Malware Scan looks for suspected malware in files and downloads. The malware signature database is maintained on a regular basis. DrivePulse can search downloaded files automatically in addition to manually running scans. Only those well-known places are subjected to automatic update scans. Downloads stored in places other than these will not be automatically checked.
BootWell
BootWell creates a dedicated secondary startup drive for the sole purpose of maintaining your primary startup drive.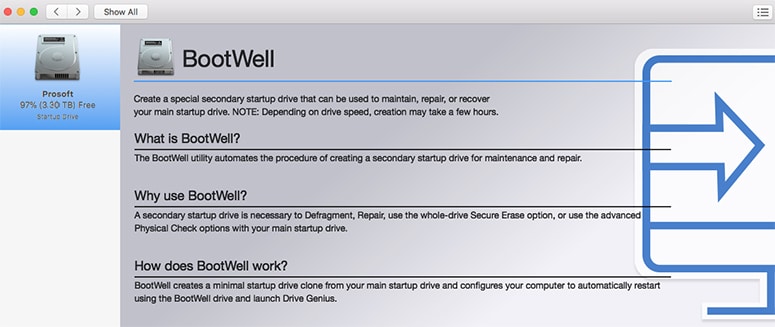 Instant DrivePulse
Tests a drive for hardware-related issues that may occur as a result of a defective drive, a faulty cable, or a faulty link.
Repair
Runs the most popular DrivePulse tests and gives the drive a pass/fail status.
Active Files
Active Files notifies you of any open files that might keep your Mac from shutting down or dismounting a disk.
Malware Scanning
Drive Genius now includes malware scanning features in its newest version. It's a DrivePulse extension that automates malware security as part of its routine monitoring tasks.
Drive Genius uses a heuristic engine for determining if a drive needs to be replaced. Additionally, the monitoring tools within the software have been revised to check for system changes at bootup, since such changes can signify the presence of a virus.
Additionally, Drive Genius checks for low disk space and keeps forces the computer to stay awake while it is running, preventing applications from becoming stuck waiting for a sleeping hard drive to wake up.
Cost
We recommend starting with the free Drive Genius demo to make sure you will use the advanced version. The standard license covers two Macs and up to five drive recoveries for a one-time fee of $79. The professional license costs $299 annually but allows activation on unlimited Macs plus unlimited drive recovery.
Pros
Standard license covers two Macs
18 features included
Advanced capabilities not offered with other apps
100% file deletion
Drive recovery included
Cons
Price is prohibitory for some users
Not the easiest program to use
Is It Safe to Use?
Yes, it's perfectly safe to use. On my iMac, I installed Drive Genius without issue. A Bitdefender scan revealed no malicious code or viruses. In reality, the malware scanner in the app will keep your device secure.
You risk damaging your files and potentially losing data if you interrupt any of the application's utilities when they are in operation, such as defragmentation. When caution is needed, clear warnings are displayed. Only make sure your screen isn't turned off during those procedures.
How to Uninstall Drive Genius
People who are having trouble uninstalling Drive Genius have posted a lot of questions on Mac forums. Here's what you can do if you plan to uninstall this app as well.
Stop all of Drive Genius's operations. To do so, press Cmd+opt +Esc, select Drive Genius, and then click Force Quite. Drag the software to the Trash and confirm the uninstall.
After that, I would recommend deleting the folder where Drive Genius was installed.
Alternatives
I've been using Drive Genius off and on for many years, and it's one of the few mac cleaners I really trust. However, if you're more of a novice computer user, there are a few other utilities that can help you accomplish the same tasks more easily. I would recommend that you read about other Mac cleaners before deciding.
Conclusion
The driver genius full version performs exactly as advertised by the manufacturer. Its user-friendly interface coupled with the one-click automatic install feature makes it the updater of choice for many people around the world. At 29.95 dollars, this updater is competitively priced and certainly offers its money's worth. As for customer support, driver genius technical support is committed to ensuring all feedback is availed to customers within 12 hours of receipt. All in all, the driver genius pro 18 is definitely one of the best driver updater tools available on the market today.