Avast Cleanup Premium Review
Affiliate Disclosure: The High Tech Society is reader supported and uses affiliate links which may earn a commission and support our work, at no cost to you.
Learn More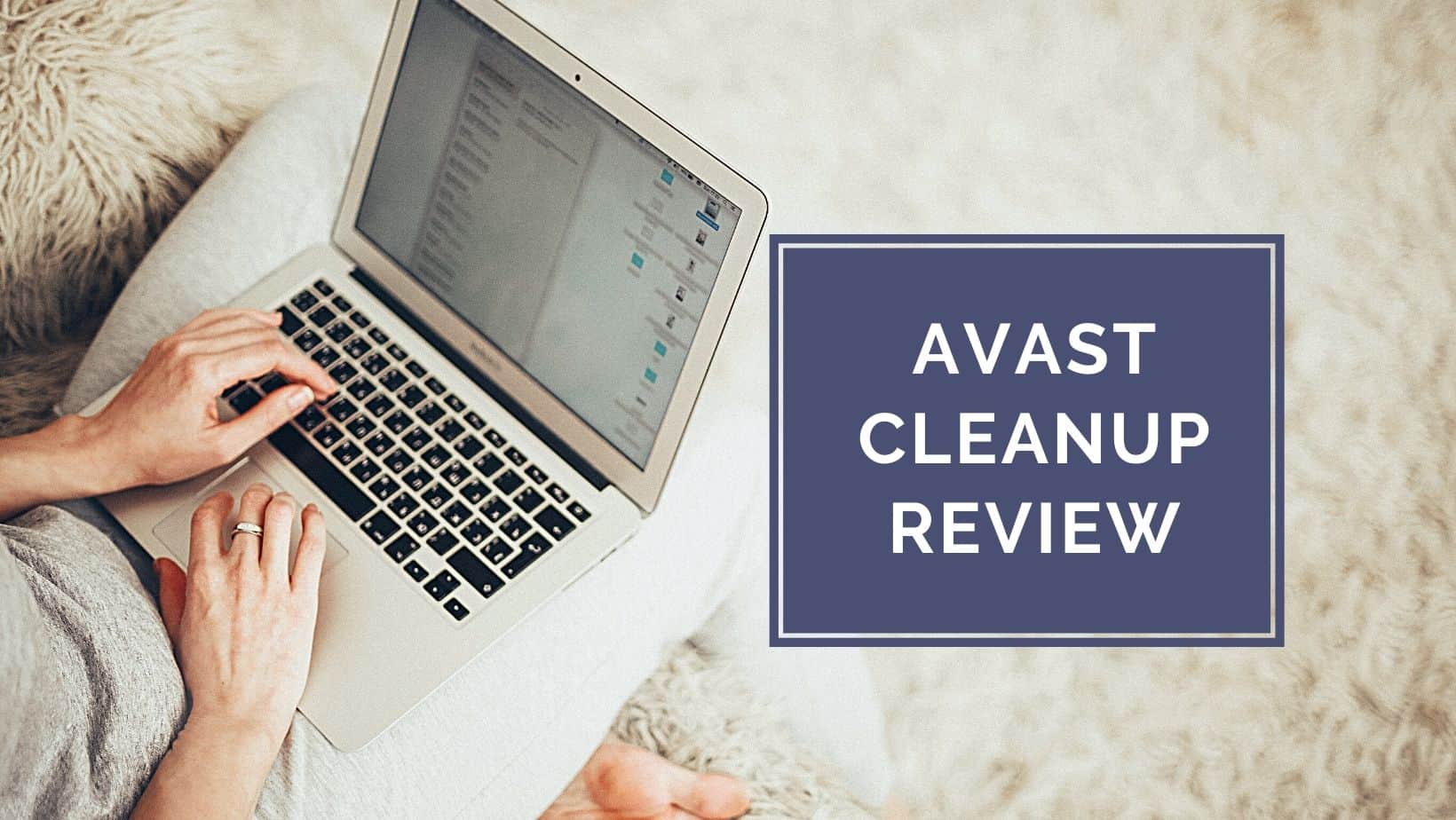 Avast Cleanup Premium is a Windows cleaner and optimization utility that scans and removes trash from your computer to speed it up and free up disk space.
The software advertises that it may be used to optimize your computer's performance, clean up unwanted files, repair minor PC issues, and manage your PC to keep it working properly.
Avast Cleanup Premium is useful for cleaning out old and unneeded files on your hard drive, removing old shortcuts, clearing browser caches, and wiping away old apps from your computer.
Features
What exactly does Avast Cleanup Premium accomplish when it is installed on your computer? Let's review the major features.
Speed Up Scan
The speed-up check looks for unneeded programs installed on your computer, as well as background and startup apps that may be slowing it down. For the record, Cleanup Premium determines whether or not software is essential by utilizing a combination of blacklists, proprietary heuristics, and user ratings.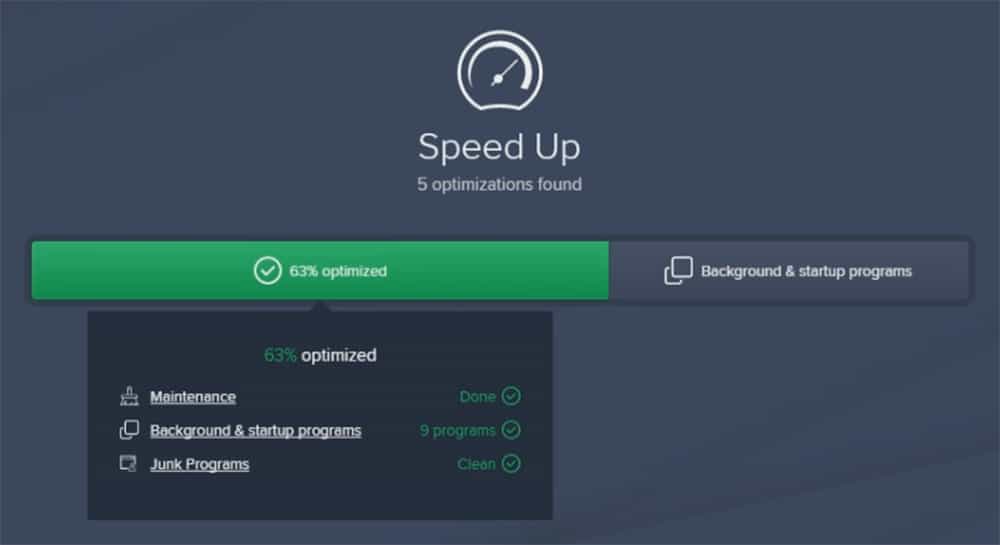 Actually, I believe putting background processes to sleep, like Avast does, is a risky feature. For instance, customers have complained that removing Avast Cleanup Premium while apps are asleep causes them to crash. Although this should really be expected, it is still inconvenient for users.
To avoid this, instead of employing Avast's "sleep" option, users should close processes that are idle in the background. You can also run your own startup programs for free.
Free Up Space
The free-up space feature clears the system of unwanted files. These can be found in the recycle bin, in setup files, temp files, or any other location.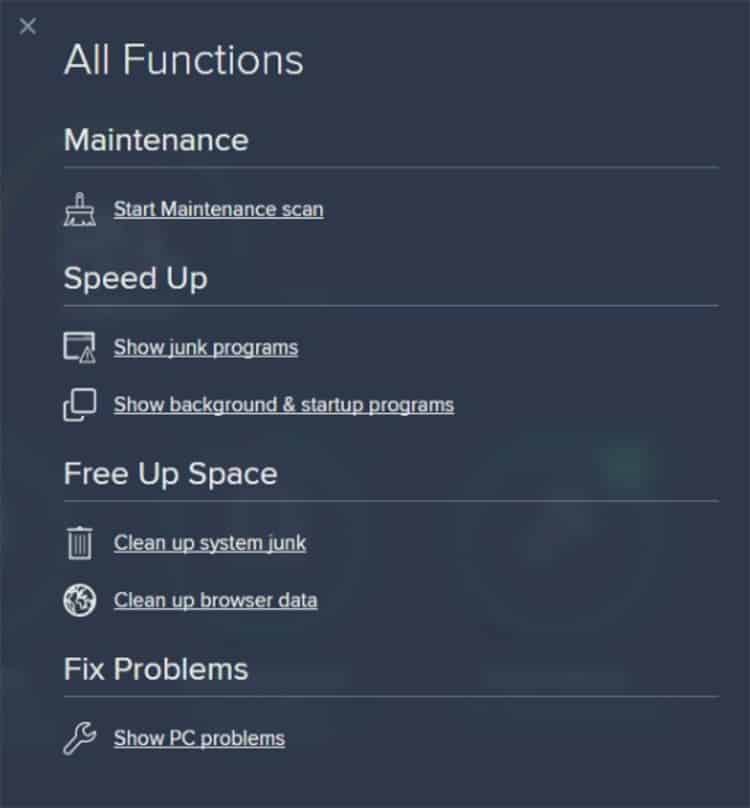 This is an effective method of removing unneeded files from the system, which not only frees up disk space but also improves system performance. You can also utilize the free version to make this option available to the system.
Clutter Cleaner
Essentially, this is a system cleaner that will get rid of garbage to free up space. All unnecessary files found will be divided into six categories.
Crash report files and residual data from software that has been uninstalled are referred to as development junk.
Application Caches containing temporary files saved by web browsers and other software.
Trash shows the contents of the Trash folder on your Mac.
Log Files keep track of how your apps have been used or whether they have crashed.
'Downloads' is a list of all the files you've downloaded.
Avast Cleanup will present you with a list of items it believes you should eliminate. This excludes your downloads by default, which makes sense as these were downloaded intentionally. Clean Clutter is, in general, a very adaptable program. You can choose which categories to eliminate and which files to remove within each category.
Disk Cleaner
This utility will clean up all of your trash and track down any uninstalled software left behind. It's worth noting that not all cleanup software finds and removes these remnants.
It also removes corrupted files that are taking up too much space. It will assist you in clearing storage space you didn't think could be cleared. It will search the most remote locations for all the trash kept there.
Sleep Mode
The software's tuneup mechanism identifies performance drains and takes the required steps to alleviate them. It does it automatically, saving you the time and effort of manually uninstalling programs.
If software is slowing down your computer, you can switch it to Sleep Mode manually. Programs do not consume any resources when in sleep mode.
You can also use this feature to set a sleep time for software running in the background when your device boots up.
These programs use up a lot of storage and processing power on your PC, slowing it down. Cleanup Premium assists you in resolving this issue without the need to uninstall software from your computer.
Bloatware Removal
Bloatware detection is among the most important aspects of Avast's software. You may unintentionally install software or applications you did not plan to install in the first place. Avast assists you in removing third-party toolbars, trials, and advertisements from your computer and browser.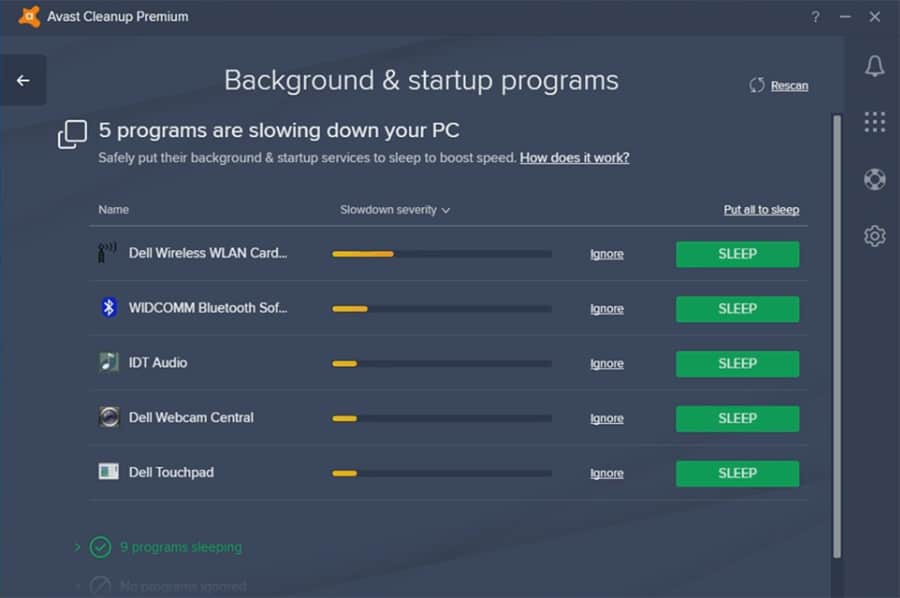 It's critical to keep your system free of bloatware since it collects data about your online activity indefinitely, which can be dangerous if you use the same computer or web browser to access your online banking accounts. That is, without a doubt, fairly prevalent.
Registry Cleaner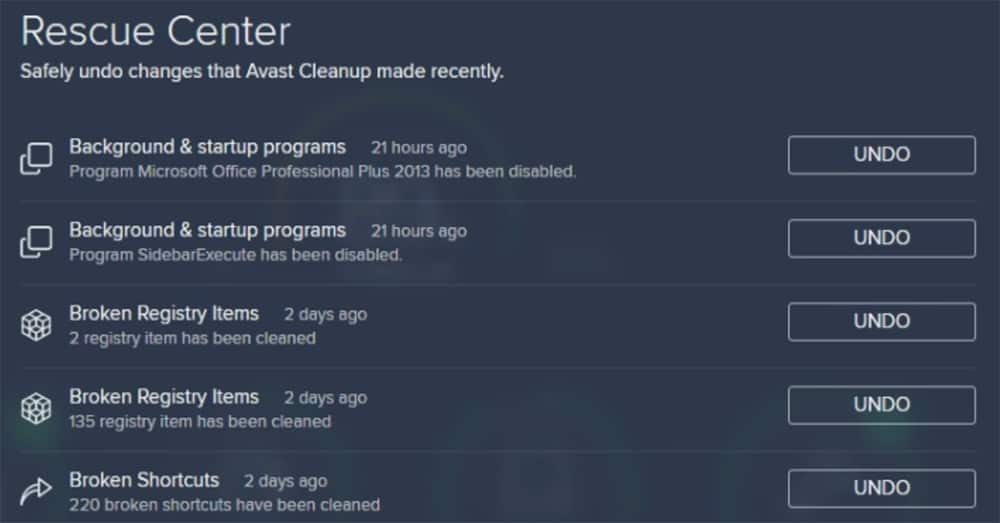 The registry saves the system configuration information for Windows and grows in size as you use your computer over time. Installing and uninstalling software bloats the registry to the point where it slows down your computer. Even eliminating or uninstalling apps won't always erase their entries from the Windows registry, so that has to be done manually or with the help of a registry cleaner.
Some programs can leave trash in the registry that they don't want you to see. Avast safely cleans the Windows registry and removes hidden garbage.
Automatic Maintenance
Cleanup Premium comes with an automatic maintenance tool to clean and tune-up your PC without you having to do anything. You can specify what to delete during automatic maintenance, and it operates in the background without interfering with your work.
Shortcut Cleaner
Each program you install creates Desktop shortcuts. However, as time passes, certain shortcuts become obsolete. Avast's tune-up program will automatically detect and remove these shortcuts.
Avast Cleanup Premium Duplicate Finder
Once you've chosen to scan for duplicates on your system, you'll be prompted to specify which folder or disk to search for duplicates. Scanning is suggested by default for the Home folder, but you can choose from a variety of additional directories and external disks.
Avast Cleanup Premium will reveal all duplicates, whether they are folders, documents, videos, photographs, music, or anything else. When you click 'View Duplicates,' you'll see a list of duplicates you can sort according to your preferences.
Finds Similar Photos
This module is designed to display files that are similar but not identical. It even helps you to locate 'poor,' fuzzy, or low-quality photos you no longer want to have in your system. After the photos have been discovered, you can manually select which ones you want to preserve and which ones you want to remove.
Browser Cleaner
There can be a lot of worthless data being kept by your browser. Cookies from website can pile up without end regardless of whether or not they are ever used, for example. You can also have leftover content from outdated plug-ins. All of this jumbled data has an impact on system performance. This tool clears your browser's cache and temporary files.
Scanning
Registry cleaners are frequently highly intensive, necessitating high CPU utilization that prevents users from doing anything else on their PC.
Avast Cleanup Premium is the polar opposite in this regard, since the procedure was always mild and had no discernible influence on the machine during our tests. On the other hand, no scanning patterns can be specified to exclusively target a certain area of the device. Every time Avast Cleanup is used, it searches every component of the computer, although this operation is surprisingly speedy. For example, the program found 1,814 errors worth correcting in under three minutes, despite the fact the total size was 12.2GB.
Pros
Avast Cleanup Premium offers a simple and intuitive interface making it simple to use even for non-tech savvy users.
If your computer begins to slow down, the software may tune it up and accelerate it for improved performance.
Avast Cleanup Premium may also resolve serious issues such as crashes and freezes, in addition to doing routine maintenance.
The app includes options to assist you in getting the most out of your device's battery life.
By automatically upgrading your programs, Cleanup Premium assists you in avoiding security risks, resolving problems, and obtaining the latest features.
Cons:
No antivirus or malware protection.
Users receive too many notifications from the automatic protection utility.
Avast Cleanup Premium frequently fails to perform properly on machines running outdated operating systems.
Does Avast Store Your Data?
Avast has recently been criticized for selling user data to third-party clients. Furthermore, the company's free goods use unethical ways to market their software. They may contain misleading warnings as well as distracting pop-ups.
Avast Cleanup, on the other hand, requests for permission to record and submit your data to a third-party analytics provider. Menu>Settings>General can be used to disable the option.
If you're still worried about privacy, I'd recommend instead using ioBit Advanced SystemCare.
Why Cleaning Your Windows Computer Is Important
It's difficult to avoid having a large number of different files, especially if you use your PC frequently. Every application keeps logs, and every web page seems to leave some type of information in the cache.
As a result, the system becomes clogged to the point where the hardware can't keep up. Additionally, old files may be infested with viruses, which would exacerbate performance concerns. Furthermore, because obsolete software may have security flaws, it is critical to either delete or update them.
As a result, you should perform the very minimum cleaning - removing garbage and cookies. However, if your PC is quite old, even the deep cleansing will not make a significant difference. The maintenance will only improve the performance slightly. Your computer's speed will not be affected much. Even so, cleaning should be done on a regular basis.
Is Avast Cleanup Free?
Avast Cleanup Premium is not free. A license from Avast will cost:
1 Computer: $59.99
5 Computers: $69.99
If you use additional products from Avast, you can save money by purchasing a bundle rather than purchasing applications separately.
Is Avast Cleanup Premium Worth It?
More experience and tech-savvy users will find these types of apps unnecessary because they can execute all of these tasks manually. Those who aren't as tech-savvy, on the other hand, will appreciate Avast Cleanup because it improves PC performance without requiring the user to lift a finger.
It's good to have an app that takes care of routine PC maintenance. Particularly when it comes to automatic cleanup. You don't have to do anything while Avast Cleanup keeps your PC safe and secure.
Avast Cleanup Premium vs CCleaner
Avast Cleanup Premium and CCleaner are vastly different in terms of cost and subscription. For one computer, Avast Cleanup costs $59.99 per year. If you have a large number of computers, you may want to choose a bundle that allows you to install the software on multiple PC's. The annual cost of this package is roughly $69.99.
CCleaner is far more economical, with a 1-year license for one device costing $19.95. When compared to its competitor, which offers nearly identical functionality and cleaning processes, CCleaner is far more appealing at a significantly lower cost.
However, there is one thing these products have in common. CCleaner and Avast both have a free version and a trial version. It allows you to determine whether or not the software is right for you. Avast offers a 30-day money-back guarantee, whereas CCleaner includes a free version with restricted functionality.
Conclusion
Avast Cleanup Premium promises to improve your computer's scanning and cleaning speed, owing to the several functions it includes. This application also completes tasks at a faster rate than its competitors.
While Avast Cleanup Premium does have an advantage when it comes to performance and privacy, it lacks antivirus features. In the end, in spite of its drawbacks, it is one of the best PC cleaners available.