IObit Advanced SystemCare Review
Affiliate Disclosure: The High Tech Society is reader supported and uses affiliate links which may earn a commission and support our work, at no cost to you.
Learn More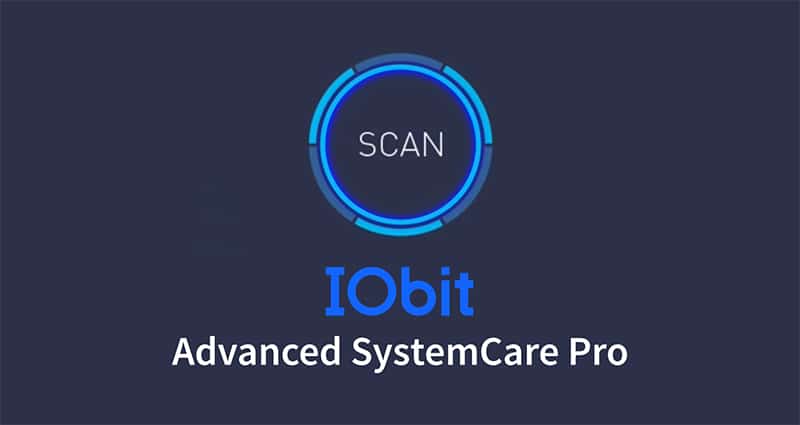 For many people, purchasing a new PC is the easiest solution to having a computer that has begun to slow down. Fortunately, this isn't the only choice. You can save hundreds, if not thousands, of dollars by investing in a system-tune-up utility like IObit Advanced SystemCare Pro. The program includes all of the features contained in the free version, as well as real-time system optimization, Windows registry cleaning, and other performance enhancements.
While Advanced SystemCare Pro does not quite match the ability of Iolo System Mechanic and AVG TuneUp to clean up a PC, the application is worth considering if you're looking for a premium performance cleanup at a reasonable price.
Interface

The interface is modern and comes with two skins, with one being more appropriate for a business environment. The software includes a small desktop widget to display your current RAM and CPU utilization. By clicking this, a small performance monitor appears with tabs for CPU, Disk, RAM, and performance data. This mini-interface also has a button for cleaning system RAM.
Installation is slightly slowed down by pop-ups requesting the installation of third-party software, like Opera. Additionally, the product requires the installation of a service on your computer and requires you to subscribe to a newsletter. There are constant reminders to upgrade to the Pro version and there are buttons to download additional IObit software throughout the interface, which can be distracting.
The scan tool discovered numerous system modifications and vulnerabilities on our test computer and was capable of removing thousands of unnecessary files and obsolete registry entries. The report generated following scanning provides detailed information about the issues and the proposed solutions, allowing you to make an informed decision about performing each fix.
Apart from the previously mentioned features, Advanced SystemCare includes approximately 30 additional tools. Certain buttons are merely download links for more products, while others are restricted to IObit Advanced SystemCare PRO subscribers and must be downloaded prior to use. However, the Advanced SystemCare Free includes useful apps like the File Shredder, which permanently and irretrievably deletes files.. However, each of these has a unique user interface and opens in its own window, giving the impression that they are an afterthought.
Features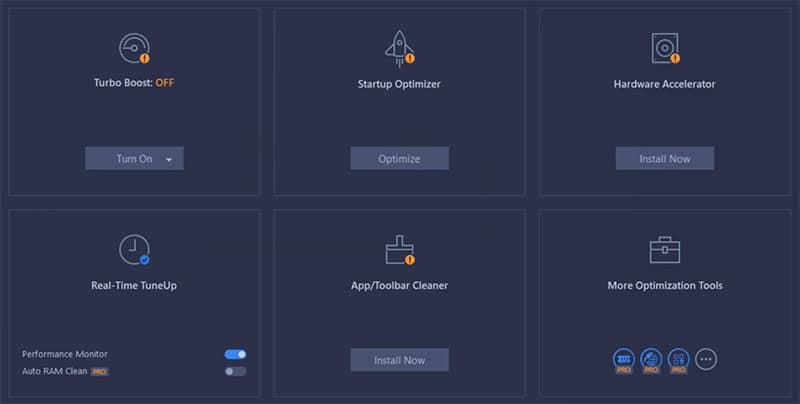 The large Scan button in the center of Advanced SystemCare's main screen performs a full system scan and suggests improvements. It looks for applications set to launch on startup, registry entries, and junk files that aren't needed. It also runs security tests, such as spyware scanning, searching for device flaws, and highlighting possible security flaws.
The software includes a number of optimization resources to help your machine run faster: Turbo Boost frees up some RAM by shutting down background tasks while Deep Optimization optimizes the operating system, hard disk, and network.
IObit Advanced System Care includes malware protection in addition to system optimization. However, subscriptions are required for real-time security, privacy features, and anti-tracking web browsing.
The other significant aspect of this program is a Software Updater to notify you when new versions of updated software are available for download.
Usage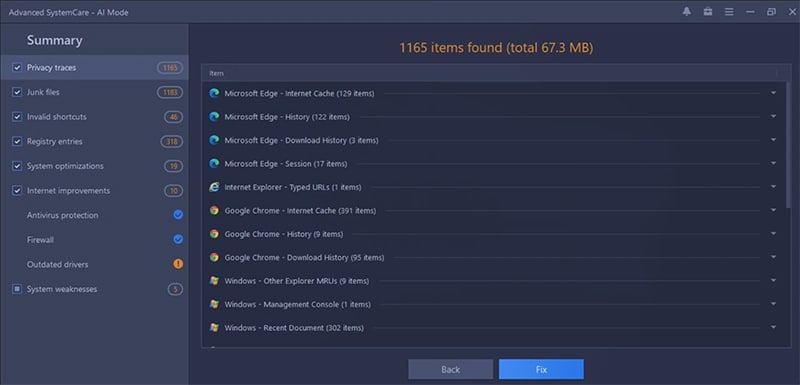 At its most basic level, SystemCare provides a one-click search that looks for spyware, junk files, incorrect registry entries. It's ideal if you're short of time or inexperienced with advanced options.
You can choose to have any problems detected automatically fixed, but this feature is disabled by default, so you can go over it first and deselect everything you want to exclude. Additionally, you can shut down or restart the computer after resolving problems, or put it to sleep.
This software does manage to strike a strong balance between openness and clarification. By choosing a group, you can get see details about all of the things it found. Unfortunately, while you can choose whether to retain or delete individual tracking cookies, you cannot choose whether to keep or delete specific files labeled as 'Junk Files' and 'Privacy Traces'. That means you can either delete or keep all of your browsing history across all of your browsers.
Fortunately, this problem can be resolved by adjusting the cleaner's settings, to allow customization of what items are scanned. If you use Chrome as your primary browser, you can opt to keep cookies and history for ease of use, while Edge and Firefox would delete them. Alternatively, you may perform a thorough cleaning by deleting all saved passwords and form data. The decision is entirely up to you as long as you take the time to go through the settings.
Plans and Pricing
While you can download Advanced SystemCare Free for free, many of the specified features are only included in the paid edition, which costs $19.99 a year for up to three PCs. The features of Advanced SystemCare that are not included in the Free edition are marked in orange in the interface.
Network optimization, spyware protection, automated task scheduling, and RAM cleaning are not included in Advanced SystemCare Free. In reality, most features have a Deep or Advanced counterpart that can only be unlocked with Advanced SystemCare PRO.
Pros
Easy to use and well documented with tooltip helpers.
Automatically creates a backup before any changes are made.
Many options to enable/disable different settings.
Cons
Some utilities have to be selected for download before you can use them.
Lots of cross-selling and promoting other IObit products.
Also installs IObit's Driver Booster software by default.
Optimization Options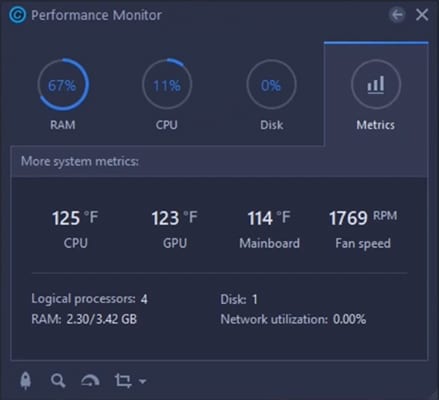 A number of tools are included for optimizing Windows 10. Turbo Boost disables inactive applications and utilities with presets for work, gaming, and 'economy'; Hardware Accelerate scans for obsolete drivers; and App/Toolbar cleaner removes unwanted toolbars and plugins from your web browser. There's also a function called 'Deep optimization' which involves things like disabling autoplay on removable devices and optimizing how menus are displayed in the Microsoft Windows operating system improve performance.
Both of these options have the ability to speed up your PC a bit, so take a look before pressing 'Optimize.' Disabling autoplay, for example, may be an inconvenience if you often use your PC to play DVD's, but it does improve your system's security a media won't be run immediately when it is inserted into your computer.
The Toolbox section is especially intriguing, as it contains a wide range of tools to clean, repair, and protect your PC, as well as a number of features not found in other registry cleaner programs. You get a variety of useful tools for finding unusually large files, duplicate files, and empty directories in addition to basics like a file shredder and startup manager.
The main purpose of the Action Center is to house exclusive deals on apps from IObit. This heavy cross-selling is my main complaint with the software.
Alternatives to IObit Advanced SystemCare PRO
The constant cross-selling leave a lot to be desired in the app, particularly when there are so many PC cleaners that provide a less gimmicky user experience.
Some of my favorite IObit Advanced SystemCare PRO alternatives are below.
IObit Advanced SystemCare vs AVG TuneUp
AVG TuneUp is a PC cleaner that promises to improve the performance of your computer. It's basically a suite of utilities to let you change things like startup objects, device services, and disk defragmentation. To learn more, read the full review of AVG TuneUp.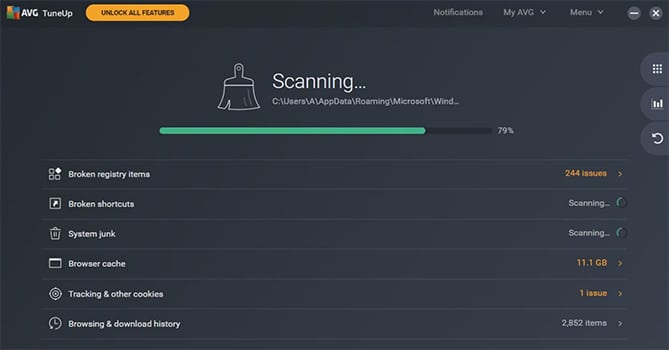 Advanced SystemCare vs Iolo System Mechanic
Iolo System Mechanic is an extremely useful system utility that performs a variety of PC maintenance and speed optimization tasks. It cleans the registry, improves boot time, cleans the machine, removes unused files, defrags the hard drive, and more. To learn more, read the full review of Iolo System Mechanic.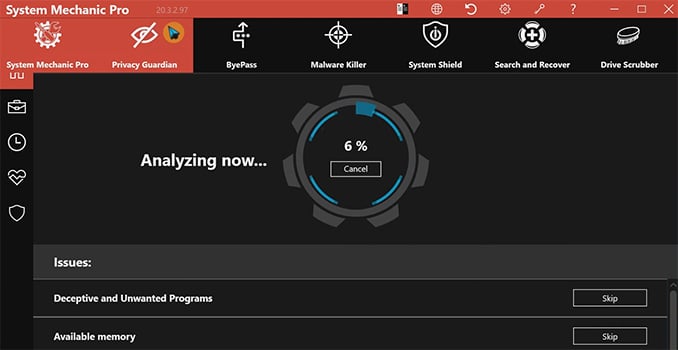 Advanced SystemCare vs CleanMyPC
CleanMyPC comes with a variety of tools, including a web browser toolbar cleaner, browsing history remover, and a cookie removal utility. Additionally, it can clean the Windows registry, uninstall applications, and delete broken shortcuts. To learn more, read the full review of CleanMyPC.
Conclusion
IObit Advanced SystemCare Pro is an impressive system optimizer that cleverly boosts PC performance. It might not be quite as good as Iolo System Mechanic or AVG TuneUp, but it comes close and is a little less expensive. While it's unfortunate that IObit has license restrictions and forces you to download additional software to get the full tune-up experience, Advanced SystemCare Pro is still a good program.