How To See Someone's Text Messages
Affiliate Disclosure: The High Tech Society is reader supported and uses affiliate links which may earn a commission and support our work, at no cost to you.
Learn More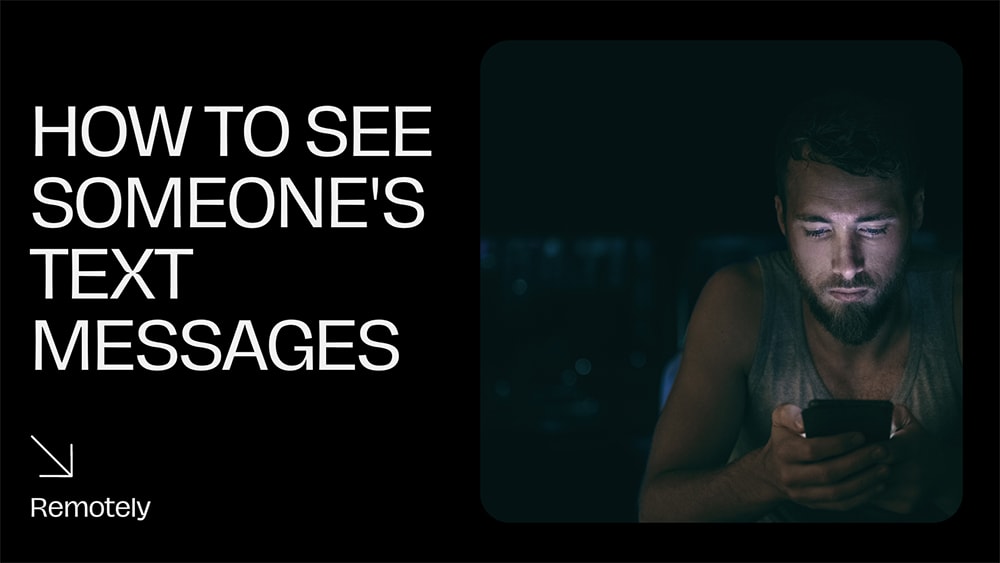 There are a lot of reasons for wanting to see someone's text messages without their permission. Maybe you have children you need to monitor or employees you suspect of stealing.
The best way to read text messages on another phone is to use a spy app. These apps allow you to do things like activate the microphone, intercept calls, and view all social media activity.
In this article, we will show you how to see someone's text messages.
Easiest Method: uMobix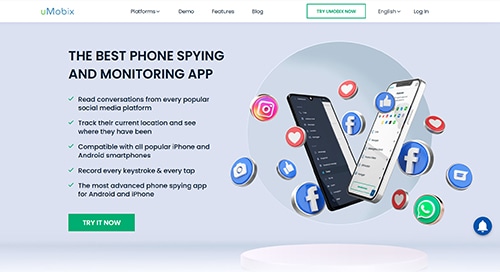 Easily See Someone's Text Messages
Remote Camera Activation
Streams Live Video
Remote Microphone Activation
Compatible with:
How To See Someone's Text Messages Using A Spy App
The simplest and safest method of reading someone else's text messages without their phone is to install a spy app. There are numerous spy apps available that work with iPhone and Android phones but the two we'll mention here perform exceptionally well, providing you with real-time information about the target and their activities. These apps are my preferred method of seeing someone else's text messages because they are fast to install and remain hidden from the user.
The only reason not to use this method is that it requires having physical access to the cell phone. However, it is usually easier to borrow the smartphone for a few minutes and install the app than to get the Google or Apple ID and password for the device which will be needed to read someone's text messages without installing software on their phone.
1. uMobix
I use uMobix to see my teenage daughter's text messages on iPhone. Installation is easy and, more importantly, fast.
I was able to borrow her phone and install the app in about 5 minutes. I just downloaded it, put in my login information, and it entered stealth mode and became undetectable. Everything after that I did through a web-based control panel from my phone and she has never known I was reading her messages without her phone.

It is designed to be able to see everything a user does, not just read someone's text messages. If you're new to the idea of using spy apps, consider the possibility of being able to read texts, track the user's location, monitor all social media, messaging, and Internet activity while being able to turn on the microphone remotely.
Although uMobix has everything you would expect to find on a spy app, it also has capabilities that far exceed any other option.
uMobix provides access to more social media accounts than anything else on the market, including Snapchat, Tinder, Facebook, WhatsApp, Instagram, Telegram, Zoom, Skype, TikTok, and Reddit.
The short version is that you can have full control over the device and you can see their messages in addition to conversations with friends on messaging apps.
Live tech support is available by phone, which can be a lifesaver if you need to complete installation in a limited amount of time.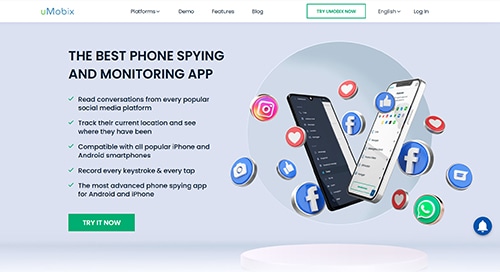 Pros
Totally hidden

Can stream live video from either camera

Remote microphone activation

Location tracker

Access to all social media
Cons
Data retention limited to 30 days on the basic plan
2. FlexiSpy
FlexiSpy is not as user-friendly as other spy apps, and the website and interface seem dated, but its technical ability is unmatched.
FlexiSpy rivals uMobix in capabilities but not in usability. These two are the only apps that can take pictures or video, as well as activate the microphone to turn the target phone into a live room bug.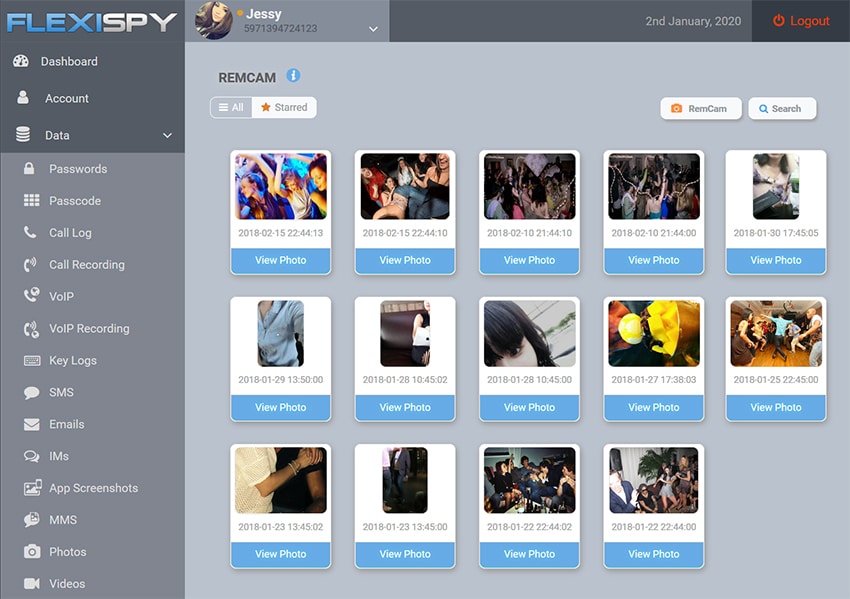 With the ability to listen to Skype, Facetime, and Facebook video calls, it offers much more than the ability to see text messages from their phone. Unfortunately, FlexiSpy has two problems, and those are why it ranks #2 on our list. The website is outdated and the app is expensive, but it would be a mistake to let either of these things turn you away from this marvel.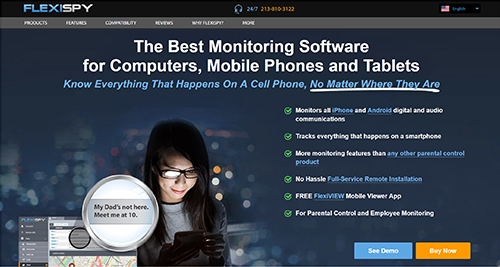 Pros
Extremely powerful

Live camera streaming

Pre-loaded phones available

GPS tracker

Microphone access

Call recording
Cons
Older interface

Expensive
How To Read Someone's Text Messages Without Their Phone
In some cases, you may need to be able to read someone's text messages without installing software on their phone. While more features will be available when a spy app is installed, what makes the following spy apps special is that they can be used without ever touching the target phone.
The drawback is that you will need to know the ID and password for the iPhone or Android phone you will be monitoring.
Many times, this makes it easier to borrow the target device for a few minutes and install the needed software. Whichever method you choose, these are the best apps for the job.
1. mSpy
mSpy is a great way to read someone's text messages without their phone. It is a spy app that is designed to allow you to read someone's texts, see their location, and monitor social media activity. It is one of the more user-friendly options and is easy to set up.
There are a lot of features included in mSpy beyond simply allowing you to read text messages from another phone without them knowing. It can also show their current and historical GPS location information overlaid on a map, as well as send an alert to your phone when they go outside of an approved area or are not where they should be.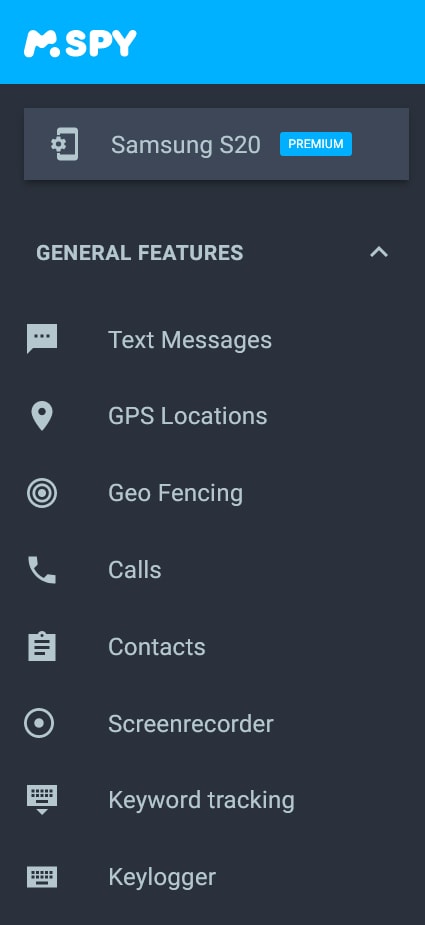 While teenagers can be crafty, and many of their preferred messaging apps do not store texts, mSpy lets you see all social media activity including Snapchat, Instagram, WhatsApp, Facebook, Tinder, Reddit, Telegram, and more.
mSpy also logs all keystrokes on their phone, which give me access to every password for every account she has.
Is this an invasion of your child's privacy? Probably, but it also provides you with great peace of mind and helps you keep them safe in an unsafe world.
If you are looking for a comprehensive spy app that will allow you to read someone's messages from your phone, then mSpy is the best option currently available.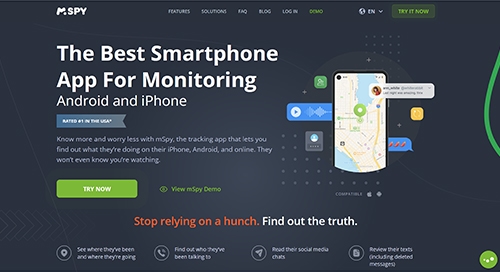 Pros
Totally Hidden

Text Message Monitoring

GPS Location Tracking

Keylogger

Screen Recorder

Access to all social media
2. EyeZy
EyeZy is a powerful new app that is capable of reading SMS text messages, as well as conversations from every popular messaging app. The company that makes eyeZy has a long history in the parental control and surveillance market and this is their current flagship.
It works without installing software by exploiting iCloud syncing to show you the person's texts, current GPS location, contacts, e-mail, photos, and videos. Even more information is available for Android smartphones using Wi-Fi sync.
eyeZy offers a wide range of advanced capabilities including in addition to being able to read someone's texts:
Keyword alerts to be notified if your child types, sends, or receives an inappropriate email or text message on their smartphone.
Monitor all the social media accounts including Snapchat, Tinder, Facebook, WhatsApp, Skype, Instagram, iMessage, Telegram, Kik, Line, Viber, and Google Hangouts.
See pictures and videos on the target device.
Location tracking and the ability to create restricted areas and be notified when they are somewhere they shouldn't be.
Stealth mode ensures the person does not know you are monitoring them.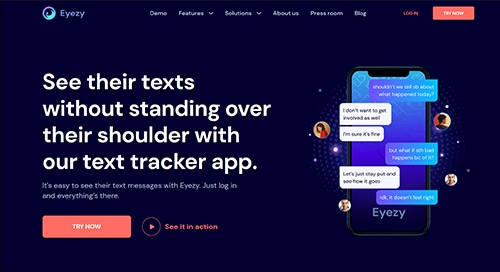 Pros
Easy to use

Fast installation

Totally hidden

GPS tracking

Keylogging

Screenshots
How To Read Someone's Text Messages Without Using Software
There are cases where you own the phone you want to monitor, but you do not know the account credentials or password information and you can not get access to the phone. The typical scenario for this is when you have a teenager you are worried about and need to read their text messages without raising their suspicion.
Cell phone companies like Verizon keep records of all SMS text messages sent and received on your devices. While this seems like a horrible invasion of privacy, and it is, it can also be a real lifesaver when you have no other options.
You can usually order a copy of your call and SMS records going back several months. It will be more expensive than a spy app, and you will not have access to everything else they provide, it is the last remaining possibility for accessing those records.
I strongly recommend you try to get access to the phone you want to monitor, as there is usually a way, but it is good to have a backup plan and this option is almost never mentioned.
Legality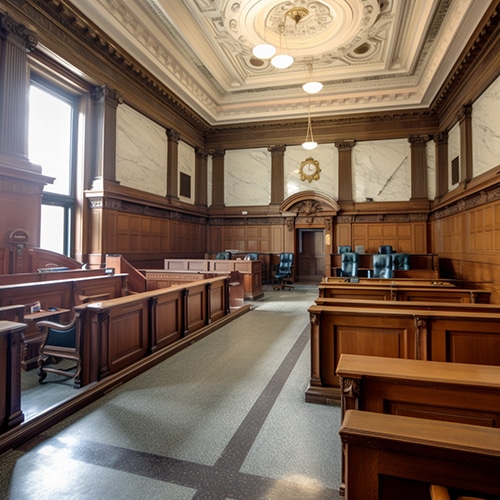 It is usually only legal to read someone's texts if they have given you their permission or if you are their legal guardian. You can almost never legally read your spouse's messages without their permission, though the issue can become legally complex if you own the device being monitored.
We strongly recommend against reading someone's texts without consulting a lawyer first. Some statutes are written in such a way that you may be taking on much more risk than you intended.
FAQ
Are the steps different to see text messages on someone else's iPhone or Android
Getting set up initially can be a little bit different, particularly if you need to have abilities that require you to jailbreak or root the device.
The information you can have sent to you, and how it is viewed online, will be the same on Android or iPhone.
Are there ways to read text messages from another phone without them knowing for free?
Yes, you can access their iCloud backups to see someone else's text messages on iPhone. Unfortunately, there is no equivalent method for Android.
Will they know I am reading their text messages?
No, all of the methods listed here can be done without the user's knowledge. The apps run in stealth mode so you can read text messages from another phone without them knowing.
Conclusion
Whether you can access the phone in question or are not able to install any software, we've covered several methods of seeing someone else's text messages.
There are numerous options, each with its own set of features and price range. If you want the best, look for an app that allows you to track the phone and live stream audio in addition to letting you read someone's texts.