IOBit Malware Fighter Review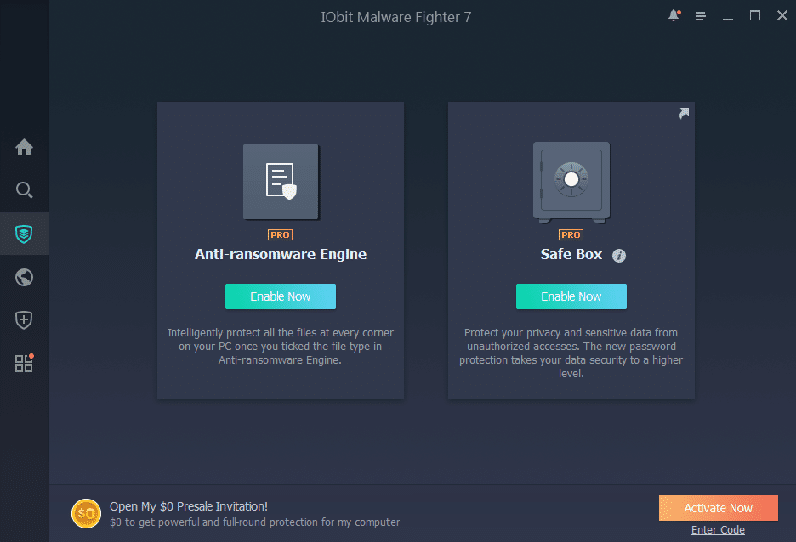 IObit Malware Fighter is designed to eliminate security threats by blocking unauthorized access to your computer and detecting virtual threats in real-time. This IObit Malware Fighter review will explain how the software works to protect against many types of cyberattacks.
Is it worth upgrading? Does IObit Malware Fighter provide adequate protection? This review covers all those questions and more.
What is IObit Malware Fighter?
Think of IObit Malware Fighter as a well-trained army guarding your personal data, browsing history, and Windows files around the clock. Once the security software is downloaded onto your system and activated, it will do the following:
Guarantee a safer personal computer
Protect personal information stored on your system
Maximize online security
You can download IObit Malware Fighter Free for basic protection against malware and limited online security threats. The Pro version elevates protection to include a more extensive profile of malware threats and a long list of advanced features to minimize your risk of malware infection, spyware, malicious hacking, and other forms of cyberattack.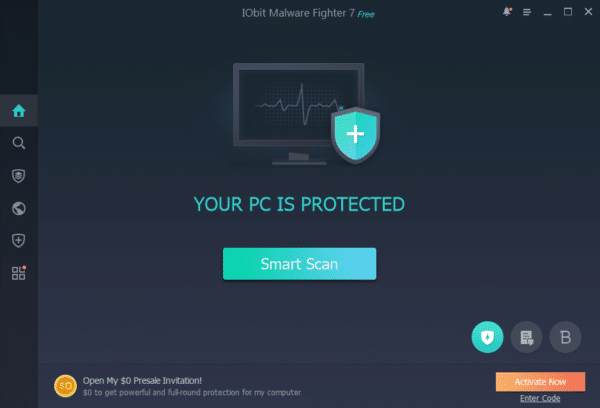 Perhaps the biggest advantage of using premium anti-malware and antivirus products is the peace of mind they deliver. You don't have to worry about clicking links suggested by Google or retrieving your files after a ransomware attack because you have your virtual army protecting your data and personal information.

Best Overall Anti-Malware
How does it work?
Once you download IObit Malware Fighter and get it set up, it will work in the background while you use your computer as normal. You can run manual scans to detect threats, but the software is designed to scan and detect threats in real-time.
The download and setup processes are intuitive and easy. Just follow these general steps:
Close any programs or apps that are running because this process will require you to restart Windows.
Purchase Malware Fighter from the IObit website. The full retail price for a one-year subscription covering one PC is around $40, but it's often on sale for $20 or less.
Follow the prompts to download and open the program.
Locate the Bitdefender Engine in the bottom right corner and click to activate. The activation process will require you to restart Windows.
Find the tab labeled Browser Protect on the left side of the screen. Enable the Surfing Protection & Ads Removal feature by selecting the web browsers you use. Most browsers are protected with a single click, but you may need an additional step for less common browsers.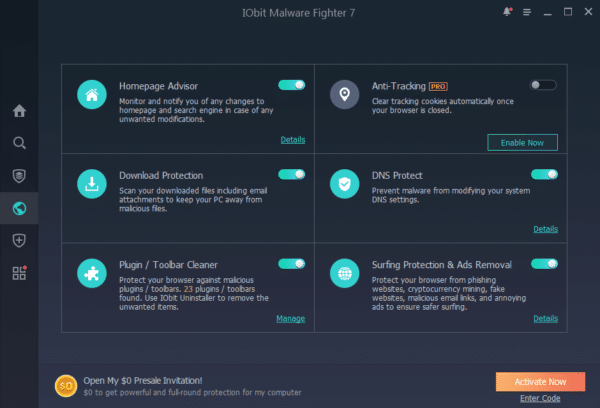 You can spend more time going through the other tabs to see what features are included, but those five steps are all you need to fully activate IObit Malware Fighter Pro. You can use your computer as normal, allowing the software to alert you when a security threat is detected or a manual scan is suggested.
Key Features
There are 15 features included in the IObit Malware Fighter Pro package plus automatic updates as new versions are released. Some of the features are available on other antivirus and malware programs for free, but there are key features that make paying for enhanced security worth consideration, including:
Dual Malware/Virus Engines – Malware Fighter Pro combines the IObit malware database with an anti-ransomware engine powered by Bitdefender. Your system is protected from over 200 million threats when both engines are activated, and the database is continuously updated to ensure ongoing protection from new dangers.
Ransomware Protection – The program goes one step beyond just blocking incoming ransomware attacks. It's also designed with a safe box feature to virtually lock up your critical files, so you can still access them if your computer is hijacked and held for ransom. The criminals only have power if they stop you from accessing your most important files, so locking those files in a safe compartment takes away that power.
Webcam Block – Have you heard about cyberattacks that gain control of a computer through the webcam? Those attacks are particularly damaging because they allow unauthorized visual access to your home, office or any environment within view of the camera. Malware Fighter blocks outside access to your camera, protecting your privacy in real time.
Password-Protected Data – The program secures your data behind a password, preventing intruders from breaking into your computer and invading your privacy.
Online Footprint Removal – Everything you do online leaves a footprint. Your browser picks up tracking codes from every website you visit. Even your social media activity leaves a trace, but not when you have an antivirus program like IObit Malware Fighter Pro. It cleans these footprints as you use the internet and prevents tracking codes from being stored.
Ad Blocker – If you're frustrated by popup ads, this program can put an end to the aggravation.
It's important to stress that Malware Fighter from IObit works in real time. As you're searching for information online or browsing social media, the program is scanning every page, file, and website for threats and phishing attempts. It really is like having a personal army always on guard. Many competing antivirus programs fail to provide real-time protection or charge much more for that protection.
Does IObit provide technical support?
IObit stands out when it comes to technical support. You can call their free tech support telephone number around the clock.
Assistance downloading or setting up the software is always free, but there are also some paid services offered through the IObit tech support line. For instance, they will provide free diagnostic services if your computer, cellphone, tablet or video game console is impacted by a virus.
IObit also operates a community forum on their website. You may get some answers to questions there if you have a technical problem. You may also connect with others who have an interest in cybersecurity, but the engagement isn't always high.
Free Version vs Pro
The free version of IObit Malware Fighter includes five of the 15 features included in the full version. It will provide limited protection because only the IObit database is enabled. You won't have access to the second anti-virus engine powered by Bitdefender. This leaves your PC vulnerable to many online threats.
While the free product does offer real-time protection, it isn't as comprehensive as the full version. There are many viruses that can easily slip through because IObit's engine isn't as exhaustive as the one they license from Bitdefender.
The free software will protect your browser from popup ads and malicious web sites while providing DNS and homepage protection. It won't guard your PC against ransomware attacks or lock up your critical files so potential hackers cannot access them. Those are all added features that come only with the paid version.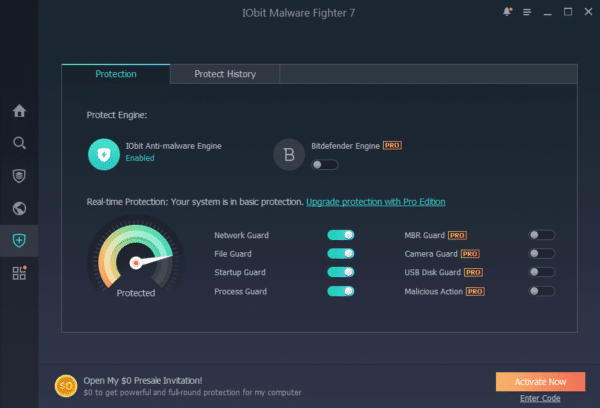 Some free antivirus programs that provide substantial protection from online risks, but the free version of Malware Fighter isn't one of them. The IObit database alone is too limited to provide true peace of mind, and you're left vulnerable to some of the most damaging cyberattacks in effect today.
Ideally, every PC should have ransomware protection because it's a devastating form of cyberattack that can hit any computer at any time. You have little to no warning when that type of attack will impact your system, and you could lose a lot of money as well as your personal and professional data. It is worth the $20 or $40 a year even if just for that one feature.
In short, get the paid version.
Do you really need protection from cybercrime?
In 2019 alone, the largest nuclear power plant in India suffered a major cyberattack, which allowed the theft of critical data. A virtual attack on the country of Georgia took down thousands of websites and interrupted television broadcasting. The first cyberattack was launched against the wind and solar industry in the United States. Millions of people were left scrambling to minimize damage after their social security numbers, telephone numbers, addresses, and bank card numbers were accessed by hackers.
It's estimated that cybercrime costs more than $6 trillion annually, and the damage isn't limited to nations or large companies in possession of big data. Your PC can lock up due to a ransomware attack at any moment, and your data is always at risk. Whether you're a small business owner or just an everyday person using the internet for fun, virtual crimes are always a risk.
It's much easier and cheaper to take a proactive stance against cyberattacks than to clean up after one has impacted your personal or professional life. Antivirus software like IObit Malware Fighter is the only way to take a proactive stance. Whether you use this product or a competitor, you need antivirus software to protect your system.
Conclusion – Is IObit Malware Fighter Pro the best option?
Antivirus programs are everywhere today, and it seems like new options are developed every year. IObit stands out in that crowded market by including anti-ransomware protection that fully protects critical files in addition to blocking incoming attempts to overtake Windows. The list of features for the Pro version is quite impressive when compared to competing anti-malware programs.
The downside to Malware Fighter is the lack of testing from independent sources. Reviews on performance are mixed, depending on the source. It is one of the more affordable options for this extensive package of features, but there are possibly more effective programs offered today.
We recommend using our growing database of anti-malware and antivirus software reviews to find the right protection for your PC. Our goal is to help you maximize virtual security for the most affordable price.