Iolo System Mechanic Review
Affiliate Disclosure: The High Tech Society is reader supported and uses affiliate links which may earn a commission and support our work, at no cost to you.
Learn More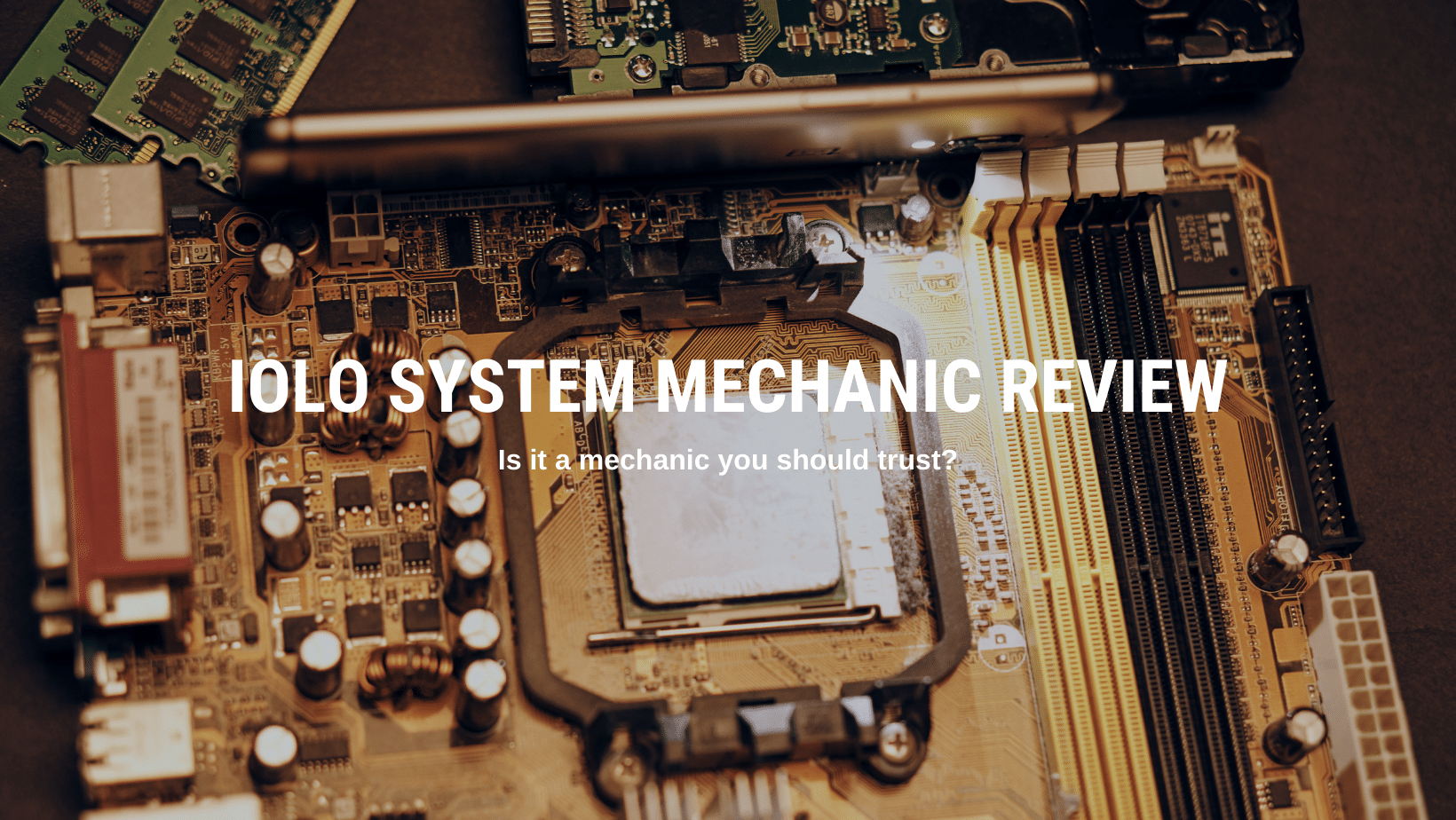 Iolo System Mechanic includes a comprehensive set of system utility tools as well as a built-in anti-virus security. The majority of optimization and cleaning can be accomplished with a few taps, which simplifies using Iolo System Mechanic for beginners. Iolo's System Mechanic is an excellent choice if you want a software that does everything you need and more.
Interface

Unfortunately, System Mechanic's user interface masks the names of menu items before you hover your cursor over them, making it difficult to locate the feature you need.
Having said that, System Mechanic is among the most feature-rich PC cleaners available today. Its registry cleaner, for example, discovered issues in the registry of our test machine that competing Windows cleaning tools had overlooked.
The Security Optimizer identified several Windows security issues that needed to be addressed, and the Software Uninstaller, despite its simplicity, was able to uninstall troublesome programs which Windows failed to remove.
Using a mid-range PC running Windows 10, we saw a modest performance boost after installing LiveBoost. Our CPU score in Novabench increased from 460 to 515. I would expect LiveBoost to produce better results on lower-powered machines.
Toolbox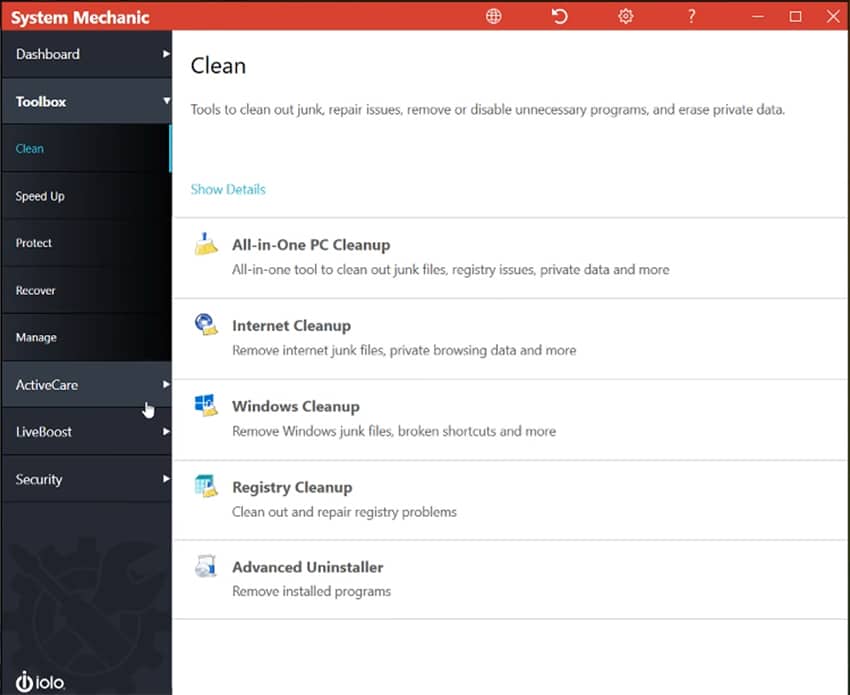 The Toolbox section is the program's core and where you can access the most critical and useful functionality. Protect, Manage, Clean, Speed Up, and Recover are the five sub-sections of Toolbox.
Clean
The Clean section of System Mechanic's Toolbox has a set of five independent PC cleaning tools, including:
All-in-One PC Cleanup: Performs a complete system check, utilizing all tools available.
Internet Cleanup: Removes cookies, temporary Internet files, browsing history, and private browser data.
Windows Cleanup: Clears temporary Windows files that may have accumulated.
Registry Cleanup: Cleans up abandoned Windows registry keys.
Advanced Uninstaller: Performs an easy and thorough uninstallation of any software you choose.
Speed Up
If your computer has slowed down in general or has performance problems in specific areas, the tools under Speed Up contain some useful resources. You can use the NetBooster app to optimize your internet settings in order to boost download speeds.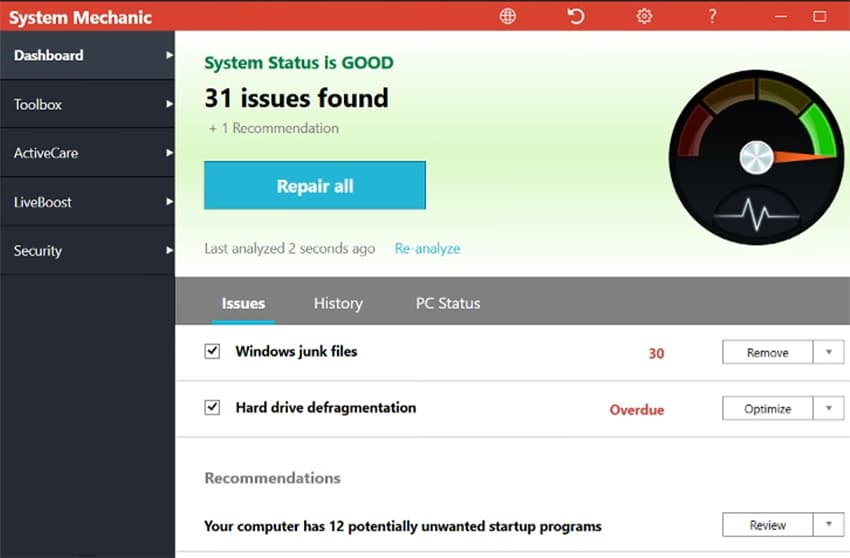 Disk defragmentation can be done with Disk Defragmenter. This part of Iolo System Mechanic is fast and dependable, and it can dramatically reduce fragmentation on your HDD. Memory Mechanic can improve the performance of your RAM. The Startup Optimizer utility can reduce the time needed for your computer to boot.
Protect
Protect provides a diverse set of resources to address Computer and internet privacy concerns, including DriveScrubber, System Shield, Security Optimizer, Privacy Shield, and Incinerator are among the programs on the list.
DriveScrubber serves two purposes. It's mostly useful when you need to scrub a hard drive of all data in a secure and reliable manner.
You may use System Shield to scan the whole machine for malware or only look at specific files or directories. You can also change System Shield's configuration, monitor its quarantine area, and look back at its logs.
Security Optimizer is a tool for detecting and resolving issues in Windows and you can adjust different privacy options with Privacy Shield. For instance, you can disable the collection of personal data in Windows 10, which is enabled by default.
You may choose not to share Wi-Fi connections, and prevent web browsers from logging your browsing history. The Incinerator is a more powerful version of the Windows Recycle Bin. Iolo System Mechanic helps you delete files in an irreversible way. It can also recover files that were accidentally deleted in the past.
Recover
You'll see utilities for troubleshooting common problems and performing system restoration in the Recover section of the menu, including System Troubleshooter, Search and Recover, and System Restore are among the resources available.
The System Troubleshooter is able to track down and resolve common issues with your PC. You may use this section to troubleshoot and resolve communication, audio, and video issues.
Search and Recover can assist you if you delete a file accidentally.
You may use the System Restore tool to undo changes to Windows. You can also use it to reset your PC to previous settings and change system restore features.
Manage
The Manage section contains the tool Super Control Panel. This convenient method enables you to modify and customize a wide variety of system options on your device. Instead of being dispersed across the typical Control Panel, they are conveniently divided into collapsible groups.
ActiveCare
ActiveCare is designed to assist you in monitoring and resolving device problems while you are away. It can be configured to search different aspects and parts of your computer automatically and to implement the most optimal solutions. Iolo suggests that you keep System Mechanic activated 24 hours a day, seven days a week for better performance.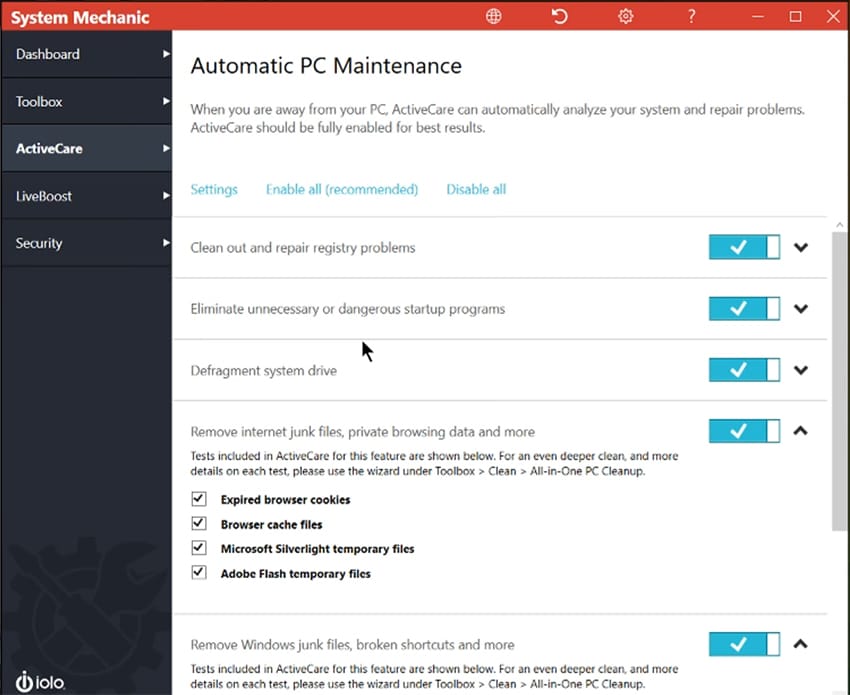 On System Mechanic's main screen, click the Settings tab to display everything that can be configured. You can completely configure ActiveCare on your device in this section. These choices can be toggled on and off:
Each section contains a series of checkboxes that you can check or uncheck to fully customize ActiveCare on your device.
LiveBoost
You can use LiveBoost to monitor and alter the performance of your computer in real time. There is a performance summary and the mode in which your machine is operating are displayed at the top of this section's main screen.
In the window's upper-right corner, a nice graph displays the presently active tools and their responsiveness %. The LiveBoost main interface has four tabs: Processor, Memory, Drives, and Configuration. The Processor tab enables CPU monitoring, whereas the Memory section manages your RAM. The Disks tab keeps track of and manages all of your hard drives. LiveBoost can be configured on the Configuration tab.
You will want to allow this tool to optimize the CPU settings and turn on/off OptiCore, RAMJet, and AcceleWrite. The most intriguing of the provided choices is AcceleWrite. System Mechanic optimizes the arrangement of data as it is written to the storage device. This results in a reduction in the frequency with which you must defragment your drives.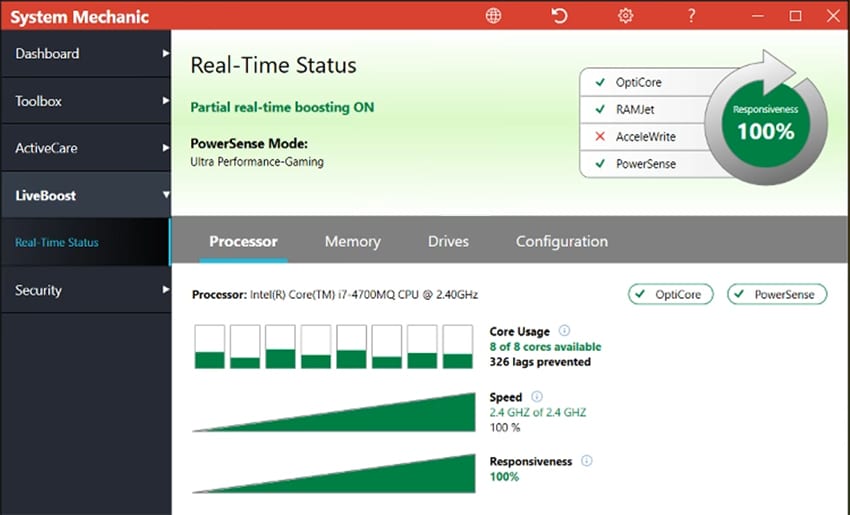 Additionally, LiveBoost enables you to manually select the PowerSense setting that best suits your needs. Each option optimizes your computer's performance in specific conditions. Among the choices available are:
Security
The Security tab is divided into Malware Protection and Firewall Protection sections and can scan your system on demand.
Anti-Malware
The Anti-Malware module scans and removes several sorts of malware, such as spyware, viruses, and other dangers, from your system.
Toward the top of the screen, you'll find general information about the status of your system. The top-right corner icon will display a green shield and checkmark if the PC is protected, and will show a red shield if there are any issues to resolve. When you hover your cursor, a pop-up menu appears with options to perform a full scan, enable or disable real-time protection.
Firewall
The Firewall feature enables you to manage the Firewall on your computer. If everything is in order, a green checkmark will appear in the top corner otherwise red exclamation mark is shown. The Options area allows you to enable or disable Firewall, as well as stop firewall monitoring.
System Compatibility
All versions of Windows 10, as well as Windows 8.1, 8, and 7, are supported. Users of Vista and XP operating systems can continue to use previous versions of the application. The most recent version that supports these platforms is 16.0.0.10. The Pro version is not backward compatible with older operating systems.
Iolo Scam Warning
Iolo has recently started automatically enrolling people in a "24/7 technical support" program at a rate of $19.95 per month when they purchase System Mechanic Ultimate Defense for $60+.
This is an outrageous betrayal of trust for Iolo to dupe people already buying their software into being subscribed to something that costs 4 times as much and is totally useless!
Conclusion: Avoid Iolo System Mechanic
The Iolo System Mechanic software itself is not bad. It's not on the level of CleanMyPC, but Iolo System Mechanic offers decent features. The problem is that any company that uses small print to lock customers into expensive and worthless add-on subcriptions should be avoided at all cost.
Do not, under any circumstances, buy Iolo System Mechanic!