Affiliate Disclosure: The High Tech Society is reader supported and uses affiliate links which may earn a commission and support our work, at no cost to you.
Learn More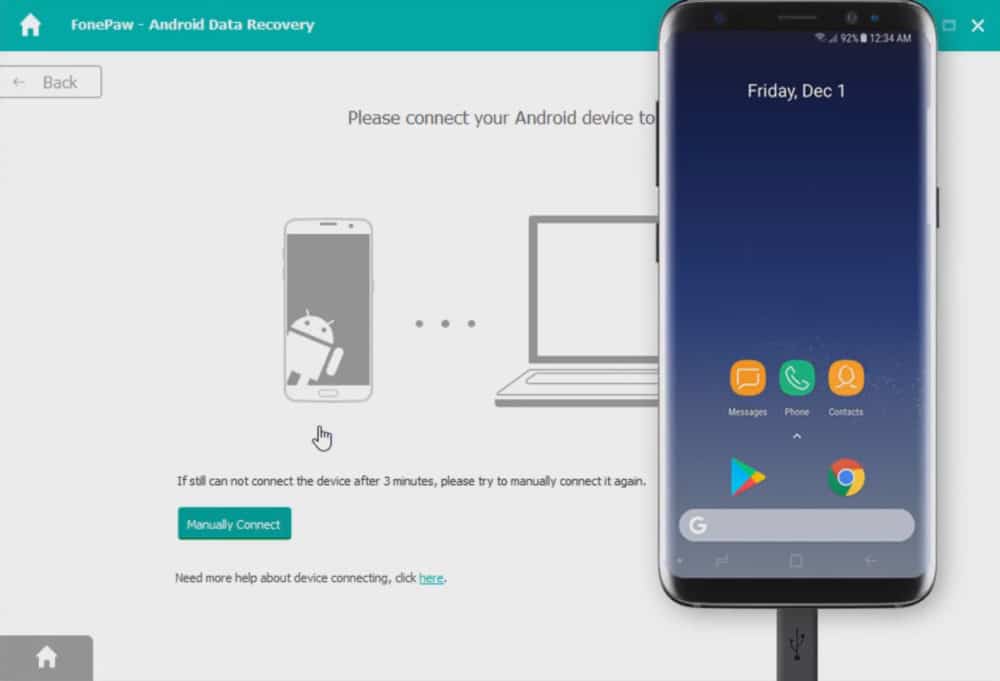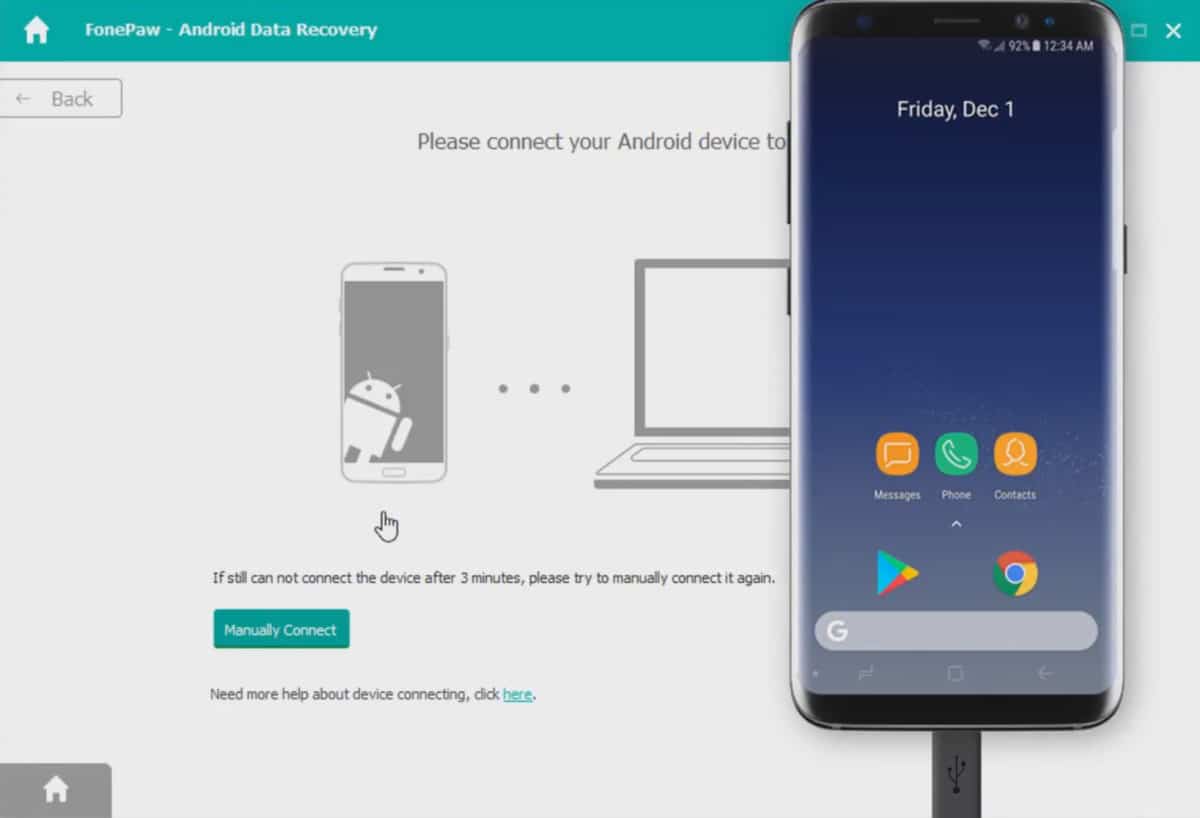 FonePaw is a technology company that specializes in data recovery, data transfer, decryption, and screen recording. Many users are able to completely forego the services of local IT providers in favor of using FonePaw data recovery software.
More specifically, FonePaw offers data recovery services for thousands of Android Devices and most types of iOS handheld devices, including iPhones, iPads, and the iPod Touch.
Unfortunately, it's a stark reality that most operating systems have relatively rudimentary support for data protection and recovery. Typically, the onus is on the user to regularly back up their data. FonePaw solves this problem that the manufacturers have left us with.
Utilizing parallel processing to scan the device's entire file system, FonePaw claims that it can recover any data lost through deletion, malicious attacks, viruses, and routing issues.
We'll review some of the most popular FonePaw products below.
FonePaw Android Data Recovery
FonePaw's Android Data Recovery is among the most robust file recovery software available. It can restore deleted photos, videos, audio, text messages, contacts, call logs, and other information.
The FonePaw recovery software can find what's missing and fully restore it, whether it was lost due to accidental deletion, virus attacks, operating system crashes, or a host of other issues.

Best Overall Android Recovery Tool
Most impressively, the app supports over six thousand models of phones and operating systems ranging from Android version 2.3 to 9.0. Even if the device is bricked or completely unresponsive, the app can still find the missing information stored in the device's hard drive.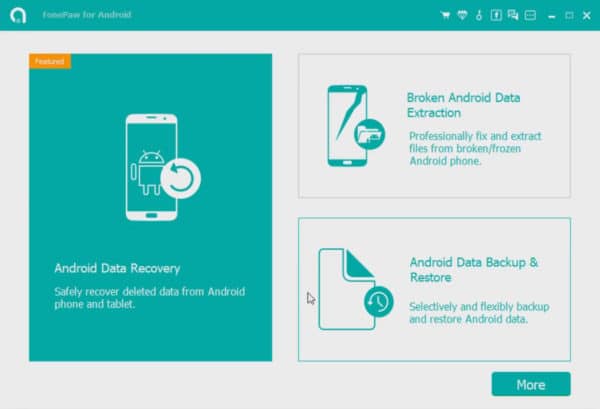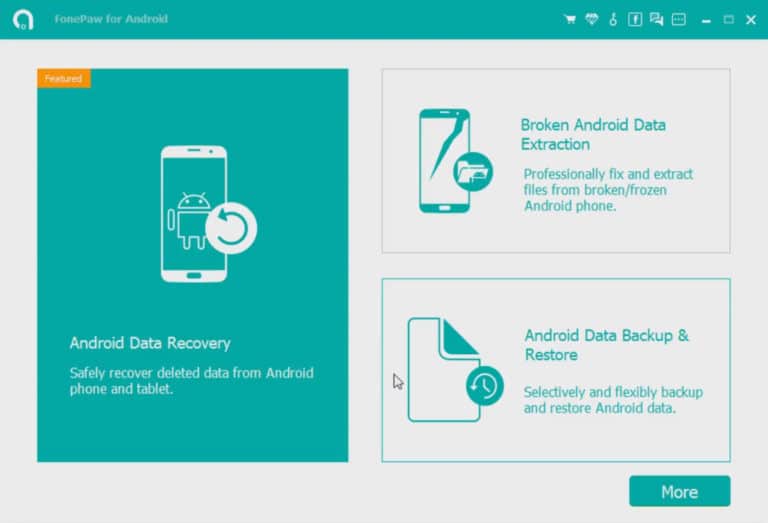 To get a taste of what it can do, and see if it can help you, FonePaw's Android recovery software will let you preview all of the deleted data before you pay. Unlike other systems currently available, FonePaw relies on comprehensive parallel processing to scan the whole file system structure in order to extract all missing data.
The data recovery software performs a full sweep of internal memory, SD card, and sim card in order to retrieve all of the deleted information stored on the device. By running the data recovery software on your computer, it's possible to back up the Android device and choose to restore files either selectively or entirely.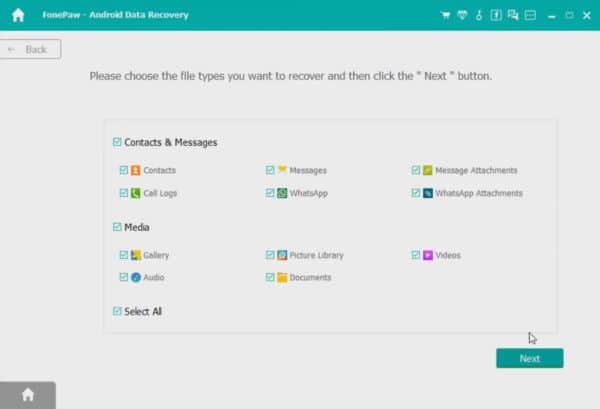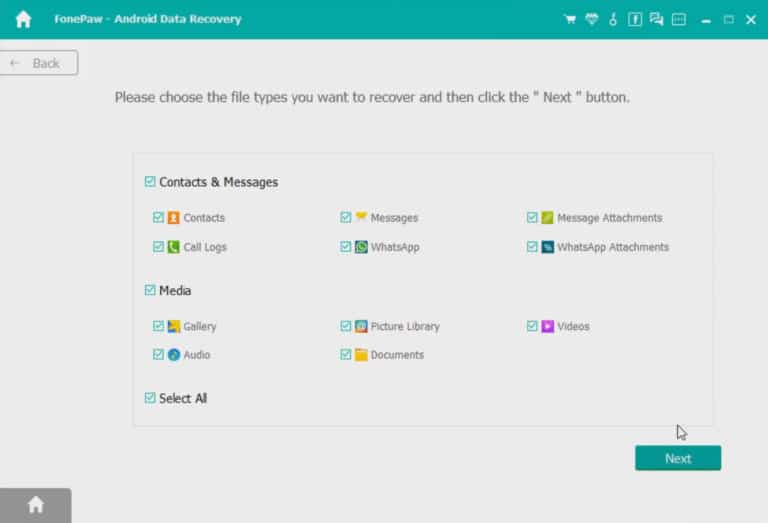 Some customers have complained that the data selection process is not intuitive, since it doesn't allow the user to select a whole subset of files for restoration. If the user doesn't opt to restore all the lost data, they must comb through each file to pick exactly what is needed.
Despite this drawback, the Android recovery system is robust, effective, and reliable for restoring your device's files. Users can feel confident using the Android recovery system. For safety, data is encrypted and can't even be parsed by the manufacturers of the application.
In terms of customer confidence, there's no product that is more well-known, trusted, or received better reviews in the industry than FonePaw Android data recovery software.
Pro's
Restores all data on the Android device lost due to accidental deletion, device damage, viruses, operating system crashes, and more
Allows the user to preview the deleted data before they decide to purchase the app, in addition to having a free trial
Utilizes parallel processing to makes data scanning as fast as possible, taking only a few minutes even on the largest devices
Con's
Selective file saving process can be tedious, as the user can't select nested categories in order to save specific types of data
FonePaw iPhone Data Recovery
FonePaw's iPhone Data Recovery software allows the user to recover any lost data from their Apple product, whether it's an iPhone, iPad, or iPod running the latest iOS update. Even third-party texting and messaging applications, such as WhatsApp, Messenger, Kik, Line, Viber, and WeChat are supported.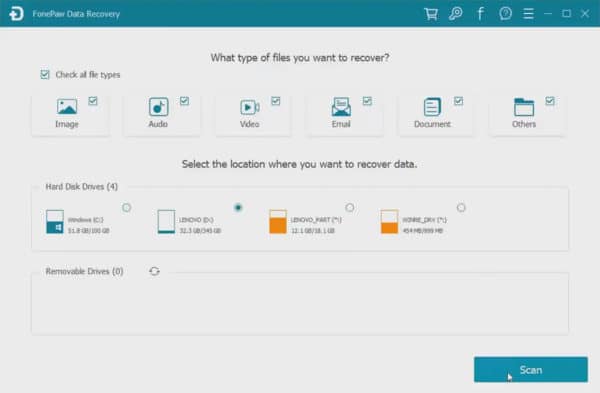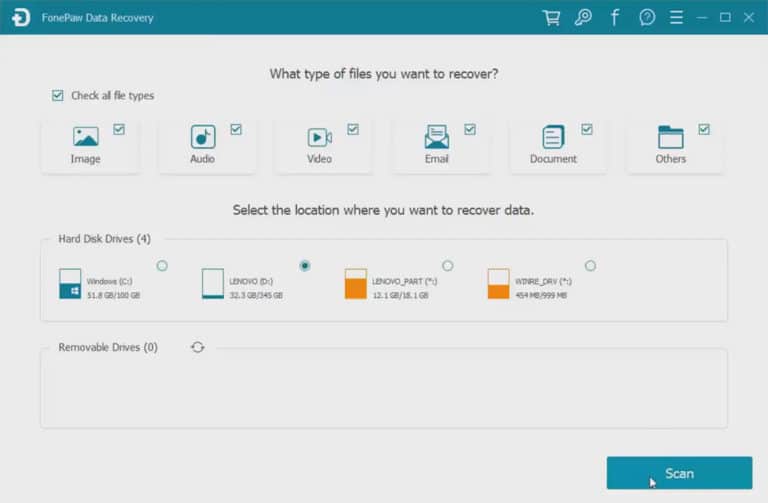 The user simply needs to plug their iOS device into a PC or Mac, select what to scan, preview the results, and then recover the data either selectively or wholly.
Fortunately, the program supports all types of iPhone devices ranging from Xs, XR, and 4s all the way to 8 plus. Other devices include iPad Pro, Air, Mini, and even the iPod Touch 5. Have an old, unresponsive iOS device with pictures that you need? FonePaw's iOS system recovery software can retrieve it for you.
The FonePaw iOS system recovery software primarily restores data from messaging applications, call history, contacts, safari searches, documents, photos, videos, and audio services. Users should keep in mind that file types from specific apps less common may not be supported with the recovery program.
The iPhone Data Recovery service even supports iTunes and iCloud backup recovery processes, in addition to securing the device against data loss. To restore iCloud and iTunes data, simply login to your iCloud account, download the backup file, and restore the desired contents at will.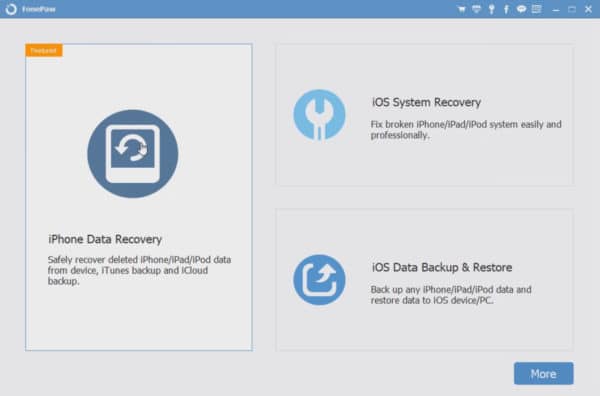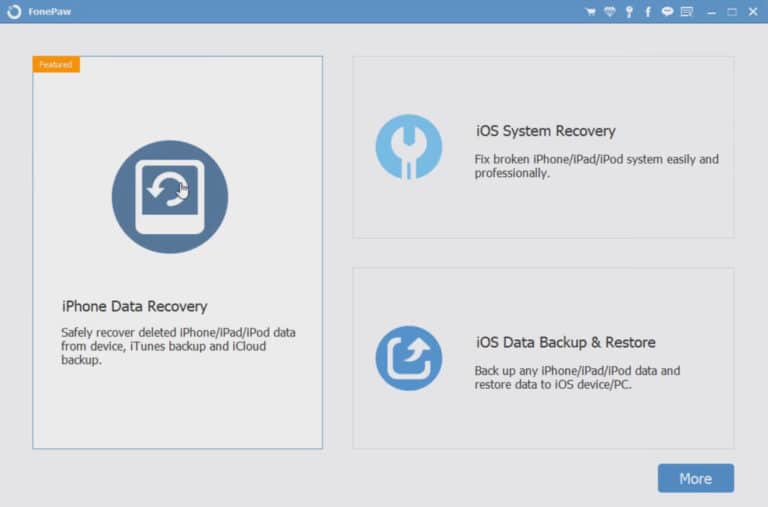 Many customers prefer the FonePaw iPhone Data Recovery app since the user interface is easy to understand. Once the scanner is done searching the entire iOS file system, the user receives a comprehensive output showing all of the deleted and current data on the device.
It's possible to search, toggle, and preview the data by selecting specific application categories. For instance, photos in the Camera Roll app are grouped together while photos from third-party apps are aggregated separately. This simplifies the process of sorting and retrieving exactly the pieces of data that you need to recover from your iPhone or iOS system.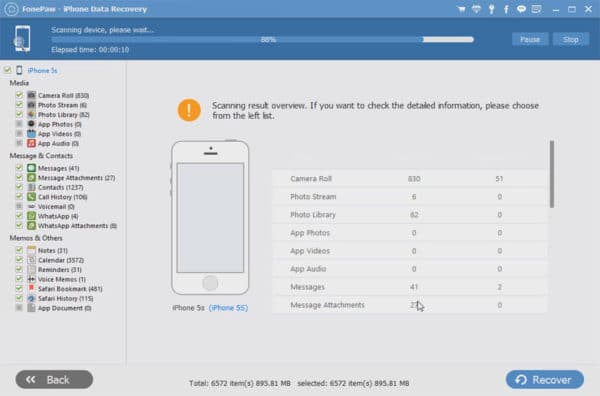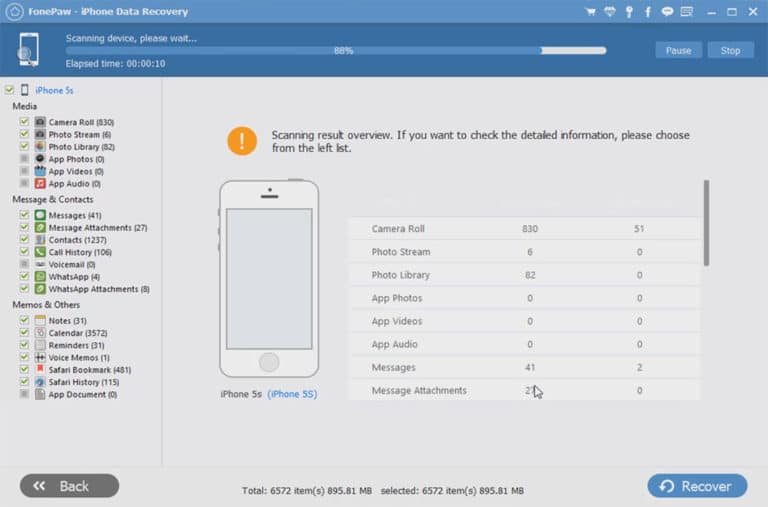 Why is this iPhone data recovery process so powerful? Traditionally, Apple customers are at the whim of iTunes recovery processes to completely reboot their device if a failure occurs. However, this may result in massive data loss unless the information on the device has been backed up recently.
Instead, the FonePaw's iPhone data recovery app allows for the retrieval of all persistent data without resorting to hard factory resets on the device. Perhaps more importantly, this software is much cheaper to download as compared to having a professional scan the hard drive.
Pro's
Restores data from most iPhone, iPod, and iPad iOS devices – regardless of whether the it was accidentally deleted, lost to a virus, or corrupted through hardware damage
Compatible with a diverse array of iOS handheld products
Much cheaper than getting a professional to manually search your device
Con's
Only guaranteed to work with standard Apple and iDevice applications; however, the application does restore data from a wide array of third-party messaging apps
FonePaw Screen Recorder
Are you crafting tutorial video lessons or making a gaming channel? The FonePaw Screen Recording software provides a simple interface to video capture screens in high definition.
Unlike other products on the market, the FonePaw recorder can easily be used to make snapshots with annotations. The recorded video can be edited with comments, notes, or other details. This software is so lightweight that it causes minimal lag when paired with microphone audio, system sounds, and other applications.
With this software, users can record exactly what they need with a high degree of specificity. Employing mouse tracking features, webcam recording, audio recording, screenshot features, and customizable area recording, it's easy to record a computer screen in real time.
Additionally, it's possible to draw and add pieces of text, arrows, or screenshots to the recording.
Depending on your needs, the video quality can be adjusted to a low setting for the most optimal processing and speeds. When the screen recording is finished, the video can be converted to a variety of convenient formats.
Pro's
Plenty of ways to customize a recording using drawings, screenshots, hotkeys, and mouse tracking
Video and audio quality can adjusted manually or automatically to optimize processing times
Con's
Video recording may lag when using high definition sound and audio
The Verdict
Ultimately, FonePaw is a trusted brand when it comes to optimizing data recovery and retrieval. The company's software is simple for the average consumer to use effectively.
Utilizing parallel processing in order to perform seamless and quick operations, FonePaw's products are compatible with all different types of software. With support for over six thousands Android devices and two dozen iPhone and Apple iOS products, FonePaw provides a comprehensive set of products.
In my testing, I was very satisfied with the abilities and performance of FonePaw data recovery software. Each data recovery application makes sure to encrypt retrieved data in order to safeguard sensitive information.
Rather than turning to IT professionals, downloading the FonePaw software can be an attractive, and more private, solution to the problem of data loss. However, users should be aware that FonePaw's software systems are not a panacea; the applications only function to retrieve data from specific applications with limited support for data stored on third-party applications. This is how the free trial should be used, to make sure that you can recover what you need before paying.
In addition to using FonePaw, it's best to perform regular backups and invest in Cloud-based storage to protect your data against corruption, deletion, and fragmentation.
Pro's
FonePaw products provide easy-to-use tools that can selectively restore data on iPhone, Android, and other handheld devices
Intuitive interfaces that are simple to understand
FonePaw include many different small features that make the task of data recovery as seamless and quick as possible
Con's
Limited support for data recovery of third-party applications on Android and iOS devices

Best Overall Android Recovery Tool