CleanMyPC Review
REVIEWS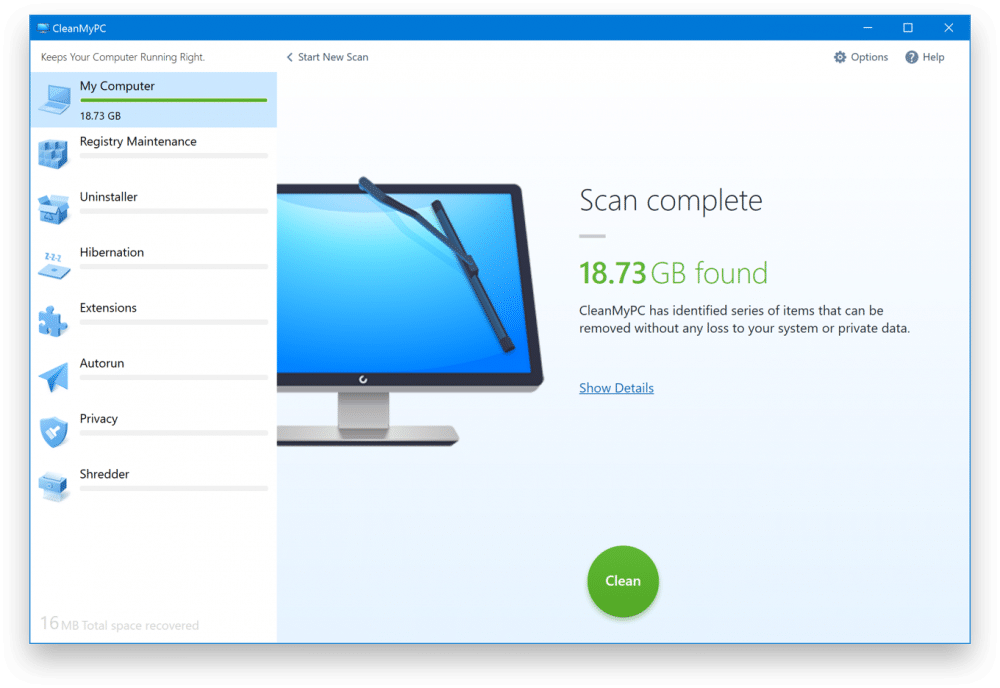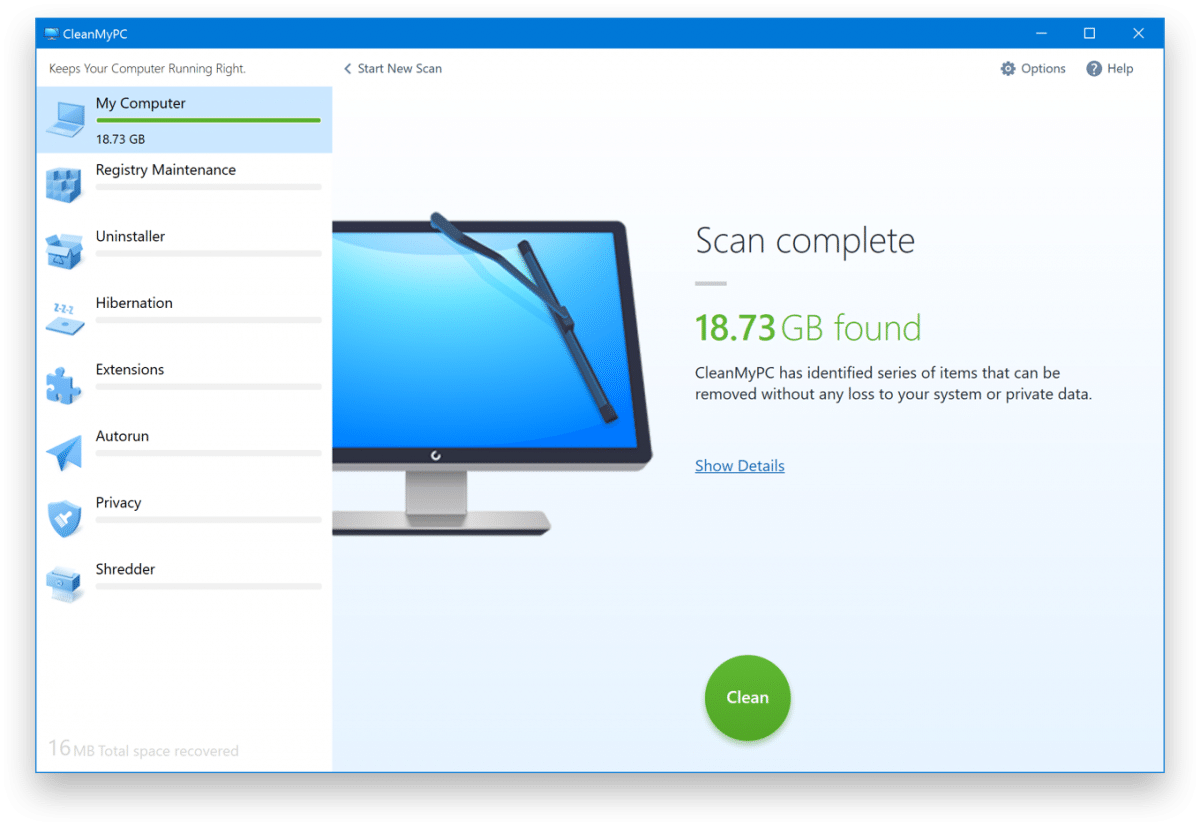 CleanMyPC
CleanMyPC is a well known Windows maintenance tool from MacPaw. The software is often referred to as a Windows cleaner, but it is actually more of a full-featured PC cleaner and privacy tool.
The breadcrumbs of data that get left on Windows during normal operation can be controlled, and cleaned, with CleanMyPC. Leftover files do more than take up space and cause slow system performance, they often contain private information.
These pieces of data are left in the form of registry duplications, cookies, various cached web pages, Javascript, and other things.
If you're concerned about your online privacy, dealing with these traces of what you did online should be an essential and routine part of cleaning Windows.
About CleanMyPC
CleanMyPC features seven main tools which work together to clean and ensure the overall health and security of your PC. These range from letting you manage what utilities start automatically to managing your registry.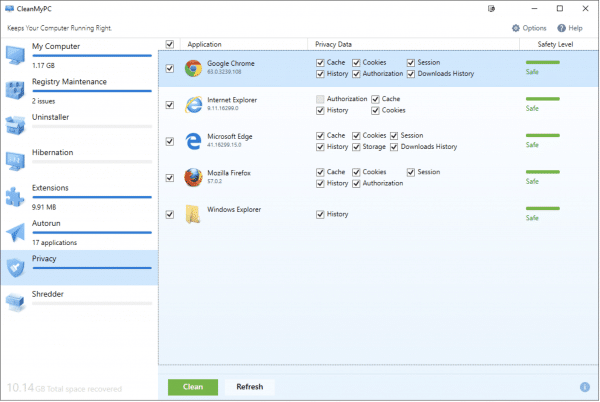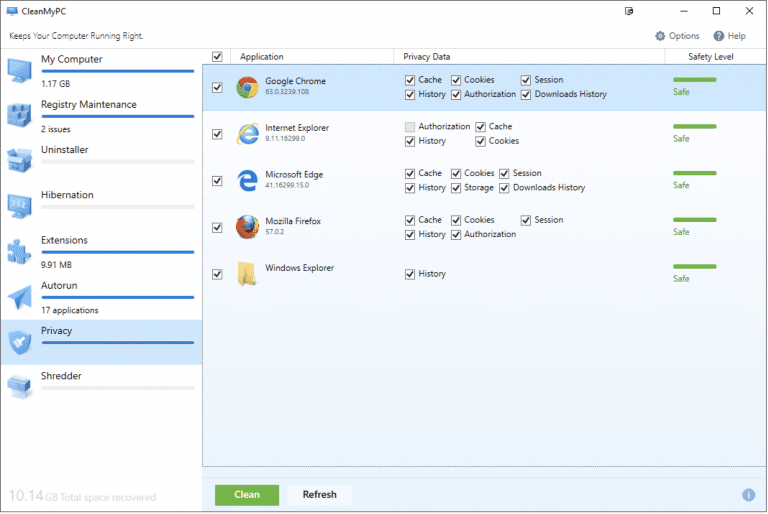 My Computer
This section is the home for the primary jobs of CleanMyPC. It scans your system, looking in the standard places where Windows saves cache files to see how many un-needed files it can remove and how much room it can reclaim for you. It will also do a scan of your Recycle Bin for things that are not completely gone and looks for any unneeded language packs. Once it's identified them, it deletes them for you.
Registry Maintenance
CleanMyPC scans your registry for outdated keys and any possible errors, and will clean them once they've been identified and you've given the okay. This can help Windows run faster and be less prone to bugs.
True Uninstaller
One of the worst parts of uninstalling any program is the folders and settings that get left behind. The software ensures that when you uninstall something, every last bit of it is really gone.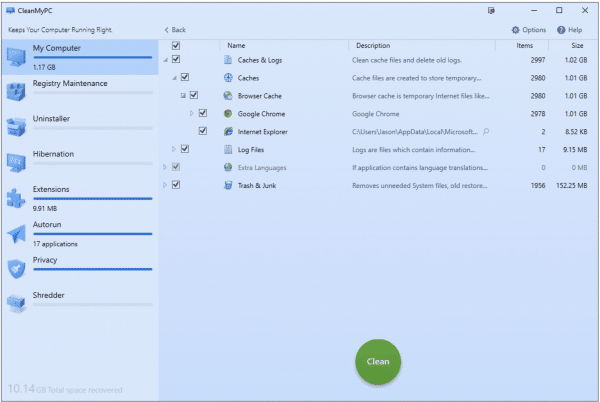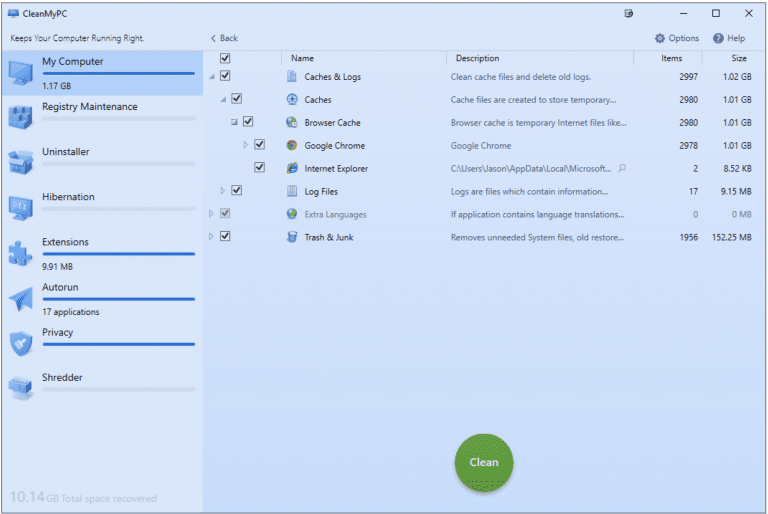 Hibernation
With sleep functions built into Windows and sleep buttons on most keyboards, hardware hibernation settings are less useful and are more of a source of problems. This was originally a good idea but every so often this doesn't get done right, or the disk just doesn't "wake up" correctly.
It's easier and safer to just put your computer to sleep, and this software disables the outdated settings.
Autorun
One of the biggest reasons a PC slows down over time is utilities that start when Windows does, and then stay active in the background. CleanMyPC lets you see exactly what is starting up and then lets you decide what to clean and what to let Windows run. Since most auto-started programs are total junk, this is a goldmine for reclaiming lost speed.
Extensions
CleanMyPC manages your browser plugins, letting you see what else is active besides your Swagbucks addon. Add-ons are a major source of malware, so this is important information to have available.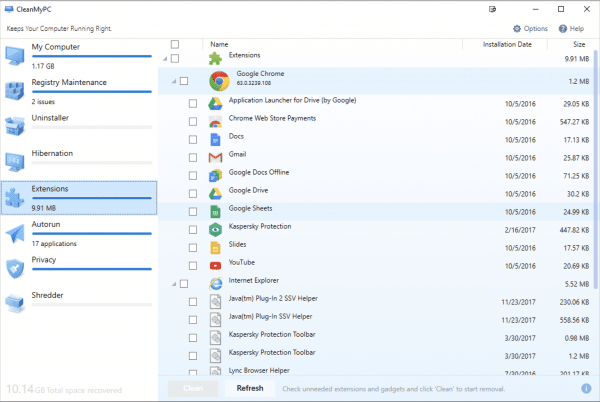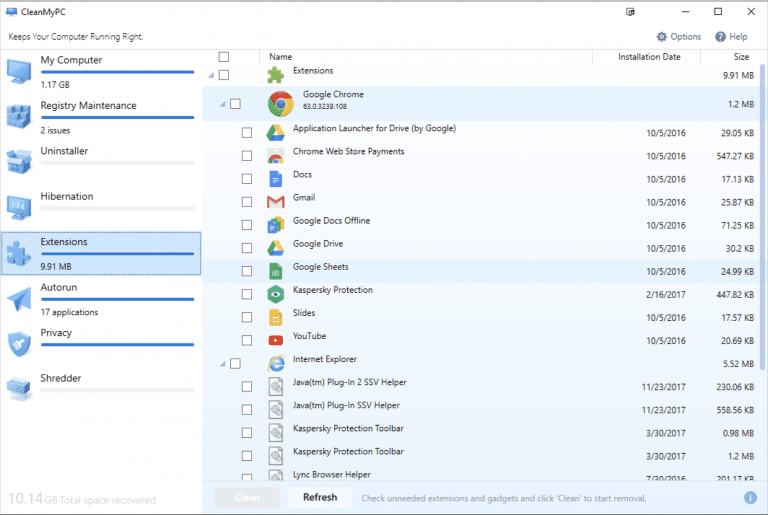 Privacy
CleanMyPC helps you manage your browsers. A lot of times I will use Chrome and Firefox at the same time, for different reasons. This section puts every version you have installed in one place, with support for controlling cookies, history, the individual cache, and even saved passwords. It's a nice feature that clears everything when your browser closes, keeping your tracks to a minimum.
Shredder
CleanMyPC can now remove files or folders from your computer securely. Normally when you delete something, your PC doesn't really destroy it, it just marks the location for the file as unused. This means someone could recover it pretty easily if they gain access to your hard drive. The software solves the problem of unwanted file recovery by writing randomly over them, repeatedly. This is the only method of deleting files that can be absolutely secure and is the same method used by the US military. Somehow, politicians still haven't caught on though.
Final Thoughts
First and foremost, CleanMyPC excels at what it does. It's a very handy way to clean up the clutter on your PC and reclaim more valuable space. The interface is easy to navigate with minimal buttons, making it much more user-friendly than similar programs.
The privacy feature is excellent, putting history and cache controls right at your fingertips. If you're at all concerned about your online security, this is something that will be a requirement. Likewise with being able to manage your extensions. Knowing what is running in the background on Windows is critical for security.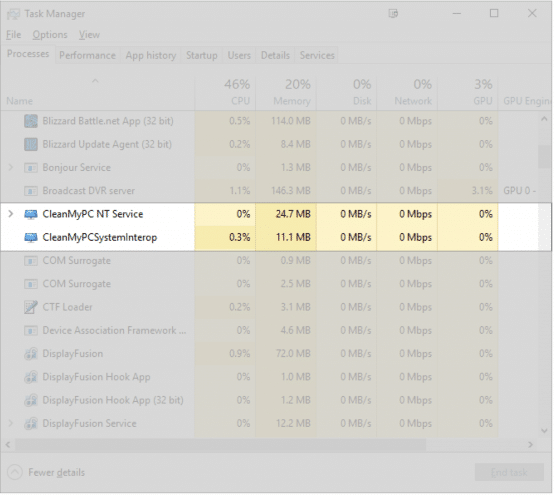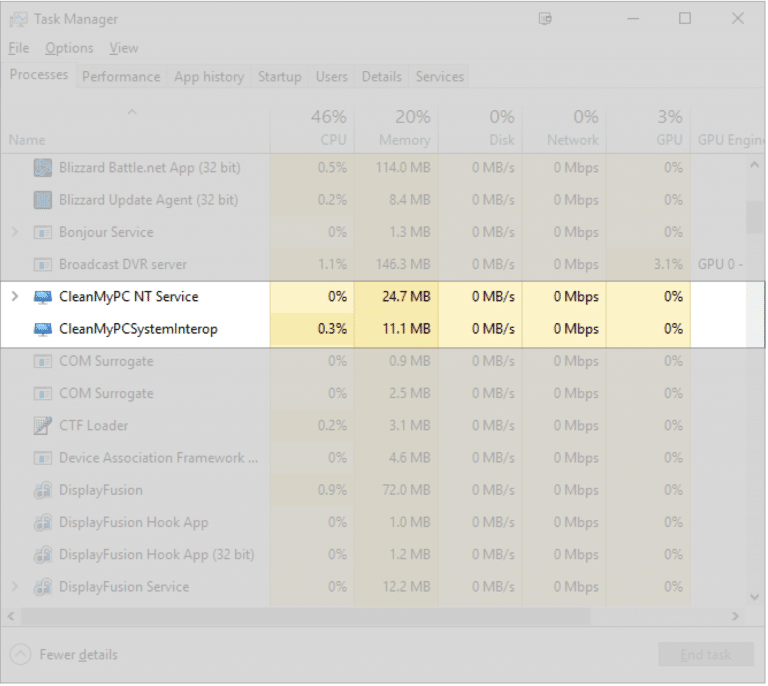 CleanMyPC runs efficiently, and if you're worried that it will use more resources or slow down your system, it won't. It has two processes that idle as background tasks and consume about 35 MB of memory. For comparison, Firefox is currently using over 600 MB on my PC.
A Clean PC
The bottom line is that I like CleanMyPC. There are no significant faults or drawbacks that would make this program a risk to your system. In fact, if you are security conscious, having these extra controls is going to make your life easier and your nights less sleepless. Navigation is easy with a smooth user interface, and you don't have to search for any hidden tricks or functions.
We liked that the software is available as a free download, and is safe for all levels of users. This means you could install it on your tech-confused grandmother's computer and not worry if she will call you in the middle of the night because she deleted the System32 directory.
CleanMyPC Rating: 8/10
You can try CleanMyPC free here: