What Apps Detect Spyware on iPhone?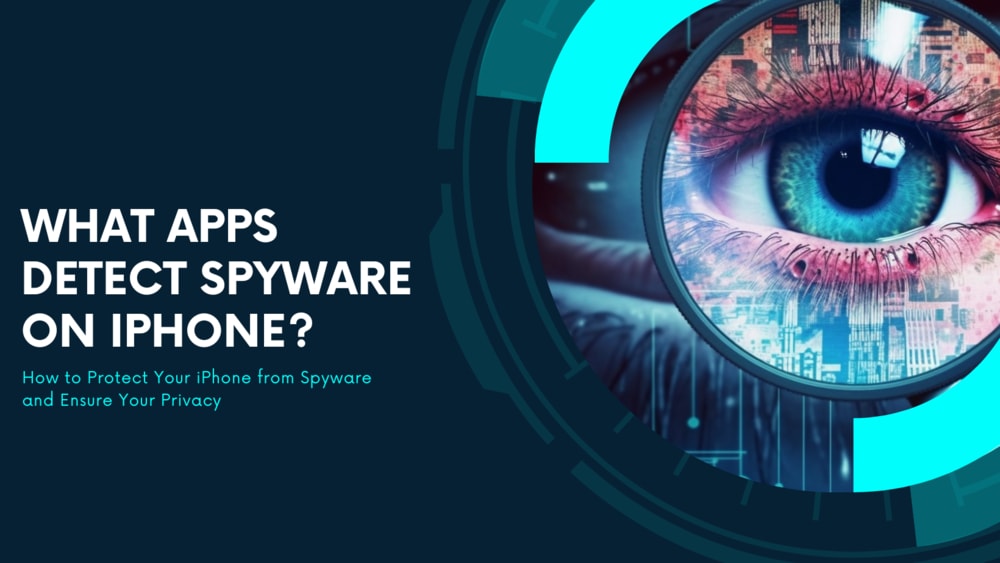 As a cybersecurity expert, I'm aware of the various threats individuals face while using their iPhones. In today's digital age, ensuring the security of your personal information is crucial. One of the most significant challenges faced by iPhone users is the presence of spyware on their devices. This article will discuss several apps for detecting spyware on iPhones, along with factors to consider when choosing the right app and tips on how to protect your iPhone.
What is Spyware?
Spyware is malicious software that stealthily monitors and collects sensitive data from your phone. It can access your text messages, emails, phone calls, browser history, and much more without your consent. Cybercriminals often use these details for identity theft or other nefarious purposes.
Top Apps that Detect Spyware on iPhone
This section lists five top-rated iPhone apps that detect spyware, providing features and functionality designed to keep your device safe from cyber threats designed to spy on an iPhone.
1. Avast Mobile Security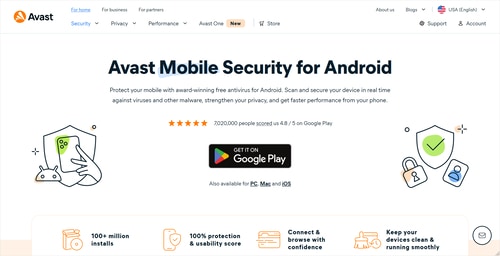 Avast, which is a leading cybersecurity company, offers a comprehensive suite of tools designed to protect your iPhone from various dangers such as viruses, malware, phishing attacks, and rogue Wi-Fi networks. One significant feature is its Wi-Fi scanner, which checks whether the networks you connect to are secure. Avast proposes a photo vault for storing sensitive pictures and a VPN, which can be used for secure browsing. I've found that Avast delivers a reliable defense against various threats, including spyware.
2. Norton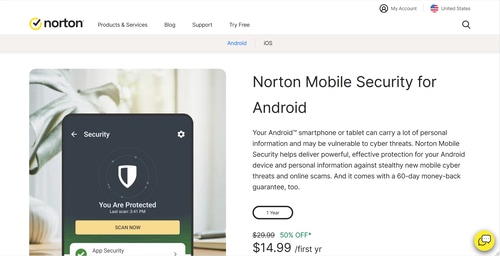 Norton Mobile Security by Symantec is another good choice for a phone app that detects spyware in the background. The app offers several features to protect your phone from malicious activities:
Blocks phishing sites and malicious links in text messages & emails.
Monitoring to warn you about potential eavesdropping on unsecured networks.
iOS App Advisor with NortonMoblie Insight technology to scans apps for potential problems before downloading.
I've relied on Norton for protecting my family's devices from potential cybersecurity breaches and found it to be an effective solution.
3. McAfee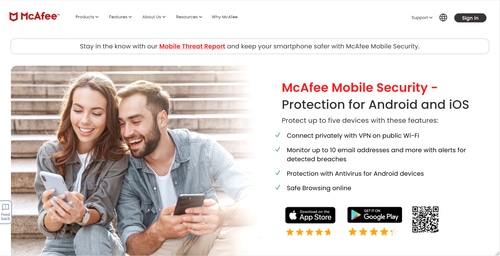 The well-known antivirus software maker McAfee, has an iPhone app considered to be one of the best tools designed to detect and remove various threats, including spyware.. Some of its benefits include:
Continuous protection against suspicious applications, viruses, and malware
Actively works against phishing attacks and scams targeting your data
Included VPN service for more private browsing
An anti-theft feature that can help locate your lost or stolen iPhone
In my experience, McAfee provides a well-rounded defense against diverse cyber threats, making it an excellent choice for maintaining your privacy in the digital world.
4. Trend Micro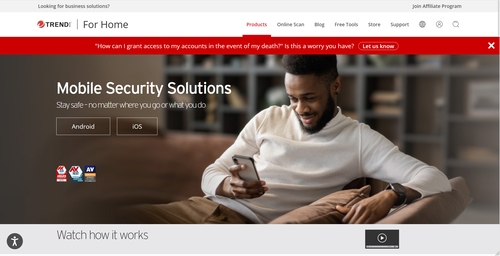 Trend Micro has another robust app for detecting spyware and unauthorized access to your phone. The app offers multiple layers of protection:
A Secure Browser & Content Blocker function that safeguards you against malicious websites
iMessage Filter & SMS Shield that block spam messages containing phishing links or scams
Data Usage Monitor, allowing you to track mobile data consumption by apps and identify which ones may have spyware connecting to external servers without permission.
I appreciate Trend Micro's multifaceted approach, which gives my iPhone comprehensive protection against various digital threats, including spyware.
5. Lookout Mobile Security
Lookout Mobile Security is another popular iPhone app for detecting spyware. It's designed to safeguard your device from data breaches and identity theft. Lookout features include:
System Advisor for assessing device vulnerabilities
Breach Reports for monitoring data breaches related to your personal info
Identity Theft coverage for alerting you about potential fraud attempts
Safe Wi-Fi function for analyzing connected networks
In my experience, I've found Lookout's comprehensive approach helpful as it monitors various aspects of your digital life and can detect and remove any spyware that you may have on your iPhone.
Factors to Consider
An ideal app should offer more than mere spyware detection; it should also provide additional features such as email protection, VPN service, and data encryption. These extra functions help maintain optimal privacy on your phone.
To identify an app that meets your specific needs while protecting your iPhone, consider some primary factors:
Compatibility with iOS Devices
You need to ensure the app you choose is compatible with the latest version of iOS and will continue to provide updates as newer versions are released. Regularly updated apps help protect your device when faced with new cyber risks.
User Interface and Ease of Use
The app should have a straightforward user interface so users find it easy to navigate and use. Well-designed interfaces allow for seamless user experience and better overall effectiveness.
Cost and Subscription Plans
Last but not least, compare the pricing plans of different anti-spyware applications. Some providers offer a free basic version with limited functionality, while others may charge a monthly or annual subscription fee for more advanced features.
The Importance of Detecting Spyware on iPhones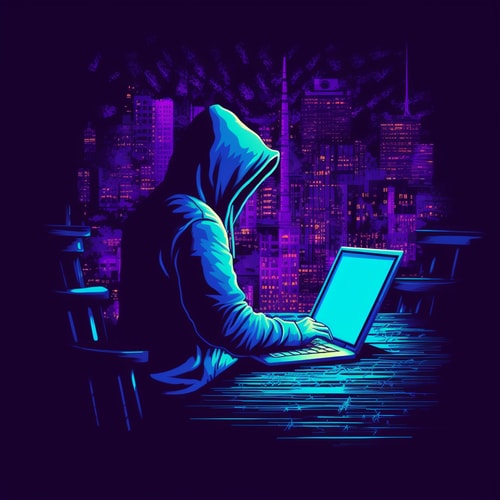 Although iOS devices are known for their robust security measures, no system is perfect. The possibility of spying programs infection still exists for iPhones as well-resulting in potential privacy invasion and financial losses. Detecting and removing spyware on your iPhone can help prevent devastating consequences and safeguard your personal information, particularly if you have sensitive data stored on your device.
How to Protect Your iPhone
In addition to using an effective anti-spyware app on your iPhone, you can take several proactive measures:
Regularly Updating Your iPhone's Software
Keep your device up-to-date on your device by installing the latest iOS updates as they become available. Software updates often include essential bug fixes to prevent hackers, spy apps, and malicious code from infiltrating your iPhone.
Strong Passwords and Two-Factor Authentication
Secure your device with a strong password or passcode, alongside utilizing the Touch ID or Face ID functionality. Additionally, enable Two-Factor Authentication (2FA) for key accounts such as your Apple ID to prevent unauthorized access.
Only Download From Trusted Sources
Always download apps from reputable sources like the App Store, even if your phone is jailbroken, to minimize the risk of downloading malicious software. Be cautious of anything requesting unnecessary permissions that could potentially compromise your personal information.
Avoid Public Wi-Fi
Public Wi-Fi networks may be insecure and easily exploited by cybercriminals who can listen in on your online activities. When connected to public networks, consider using a virtual private network (VPN) for more secure browsing.
Conclusion
As a parent and cybersecurity writer, I understand the importance of protecting sensitive information on our devices and how appropriate tools can be leveraged to remove spyware from them, especially in an age when powerful spyware can even target iPhones. If you want to get rid of any threats to your iPhone and privacy in the digital world, reliable anti-spyware apps, regularly updating device software, and effectively using apps to detect spyware on your iPhone, alongside following best practices, could be the solution you need.