How To Uninstall A Hidden Spy Phone App On Android
Affiliate Disclosure: The High Tech Society is reader supported and uses affiliate links which may earn a commission and support our work, at no cost to you.
Learn More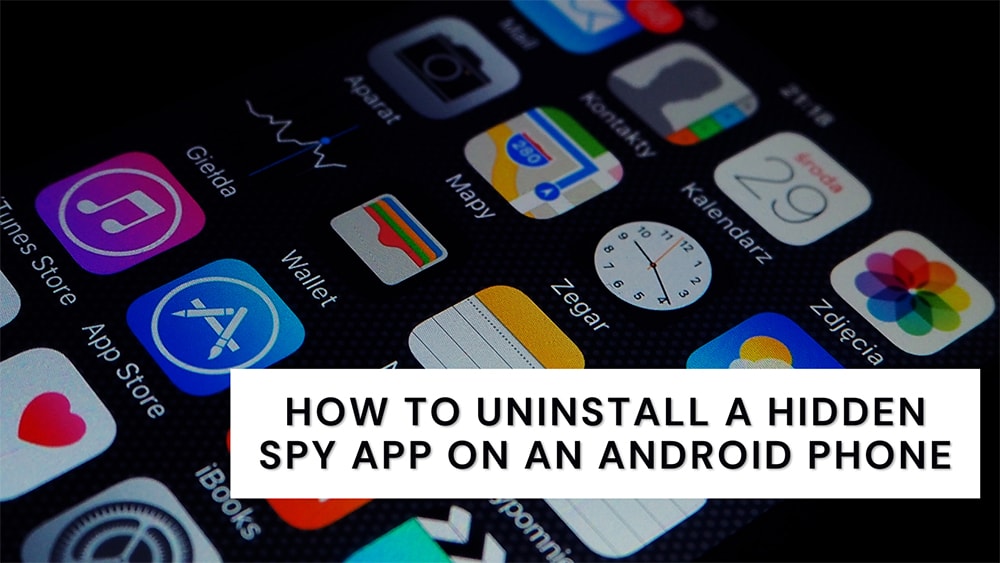 If you think that your Android phone may have a hidden spy app installed on it, there are a few ways to find out. Spy apps are usually hidden or attached to other apps running on your Android device. They can be used to track your location, read your texts, take pictures, impersonate you in texts, and listen to your calls.
Many spy apps are designed to be difficult to remove so you may need to try more than one of the methods below to fully remove the app.
Use Safe Mode To Uninstall A Hidden Spy Phone App
The surest way to uninstall a hidden spy app is to put your Android into Safe Mode. This will disable all third-party apps, including any spy apps that may be installed, so they should not have a defense against being removed.
To enter Safe Mode on most Androids:
Press and hold the Power button until the power off icon appears.
Tap and hold the Power Off option until you see a Reboot to Safe Mode message.
Tap OK to reboot your Android device into Safe Mode.
Once in Safe Mode, go to Settings > Apps or Applications and look for anything suspicious or that you don't recognize.
If you find an app you think may be a spy app, tap on it and then select Uninstall. If prompted, confirm that you want to uninstall the app.
Repeat these steps for any other suspicious apps.
Once you have uninstalled all the suspicious apps, reboot your device to exit Safe Mode and then check to see if the spy app is still installed.
While in Safe Mode, you will want to block unknown or unverified apps from being installed on the phone. To do this, go to Settings > Security and scroll down to the Unknown Sources option.
If the box next to Unknown Sources is checked, tap on it to uncheck it and then tap OK on the confirmation popup. This will prevent any programs from being installed without your knowledge.
Factory Reset Your Phone
If you can't remove hidden spyware using the methods above or you think there may be more than one installed, your best bet is to factory reset the phone. This will erase all of the data on the target phone, including any spy apps that are installed, so they will not be able to reinstall themselves after the reset.
Before you factory reset your Android phone, you should back up any data you want to keep as the reset will erase everything on your device.
To factory reset your phone:
Go to Settings > Backup & Reset.
Tap 'Factory Data Reset' and then 'Reset Phone'.
If prompted, enter your password or PIN and then tap Continue.
Tap Delete All to confirm you want to perform a factory reset.
Once the reset is finished, all of the data on your device will be erased and you will be taken through the initial setup process again.
Check For Spy Apps After A Factory Reset
Just because you performed a factory reset does not mean your cell phone is completely free of spyware. If someone has access to your phone, they can still install a spy app again without your knowledge.
To help prevent this, you should set up a passcode or PIN to unlock your smartphone. This will make it more difficult for someone to install a spy app without you knowing.
You should also check the permissions of any apps you install to make sure they are not asking for more permissions than they should need. For example, a simple game app should not need to access your camera, microphone, or location.
If an app is asking for more permissions than it needs, do not install it and uninstall it if you have it already.
What To Do After Uninstalling Hidden Spy Apps From Android
Immediately after you have uninstalled any hidden spy apps from your Android, you should change all of the passwords you use on your smartphone. This includes your email, social media, and any other accounts that you have accessed.
You should also set up a passcode or PIN to unlock your device. This will help to prevent someone from being able to access your device and install a hidden spy app without your knowledge.
Once that is done, you can take these more substantial steps to ensure that your device stays secure.
Keep Your Software Up To Date
One of the best ways to keep your cell phone secure is to make sure that the software is up to date. This includes both the operating system and any apps installed on your phone.
When a new version of the operating system or an app is released, it often includes security fixes for vulnerabilities that could be exploited by hackers. By keeping your software up to date, you can help to close these holes and keep your phone more secure.
Install Antivirus And Security Software
Another way to help keep your devices secure is to use antivirus and security software. This software can help to protect you from spyware, malware, and other threats.
There are a number of good options available like Avast, AVG, Bitdefender, and Norton but you will want to research the different options to find the one that best meets your needs.
Be Careful About What You Install
One of the biggest risks to your security is installing apps from unknown sources. When you download an app from outside of the Google Play Store, you are bypassing many of the security measures that are in place to protect you.
This means it is very important to be careful about what you install. Only install programs from trusted sources and be sure to
FAQ
How will I know I have fully removed the hidden spy phone app?
If you have followed the steps in this guide, then you should have successfully removed any hidden spyware from your Android. You can check to be sure by checking the permissions of any application that is installed on your phone and making sure it is not asking for more permissions than it needs.
Can I reinstall apps after uninstalling them?
Yes, you can reinstall any apps you have uninstalled after following the steps in this guide. However, we recommend only installing apps from trusted sources to help keep your phone secure.
What if I can't find the hidden spy app?
If you cannot find any spy apps, it may be because it is hidden very well. In this case, you may want to try a different method of removing the app like factory resetting your Android phone.
Do I need to use anti-malware software to remove a hidden spy app on Android?
No, you do not need to use anti-malware software to remove a spy app on an Android phone. However, we recommend you install antivirus and security software to help keep it secure.
Conclusion
If you think that there is spyware installed on your Android, then you should follow the steps in this guide to uninstall it. Once the app is uninstalled, you should change all of your passwords and set up a passcode or PIN to help keep your phone secure. You should also install antivirus and security software to help protect your phone from future threats.
With the proper precautions, you should not have to uninstall another Android spy app in the future.