How To Track Someone's Location Without Them Knowing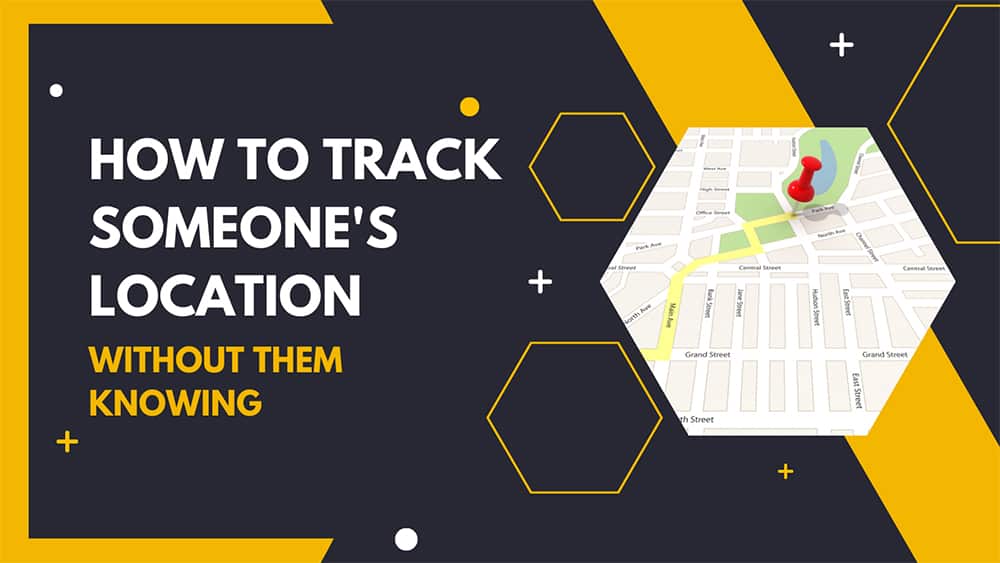 While the easiest option for parents is to just ask their children where they are going, the truth isn't always forthcoming and it can be necessary to know how to track someone's location without them knowing.
The methods you will learn here will let you monitor everything that happens on their smartphone in addition to tracking their location without their knowledge.
How To Track Someone's Location Without Them Knowing
There are several ways to track someone's location without them knowing. We will start by taking a look at the most dependable methods, which require about 10 minutes of access to the cell phone to set up.
uMobix

I use uMobix to track my son's location without him knowing, so I strongly favor using this method. It's fast to install and can be hidden and ready to use in about 10 minutes. You will then access everything through a web-based control panel while the app runs in a stealth mode that makes it completely hidden from the user. It's a great tool for anyone wanting to be able to keep track of their child's location.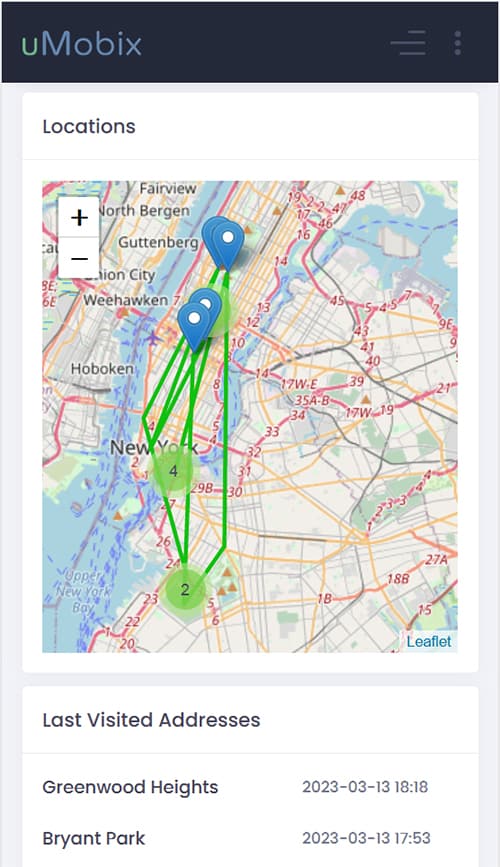 uMobix has proven to be a reliable and easy spy app that provides GPS tracking, geofencing, screen recording, and keylogging capabilities. It also allows you to monitor popular messaging apps such as Snapchat, Telegram, Kik, Skype, and Tinder. With uMobix's microphone activation feature, I can even listen in on in-person conversations without being noticed. Live streaming from the phone camera gives me real-time access to what my son is doing wherever he goes and without being noticed.
There is one thing keeping this method from being perfect and that is data only staying available for 30 days. Since this is longer for multi-month packages, I am only taking away a half-star for it.
Having used uMobix for over a year now, I highly recommend it for anyone needing a dependable app to track a cell phone location.
mSpy
mSpy is a great option for tracking the location of someone's phone without them knowing. It offers a range of features to help you monitor the target device, including GPS location, screen recording, keylogging, and more.
This spy app can also keep tabs on popular messaging apps such as Snapchat, Telegram, Kik, Skype, Tinder, and many others. The text messages, including those that have been deleted, from the monitored device can also be monitored by mSpy.
mSpy lets you set up geofences so you can be alerted when the person enters or leaves certain areas. You can also access GPS coordinates which allow you to pinpoint the user's exact location, overlaid on a map, at any given time.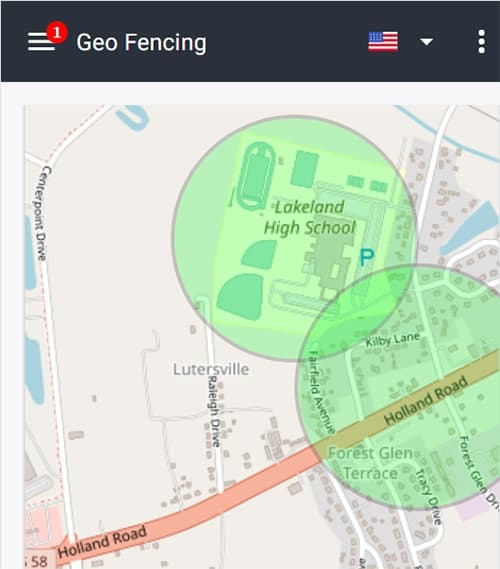 Screen recording lets you capture all activities performed on the phone while keylogging allows you to track every keystroke typed into the device by the user. Using them together can reveal hidden chat applications and passwords for accounts you didn't know existed.
While using mSpy can be a great method of location tracking, it's not perfect due to its inability to turn on the microphone or camera.
If these abilities are not important to you, it offers wide compatibility and an excellent track record.
EyeZy

EyeZy is a new spy app that is designed to be extremely user-friendly and easy to use. It offers its users the ability to track GPS coordinates, set up geofencing, access location data, and monitor popular messaging apps such as Snapchat, Facebook Messenger, Telegram, Kik, Skype, and Tinder. EyeZy also provides keylogging capabilities, allowing you to gain access to all the text messages on the phone, including those that have been deleted. Its screen recording feature records all activities performed by the user on the phone.

The main benefit of EyeZy is its easy-to-use interface. You can downloaded and install the app in just a few minutes and does not require any technical knowledge or expertise. All monitoring activities are done through an intuitive web platform that can be accessed remotely from almost any location.
However, EyeZy cannot turn on the microphone or camera of the target device, making it less effective compared to uMobix. Consequently, although EyeZy is a great and easy-to-use phone tracking app if you want to track an iPhone or Android device, there are more powerful options.
If the most advanced surveillance abilities are not needed and you place more importance on ease of use, EyeZy is an excellent way to secretly track a cell phone's location.
Free Alternatives
Google Timeline is a free way to track someone by cell phone number without them knowing. This built-in feature allows you to see the person's past and present locations overlaid on a map. It works best if the target device has been configured with Google Maps, but it can still work even if only Location Services have been enabled.
Google Timeline is also free as long as you are logged into the target's Gmail. You can see this timeline by going to the "My Activity" section of your Google settings. From there you can scroll through all the saved locations and movements of the target device within a certain time frame.
The downside of this is it does not offer location history, or any other spying abilities, and it requires that you know the account information for the target phone. Logging in to their account means that you could be discovered fairly easily.
If you can connect to someone's iCloud account, you can track them. iCloud is a feature of Apple devices that allows you to store and sync data across multiple devices. This includes the ability to track the location of the device.
All you will need is the iCloud username and password of the target device. You can then log in from any computer or device and use the Find My iPhone feature under "Settings". This will allow you to view their current location as well as all past locations within a certain time frame.
While this does provide monitoring capabilities, it requires you to know their login information which could lead to discovery if two-factor authentication is configured. Additionally, this only works for Apple devices.
FAQ
Is it possible to secretly track someone's location?
Yes, it is possible to track a cell phone location without them knowing. Free and paid spy apps are made for this purpose, as well as built-in features on most phones.
How accurate is the tracking?
The accuracy of the tracking data depends on the capabilities of the app or device being used. Generally speaking, free options offer less accuracy than paid apps. Additionally, GPS signals are more accurate when outdoors rather than indoors.
Can I track a cell phone location for free?
Yes, certain built-in features on most smartphones are useful for monitoring someone's location. Google Timeline and iCloud are both examples of these. However, keep in mind that real-time monitoring capabilities and other advanced spying abilities are not available.
Will the person on the target phone know their location is being tracked?
The spy apps listed here are designed to be completely hidden from the user. Even for a very knowledgeable user, it would be quite difficult and highly unlikely for them to detect the phone tracker.
However, if you use one of the free methods to view the tracking information, they may be able to tell quite easily.
Are there risks involved with monitoring the location of someone's phone?
Yes, there are some risks involved when tracking someone's location. If you log in to their account to view the information, instead of using a spy app, they may be able to easily discover what you have done which can have serious repercussions.
There are also risks to your relationship with the individual you are monitoring as they may feel you have betrayed their trust by spying on them. For this reason, you should only consider tracking someone when you are certain the risks to their safety warrant it.
Legality
It is usually only legal to track someone if they are your child and you are using a spy app on a device you own. In limited locations, it may be legal to do this even if you do not own the phone as some states recognize a parent's right to monitor their child.
However, the legality of doing this can vary dramatically, both by jurisdiction and your specific circumstances. Because of this, you must consult a lawyer before attempting to track anyone. Failure to do so could result in severe legal penalties for doing something you assumed was legal.
Conclusion
Tracking the location of an iPhone or Android phone is possible, however it is important to understand the limitations and potential risks involved. Some free methods, such as Google Timeline and iCloud, may be effective but neither provides real-time tracking capabilities or other advanced spying abilities. Additionally, using these methods requires that you know the target's login credentials, possibly leading to your discovery if they have two-factor authentication enabled on their account. Paid spy apps provide a much more reliable solution for those who need accurate and reliable tracking options. Regardless of the technique is used, it is important to be aware of the legal implications associated with spying on someone if you don't have their consent. One should use caution and be responsible in how they use this knowledge.