How To Spy On Someone Through Their Phone Camera
Affiliate Disclosure: The High Tech Society is reader supported and uses affiliate links which may earn a commission and support our work, at no cost to you.
Learn More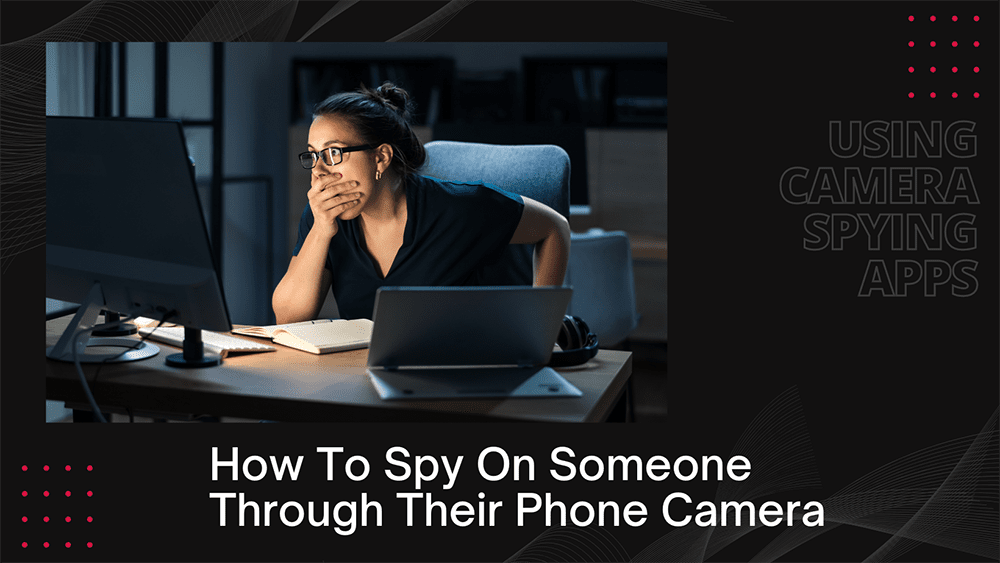 There are a lot of reasons you might want to spy on someone through their cell phone camera. Maybe you're simply curious, suspicious about their actions, or need to keep an eye on them for their own safety. No matter what the reason, there are plenty of options that will let you see through another phone's camera.
In this article, you will learn how to spy on someone through their phone camera.
How Easy Is It To Spy On Someone Through Their Phone Camera?
It's actually very easy to spy on someone through their phone camera. You will simply need to install a spy app, which takes about 5-10 minutes to install and get set up.
These apps are completely hidden from the user, running in a stealth mode, and you can then take pictures or live stream video to your own smartphone, tablet, or computer.
This may seem all too easy to do, and it is, but there is one catch. To use these apps effectively, you must root or jailbreak the target phone.
While this may seem like this would be a big task, it just takes a few minutes to accomplish and there are easy tutorials to follow so do not let this requirement deter you.
How To Spy On Someone Through Their Cell Phone Camera
Only a few spy apps are capable of spying on someone through their phone camera. Of those, these are the only ones I recommend.
uMobix

uMobix is the most powerful and widely compatible spy app that is capable of spying on someone through their phone camera. It has the ability to take still pictures or live streaming video from the target device.
While spying through the phone's camera is only useful if the phone is pointed in a useful direction, uMobix can also stream live audio from the microphone so you can clearly hear what is going on even when the phone's camera is blocked or pointed in an inconvenient direction.
Any spy app that operates at this level also comes with a range of other advanced capabilities, including:
Call logs
Contact list
Text message interception
GPS location tracking
Keylogger
Browser history
Monitors all social media apps
Access pictures and videos
Tech support for uMobix is available 24/7 and is very responsive. Most people will never need help as the app is straightforward to use, but having it available can be crucial if you hit a problem during installation and have little time to get set up.
The only complaint I have had is that intercepted data will only stay available for 30 days. It is kept longer if you buy a multi-month plan, so I am only taking away a half star for this.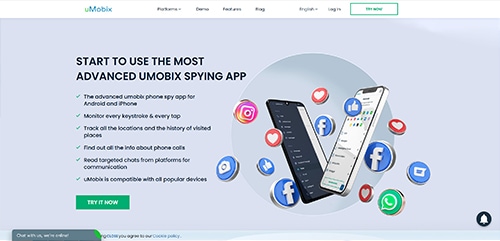 Pros
Remote camera activation

Can stream live video

Remote microphone activation

Real-time GPS tracking

Access to all social media

Simple installation

Great customer support
Cons
Data retention limited to 30 days on the basic plan
FlexiSpy

FlexiSpy was previously the best option if you wanted to spy on a person through their phone camera. Its capabilities include spying using the phone's camera and activating the microphone in addition to being able to see:
Contact list
Text messages
GPS location tracking
Keylogger
Browser history
All social media apps
Photos and videos
FlexiSpy actually rivals uMobix in nearly every way and has the additional capability of being able to record both sides of a phone conversation.
What made it #2 on this list is that it has simply aged and been replaced by more modern software. The interface seems outdated and the cost is in line with newer and easier to use apps.
When it comes to monitoring someone, ease of use is nearly as important as capabilities. For those that need its recording options, it is still a solid solution.

Pros
Extremely powerful

Live camera streaming

Pre-loaded phones available

GPS tracking

Microphone activation

Call recording
Cons
Older interface

Expensive

Requires iPhone jailbreak or Android rooting
EyeZy

eyeZy is not capable of using a smartphone camera to spy on someone. However, it does provide a screen recorder that can be an alternative solution that is equally useful.
This may not seem like it would accomplish as much, but a person's cell phone is usually not pointed toward anything interesting most of the time.
The times where it would be most useful to be monitoring their camera are when they are taking pictures or on a video chat. In those situations, recording the screen will let you see everything that they see.
eyeZy records it in the background, while running in stealth mode, and you simply review the photos when you are ready. There is no need to try to get your timing right when you activate the camera, as you are seeing everything the person holding the phone is seeing.
For those baffled by the more technical methods we've discussed, eyeZy is a much more user-friendly spying option.

Pros
Easiest to use

Totally hidden

Fast installation

GPS tracking

Access to all social media
Cons
Not quite as powerful as mSpy
Legality
In most cases, monitoring your child's phone is allowed if you own the device, but spying on any device you don't own is almost always illegal.
You will want to consult with a lawyer before attempting to spy on anyone. Laws can vary dramatically by state and what may be perfectly acceptable in one location may have severe penalties somewhere else.
FAQ
Will the user be able to see that I am spying on them through their phone camera?
No, all of the apps mentioned operate in a stealth mode and give no indication the camera is being used.
What are the problems I am likely to encounter when spying through someone's phone camera?
Using a smartphone's camera for long periods will cause the phone to run out of battery much faster than normal.
While this may seem like a minor concern, you would not want to be watching your child and leave them with a dead cell phone battery while they are making their way home.
Spying in this way doesn't just upload pictures, but it involves live streaming video to you so you can see it. This uses a lot of data and you can exhaust a cell phone's data plan quickly.
Lastly, this excess use of resources may make the smartphone slightly less responsive when the camera is being accessed, mainly if it is an older device, and this could cause the user to become suspicious.
How to avoid these problems.
Recording the screen can be a less resource-intensive option. As you will still see the photos they are taking, screenshots of video calls, and be able to view any video recorded, it can be almost as useful while avoiding the problems mentioned above.
Do I need to root or jailbreak the target device?
Yes, you will need to root or jailbreak the target phone to spy on someone through their smartphone camera.
This process for rooting or jailbreaking is fairly simple and the app you choose will have tutorials that will be easy to follow.
How much do phone spy apps cost?
The majority of these apps cost between $20 and $60 per month, but I recommend avoiding the cheapest options as many simply do not work.
Are there free options available?
No, there are no free options available and it is unlikely that any will be developed in the future. Spy apps are among the most sophisticated software in existence and developers are in an arms race with smartphone manufacturers when it comes to security. It takes a lot of money to develop an app that can spy on someone through their phone camera and no one is likely to give that away for free.
Conclusion
There are numerous ways to spy on someone through their phone camera, but using a spy app is by far the simplest. A range of additional features such as GPS location tracking, internet history monitoring, and even call recording have become commonplace. These apps have grown in popularity over the years due to their ability to empower users to take control of their lives and monitor their loved ones without restriction.