Reviews: The Best Personal Alarms
Gadgets & Gizmos
Comparison of the Top 4 Best Personal Alarms
Having a personal alarm always seemed like a great idea that just didn't quite work as good as expected. They were never loud enough to be painful, and most would not even help to attract attention of people a few hundred feet away before it was far too late to matter. In a parking lot with other noises around you, all the alarms did was make you feel better by clutching your electronic safety blanket while you were an easy target.
But that was in the past. Electronics have improved incredibly over the last 10 years, and there are some real contenders in the personal security market now. We are going to shortlist the top 4 we would trust enough to give to our grandmothers. We were going to list the top 5 personal alarm options available anywhere, but we are way too picky at The High Tech Society and could not find a 5th one worthy of our list. We did find a lot of junk with an LED light, and lights don't help in a bad situation.
Each personal alarm features the loudest volume, longest life, and most painful sounds. We have our preferences, but these are all the best to use in a personal emergency at any price.
BASU eAlarm+
The eAlarm+ (aka: Robocopp) came on the scene in 2016, making it fairly new, and made a huge splash with its innovative design. This personal alarm is functions like a hand grenade. Keep it on your keychain, belt loop, bag, or purse strap, with your hand grasping it. Just pull the key ring to activate the personal alarm. When met with unexpected danger or a sudden attack, the natural human reaction is to jump. The brilliance of this product is how it exploits a natural reaction to sound the alarm so you do not have to think about turning it on or fumble for a switch.
Pro's
Great Keychain Design
Easy to Trigger SOS
Loud (120 to 130 DB)
Waterproof Personal Alarm
TSA Approved
Fits Anywhere
Con's
Batteries cannot be changed
Beware of fakes with this
Summary
The battery lasts about 5 years, so not being able to change it is not a huge problem when you consider that is the compromise for having a waterproof personal alarm. Watch out for fakes with this one, as some copycats are real junk.
Vigilant with Backup Pin
This 130db personal alarm uses AAA's instead of the watch batteries typically used. The result is a little more bulky device with a longer alarm runtime and an alarm which is one of the loudest ever tested. The batteries are also easily replaceable.
With the extra power, it can also run a small integrated LED flashlight, which is nice for those dark key-fumbling moments when you are trying to hurry to get out of a lonely pitch black parking lot.
Like the Robocopp above, it uses a ripcord style alarm, which our personal preference to carry for safety, but it also has a button-press activation.
Pro's
Best Battery Life
130db and Up Siren
Pulling Wrist Strap Activates
Personal Customer Support
Con's
Large Case Size
High Price for Poor Build Quality
Vigilant Security 130db
The personal alarm uses standard watch batteries to keep it small but easy to grasp. This is more of a time tested classic product, with upgraded and modern technology, and is a 130db keychain alarm.
One of the worst complaints I saw with this personal alarm was where someone dropped it in a puddle in a parking lot and it went off and wouldn't stop. They tried everything to stop it, including submerging it in water for 10 minutes, stomping on it, and even running it over with their car 8 times! Their complaint was they couldn't make it stop or break it!
It is not sold as waterproof, but that's pretty well built for an emergency situation!
Pro's
U.S. Based Company
Designed in the United States
Quick Battery Replacement
Very High Decibel
Con's
Sensitive Emergency Alarm Button
Must Use Small Clip
Not Purse or Pocket Safe
The push button style will be preferred by some, especially since it's a more traditional alarm that someone older may be more comfortable with. But, this means the safety alarm can be activated too easily as the button is easy to depress, so if you have it in your purse or pocket you could easily set it off accidentally. This was the biggest negative found in an otherwise well made and classic personal alarm.
Best: Peroom Personal Alarm Keychain
This is by far the most ear splitting, lowest priced, and highest-rated self-defense alarm available. It has some of the classic design of other popular models while keeping the pin method of activating the alarm. Because it uses a clip and lanyard cord, it can be easier to activate in an attack.
This personal security alarm is very loud and will definitely draw attention when you need help.
We are VERY critical of low priced things made in China and expected to breeze past this. Instead, we found ourselves wondering why a 3-pack of these costs less than the Vigilant personal alarm above, but they are louder and have comparable construction quality.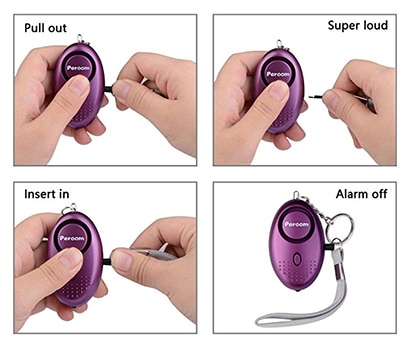 Pro's
Loudest (140DB) Personal Alarms
Price
Pull Pin Activation
Con's
No Push-Button Activation
In the end, this is what we would give to someone we cared about. It comes in a 3-pack and has a pull-pin activation, so carrying 2 and activating both devices simultaneously is easy (put two straps on your wrist) and makes more noise than anything else on the market. Overall, this is the best personal alarm of 2019.
Feedback is always appreciated!