Personal alarms are used to surprise attackers and attract attention from anyone nearby.
In truth, having a personal alarm always seemed like a great idea that just didn't quite work as good as expected. The alarms were never loud enough to be painful, and in an emergency many would not even help attract the attention of people a few hundred feet away to your situation before it was far too late to matter. In a parking lot with other noises around you, all the siren from the alarm did was make you feel better by clutching it like an electronic safety blanket while you were an easy target.
But that was in the past. Electronics have improved incredibly over the last 10 years, and there are some really good personal alarms now. We are going to list the top 5 best personal safety alarm products we would purchase to give to our elderly grandmothers. We were going provide reviews of 6 of the best alarms available anywhere, but we are way too picky at The High Tech Society and could not find a 6th personal alarm worthy of being on our list. We did find a lot of junk with an LED light, and LED's don't do much to help you in most situations.
All the personal protection devices in our list have the loudest volume, longest life, and most painful frequency range of anything on the market. Most are loud enough to cause attackers to become disoriented, allowing you to flee safely.
130 dB Pull-Pin Alarm

Waterproof

TSA Approved

Check Price

Push-Button Design

A Bit Sensitive

130 dB

Check Price

Contacts Emergency Call Center

Sends Map & GPS Info to Contacts

Ripcord Activation

Silent Alarm

Check Price
Top 5 Best Personal Alarms
Here is our guide to the best personal alarms of 2022. You can read more about the pro's, con's, and features of each alarm in the reviews below.
1. BASU eAlarm+
First launched in 2016, the eAlarm+ became famous for its revolutionary design. The alert is triggered more like a hand grenade. Keep it on your keychain, belt loop, bag, or purse strap, with your hand grasping it. Just pull the key ring on the case to activate the alarm.
When met with an unexpected danger or a sudden attack, the natural human reaction is to jump. The brilliance of the eAlarm+ product is how it exploits a natural reaction to sound a 130dB alarm so you do not have to think about turning it on or fumble for a switch.
As a bonus, the eAlarm+ comes in a variety of colors.
Pro's
Great Keychain Design
Easy to Trigger SOS
Loud (120 to 130dB)
TSA Approved
Fits Anywhere
Con's
Batteries cannot be changed
Beware of fakes with this
Conclusion
With up to 5 years of battery life, not being able to change it is not a huge problem when you consider that it is waterproof. Watch out for fakes with these alarms, as some copycats are real junk.
The real BASU eAlarm+ is the best alarm you can buy in 2021.
2. Vigilant with Emergency Pull-Pin
The Vigilant brand has been making personal alarms for a long time and this one shows their experience in the personal security market.
This Vigilant 130db Alarm uses AAA batteries and these are also easily replaceable. The result is a little more bulky device with a longer runtime and an emergency alarm that is one of the loudest we have ever tested.
It has a light, which can help a lot in those dark key-fumbling moments when you are trying to hurry to get in your home and need a little more light.
Like the BASU eAlarm+ above, the Vigilant uses a ripcord style alarm, which is our personal preference to carry, but this model also has a panic button for easy use.
Pro's
Best Battery Life
130db Alarm
Pulling Wrist Strap Activates
Personal Customer Support
Con's
Large Case Size
High Price for Poor Build Quality
3. Katana Safety Arc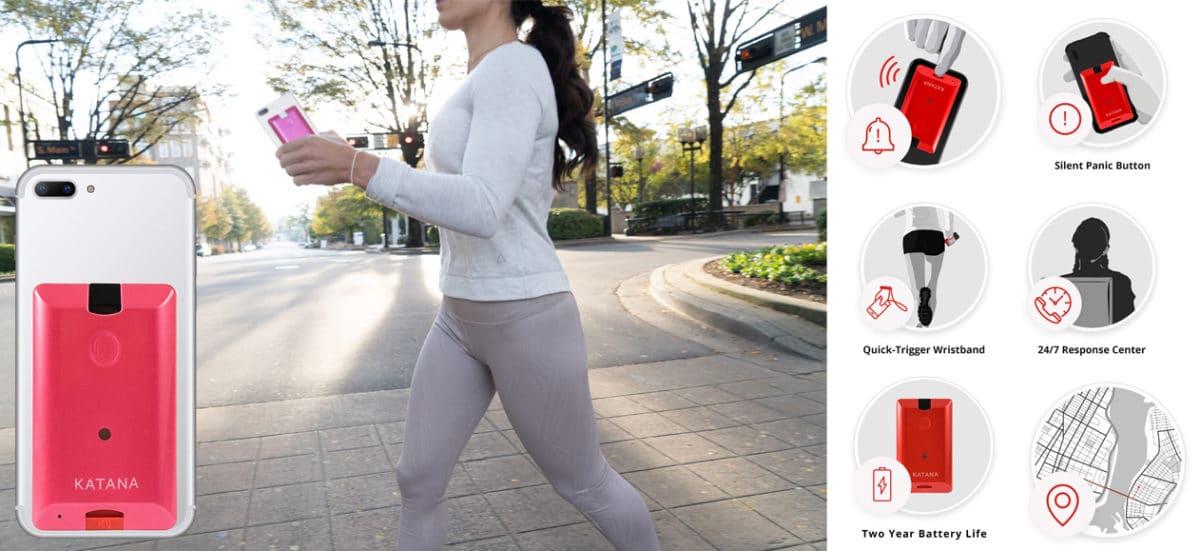 When I hear the words personal safety alarm, I have a tendency to think of an elderly grandmother thinking that a loud sound is going to scare off a purse snatcher. Thankfully, this is very different.
This is the first personal alarm with truly new technology to hit the market in years. And it's a bit of a game changer. Although it lacks fall detection, the Katana Safety Arc can be used to summon help both inside and outside the home thanks to mobile technology.
The Katana Arc connects to the back of your smartphone (or cell phone case). It just sticks on with adhesive, no wires and no connectors. There is a lot of peace of mind in knowing that it's not another device to keep up with, because it's on the device you always carry.
This option is well suited for for the elderly, children, and everyone in between, thanks to its unique design.
Alarm Activation
This alarm goes beyond making a loud noise and hoping that an annoying sound will save your life when you are alone.
When you need help, a 24/7 response center is contacted and your exact GPS location is given to authorities. A piercing 125 dB alarm can be triggered to alert others, if you choose to do so.
An alert can be sent to 7 of your contacts with a map of your location. If your wife is out jogging, this will give her a lot of peace of mind as she comes home at night.
3 methods of use for whatever situation you find yourself in:
Using the lanyard around your wrist, simply pull the cord and the alarm activates.
Traditional Push-Button Available.
A silent call button, which contacts a call center but makes no sound.
Conclusion
Katana Safety Arc alarms are more expensive than a simple noise maker, but that's because noise makers can't literally call for help automatically.
If you can afford it, this is the best product on the market but this alarm is #3 on our list due to the cost.
4. Vigilant 130dB
The time tested and classic Vigilant Personal Protection Systems 130dB personal alarms are simple to use.
Standard watch batteries are used to keep it small so it can fit on your key ring, but powerful enough to be effective when you need assistance.
One of the worst complaints I saw with this device was where someone dropped it in a puddle in a parking lot and it went off and wouldn't stop. They tried everything to stop it, including submerging it in water for 10 minutes, stomping on it, and even running it over with their car 8 times! Their complaint was they couldn't make it stop or break it!
It is not sold as waterproof, but that's pretty well built for an emergency situation!
Pro's
U.S. Based Company
Designed in the United States
Quick Battery Replacement
Very High Decibel
Con's
Sensitive Button
Must Use Small Clip
Not Pocket Safe
The push-button style will be preferred by some, especially since it has a more traditional shape that someone older may be more comfortable with. But, this means that it can be set off too easily as the button is easy to depress, so if you have it in your purse you could easily set it off accidentally. This was the biggest issue I found in an otherwise well made and classic personal alarm.
5. Siren Song Alarm Keychain
While retaining the pin method of activation, this personal safety device has some of the classic look of other famous models. Because Siren Song uses a pin and lanyard cord, it can be easier to pull from your belt in an attack.
This personal security alarm is very loud and the sound will definitely draw attention. These are the most ear-splitting, lowest priced, and highest-rated products for self-defense a person can buy.
I am VERY critical of low priced things made in China and expected to breeze past this. Instead, I found myself wondering why a 5-pack of these costs less than the Vigilant 130 dB personal alarm keychain in the review above, but the Siren Song is louder and has comparable construction quality.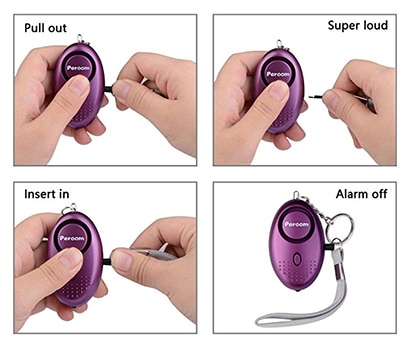 Pro's
Loudest Safety Alarm (up to 130 decibels)
Cheap But Effective
Comes With A Pull Pin
In the end, if I was on a budget, this is what I would give to someone I cared about. It comes in a 5-pack and has a pull-pin, so carrying 2 and activating both devices simultaneously is easy (put two straps on your wrist) and will attract more attention than anything else available.
Frequenty Asked Questions (FAQ)
What is the best alarm for self-defense?
The best alarm for self-defense is the Katana Safety Arc. It has key advancements that help the product provide significantly better protection in case of attack. BASU offers the best traditionally designed product.
Are personal alarms effective?
Personal alarms are effective when used correctly. They are most effective in situations where an attacker is depending on not being noticed and they are designed to be used when you want people to come help you. For example, activating an alarm in a busy parking lot may make a kidnapper turn and run, as the perpetrator would know that they will not succeed without having witnesses.
How much should I spend?
Portable personal alarms should cost less than $30. Better options, those that contact help automatically, are considerably more expensive. The BASU eAlarm+ and Vigilant 130 dB Keychain Alarm are both reliable and safe.
What is a personal alarm?
A personal alarm is a small electronic device that emits a loud piercing sound when activated in an emergency. Ideally, these should be small to easily fit in a pocket and strong to withstand accidental drops. Some personal alarms also have the ability to use your cell phone to call for help.
What is a personal alarm system?
A personal alarm system is a multi-layered system like the Katana Safety Arc. It is comprised of a pull-pin trigger, which activates an alarm and contacts a remote call center for help. Optionally, it can also contact multiple friends or family with a map of your GPS coordinates.
How loud is 140 Decibels?
The sound of a jet engine at takeoff is approximately 140 decibels (dB). It should be noted that the type of sound makes as much difference in how it is heard as the volume. For example, an ambulance siren is approximately 120 Decibels but it is more piercing than a sound with more bass. Humans are very sensitive to sounds in the 2 kHz to 4 kHz range.
Important Features
In addition to quality and size, there are several important features to look for when buying a personal alarm. An LED flashlight is not one of them.
Everyone wants to have protection that will make an attacker's ears bleed. That's all fine and nice, but the items below can be even more important to consider than the decibel level.
Durability
Good safety alarms need to be durable to withstand the numerous bumps of normal life and smacking against the keys in your pocket. Ideally, it should be able to withstand a drop on concrete. It will eventually get dropped and you need to still have confidence in it protecting you when you pick it up.
Activation System
Perhaps the most important aspect of any item for personal safety is being able to use it easily. You will want something compact and portable, whether you are putting it with your keys or it will be attached to a backpack.
When walking to your car, pulling the pin out needs to be a reflex action. If you have to fumble with it to turn it on, it could be worse than having nothing by making an attacker mad rather than surprised.
The ideal device is easy and intuitive for you to activate, but not easy to set off by accident.
Design
The design of many products seems to overshadow more important features.
Choosing a small keychain alarm because it has a cute design is the easiest mistake to make when buying safety alarms. Too often, women opt for cute alarms or a parent gets something that looks like their kids would choose.
Remember that your self defense isn't about fashion, it's about your personal security and protection. Nothing else matters!
Don't worry with trying to disguise your personal security alarm like it's a decorative charm or teddy bear. A personal alarm is not a gun. No one is going to fear it if they see it hanging off of a purse. Buy something substantial and with some kick to it to take someone off their guard.
Battery
While some devices use rechargeable batteries, many use AAA or watch batteries and a couple of models can not be charged or changed.
Personally, I prefer a model batteries that can be changed. Maximum voltage output is always higher than the rechargeable options, and it just takes a couple of minutes for your device to be back to full power.
Conclusion
You may see personal security alarms that have a backup whistle, built-in flashlight, or other extra features. Avoid these products, as these features drain the battery with every use and rarely provide real value. You are better off carrying a little flashlight if you need a flashlight and keep your personal alarm charged and ready to go.
You need to feel comfortable that the alarm will draw attention from anyone around and give you time to run away. However, the most effective defense and way to ensure your safety is to pay attention to your surroundings, especially at night.