How to Hack Someone's Snapchat
Snapchat is insanely popular with teenagers due to its focus on short messages and total privacy. Whether your teenager is sending selfies or texting, them feeling the need to do it on a platform that deletes the messages without a trace should be cause for concern.
While parents want to let their children live their own lives, it is very important to keep them safe on social media, giving you reason enough to hack into someone's Snapchat account.
Some apps to hack Snapchat use methods that are undetectable and do not need a Snapchat password to defeat built-in security features. This updated guide will show you how to hack Snapchat in 2022.
Easiest Method: mSpy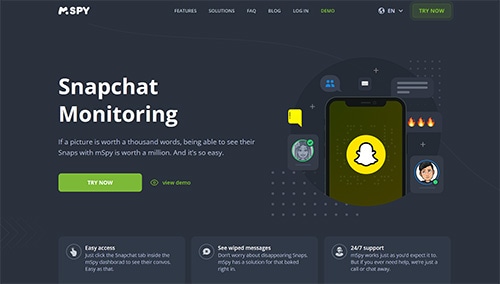 Easily Monitor Snapchat
Includes Screen Recorder
Full Coverage Of All Social Media Apps
Compatible with:
How to Hack Someone's Snapchat Account
Snapchat is a secure and highly encrypted messaging app that is difficult to hack directly. It also includes security features to notify the account holder if someone attempts to access the Snapchat account without authorization.
Rather than hacking Snapchat directly, you can hack the phone it is installed on to gain access.
The easiest way to do this is through a spy app. These apps require you to have access to the device for long enough to complete installation. It will remain hidden, running in the background forever, and you can have full control over Snapchat as well as the phone itself.
We'll cover the best tools we've found for hacking Snapchat, below.
1. mSpy
mSpy is a powerful and easy to navigate spy app. Perhaps most importantly, the monitoring software is totally invisible to the user and anyone using the target phone will never know of its presence.
Although lacking a few advanced tools from the first two options we've discussed, you will find that mSpy has a lot of things that are unavailable with most other options.
These are some of the highlights of what you can do:
Call Logs
Email and Text Messages
Search History
Keylogger
Compatible with all versions of Android and iOS
Snapchat messages can be recovered and read even if they have been deleted and calls from specific numbers can be blocked and the user will never know.
mSpy is the best option for tech-savvy users that require greater control over the target device in addition to the Snapchat account.
Pros
Proven track record

Easy installation

Totally hidden

GPS tracking

Great tech support if you need it
Cons
Not as powerful as uMobix
2. uMobix
uMobix has advanced surveillance capabilities that make it the most powerful option to hack Snapchat, but also slightly less user-friendly. Installation is easy and, more importantly, fast.
It is designed to be able to spy on everything a user does, not just get access to Snapchat. If you're new to this idea, consider the possibility of being able to track the user's GPS location history and monitor all social media, messaging, and Internet activity while being able to turn on the microphone remotely.
Although uMobix has everything you would expect to find on a spy app, it also has capabilities that far exceed any other option.
uMobix provides access to more social media accounts than anything else on the market, including Snapchat, Tinder, Twitter, Facebook, WhatsApp, Instagram, Telegram, Zoom, Skype, TikTok, and Reddit.
The short version is that you can have full control over the devices you are hacking. Once you have hacked into the phone, you can see their conversations with friends on Snapchat, but also for changing device settings like disabling Wi-Fi or restricting what apps can open.
Live tech support is available by phone, which can be a lifesaver if you need to complete installation in a limited amount of time.
I have had no complaints other than intercepted data only staying available for 30 days. But, this limit is higher on multi-month plans so I'm just taking away a half star for it.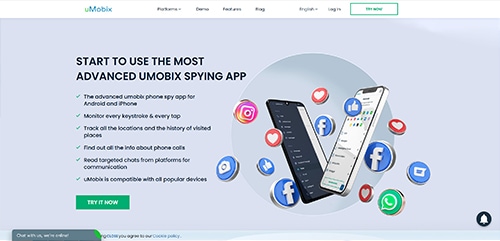 Pros
Totally hidden

Can stream live video from either camera

Remote microphone activation

GPS tracking

Access to all social media
Cons
Data retention limited to 30 days on the basic plan
3. FlexiSpy
FlexiSpy is not as user-friendly as other spy apps, and the website and interface seem dated, but the technical ability of the software to hack is unmatched.
FlexiSpy rivals uMobix in capabilities but not in usability. These two are the only apps that can take pictures or video, as well as activate the microphone to turn the hacked phone into a live room bug.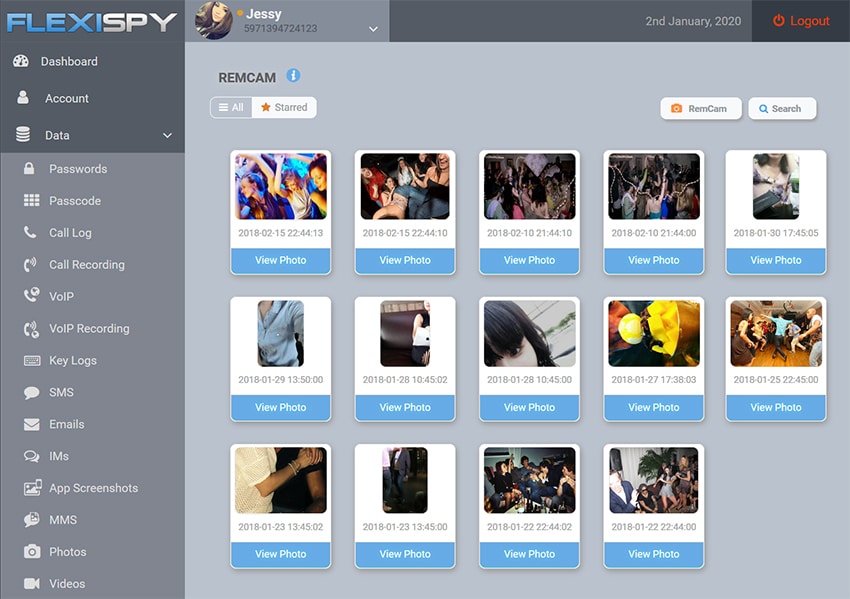 With the ability to record Skype, Facetime, and Facebook video calls, it offers much more than a Snapchat hack. Unfortunately, FlexiSpy has two problems, and those are why it ranks #2 on our list. The website is outdated and the app is expensive, but it would be a mistake to let either of these things turn you away from this marvel.

Pros
Extremely powerful

Live camera streaming

Pre-loaded phones available

GPS tracking

Microphone access

Call recording
Cons
Older interface

Expensive
4. EyeZy
EyeZy is a powerful new app that is capable of Snapchat hacking. The company that makes eyeZy has a long history in the parental control and surveillance market and this is their current flagship.
eyeZy offers a wide range of advanced capabilities including:
Keyword alerts to be notified if your child types, sends, or receives an inappropriate email or text message on their smartphone.
Monitor all the social media accounts including Snapchat, Tinder, Facebook, WhatsApp, Skype, Instagram, iMessage, Telegram, Kik, Line, Viber, and Google Hangouts.
Access to pictures and videos on the target device.
Location tracking and the ability to create restricted areas and be notified when they are somewhere they shouldn't be.
Stealth mode ensures the person does not know you are monitoring them.

Pros
Easy to use

Fast installation

Totally hidden

GPS tracking

Keylogging

Screenshots
Cons
Not as powerful as the first options
Will They Know If You Log Into Their Account?
Yes. An email alert will be sent to the account holder when there is a login attempt from an unrecognized device so attempting to guess the password or logging in from your device is usually a bad idea.
Using a spy app, they will have no way to know their snaps are being seen because their Snapshat account is not being accessed.
Are There Free Ways To Access Snapchat Without Permission?
No, there are no free ways to hack someone's Snapchat. You can use a free keylogger to log the username and password and then access the Snapchat account manually. However, although free, this is not the best method to use to get access because there are many ways you can easily get caught.
Is It Legal To Log Into Someone Else's Snapchat?
It is usually only legal to hack an account someone has have given you their consent or if you are their legal guardian. You can almost never legally hack your spouse's accounts or passwords, though the issue can become legally complex if you own the device in question.
We strongly recommend against using a Snapchat hack without consulting a lawyer beforehand. Some statutes are written in such a way that you may be taking on much more risk than you intended.
Is The Process Different For iPhone or Android?
Getting setup initially can be a little bit different, particularly if you need to have abilities that require jailbreaking or rooting the device.
The information you can have sent to you, and how it is viewed online, will be the same on Android or iPhone.
Conclusion
Snapchat is one of the most popular free messaging apps for iPhone or Android, and also one of the most secure.
In this article, we've shown how to hack into a Snapchat account without getting caught and discussed why people might want to do this, as well as the legal issues associated with hacking.