Zoo Tycoon Strategy Guide
Zoo Tycoon Strategy Guide
Anyone who plays Zoo Tycoon might quickly realize that it's no walk in the park. While most of the game is designed to be relaxing and fun, it's also designed to be challenging. Blue Fang, the maker of Zoo Tycoon, added challenge by incorporating real life details like budget, animal food, trash, and even crowding to create a scenario where you have to think, plan, and strategize in order to make your zoo work for long term success.
Food courts are an important way to earn money and keep your guests happy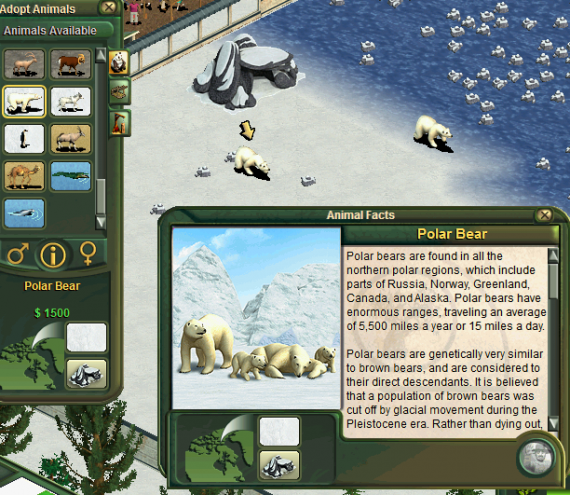 Zoo Tycoon Strategy
The first parts of this guide are based on setting up your zoo for monetary reasons (you need to get funds so that you can keep building) and the second part is about keeping both your guests and your animals happy. Remember that every animal basically needs a different strategy so your best bet is to muck around and play with each one until you can perfect its exhibit. Usually this takes a lot of money, but you can perfect your zoo.
Getting Started – Usually you have limited funds when you start out so unless you want to use a Zoo Tycoon Cheat, you have to thing strategically. Usually the best idea is to cheaply set up a couple of exhibits so that you get guests coming in and start making money so that you can fund later exhibits. This means choosing animals that are suits to the terrain that is already there (I.E. if you choose Safari then you can set up lions, zebras, and a number of other animals extremely cheaply). On the other hand if you try to set up these animals on grasslands, you might find that you are spending $10,000 or more per exhibit just terraforming. Instead, make a couple that suit the environment and save your money for later exhibits.
Endangered Animals – If you're starting out with a relatively low budget, consider focusing on an endangered animal. The first birth of an endangered animal in your zoo will garner public attention which usually results in donations. For example the birth of a white Bengal tiger in your zoo awards you $25,000 and the birth of a baby panda awards you $50,000. Of course, both of these animals are expensive to set up to begin with, so be prepared to spend big.
Combine Exhibits – Many animals actually love being penned together. A couple of major rules include that they must be from the same type of terrain (I.E. Safar or Grassland) and they should also be herbivores (no putting hyenas in with the zebras). Combining exhibits allows you to place more animals in less space, meaning that you save money while creating a larger draw. For example you can put zebras, water buffalo, ostriches, and bison all in the same pen! You can also pen Bengals and white Bengals together. Below is a chart detailing most compatible animals in Zoo Tycoon.
Keeping Guests Happy
From the start keeping the guests happy will be one of your main objectives. You are given a 'Guest Happiness' bar that ranges from 0 to 100. If you want your zoo to be successful then you usually need that bar to remain over 80. Some guests will obviously be unhappy at times, but here are a few strategies you can use to make them more happy.
Place Frequent Food & Drink Stands – While at first you might only need one or two food and drink stands, this will change quickly. Remember to create small side areas for guests between each exhibit that you can later turn into mini-food courts. Guests can't access food and drink areas if they are too crowded, so by not having enough of them you're hurting your business. Usually you need plenty of restrooms as well.
Trashcans – Trashcans might seem like a mundane addition to your zoo but they are very necessary. Consider installing more of these than you think is necessary as you will most likely end up using more. Guests create a lot of trash and if there are no trash cans, or the trash cans are full, it will end up on the ground. A dirty zoo not only deteriorates your guest happiness but your zoo rating as well.
Benches – It might be a quick scroll to the left for you to get to your panda exhibit, but your guests have to walk. Make sure they have benches and picnic tables where they can sit and take a break when they get tired. After all, you don't really have trolleys or trains to take them around like real zoos do!
Visibility – One thing you will definitely notice as you get further into Zoo Tycoon is that a crowded park can mean that guests are complaining they can't see the animals. Unfortunately there isn't too much you can do about this but you can remember to never use a walking path as a viewing location. The path gets crowded by people who want to stop and see the animals, as well as those who just want to keep going! Instead, create one to four small viewing stations off of the main path for each animal so that only guests who want to see the animals will take up the space. Your guests will want animals to be visible everywhere so make sure you put up exhibits on every stretch of path.
Keeping Animals Happy
Animals are considerably more difficult to keep happy than humans. Fences can deteriorate which allows them to escape (and even eat your other animals), terrain can become trampled which makes all animals unhappy, and if your zookeeper isn't doing his job, they might not have food, or poo might build up in the exhibit. Here are a couple of tips for keeping animals in Zoo Tycoon happy.
Aim for 90-100% Habitat Suitability – One of the easiest ways to make an animal happy is to make sure it's in a suitable habitat. Make sure you read the full brief under info as it will often tell you exactly what the animal likes. If you're having trouble getting to the 100%, check to make sure you have plenty of small rocks (dozens of small rocks earn you more points than one or two huge ones), and that you only have the foliage preferred by the animal (this will get you more points than a variety of foliage). Also remember to check the terrain height, check single patches of land to see if they would prefer a slight change, and to make sure they have enough water.
Put Up Some Cover – Many animals are shy and will feel 'crowded by too many guests' if you have fencing around the exterior of the entire exhibit. Instead, try making sure that your paths are always at least one or two blocks away from the fence, and that you don't make the animal visible for the entire stretch of path. Instead, try creating one to four small platforms or courtyards where visitors can view the animal in question, and then keep going without being able to see it. This keeps your guests happy while giving the animals some privacy.
Assign a Caretaker – Each exhibit should have it's own assigned caretaker. This can be costly at first if you can't afford to have dozens of caretakers running around, but you can minimize costs a bit by creating small groups of small size exhibits and assigning one zookeeper to take care of three or four of them. Animals are always happier when a caretaker is assigned directly to their exhibit, and they also receive better care, just make sure the caretaker has time for them all. A large exhibit with a lot of animals will need the full time and attention of a caretaker.
Make Squares – Most animals are happier with squares of foliage and rocks rather than having them spread out across the exhibit. Try putting four in a square or clumping them into a much larger square for maximum affect.
There are plenty of ways to succeed at Zoo Tycoon but this is a basic strategy guide for the game. Have fun playing!