WonderShare TidyMyMusic for Windows Review
Software
WonderShare TidyMyMusic for Windows Review
Earlier this week I was offered a free copy of WonderShare's new TidyMyMusic for Windows to review. Having seen the Mac version in action on a friend's computer, I was excited to try, and happily agreed. I do have a rather large music collection, and as the majority of it was ripped from my many CDs, I didn't always take the time to add in all of the correct data during the ripping process.
Installation
The installation took less than a few minutes, I did scan it with my antivirus which found nothing, and then proceeded to set it up. I was quite happy to notice that it did not offer to install any spamware or partner programs or toolbars during the installation, which is definitely a plus.
Interface
Once you have the TidyMyMusic app installed, you will see an extremely plain interface with a couple of buttons. You can choose to clean up music on your entire Windows computer or in your iTunes. I chose iTunes.
Unfortunately, there is no button that allows you to select which albums you want to clean up, it just automatically imports your entire library as soon as you open it. If you don't know what you have that needs cleaning up then this is a plus, but if you have a sizeable music collection, prepare for a wait.
TidyMyMusic took around an hour and twenty minutes to analyze my some 8,000 songs. That actually isn't bad considering the number of files so I won't complain.
In Action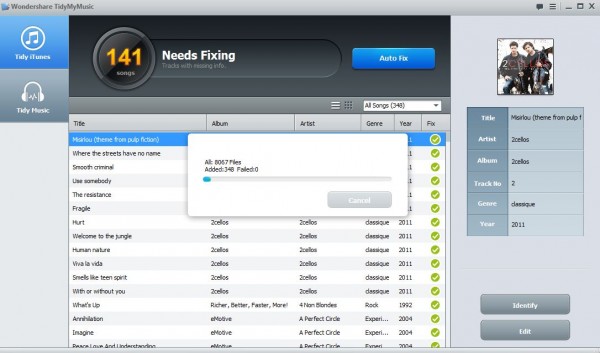 Once TidyMyMusic analyzes your files, it will automatically find album covers, set data, and find duplicates. If it doesn't recognize the song, then it will tag it for you to manually add data. In my case, there were some 80 songs that I had to manually go through to add the year and album name to. Other than that, TidyMyMusic handled pretty much everything, although a great deal of my music collection was already in better than average shape. For the 80 or so songs that it could not identify, I did have to go through and manually click 're-identify' on each one. This would be a lot less time consuming if you had fewer unidentifieds, but it was around 1% of my music collection, so I can't complain.
It should also be noted that a lot of it was indie music that wouldn't be in the Gracenote Database used by WonderShare. It did however get some of my indie music wrong. For example, I have a track labelled 'Sloppy Kiss' by "Cash and Cobain', and it re-titled it 'Eddie Veder' by 'Local H'. Despite that, you really can't expect this sort of program to work with indie music. You will want to go through stuff really quickly to make sure that it has everything correct. Then, you can click 'Apply All' and sit back and wait for it to apply everything to your actual collection. The entire process took about two seconds per song for my collection.
Results
Scrolling through my iTunes, I noticed at least a dozen albums that had previously had wrong or no album covers updated. Overall, while it did have it's flaws, and it took several hours for a music collection of my size, I'm quite happy with it. It fixed tags and music data including album and release year, and also found missing album artwork, which was quite nice.
If you want to try WonderShare yourself, you can edit up to 10 songs for free. Otherwise it costs $39