Wise Button – The Remote Control for Your Mobile Device
Gadgets & Gizmos
Wise Button – The Remote Control for Your Mobile Devices
What would you do with a remote for your phone? Or for your tablet? If you've ever wanted to track your kids or your tablet from your phone, change the music playing on your iPod without touching it, or use your phone as a presentation device, then you're in luck. The designers of Wise Button have created a literal remote that can do just that. Wise Button is currently on IndieGoGo and offers a relatively affordable way to control your device from a distance, providing it reaches it's funding goal.
What is the Wise Button
The Wise Button is similar to a couple of different technologies coming out right now but is a combination of a few of them. With tracking stickers, remote control options, and the ability to work with Windows, Android, and iOS devices, they have most of the bases covered for mobile users. Because the app works with any device, buyers have a lot of options for devices, unlike competing apps which mostly only work on iOS. The button does have a very Windows 8 interface and color scheme with bright colors and a tile layout, meaning that it is going to appeal to Windows phone users a lot, but doesn't really mesh extremely well with the iOS or Android layouts.

Features
The Wise Button combines a number of different features into one small gadget that perfectly complements any of your devices.
Anti-Theft/Anti-Loss – The Wise Button beeps if it your device is more than 20 feet from you. This can get kind of annoying if you forget and lend the phone to a friend, but it's a good way to stop yourself from forgetting your phone somewhere.
Remote Control – The Wise Button is actually a remote control. It uses Bluetooth to wirelessly control camera, music, documents, photos, or anything else on the screen. However, it doesn't seem to be able to control volume, which is a bit of an issue for a remote. The remote can also take a photo of you from a distance, which is sure to improve more than a few of the selfies going around.
Tracking – One actually cool thing that the Wise Button does is track things. You can purchase stickers at $17 each from the IndieGoGo campaign and then track them via GPS. WiseButton suggests using them for important things like your Wallet and your kids backpacks, but it's also highly appropriate for pretending your James Bond and tracking your co-workers for fun (no really don't do this, it's illegal).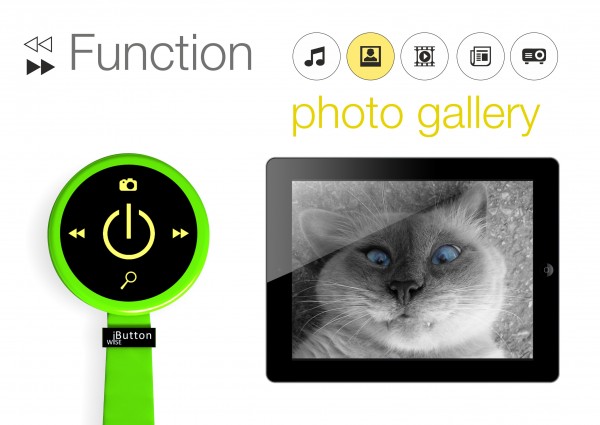 Price
So far the IndieGoGo campaign for the Wise Button is $27 for one button or $120 for 5 buttons, and $17 per tracking sticker (or $85 per 6 pack of stickers). As it is essentially a remote control, the price is a little high, especially since the development team haven't actually included much about how it works. For example, we would love to know if one WiseButton works with more than one device or if you have to purchase a new one for each device.
At $17 a sticker, it's also going to be a hefty investment to track 'everything' you own, but if you limit it to one or two stickers, or purchase a full pack for all of your important gadgets then it might be a little easier to afford. However, these stickers are for the most part quite bright, and kind of ugly when slapped on the back of your Macbook. With competing trackers like Tile priced at $19.99 each without the need to buy a $27.99 remote control, people looking for tracking apps also have better places to go.
However, despite this, Wise Button offers a lot of interesting possibilities to users. While we don't see anyone investing in the $70 gold plated version, we can see people using these to control a tablet while watching a movie, to show off presentations, or even to control their music while going for a job. If you don't mind the price and want a useful gadget to control your already mobile gadget, then the Wise Button looks like a great option.