What is Clean My Mac 3 – Features and Capabilities
What is Clean My Mac 3 Features and Capabilities
Clean My Mac 3 is a mac cleaning app designed to clear up junk, unnecessary files, and duplicate files on your Mac. The program aims to clear up space, help you to fully remove programs, and allow you to easily manage the memory and storage on your computer – all without technical knowledge.
At $39.95 per license, Clean My Mac is not cheap (Although you can get it for $89.95 for 5 licenses) and you're probably wondering if it's worth the money, if it performs as advertised, and if you really need it. We took the time to review Clean My Mac 3 to answer those questions for you.
What is Clean My Mac?
Clean My Mac is a cleaning program with a number of features designed to help you maintain the storage and memory on your computer. This includes 6 functions designed to help you clean up junk files that should be deleted, an uninstaller for app management, disk maintenance, privacy tools for cookies and browser history, extension cleanup, and a file shredder for permanent deletion of files.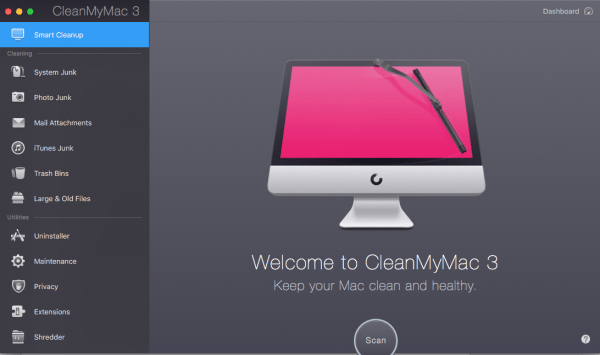 Smart Cleanup – Smart Cleanup allows you to perform a quick general scan of your computer to find all of your possible issues and correct them as quickly as possible. Over long-term use, this is the feature that you will use most often because it allows you to optimize storage and memory usage with minimal time commitment.
Cleaning – Clean My Mac is designed to help you find and remove specific files that may be taking up space on your computer when you don't use them.
System Junk – System Junk works to remove unnecessary system files such as binaries, languages, and temporary files to free up space on your Mac. This can help you to save space and may speed up your Mac temporarily, however, your system will keep creating these files because it needs some of them. If you want to keep the saved space, you will have to run the app regularly.
Photo Junk – Anyone who uses their Mac for photos will have photo junk, and it can be considerable. Here, Clean My Mac helps you to review settings and files that don't affect your photos, compresses your photos to smaller file formats if necessary.
Mail Attachments – If you use Outlook, your computer is constantly downloading mail attachments like images, company logos, documents, etc. Unless you clear them out, they remain on your computer. Clean My Mac helps you to review this so you can remove unnecessary files and save space.
iTunes Junk – Broken downloads, old phone backups, old software updates, etc., are all stored on your iTunes, taking up space on your computer. Clean My Mac helps you to review files and remove unnecessary ones.
Trash Bins – Most people are unaware that Mac actually maintains multiple trash bins for different drives and apps. Mac Cleaner allows you to empty all of them at once. This feature is for convenience, and allows you to keep the "auto-empty" trash bin feature off so that you can check your trash bin for files you accidentally deleted before emptying.
Large & Old Files – The older your computer is, the more likely that you have old and unused files that are simply taking up space. Mac Cleaner helps you to review each of these files so that you can delete what you no longer need, transfer files to a hard drive if you never access them, and clear up space.
Utilities  – Mac Cleaner offers a complete utility function that allows you to manage programs, privacy, browser extensions, and more.
Uninstaller – The Uninstaller is a app management tool that allows you to fully remove applications with one click. This is more complete than dragging and dropping apps to the trash bin because it searches for folders, extensions, permissions, and registry files which a simple deletion may not remove.
Maintenance – Maintenance works to check for disk errors and resolve them where possible to improve the 'health' of your computer. This includes Disk Utility functions, application errors, and computer indexes to improve performance.
Privacy – Cookies and temporary files build up on your computer and they can take up a lot of space. While you likely use the vast majority of them, you may also be storing a lot of data that you never use and won't ever need again on your computer. Privacy helps you to clean out cookies and browsing data, clean up autofill forms, and clean up Messenger and Skype chats to remove unnecessary data.
Extensions – Extensions like browser extensions, widgets, app extensions, dictionaires, login items, etc., take up space and slow your computer. The Extensions function helps you to manage these features so that you can improve startup speed, increase storage, and reduce RAM and CPU usage.
Shredder – Everyone has files they no longer need, don't want, or don't want falling into the wrong hands. Shredder permanently deletes these files so they cannot be recovered.
Monitoring – Clean My Mac installs a monitoring tab onto your top toolbar, which you can use to view your computer 'health' at a glance. It also monitors your computer and sends popup notifications when applications are frozen asking if you want to clean them, if you have data you can delete, etc.
Now that you know what Mac Cleaner does, click through to page 2 to read our in-depth review of the program.