What is Apple TV, and Should I Get One?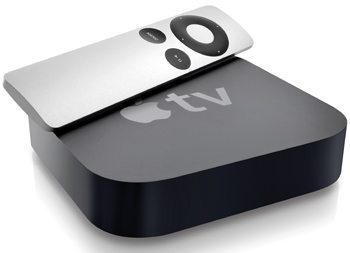 What is Apple TV, and Should I Get One?
With the modern penchant for digital media, set-top boxes are becoming more and more prominent. While there are a number of great boxes out there on the market, Apple has a large portion of the market cornered with the Apple TV, a brilliant little device that syncs with a user's iTunes account. But is it all that it's cracked up to be?
What is an Apple TV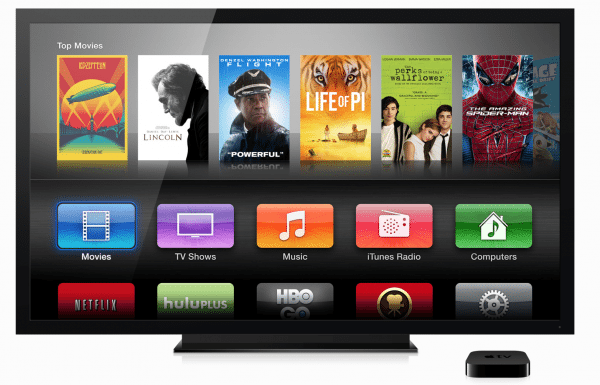 The Apple TV is an almost palm sized digital set-top media device that integrates with a home's network and iTunes account to offer a range of media and entertainment options. Those with an iTunes account and an Apple TV can rent and stream new movies directly from iTunes, including behind the scenes and other extras. Netflix, Hulu, and HBO Go are also options. But wait, there's more. If you act now, we'll also throw in the ability to stream your favorite photos and music straight to your HDTV (It won't even cost you any extra shipping and handling, either).
And with AirPlay, those with iOS devices can enjoy media on the big screen as well. Think about playing an iPad game, but being able to see it on a 50" HD television instead of just the iPad's 10" screen? Or being able to stream content directly from your iPad or iPhone to the television? All of this is possible with an Apple TV. The ATV (as it is commonly referred to among the geeky crowd) can also be used as a casting device for non-Apple apps (like the Plex media player).
Apple TV Pros
The biggest pro to the Apple TV is the integration with other Apple devices. It has a great looking, sleep case and is super easy to hook up to any HDTV. It just requires an HDMI cable, network access, and a power outlet. The ATV also comes with a handly little (and cute, I may add) silver remote control that, ironically, comes out of the box ready to control any nearby Mac computer (yeah, I learned that lesson the hard way).
Apple TV Cons
Although the Apple TV is great at many things, it is somewhat limited by its design. For instance, forget about playing any DVDs, Bluray discs, or CDs. You also can't record any sort of programming for later playback. This, however, is not uncommon among set-top boxes. The newer ATV models also cannot (as of February 2015) be "jailbroken" to enable third-party content and greater usability. If you want that option, you'll need to find an ATV 2, but good luck. If you can find them (check eBay), you're in for a shock: they generally sell for $200 or more, while the newer models can be purchased new for $99 plus tax.
Comparison to Other Set-top Media Devices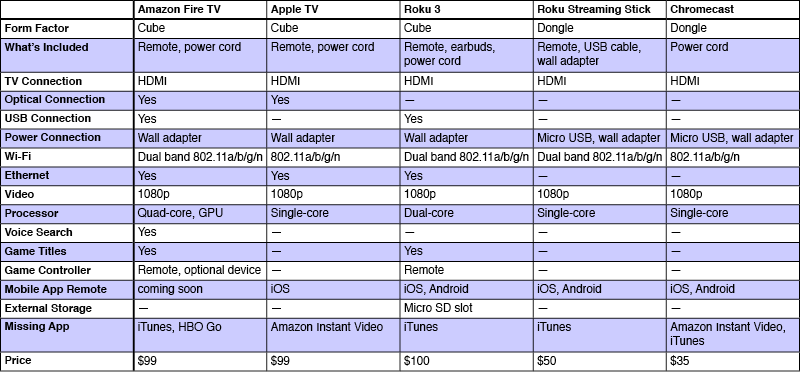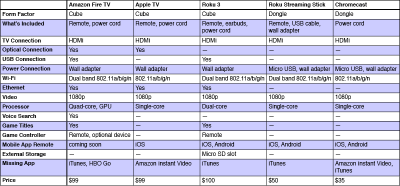 The Apple TV has a lot in common with some of the other set-top media players currently on the market, but because it's Apple, of course it's a somewhat closed system, much to the consternation of many ATV users. But is it all bad? Of course not. The Apple TV can be a great device, although I still prefer the Roku 3. And here's why:
The Apple TV has no Amazon Prime video. That means no Amazon rentals, and no streaming for those of you who happen to be Prime members. Also, forget about Vudu (that was the dealbreaker for me, personally. I love my Vudu!).
Bottom line: if you're in the market for a set-top media player device, and already have a large Apple infrastructure in your home, you may want to consider the Apple TV. However, if you're like me and enjoy an extensive range of media options and the ability to use additional apps from a quite large collection, check out the Roku 3 instead.