Want to Explore the TARDIS?
Those crazy and wonderful geeks at Google Maps have done it again.  Everyone knows about the easter egg when you ask for walking directions from The Shire to Mordor (One does not simply walk into Mordor!), but this one is just…
Trust me.
There's a certain space-time convergence in Earl's Court Rd in London that the Google Street View team managed to capture.  An otherwise ordinary looking blue police box, and you've been given a small silver key…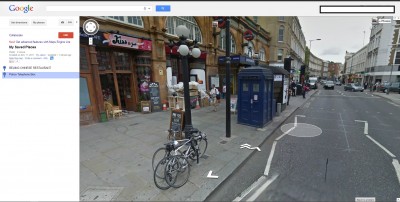 Yes, that is the TARDIS.  And yes, you can click on those little double arrows to step inside and see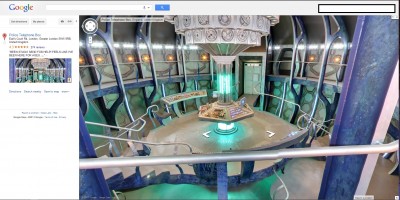 You can use all of the standard google methods to explore, arrow keys to look around, move forward/back.  You can even go underneath the main control panel to take a look at the heart.  No pictures of that, because as Melody would say, "Spoilers, darling."
And of course, if you happen to have a pair of the old blue/red 3D specs, feel free to press T to feel truly immersed.
Your journey starts at this link.  Explore, then come back and let us know what you think!
(Caveat:  There have been complaints that this isn't working with the new Google Maps interface.  If you can't get into the TARDIS, open the link in an incognito (or private) browser and you should be good to go!)
Edit:  I've just spent a half-hour reading the reviews, and most of them are fantastic, rib tickling snippets.  There are a lot of us Whovians out there, aren't there?