Valentine's Day Photo Contest TheHighTechSociety 2013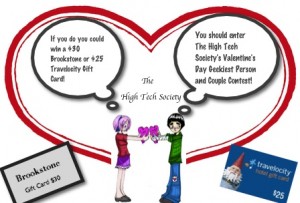 TheHighTechSociety.com Valentine's Day Photo Contest 2013
Are you the biggest geek couple you know? Or are you just a geek? Either way you should enter The High Tech Society's Valentine's Day Biggest Geek or Geeks Contest! This is one place you won't have to be a couple to win something on this special day, because if you are a single big geek you still get a chance to win! In fact your prize is just a tad bit better!
So, get your geek on and send us a picture to prove you're at your geeky best! And age doesn't matter, because for this Valentine's Day Contest all is fair in love and war, and our contest too!
To Enter:
1) Send us your funniest, sweetest, dumbest or geektakular best pic. to [email protected] *see notes below

2) Get the most Likes / Votes and win! 
Yep, it's that easy!
We are accepting your pictures now and will be accepting them up to 24 hours before the end of the contest. Start voting bright and early starting Thursday morning the 7th of February (if we have any partakers by then =)!
Contest winner will be announced on February 13th so that you can enjoy your e-gift certificate on VD Day! Prizes will be awarded to the Best geek Couple and the Best Geek.
Prize is a $30 gift certificate to Brookestones for our Best Geek and $25 gift certificate for Travelocity.com for our Best Geek Couple!
*When sending your image to us at [email protected], you are giving us the right to place said image online for others to see. Copyright of image remains yours, you are just giving us temporary user rights. Please send us your image, email address, name and anything you would like for us to add in the photo description. If you would like your name to remain private, please indicate that and provide an alias or name for your photo.
All images for the contest will be found here:
Photo's for the Valentine's Day Best Geek or Best Geek Couple at TheHighTechSociety.com
To vote for your favorite, just click on the image you like and click on the green
"thumb's up" 
 at the bottom!
See our geeky sample pics below for inspiration and Good Luck!
Remember to follow us on Facebook and Twitter for more announcements
and Like us on Facebook or Tweet this contest to get yourself an extra vote or two!
This contest is not sponsored, endorsed, or affiliated with Facebook. Your personal information used to enter will not be disclosed to Facebook.
[flagallery gid=1 name=Gallery]