Quick Tips on How to Use iPad Security Effectively
Tips to Use iPad Security Effectively
You got the iPad, love it, and may even use it more than you use your computer or lap top. It is handy, portable, does so much, and is safe to use. You may not have thought about the great iPad security that is built right into the iPad. As safe as the iOS platform iPad is, if you were to (shudder at the thought) lose it or misplace it, would your information be safe? You can ensure your information is safe if the unimaginable would happen and your iPad ends up missing. Whether using your iPad for fun or business, you can keep your information secure if you use iPad security effectively.
Encrypted Data for Security
You may have been using your iPad and not realized you can easily encrypt your data, because all iPads have built in hardware encryption, you just need to activate it. You can do this by enabling a passcode in the general settings of the device. The passcode protects your data by enabling an encryption key and without the passcode, it means nobody can access your data.  You have other ways of protecting your iPad data including file data protection, data protection classes, and keychain data protection.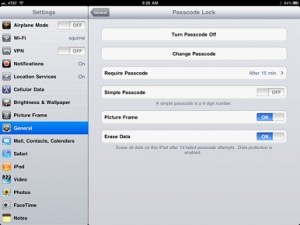 Data that is Securely Encrypted and Protected:
Passwords

Keys

Login tokens

Data stored in flash memory on the device
Configure Security for Access
With the great features that are built into your iPad, you can easily wipe the information from it if it's lost. You have some options on disabling or wiping data on your iPad. You have Mobile Device Management that lets you remotely wipe or lock your device. If your iPad is lost, you are able to send a command wirelessly using the Mobile Device Management server that will delete the data and restore the iPad to factory settings.
When you have your passcode enabled, you are also able to use local wipe for iPad security. Local wipe will automatically wipe the data if someone enters the wrong passcode too many times. You also have progressive device protection that will disable the iPad for longer periods if someone enters the wrong passcode too many times. It will erase all data and settings on the device if someone enters the wrong passcode too many times.
Backup Securely with iTunes
Your built in iPad security includes the option of securely backing up data to iTunes. When you use this option, your information is encrypted and safe. To use this option you need to have enabled the passcode to protect your iOS device. You can use the configuration policy of the Mobile Device Management to enforce the encrypted iTunes backup.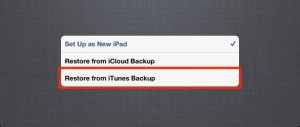 Data Included in iTunes Encrypted Backup:
Settings

Keychain

Mail accounts

Calendar

Application settings

Location service preferences
System Security
Your iPad security begins with the startup process. As your iPad boots up, each step is verified before the system moves on to the next step because of the secure boot chain. If for some reason your device cannot verify or load firmware, it will go into a device Firmware Upgrade Mode. You will need to restore the device after it has entered this mode. The iPad will be returned to where unmodified Apple-signed codes are detected. As your system starts up, if any of the steps cannot load or be verified, the process will stop. Your iPad will go into Recovery mode and need to be connected to iTunes and be restored to factory settings.
Secure Apps
The iOS device has built in features to ensure a secure system. It includes app code signing to make sure that all your apps have come from approved and known sources. Apple has signed all of the built in apps. Certificates from the iOS Developer Program must be used for signing any third-party app. The third-party apps are not allowed to access any files that are stored by other apps. The apps are not allowed to make any changes to the iPad. This iPad security feature prevents apps from modifying or gathering information as malware would do.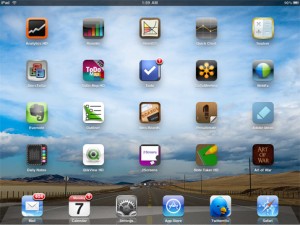 If you use your iPad at all, you can be confident you have iPad security as you use it. All of your data and information is safe and secure. With the built in features of the iPad, you can rest assured that if the unthinkable happens and your iOS iPad is lost, your information will be safe. The security features are built into the iPad, you just have to activate and enable them. You need to take full advantage of the features available on the device to make sure it is secure.