Make Traveling Easier With These Top 5 Travel Apps
Make Traveling Easier With These Top 5 Travel Apps
Vacations should be relaxing trips, a time to get away and just unwind. But let's face it, it's almost impossible to head out on your getaway without stressing about something. You wonder if you've packed everything you need, if you booked a quality hotel, if the line at the airport is going to be horrendous.
The bottom line is that as nice as it is to get away and let yourself unwind, traveling can be a hassle — but it doesn't have to be.  Be sure to arm your smartphone with these travel apps and your vacation plans should be cheaper, more organized and less stressful.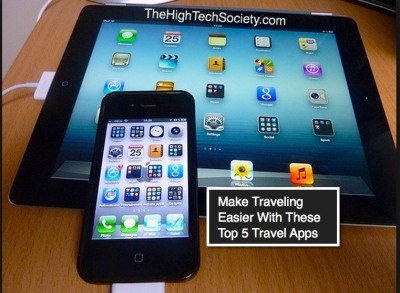 1. LivingSocial 
Once you've picked out your desired destination, it's time to start planning what activities you're going to participate in and which hotels you'd like to stay at. If you want to have a great time while sticking to a budget, the LivingSocial app is a great way to find deals. The site offers certificates for events, restaurants, activities and hotels at a discounted rate. Just sign up for the city you're going to visit and you can fill up your itinerary with lots of deals.
2. TripIt
There are tons of things to keep track of when it comes to planning a vacation. The TripIt app is designed to do all of the heavy lifting for you as it creates an itinerary based on your flight, hotel and rental car confirmations. You can add directions, travel notes, recommendations and even photos. The app sends you mobile or email alerts about flight delays, gate changes or cancellations. One of the greatest perks is that you can share your itinerary with friends and family so they always know where you'll be without having to ask you.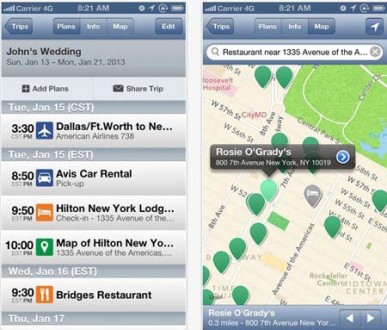 3. Packing Pro
This is a great app for anyone who has forgotten to pack something important for their trip or for the person who lays awake at night going over the checklist in their mind. No need to stress about packing your cell phone charger, medication or camera. This checklist organizes everything you could need for your trip. You can break down the list into categories so you have a separate checklist for clothes, accessories and essentials. You can even create a packing list for short activities like trips to the beach or amusement park.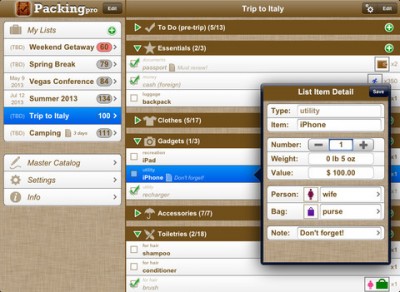 4. My TSA
The TSA has an app to make your airline experience much easier. You can check the airport status or search for conditions at a specific airport. If you aren't sure which items are permitted onboard, you can type the item into the app and find out if the item is allowed or not. The My TSA Mobile app also has a guide with the most frequently requested information. Another great feature is that passengers can share their checkpoint wait time and see what other passengers have posted for U.S. airports.
5. Yelp
While some people like the adventure of exploring a new city, others like to be prepared ahead of time. The Yelp app allows you to locate shopping centers, restaurants, bars, lounges, beauty spas, nightlife and other activities in the city you'll be visiting. This is a great way to familiarize yourself with the area. It's like carrying around your own personal concierge service in your phone.
If you're traveling long distances with children, don't forget to download travel apps for kids. After all, your trip will be much more peaceful if you keep your children entertained.
– By Guest Writer: Jennifer Thayer
Jennifer Thayer is a freelance writer who enjoys writing about technology and how devices can be used to make our lives easier.