Top 5 Gaming Keyboards Under $150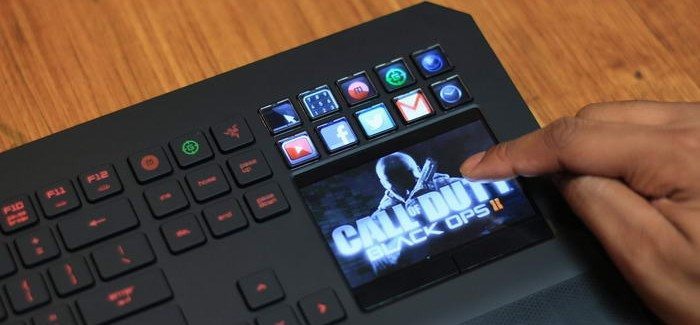 Top 5 Gaming Keyboards Under $150
If you've ever tried to game with standard (ie cheap) keyboards, you'll probably understand the need for a gaming keyboard. From the lack of tactile response to lag and keystroke delay, standard keyboards don't always make the best choices when gaming. But there are a number of options currently on the market, including the following 5, our top choices for gaming keyboards under $150.
Razer Orbweaver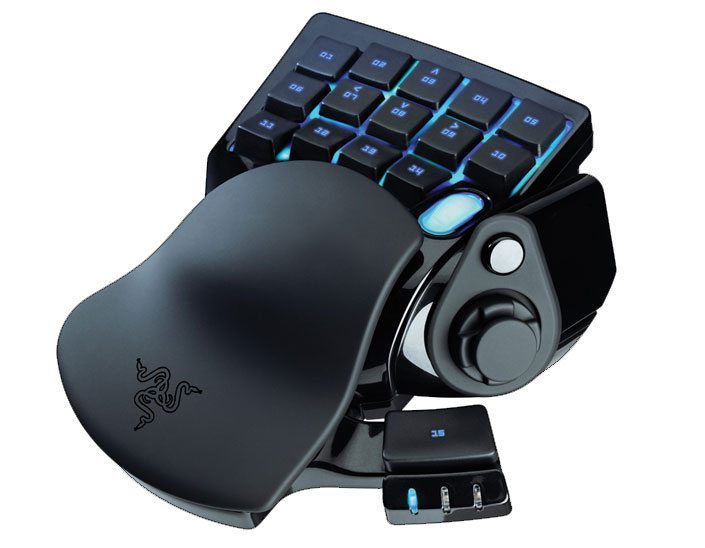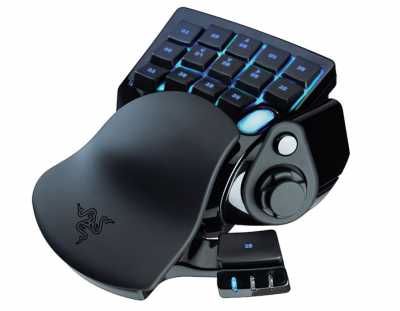 While not a full-sized keyboard, the Razer Orbweaver mechanical PC gaming keypad is one of the best when it comes to gaming control. Since most games do not utilize the full keyboard anyway, most of the the keys aren't even necessary. The Razer Orbweaver simplifies gaming keyboard by providing only the necessary keys. It features:
Mechanical key infrastructure
20 programmable keys
8-way thumb-pad
Adjustable hand, thumb and palm rests
switching between 8 keymaps
Backlit keypad
Current price: $109.99 on Amazon
Steelseries Apex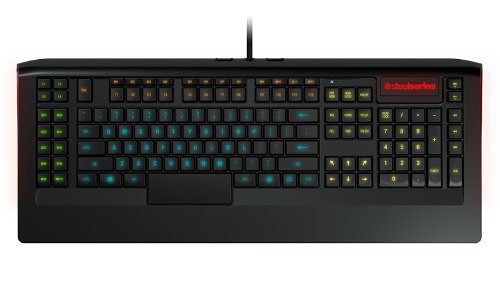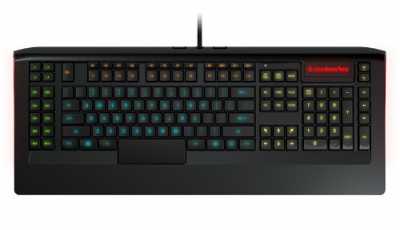 While not as small and cute and the Razer Orbweaver, the SteelSeries Apex Gaming Keyboard is a full sized keyboard offers sleek lines and style, the ability to create macros and proprietary Active Zone lighting that delivers five independent color zones, each with the capability of producing 16.8 million colors to set the keyboard apart from any other. The SteelSeries Apex keyboard also includes a built-in USB hub, independent media keys and a braided nylon cable (say goodbye to kinks and tangles). Some of the Apex's features include:
22 macro keys
5 macro layers
Active Zone lighting
Unlimited profiles
Unlimited macro creation
Complete button remapping
Analyzed usage via recorded movements and heatmap display
6 simultaneous key presses
20 anti-ghosting capable gaming keys
Cost: $81.99
Razer BlackWidow Ultimate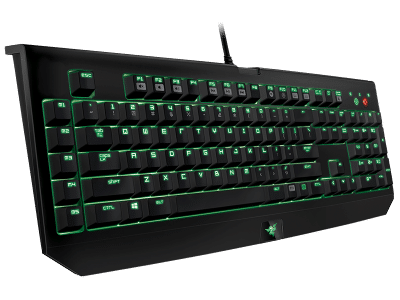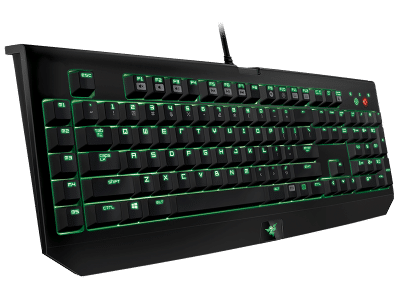 Designed specifically for gamers the Razer Blackwidow Ultimate is one of our favorite gaming keyboards. It utilizes full mechanical switches that actuate at optimal distances, which serves to help increase speed and responsiveness of the keys. Each key can withstand up to 60 million keystrokes (good luck wearing those out), making the Blackwidow Ultimate very durable and long-lasting. It also includes USB passthrough, audio capabilities and a braided fiber cable. Some of it's best features are:
50g actuation force
Mechanical switches
Backlit keys
10 key rollover
USB passthrough
Audio-in and Microphone-out
Cost: $139.99
Cooler Master Quick Fire Rapid-i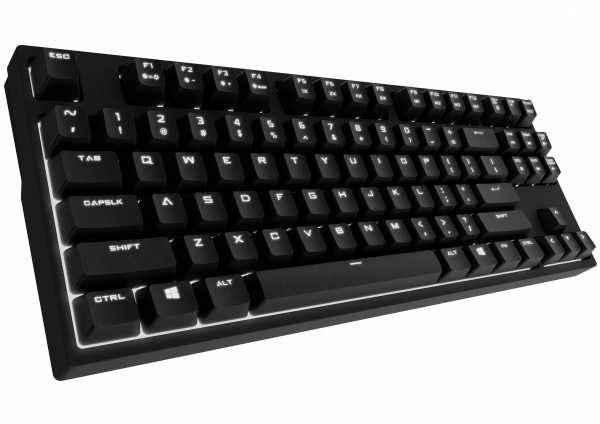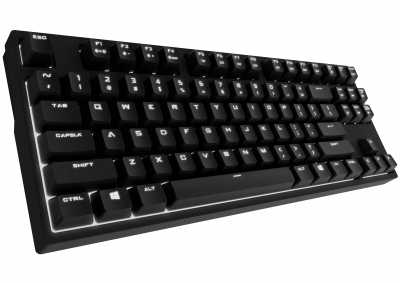 As successor to Cooler Master's Quick Fire Rapid gaming keyboard, the Rapid-i is a game-changer in terms of gaming gear. Unlike many others, the Rapid-i contains it's own 32-bit ARM processor that controls unique lighting effects, including the ability to set up profiles that allow specific keys to remain lit (handy when you need to find that attack key in a hurry). No software is required for this function. Our favorite features:
Fully mechanical keys
Smaller form factor (no 10-key)
Fully white LED backlit
Active technology
Individual key lighting
1.8m detachable braided cable
N-key rollover
Cost: 134.88
Mad Catz S.T.R.I.K.E. 3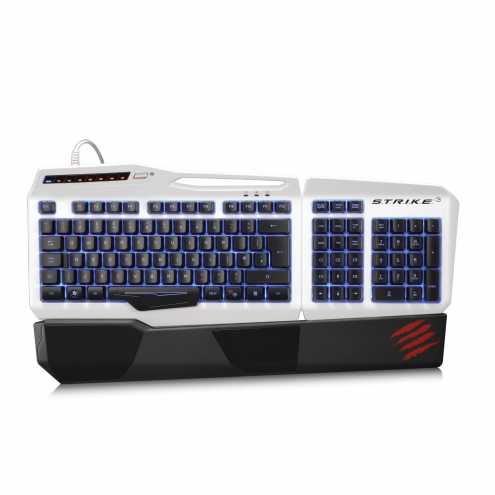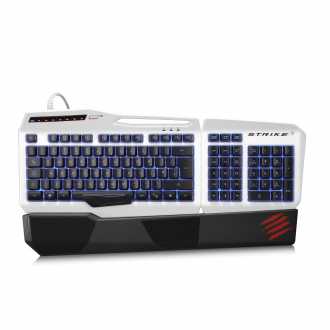 The Mad Catz S.T.R.I.K.E. 3 gaming keyboard is outstanding in design and function. From it's sleek futuristic style to it's tactile feel, it earns its spot among our top 5 favorites. It offers uncomplicated macro programming with an intuitive graphical interface, conveniently placed shortcut keys, and a windows key lock (Finally!) that prevents the user from accidentally hitting it and taking the game out of focus. Some of its best features include:
P.U.L.S.E. key membrane
7 key anti-ghosting
Fully customizable RGB backlighting
1w programmable macro buttons
Ability to save and share custom profiles
Cost: $92.87
As there are tons of great gaming keyboards out there, this is by no means an exhaustive list. We would be thrilled to hear your thoughts and ideas. Let us know if you have a favorite gaming keyboard that we've missed.