Tips to Save Money When Sewing
MORE
Tips to Save Money When Sewing
Do you have a sewing machine that is sitting in a closet somewhere in your house, or is your sewing machine already set up, just sitting on a table waiting for you to get creative? You could also be the third type of sewer, one that's thinking of getting a sewing machine, but worries it may be too expensive of a hobby to pursue? No matter which of these you are, there are lots of ways to save money when you are sewing, and I've included a bunch of these ways below to help you get started.
Simplicity  Sewing Tutorials and Projects
When you visit the Simplicity site, you can find lots of sewing projects. They even were good enough to include helpful tips and tutorials, along with lots of instructions that are easy to read. Projects are available for people with all levels of sewing skills. Holiday items, scarves, doll accessories, and more can all be found on their site.
Better Homes and Gardens Helps with How to Sew and More
The Better Homes and Gardens How to Sew site has projects for everyone from beginners to novices. There are free patterns along with helpful tips for sewing. The site covers all types of sewing from basics to mending. You can find projects that include pillows, flowers, and bags as well as sewing with t-shirts. Easy projects like draft stoppers for doors are included in the first project section. Another fun section on the site is projects for gifts. The site really has something for everyone.
DIY Fashion at About.com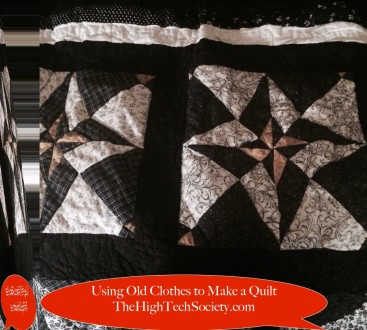 Another great website for those wishing to save money while sewing, is About.com. They even have a DIY fashion page where you can find free sewing help and patterns. The site includes tutorials and patterns for shirts, dresses, and pants for kids and adults. They also have free patterns for purses, wallets, beach bags, and duffel bags.
Getting Creative with Recycled Clothing
Using old clothes, or other materials around the home is one way to really save a lot of money if you like sewing because it's a great way to get free fabric. Not only that, you can also save by removing other things, such as buttons and elastic from old clothes, and then just reuse them to make something new. Below are a few ways to make things out of certain types of clothing or other materials.
T-Shirts:
T-shirts are one of the easiest pieces of clothing that you can recycle and reuse. You can turn an old t-shirt into a stylish bag or racerback style tank top with no sewing needed. Watching videos makes it easy to create something new out of your t-shirt with no pattern. It can become a new skirt, shorts, or pants for you little one. Or, recycle your t-shirt into a new skirt for yourself. When you use the bottom edge of the t-shirt as the bottom of the new skirt or the legs of the pants, you won't need to hem your new clothing. An easy way to make a skirt is by cutting across under the arms of the t-shirt, folding the top edge down and sewing elastic along the fold.
Another project that you can do with t-shirts is to make a quilt. Use the front and back of the shirt for each square of the quilt, cut the squares all the same size. Sew you squares together to form the quilt top. You can add batting to the center or just add a back to the quilt depending on your preference.
Denim:
You can easily turn a pair of old jeans into a skirt. Cutting some seams and adding new seams is about all it takes to have a new skirt. Another idea for a pair of jeans that you just can't part with, is to turn them into a denim bag. You can find lots of free videos and patterns for different skirts and bags online. Add some lace trim to your bag or skirt to personalize your new item.
Finding & Using Other Materials:
Other materials you may have laying around that you're not using include curtains, sheets, old bed spreads, scarves, and even feed bags. In fact, many years ago people used old feed bags to actually make clothes from them, that may not be quite so fashionable now, but what about using them to make a tote bag? This image below is of an actual tote bag made by crafter, Pam Wick.
Nothing in the closet? Shopping at thrift stores is another way to find inexpensive clothing to recycle into something fun and useful. Watching for sales on fabric at local stores is also a way to save money when sewing. Even if you haven't sewn in a long time, using that sewing machine that is just sitting in your closet can be a thrifty way to save you money by making gifts for others, as well as useful items for yourself.
Just think, by using these tips above you will not only save money, you'll also have a fun new hobby, and a creative new way to help the environment by recycling and reusing old clothing and other materials!