The Battle Between Minis – Samsung Galaxy S III Mini or S IV Mini?
The Battle Between Minis – Samsung Galaxy S III Mini or S IV Mini?
Smartphone companies have already released a number of budget phones in the market in order to meet the demands of small and mid-sized enterprises. These types of businesses, either because they have smaller capital and/or are just startups, have little funds to devote to purchasing smartphones for their business communication system. That is why respectable yet affordable handsets, such as the Samsung Galaxy S III Mini, or Samsung Galaxy S IV Mini, are truly great blessings for the SMB owner.
Not all budget smartphones are just miniature versions of existing models, many are entirely different. However, since a lot is already known about the existing model that has a mini version of itself, there's the benefit of already knowing a lot about it from it's bigger counterpart. Let's learn a bit more about this line.
Getting to Know the Champs Before the Fight
In this battle between the mini smartphones we put the Samsung Galaxy to the test by comparing both  the Samsung Galaxy S IV mini and Samsung Galaxy S III mini, which are just smaller versions of the Samsung Galaxy S IV and Samsung Galaxy S III, respectively. Both devices are manufactured by the South Korean company Samsung Electronics.
It is a good thing that Samsung has elected to release smaller and more affordable versions of their flagship smartphones. These mini smartphones can greatly help cash-strapped businesses by still being able to offer the great features of a smartphone, and yet not break their banks. This is also a great and strategic move for the company in terms of sales, since it tends to prolong the success experienced by the original devices.
For instance, it is no secret that the Samsung Galaxy S3 became the world's best-selling Smartphone of 2012, and consumers would at the least be surely intrigued with anything that bears the same name, though at a smaller size. The Samsung Galaxy S IV already has established a great reputation as well. In fact, it has many comparing it to the iPhone 5, and many of those many are saying it's a win for team Samsung over Apple.
Let's Get Ready to Rumble! Samsung Galaxy S III Mini vs Samsung Galaxy S IV Mini
But how does each mini smartphone compare with each other? Being the latest device, it would only be logical that the Samsung Galaxy S IV mini will beat its predecessor when it comes to specifications and actual performance. But there are consumers that want to take advantage of the slashed-down price of the Samsung Galaxy S III mini (because a newer model is in existence).
Who will win the battle though? Is it only about cost or will the features and specs be the deciding factor? Read the following comparisons of specs of the two mini Smartphones to help you decide.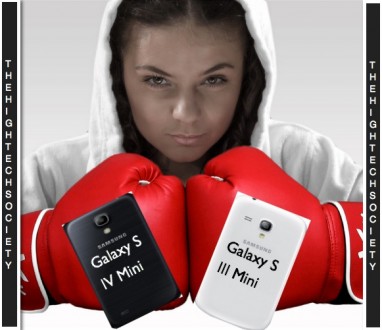 If you talk about screen size and quality, there is no doubt that the Samsung Galaxy S IV mini will prevail over the Samsung Galaxy S III mini. It sports a larger screen—a 4.3" panel with a pixel resolution of 540 x 960, translating to a pixel density of 256ppi. The Samsung Galaxy S III mini, meanwhile, has a smaller 4" screen with a resolution of 480 x 800p, which gives it a pixel density of 233ppi.
The Galaxy S IV mini is the smaller, though taller device. It measures 61 x 125 x 8.9mm and weighs 108g. On the other hand, the Galaxy S3 III mini has a dimension of 63 x 122 x 10.2mm and a weight of 113g.
The Samsung Galaxy S IV mini is also the faster smartphone, sporting a 1.7GHz Qualcomm Snapdragon 400 dual-core chip with 1.5GB of RAM. The Samsung Galaxy S III mini, on the other hand, is fitted with a 1GHz dual-core processor coupled with 1GB of RAM.
The more recent Smartphone (Galaxy S IV) also wins over the Galaxy S III mini when it comes to camera. It sports an 8MP rear-facing camera and a 1.9MP shooter at the front, which are both capable of recording videos in Full 1080p HD quality. The Galaxy S3 mini, meanwhile, is equipped with a lower-resolution 5MP rear-facing camera and a low grade VGA front-facing camera.
And The Winner Is……
As for a clear winner, if you go by the upgrades of the better camera, screen size differences, processors and RAM, that winner is hands down the Samsung Galaxy S IV mini smartphone. However, if you add cost to this comparison, the winner may not be such an easy win after all, because after seeing how they compare above, you can see that there's not really any differences that are major enough to sway one in favor over the other; with the exception perhaps, of cost. With the newer version (S IV) only being out for a few months now, the Galaxy S III is a lot less expensive ($400 less in some cases).
If you are going to base your decision mostly on the cost, it's helpful to still consider whether the lesser expensive of the two, the Samsung Galaxy S III mini,  is sufficient enough for your business or personal needs, or if it would be better to purchase the Samsung Galaxy S IV mini so that you know you have the all of the upgraded features that you and your employees can perhaps get more from. If you choose one of these smartphone minis, we'd love to hear which one you went with, so please drop us a line in the comment box below and tell us all about your Samsung mini smartphone!
[box type="info" align="aligncenter" ]Click here to read our comparison review of Samsung Galaxy S4 vs iPhone 5![/box]