The ORB: Bluetooth Headset Or Futuristic Jewelry?
Gadgets & Gizmos
The ORB: Bluetooth Headset Or Futuristic Jewelry?
The future of Bluetooth technology is here and it looks like a piece of jewelry! The ORB bluetooth is the next step in wireless technology. It rests on your finger until you need it and then with a single twist it's ready to sit on your ear like a beautiful earring.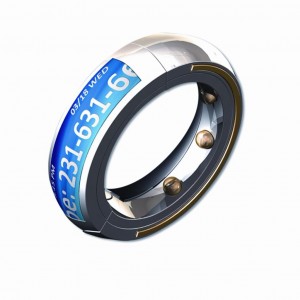 Can You Hear Me?
Walking down the street you'll easily see dozens of people fumbling to put their bluetooth headset on and trying to fit it properly into their ear. You'll likely hear them asking if the other person can hear them. The amount of people using something with Bluetooth technology is huge. Nearly 100 percent of cell phones sold each day are Bluetooth enabled, but let's face it those little headphones are not cute. But bluetooth headsets have come a long ways from the ones that wrapped halfway across our faces and stuck out unattractively.
The Orb Bluetooth
The brand new Orb bluetooth headset that will soon be out on the market is the absolutely best bluetooth headset available. This wonderful little device is beautiful as a bluetooth headset, but it really shines when it is a ring. Yes, you read that right. Ring. More specifically, a bluetooth ring. Having to dig through your purse or pocket for the bluetooth headphone isn't convenient at all. It's convenient to have it on your ear, but then you look silly. Orb bluetooth solves this problem. When you're not using it the Orb twists into a ring that you can wear on your finger. This little gem comes in several colors to match your phone and has a range of more than 30 feet from the cell phone it's connected to.
Futuristic Jewelry
The Orb bluetooth headset looks like a piece of futuristic jewelry when it's sitting on your ear. It sits on the ear and hooks behind the tip of the ear lobe. It gleams from where it sits, but if a person doesn't know what they're looking at they simply wouldn't know what it was. It could be mistaken for a beautiful piece of jewelry. When it twists back into a ring it can slip onto whichever finger you want. The Orb bluetooth comes in several sizes so you will be able to choose which size best fits your fingers. It may be most comfortable on the thumb or the middle finger and it will vibrate when a call comes in.
Not Just A Bluetooth Headset
The Orb bluetooth does a few extra things that ordinary bluetooth headsets don't do. It has a calendar, a voice to text program, and caller id. When someone calls or a text comes to the phone the screen on the Orb bluetooth will light up and display what it is happening. This means that this innovative headset does things that other headsets don't do. Most bluetooth headsets simply sit on your ear and give you grief when you push the button. How many times have you pushed the answer button only to have it hang up on the caller? This won't happen with the Orb because you twist it open to answer the call. You also have the option to click on the button to refuse a call or turn off the alarm from the calendar. An extra bonus is that the Orb bluetooth headset is waterproof. If you're like me and always dropping things you won't have to worry about it failing to work after it dropped into the sink.
What Is Bone Conduction?
The Orb is one of the few bluetooth headsets that offers the new technology of bone conduction. This technology has gotten rid of some of the bulk in the in ear headphone. The sound is sent through the bone to the ear. This is actually a more accurate way of hearing than listening through a microphone of some type. The Orb headset sits directly on the bone and has specific technology to send sound through the bone.
Sounds great! Where Can I Get One?
You can't. Not yet, at least. The release date for the Orb bluetooth headset was pushed back, much to the disappointment to fans all over the world. The company is hoping to release the Orb by the end of 2012 when it will be priced at $125 for the basic model and $175 for the deluxe version. There is even a rumor of a $250 version that will come with gemstones to make it even more beautiful and like a piece of jewelry. The Orb bluetooth will be available in women's sizes 4 to size 12. In men's sizes they will be available in sizes 7 – 16.
Thist hands-free bluetooth headset gives you the option to not only have a lovely piece of jewelry, but also answer your phone without having to have the headset on your ear all day. When you're done with your phone call a single twist will turn it back into a ring. Slip it on your finger and go on with your day. The release of this gadget is bound to make a big splash when it finally comes out to stores.
UPDATE 7/2015: Despite winning an innovation award for this product in 2010, and the fact that they still list this product as in development, it has yet to come to market as of July 2015. Their website is now down, as is their Facebook and Twitter pages. Sadly, I don't know if it will ever see the light of day. If It does, you'll be the first to know so be sure to follow us on Facebook. You can Read more about it and the Scam that many say it is. Thank you for visiting and stay with us for more cool tech!